CROCKPOT CHEESY RANCH POTATOES RECIPE
If you're looking for an easy side dish to go along with tonight's dinner, you're going to LOVE this Crockpot Cheesy Ranch Potatoes Recipe! They're so tender with the perfect combination of flavors that are truly mouth-watering.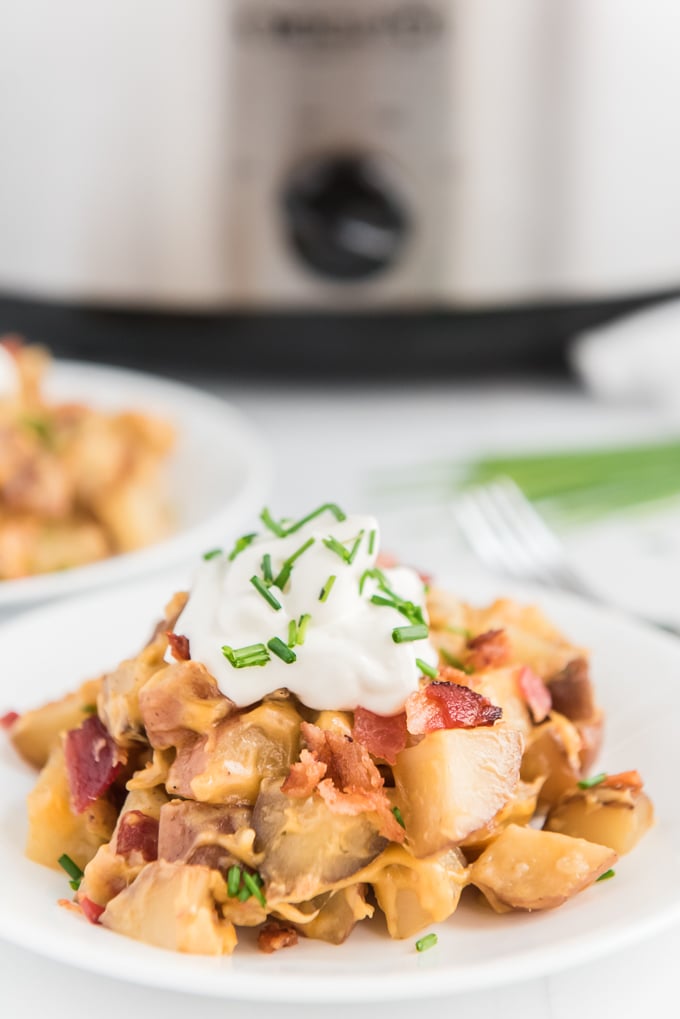 SLOW COOKER POTATOES
Is there anything better than potatoes? I don't know about you, but I always want to indulge in a big bowl of potatoes while I catch up on the newest Netflix show on the couch. They are the ULTIMATE comfort food.
But what I don't love? Standing over a hot oven constantly checking my potatoes. That's why slow cooker potatoes are PERFECT! I can prep these real quick, cook them for later, and come back to delicious potatoes! (Bonus points for cheese and bacon – YUM!)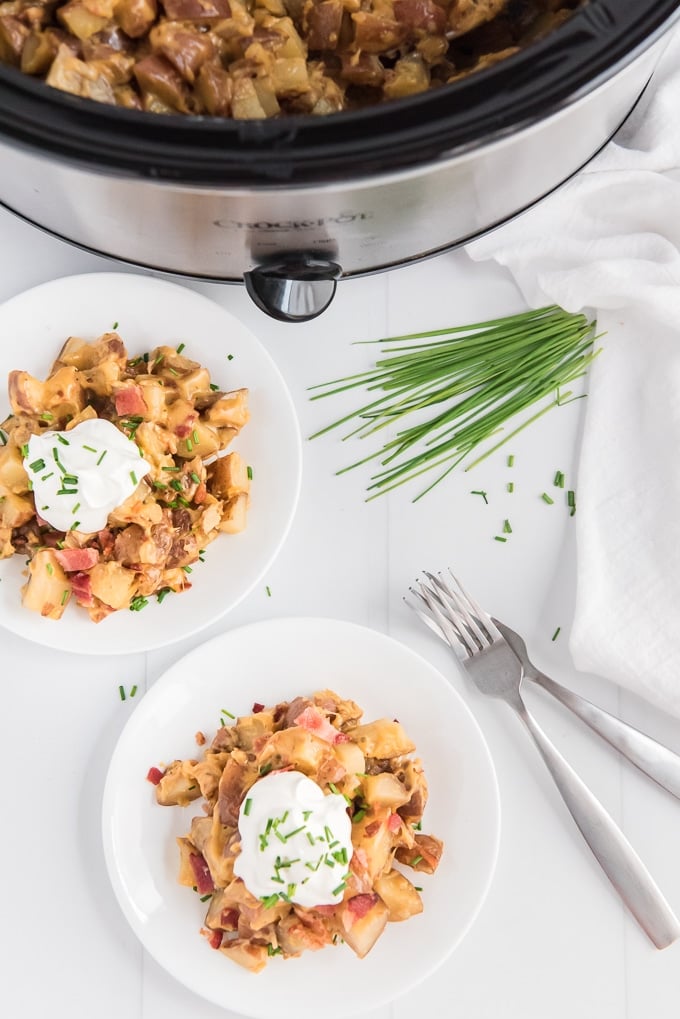 EASY SIDE DISH RECIPE
While these work great as a comfort food snack, they are also EXCELLENT as a side dish for dinner. You can't pop them in and be gone all day by any means… but not having to supervise them on the stove as you're trying to prep the rest of dinner is a big win win in my book!
I don't know about you, but cooking 86 different things on the stove for dinner is not something I love to do. So why not make it simple by using a crockpot? Yes please!!
Oh and if you have guests over for a small dinner party – they are going to LOVE these! They are a great crowd pleaser recipe, too.
Ready to get to the recipe? Scroll down below to get to this delicious Crockpot Cheesy Ranch Potatoes Recipe.
COOKING TOOLS YOU MIGHT NEED
Before getting started, make sure you have these cooking tools in your kitchen:
CROCKPOT: I've used this crockpot for years now and love it!
SPATULA: A good spatula is a must – this one is great for mixing with!
MIXING BOWLS: These mixing bowls are my favorite, they're so durable and the colors are so fun!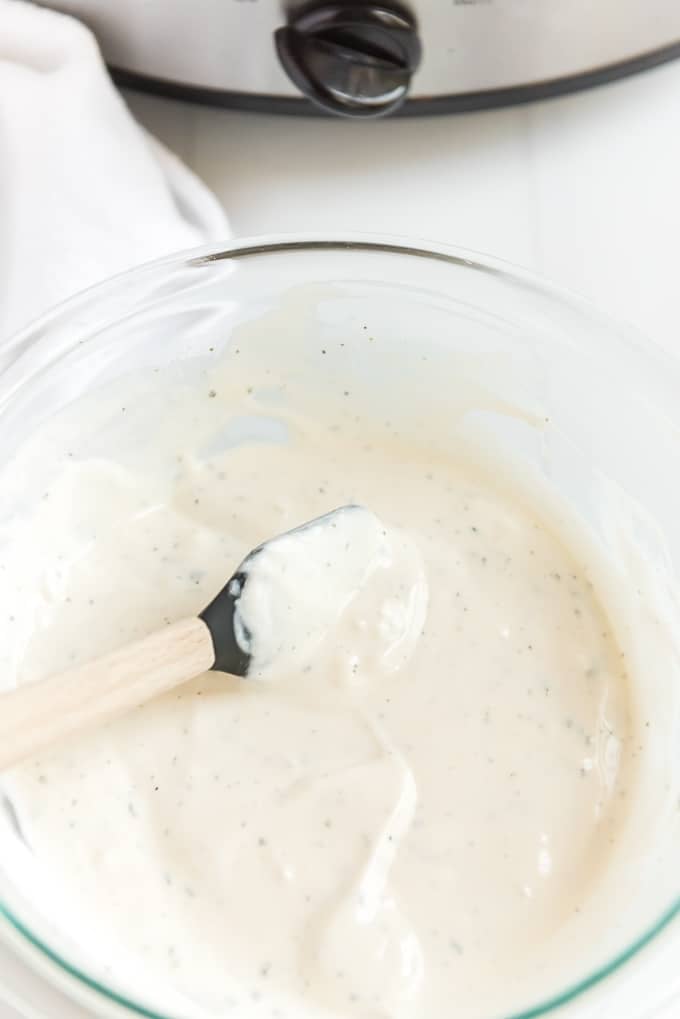 CHEESY RANCH POTATOES INGREDIENTS
For this easy side dish recipe, you'll need these ingredients:
POTATOES: you'll need a whole bag of red potatoes for this recipe!
SOUR CREAM: this creates the perfect creamy flavor for your potatoes.
RANCH: make sure to use the dry seasoning mix for your side dish recipe.
MILK: just a bit of milk to provide the liquid for the potatoes to cook!
CHEESE: essential for the cheesy flavor in your potatoes – we used cheddar.
BACON: you'll need to cook up some bacon – nice and crispy!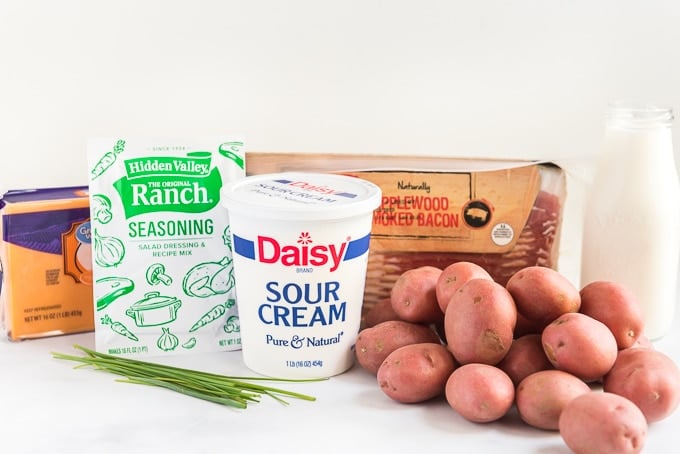 HOW TO MAKE CROCKPOT CHEESY RANCH POTATOES
Scroll down below for a step-by-step printable recipe to reference as you cook!
ADD POTATOES: Once your potatoes are chopped, add them to the crockpot.
MIX LIQUID: In a small bowl, combine the sour cream, ranch, and milk; pour over potatoes.
COOK: Cook on high for 2 hours, or until the potatoes are fully cooked through (check softness by poking them with a fork).
ADD TOPPINGS: Add the cheddar cheese and mix; turn crockpot down to low.
SERVE: Once the cheese is melted, they're ready to eat! Serve with sour cream and chives.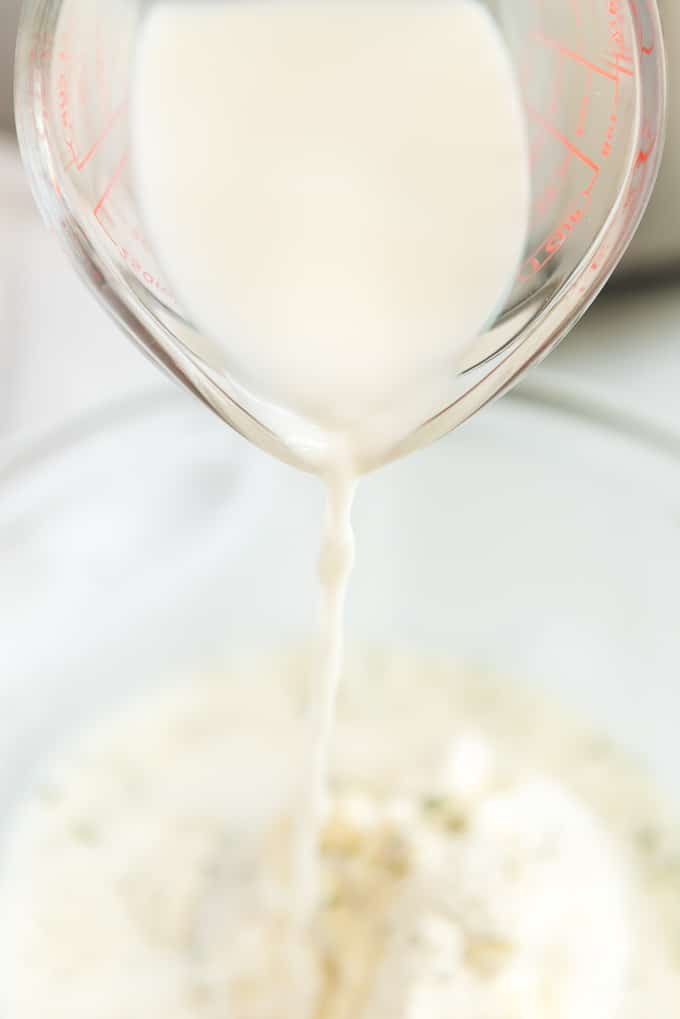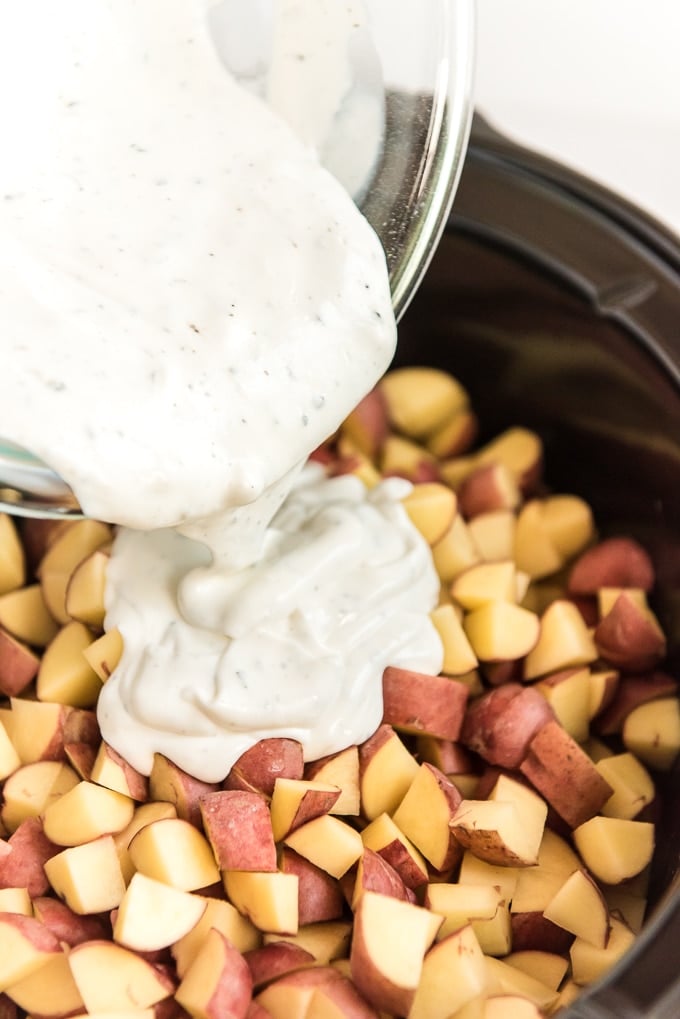 DO I NEED FOIL TO MAKE THIS CROCKPOT POTATOES RECIPE?
Nope! I didn't use any foil and the potatoes come out just as good. You can use foil if you'd like, but I don't think it's necessary.
CAN I MAKE THIS POTATO RECIPE ON THE STOVETOP?
Sure thing! You'll follow the same recipe, cooking it low over the stovetop and constantly stirring. Or, you can cook the potatoes first and add the other ingredients later, but I think they taste better being cooked with the milk mixture.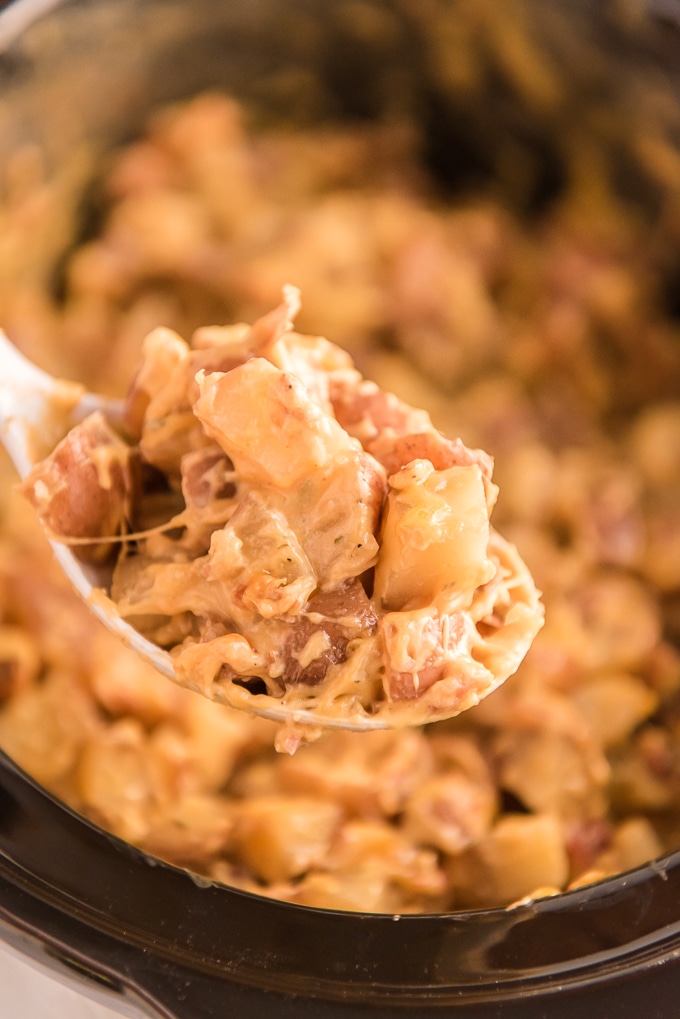 WHAT ARE THE BEST POTATOES TO USE FOR CHEESY RANCH POTATOES?
I used red potatoes! These are perfect for recipes like these since they are thinner than russet potatoes and soak up flavors way better. Not to mention the added flavor profile these potatoes have. But if you'd prefer, you can also use russet potatoes or Yukon gold potatoes (also known as yellow potatoes).
HOW DO I STORE AND REHEAT CHEESY RANCH POTATOES?
In the case of leftovers (although you might not have any because these are so good!), I recommend storing these in an airtight container and placing them in the fridge for up to 3-4 days. To reheat them, put them on a plate and microwave in 30 second increments until they are your preferred temperature.
These slow cooker cheesy ranch potatoes don't freeze well, however, due to the dairy content.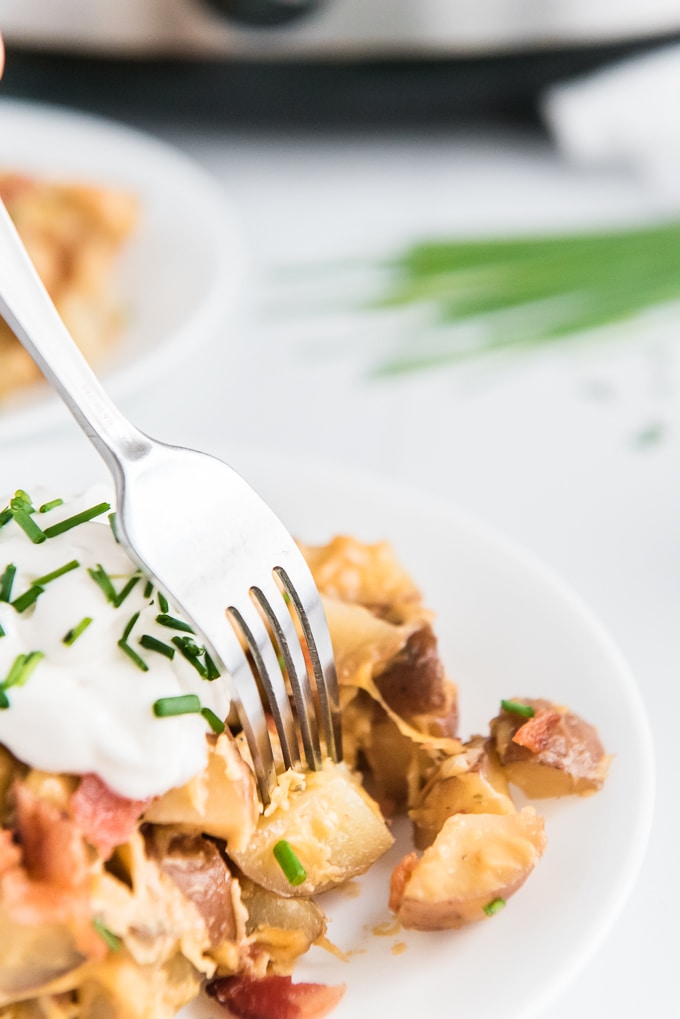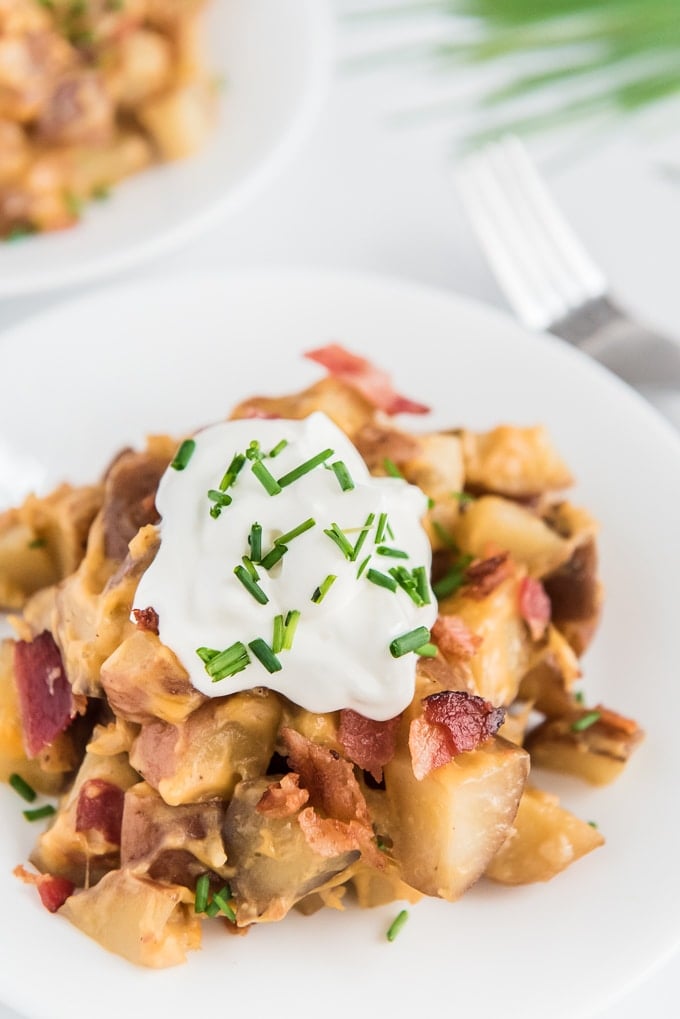 MORE SIDE DISH RECIPES:
If you have tried this Crockpot Cheesy Ranch Potatoes recipe, then please rate it in the recipe card and let me know how it turned out in the comments below!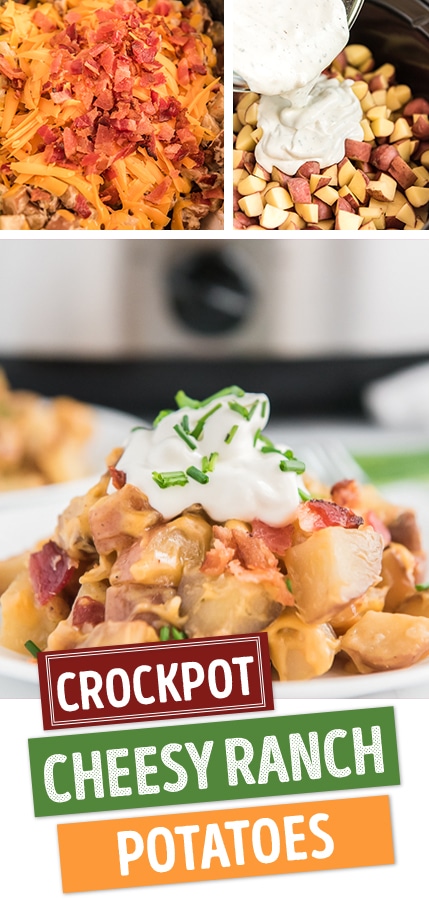 Yield: SERVES: 10-12
CROCKPOT CHEESY RANCH POTATOES
Enjoy this Crockpot Cheesy Ranch Potatoes Recipe to go along with tonight's dinner! Easy to make, delicious to eat, and a perfect snack for later.
Prep Time 10 minutes
Cook Time 2 hours
Total Time 2 hours 10 minutes
Ingredients
1 (5 lb.) bag baby red potatoes, diced
1 cup sour cream
1 packet ranch dressing and seasoning mix
1/2 cup milk
Cheddar cheese
12 pieces of bacon cooked crisp and crumbled.
Instructions
Place the potatoes in the crockpot.
In a small bowl, combine sour cream, ranch seasoning and milk. Pour over potatoes.
Cook on high for 2 hours or until potatoes are done.
Add cheddar cheese and bacon. Mix and turn down crockpot to low.
Once cheese is melted they are ready to eat. Serve with sour cream & chives.
Nutrition Information:
Yield:
12
Serving Size:
1
Amount Per Serving:
Calories: 147
Total Fat: 10g
Saturated Fat: 4g
Trans Fat: 0g
Unsaturated Fat: 5g
Cholesterol: 26mg
Sodium: 279mg
Carbohydrates: 8g
Fiber: 1g
Sugar: 1g
Protein: 6g
This blog post contains affiliate and/or referral links, which pay me a small commission for recommending my favorite products at no extra cost to you! Additionally, as an Amazon affiliate, I earn from qualifying purchases.