Easy Crockpot Meatballs
Easy Crockpot Meatballs are made with only four inexpensive ingredients! This party favorite finger food is ideal for game day, cocktail parties, birthdays and so much more. Grab your toothpicks and consider making a double batch, because these addictive two-bite saucy meatballs tend to go fast!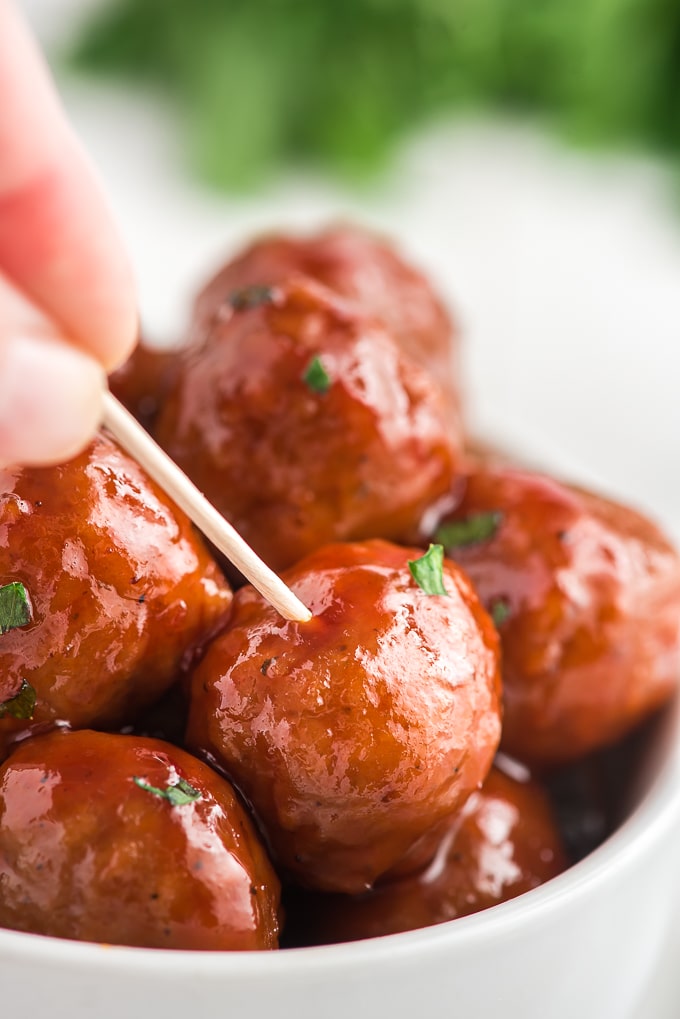 Easy Crockpot Meatballs
You shopping list just got a whole lot shorter! You only need some BBQ sauce, chili sauce, grape jelly and frozen-store bought meatballs to toss together this easy app. If you love dressing up store-bought items, this is definitely the recipe for you! All of the ingredients come together to pack a seriously flavorful punch with every tender bite.
When I make Easy Crockpot Meatballs for parties of any kind, they go quicker than any other appetizer that I offer. They're equal parts tender and flavorful and always make for the best bite! Plus, people really love small bites that they can move with at a party, so these meatballs are really a big hit. Just stab one with a toothpick and keep the party going!
The sauce is what you're really here for, right? Me too. It's got notes of mouthwatering BBQ sauce, a sweet and subtle spicy balance from the chili sauce, and sweetness from the grape jelly. Don't worry, your meatballs will not taste like grape jelly! The jelly cooks into the sauce and does two things – it helps to create the best consistency AND creates a perfectly sweet flavor to balance the savory notes!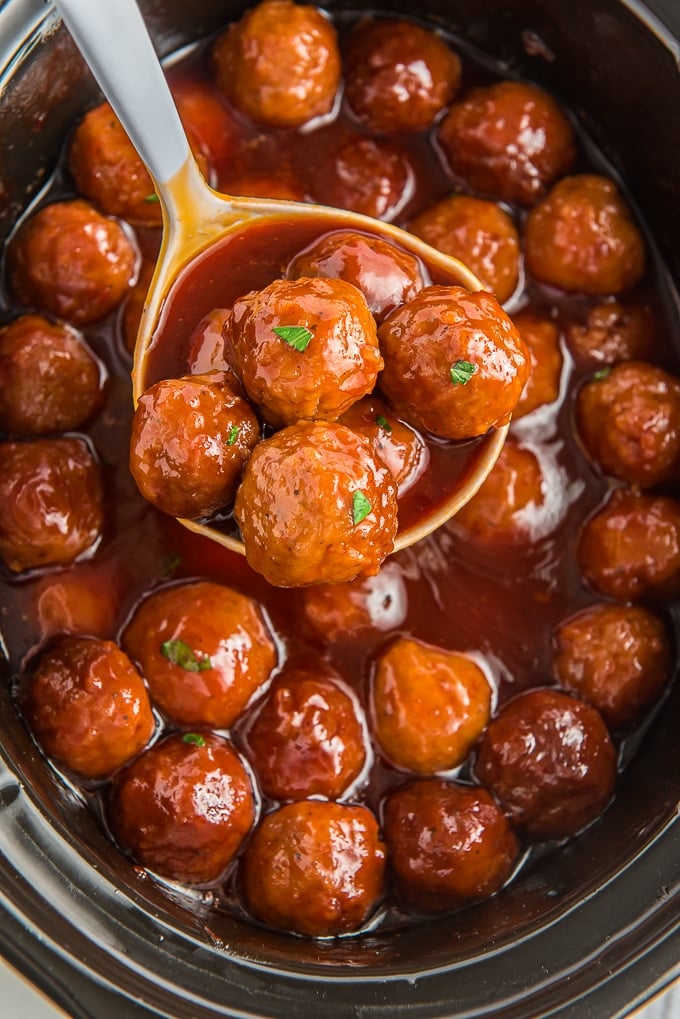 Glazed meatballs made in the Crockpot are so easy to make and impossible to have just one of… But I definitely dare you to try!
Ingredients for Easy Crockpot Meatballs
With only four ingredients required, this is a true budget-friendly recipe that a whole party can enjoy. Feeding a crowd without breaking the bank? Yes, please!
BBQ SAUCE – 1 (18 oz.) bottle sweet baby rays BBQ sauce
CHILI SAUCE – 1 (12 oz.) jar Heinz chili sauce (any brand is fine)
GRAPE JELLY – 2 ½ cups grape jelly
MEATBALLS – 2 pound frozen meatballs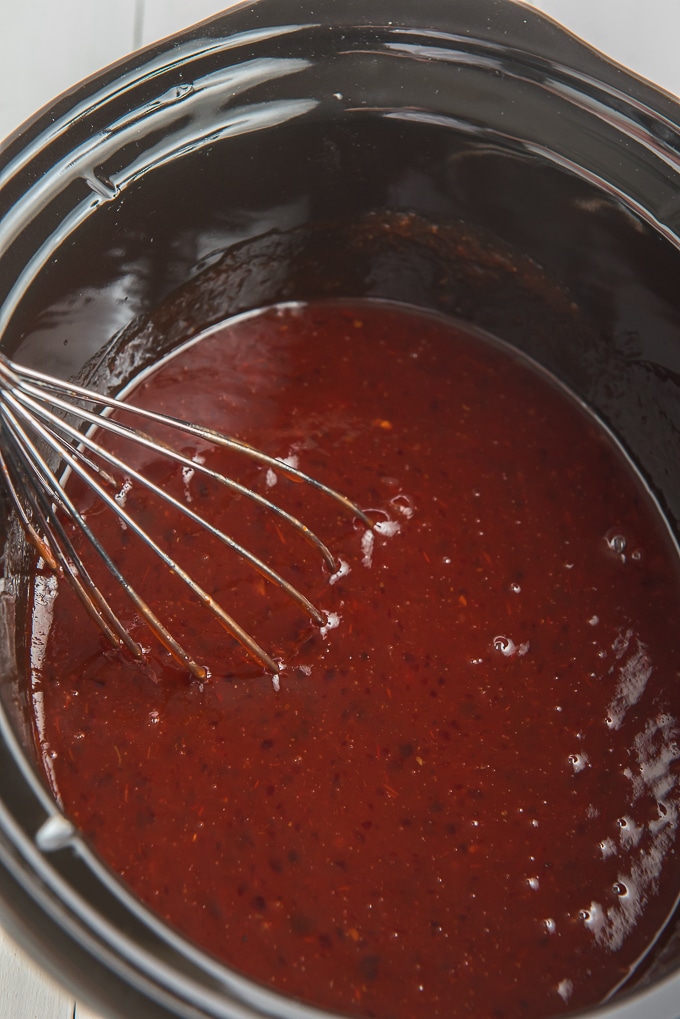 How to Make Easy Crockpot Meatballs
You'll love making a big batch of appetizer meatballs before the party starts. I recommend keeping them in the Crockpot on the "Warm" setting so all throughout the party they stay perfect!
WHISK THE SAUCE. Pour all of the measured sauces into the Crockpot. Whisk to combine.
ADD MEATBALLS. Add the frozen meatballs to the Crockpot and toss with the sauce to coat.
COOK. Cook on high for about 2-3 hours, then enjoy!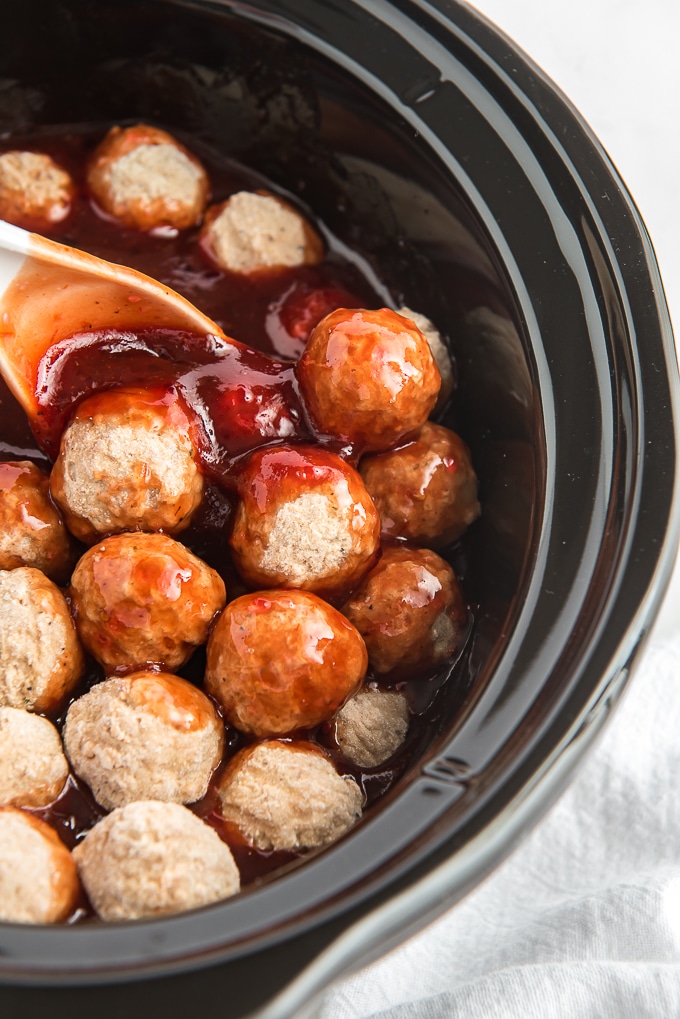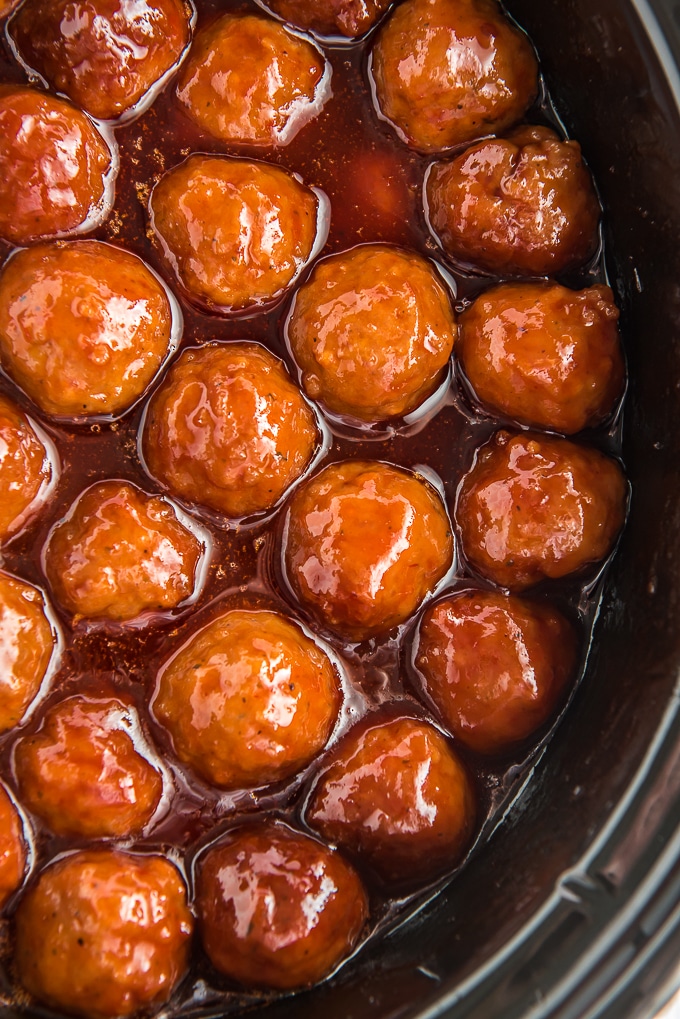 Tips and Variations to Try
These Easy Crockpot Meatballs are already pretty perfect, but here are just a few ways to make them even more amazing!
Change up the meatballs. I like to use frozen beef meatballs, but any meatball of your choice will work just fine with this recipe! Pork, turkey, chicken, or even a plant-based bag of frozen meatballs all taste delicious with this sauce.
Add a little spice. The chili sauce does lend a light spicy note by itself. If you'd like to enhance that, sprinkle some crushed red pepper flakes into the mix! Just be careful, since a little goes quite a long way.
Keep them warm. When you serve these meatballs, consider doing so with your slow cooker. I know your serving dish is probably adorable, but the Crockpot will keep the meatballs from going cold! Set the Crockpot to "Warm" so they stay the right temperature without over cooking.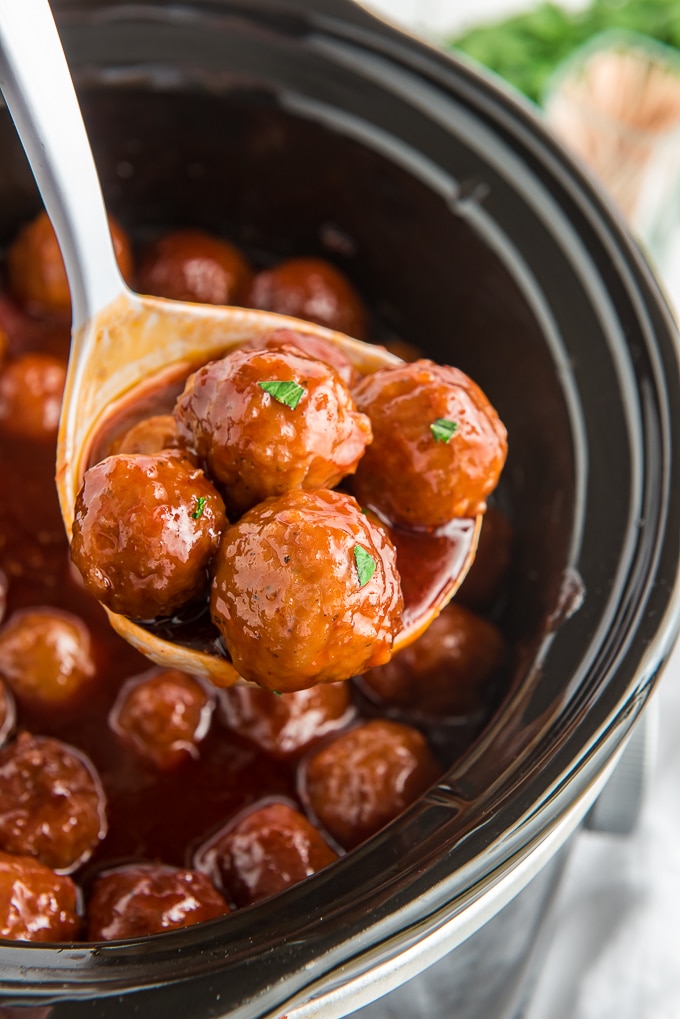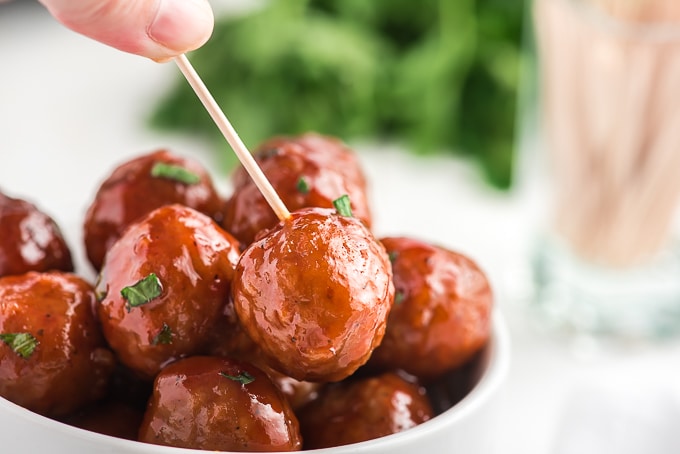 Yield: SERVES 10-20
Easy Crockpot Meatballs
Prep Time 10 minutes
Cook Time 3 hours
Total Time 3 hours 10 minutes
Ingredients
1 (18 oz.) bottle sweet baby rays BBQ sauce
1 (12 oz.) jar Heinz chili sauce (any brand is fine)
2 ½ cups grape jelly
2 pound frozen meatballs
Instructions
Pour the BBQ sauce, chili sauce and grape jelly into the bottom of the crockpot. Whisk until combined.
Add frozen meatballs and stir until coated.
Cook on high for 2-3 hours. Sauce will be simmering and the meatballs will be hot.
Nutrition Information:
Yield:
20
Serving Size:
1
Amount Per Serving:
Calories: 208
Total Fat: 10g
Saturated Fat: 3g
Trans Fat: 0g
Unsaturated Fat: 6g
Cholesterol: 30mg
Sodium: 332mg
Carbohydrates: 24g
Fiber: 1g
Sugar: 17g
Protein: 7g
I love serving finger foods at parties! Whether it's game day or a birthday party, appetizers like these meatballs are always a hit. Serve them alongside some Air Fryer Stuffed Mushrooms, Zucchini Ranch Fries, and Easy Meatball Sliders.