Cinnamon-Sugar Cake
This Cinnamon-Sugar Cake will always let you have your cake, and eat it, too!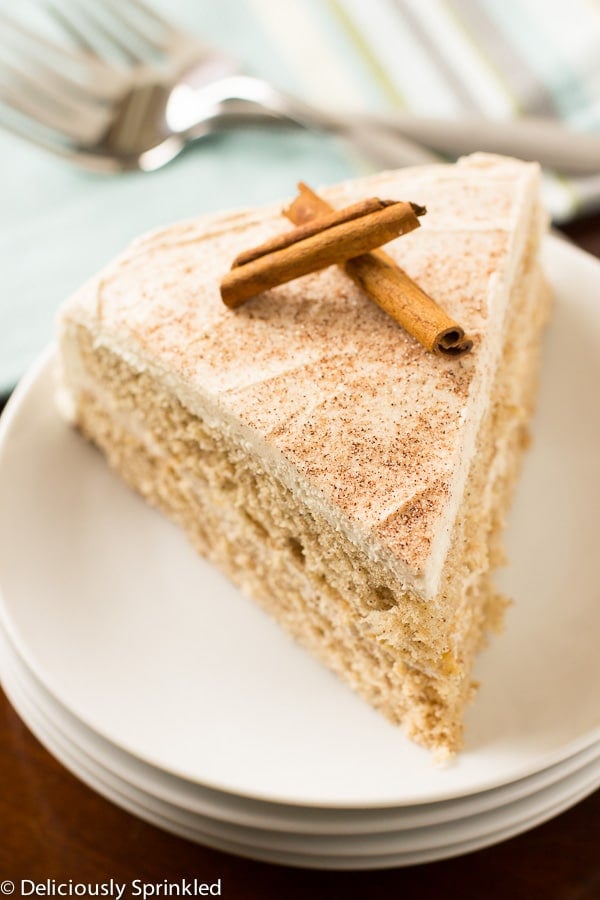 My mom always taught us growing up that we shouldn't have dessert before eating the main course of our dinner. As an adult, I'm now rethinking that childhood lesson pretty hardcore. This Cinnamon Sugar Cake seems like the perfect cake to eat any time of the day, right?
Just hear me out…Millions of people around the world eat cinnamon toast for breakfast, so why not replace it with this amazingly delicious cake recipe every once in a while? If having cake for breakfast here and there is wrong, then I don't wanna be right!
Not only would this cake be perfect any time of day that you choose, but it's also a great recipe to kick off the start of Fall. Something about it just screams comfort and after taking just one bite, you'll understand it as well.
As with any cake recipe, it's always a great food to make and share as well. Because…while you may be able to eat an entire cake on your own, it's always a lot more fun to be able to share it with those that you love. (Maybe just save a piece or two extra for you at home for later!)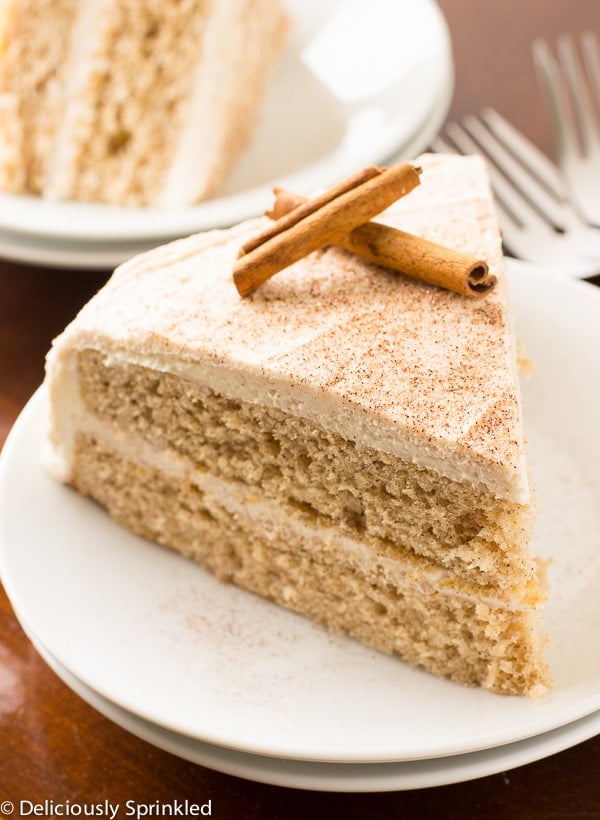 HOW TO MAKE A CAKE
✓ DO NOT OVERMIX THE CAKE BATTER: When mixing the cake batter, do not over mix it. Over mixing will lead to a dry, dense cake. So once you add the dry ingredients to the wet ingredients, only mix all the ingredients until just combined (you will still see some flour in the bowl!).
✓ SLICE OF BREAD TRICK: Once cinnamon-sugar cake is done, place the two cake pans on top of a wired rack to cool before frosting. A little trick I learned is to place a slice of bread on top of each cake, this keeps the cake super moist when it's cooling. You can also place two pieces of bread on each side of the cake after you have cut the cake into slices to help the leftover cake stay moist and not dry out. It's the best trick in the book!
✓ FROSTING THE CAKE: To avoid getting crumbs in the frosting, cool the cake thoroughly before frosting it. Then brush off any loose crumbs. Apple a very thin layer of frosting to set the crumbs (don't worry if there are crumbs in this layer). Allow it to dry, then apply a thicker final top coat of frosting.

MORE CAKE RECIPES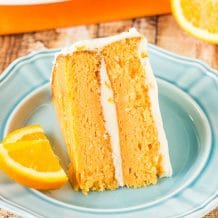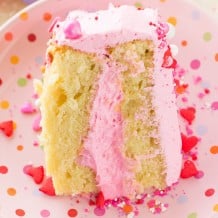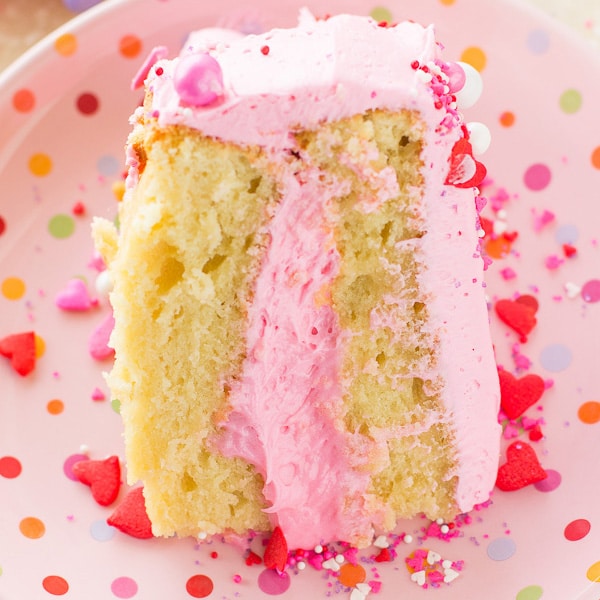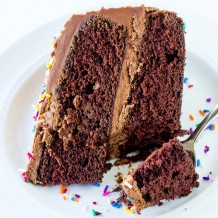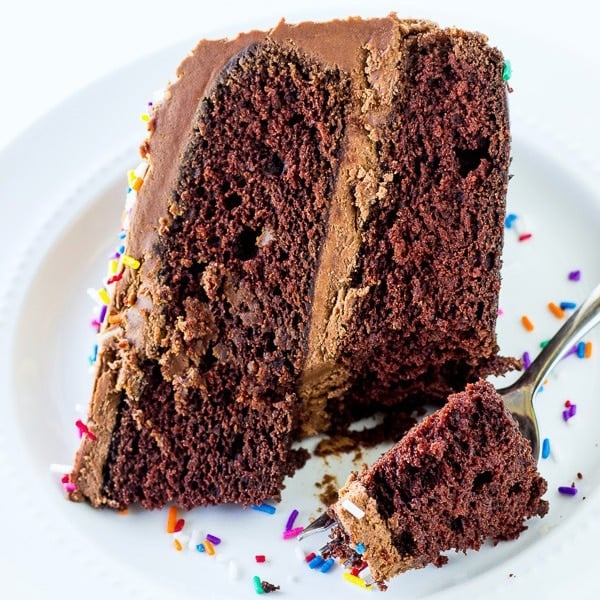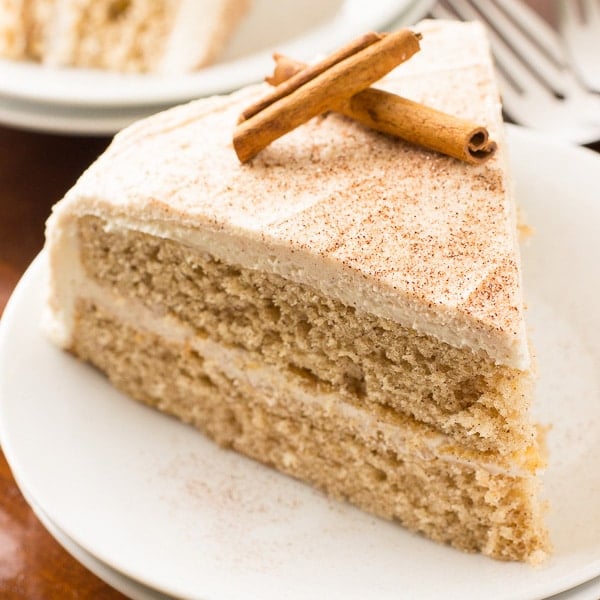 Yield: Serves 12
CINNAMON-SUGAR CAKE
Prep Time 10 minutes
Cook Time 35 minutes
Total Time 45 minutes
Ingredients
2½ cups all-purpose flour
1 teaspoon baking powder
½ teaspoon baking soda
½ teaspoon salt
5 teaspoons ground cinnamon
4 large eggs
2 cups granulated sugar
1 cup (2 sticks) unsalted butter, softened
3 teaspoons vanilla extract
1 cup sour cream
CINNAMON BUTTERCREAM FROSTING:
1 (2 sticks) cup unsalted butter, softened
5 cups confectioners' sugar
2 Tablespoons 2% milk
1 teaspoon ground cinnamon
1 teaspoon vanilla extract
1 Tablespoon cinnamon-sugar, sprinkle on top of cake
Instructions
PRE-STEP: Preheat oven to 350F degrees. Spray two 9-inch. round baking pans with non-stick cooking spray. Set aside.
STEP 1: In a medium bowl, mix flour, baking powder, baking soda, salt and ground cinnamon. Set aside.
STEP 2: In a large bowl, using an electric or stand mixer on medium speed, beat eggs and sugar for about 2 minutes, or until light and creamy. Add the butter and vanilla extract and beat on low speed for about 1 minute, or until well blended. Beat in the dry ingredients on low speed until blended. DO NOT OVER MIX! Add the sour cream and beat until smooth.
STEP 3: Divide batter evenly into prepared baking pans. Bake 18 to 20 minutes or until toothpick inserted in center comes out clean. Allow cake to cool before frosting.
MAKE THE FROSTING:
STEP 4: Mix softened butter on medium speed with an electric or stand mixer. Beat for 30 seconds until smooth and creamy.
STEP 5: Add powdered sugar, milk, ground cinnamon and vanilla extract. Increase to high speed and beat for 3 minutes or until smooth.
STEP 6: Spread the frosting between layers and over top and sides of cake. Sprinkle with cinnamon-sugar.