Cinnamon-Sugar Cake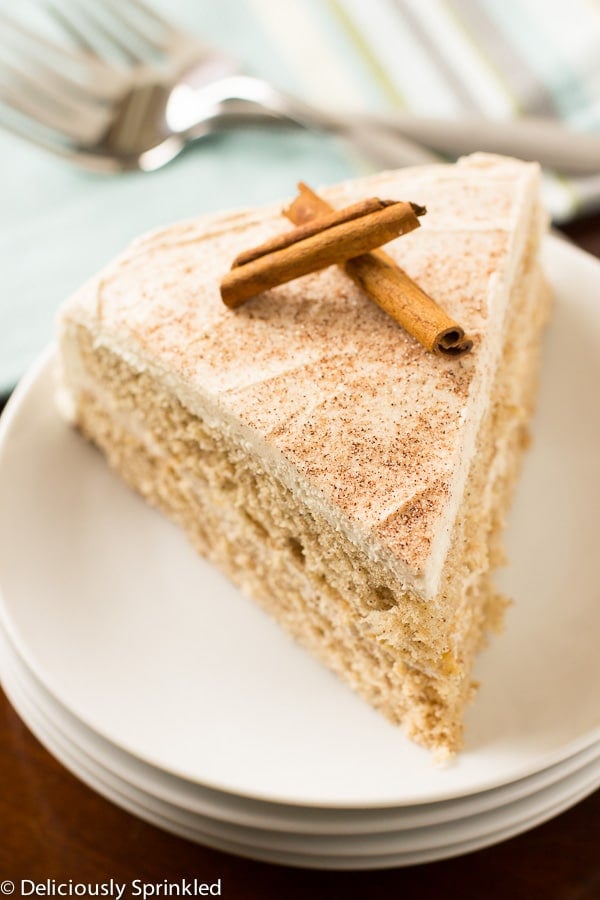 Move over pumpkin spice… cinnamon-sugar is in town!
This Cinnamon-Sugar Cake is light and fluffy, and the cinnamon buttercream frosting packs a big hit of cinnamon flavor without being too overwhelming.  If you love a classic snickerdoodle cookie this cake is for you.
The best part is, this cake is super simple to make, you probably have all the ingredients you need already in your pantry. And with Thanksgiving right around the corner, this cake will be a guaranteed family favorite. ♥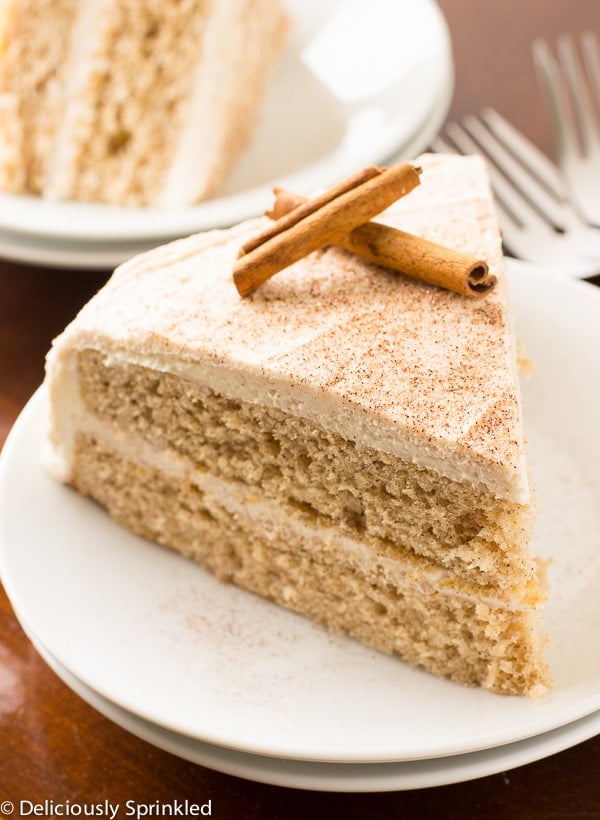 JUST A FEW BAKING TIPS:
✓ DO NOT OVERMIX THE CAKE BATTER: When mixing the cake batter, do not over mix it. Over mixing will lead to a dry, dense cake. So once you add the dry ingredients to the wet ingredients, only mix all the ingredients until just combined (you will still see some flour in the bowl!).
✓ SLICE OF BREAD TRICK: Once cinnamon-sugar cake is done, place the two cake pans on top of a wired rack to cool before frosting. A little trick I learned is to place a slice of bread on top of each cake, this keeps the cake super moist when it's cooling. You can also place two pieces of bread on each side of the cake after you have cut the cake into slices to help the leftover cake stay moist and not dry out. It's the best trick in the book!
✓ FROSTING THE CAKE: To avoid getting crumbs in the frosting, cool the cake thoroughly before frosting it. Then brush off any loose crumbs. Apple a very thin layer of frosting to set the crumbs (don't worry if there are crumbs in this layer). Allow it to dry, then apply a thicker final top coat of frosting.
STEP-BY-STEP GUIDE ON HOW TO MAKE THIS CINNAMON-SUGAR CAKE:

4 Responses to "Cinnamon-Sugar Cake"
Leave a Comment