Pecan Crunch Grape Salad
PECAN CRUNCH GRAPE SALAD
 Creamy and sweet with a cool, crisp crunch that makes a perfect side dish for any party.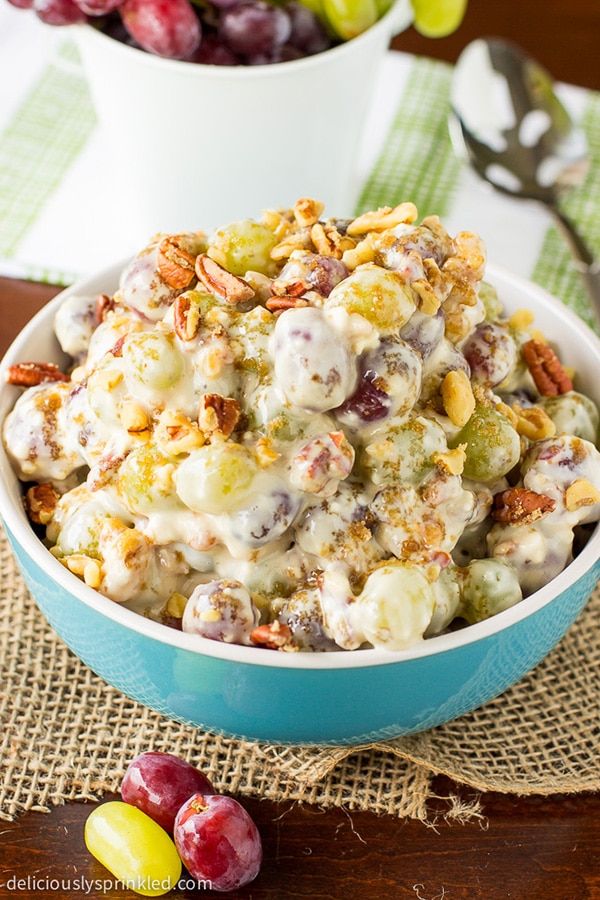 With football season in full swing , and tailgating the main weekend event these day I'm always getting asked to bring at least one or two my delicious desserts with me to the party but last weekend I wanted to switch things up and bring one of my favorite side dishes.
This Pecan Crunch Grape Salad is creamy and sweet with a cool, crisp crunch that makes a perfect side dish for any party. It's one of those "salads" that isn't really a "salad", but instead just a whole lot of yummy.
So when I saw the bags of delicious green and red grapes in the Walmart Produce aisle, I knew I had to make this delicious salad for the tailgate party.
I knew this grape salad was going to be perfect because Walmart Produce is fresh, farmer picked produce with a 100% money back guarantee, which makes a food blogger like me, a very happy girl!

JUST A FEW BAKING TIPS:
✓ ADD MORE CRUNCH: If you want more of a crunch, mix in about a cup of the topping into the grape mixture and then right before serving SPRINKLE the remaining topping on top. It's even more delicious with an added crunch throughout.
✓ MAKE AHEAD: This side dish is perfect for making the night before your party. Chilling this salad overnight is the best. If you can't let this pecan crunch grape salad chill overnight, no worries you can place it in the fridge for at least 2-4 hours before serving.
STEP-BY-STEP GUIDE ON HOW TO MAKE THIS PECAN CRUNCH GRAPE SALAD: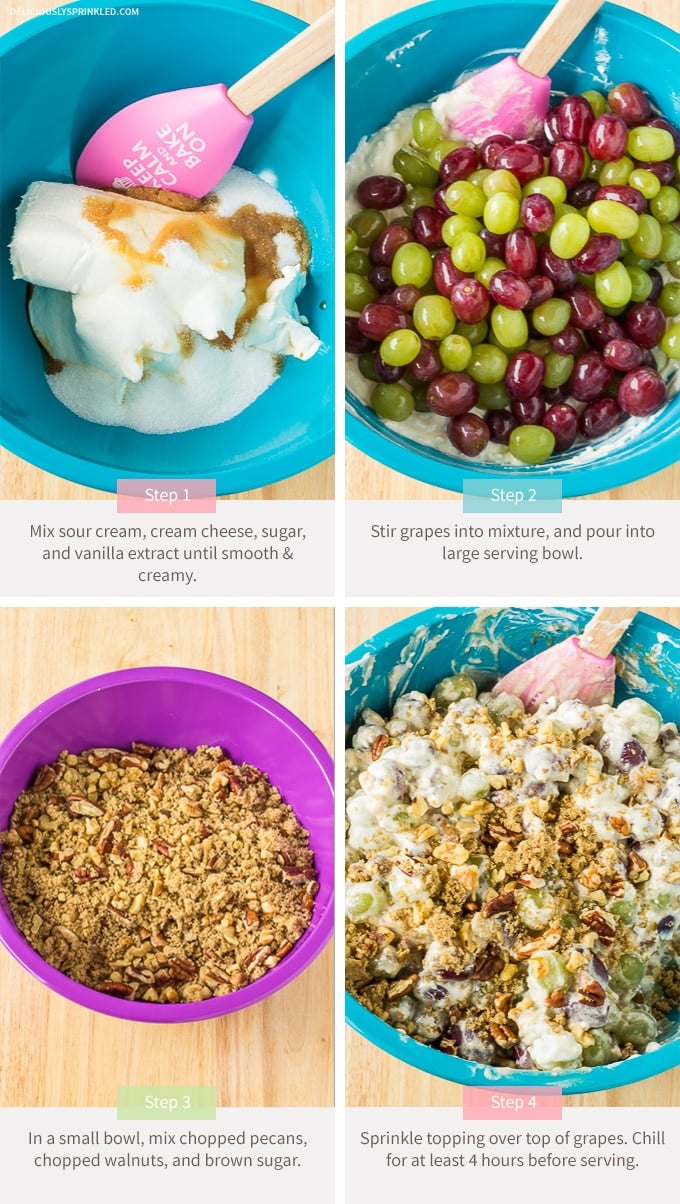 Pecan Crunch Grape Salad
Yield: Serves 15
Prep Time:10 minutes
Total Time:4 hours 15 minutes (includes chilling time.)
★ Make sure to read my BAKING TIPS above before you start baking!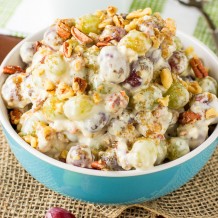 Ingredients:
GRAPE SALAD:
2 cups green seedless grapes, washed & stemmed
2 cups red seedless grapes, washed & stemmed
1 cup (8 ounces) sour cream
1 package (8 ounces) cream cheese, softened
1/2 cup granulated sugar
2 teaspoons vanilla extract
PECAN CRUNCH TOPPING:
1 cup dark brown sugar, packed
1 cup chopped pecans
1 cup chopped walnuts
Directions:
STEP 1: In a large sized bowl, mix sour cream, cream cheese, sugar, and vanilla extract until smooth and creamy.
STEP 2: Stir grapes into mixture, and pour into large serving bowl.
MAKE TOPPING:
 STEP 3: In a small bowl, combine brown sugar, chopped pecans, and chopped walnuts. Sprinkle topping over top of grapes.
STEP 4: Cover and place in refrigerator for at least 2-4 hours before serving.

This is a Sponsored post written by me on behalf of Walmart Produce for Socialstars. All opinions are 100% my own.
22 Responses to "Pecan Crunch Grape Salad"
Leave a Comment