HOMEMADE LEMONADE RECIPE
This Fresh Squeezed Homemade Lemonade is simple, delicious and all you need is 3 ingredients to make this lemonade. Learn how to make the best homemade lemonade with my step-by-step instructions below, but if you are in a rush just scroll down to the recipe card for the full recipe.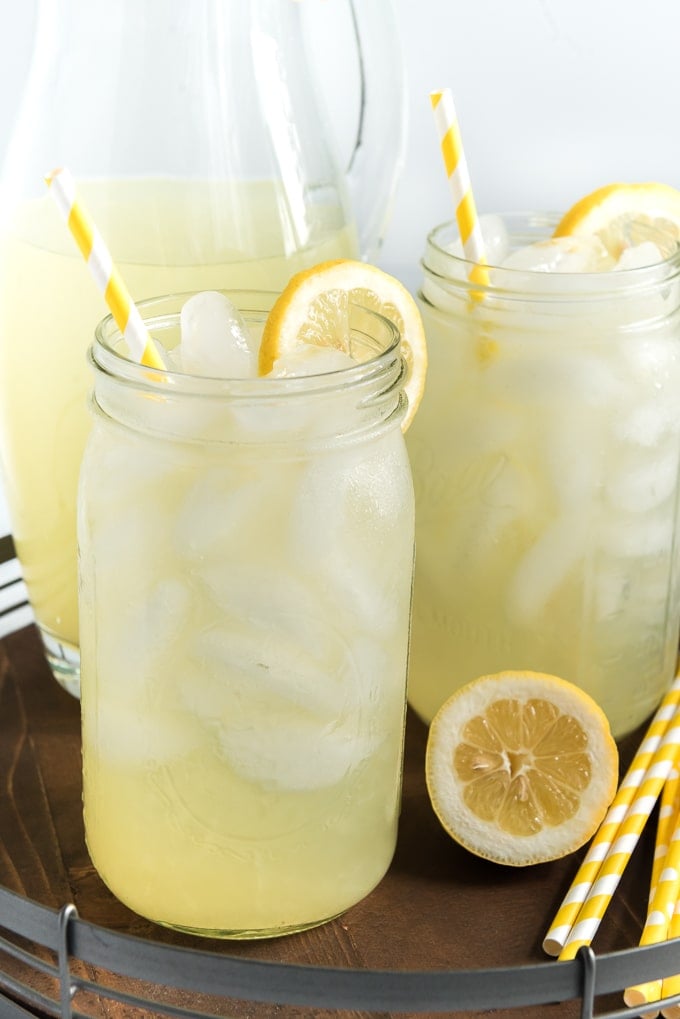 HOMEMADE LEMONADE
This just might be the best lemonade recipe that your taste buds will ever have. One sip and you're forgetting all that summer heat!
Is there anything better during the hot summer days than a glass of fresh, delicious lemonade? I have fond memories all throughout my life of sitting at the pool and having that first sip of lemonade. There's seriously nothing quite like it.
I love making lemonade all year round, I like to switch between making my favorite Fresh Strawberry Lemonade, Fresh Peach Lemonade and Watermelon Lemonade!
The good news? You can make this and take it on trips, pack some up for a day at the beach or let your kids make this recipe for an epic lemonade stand that will be the talk of the town. But don't forget that a true chef needs to make certain that they taste test their product over and over again to make certain that it's absolutely perfect before sharing.
So, what do you say? Are you up for the task? Keep up your feet and make yourself a pitcher of the best lemonade recipe ever!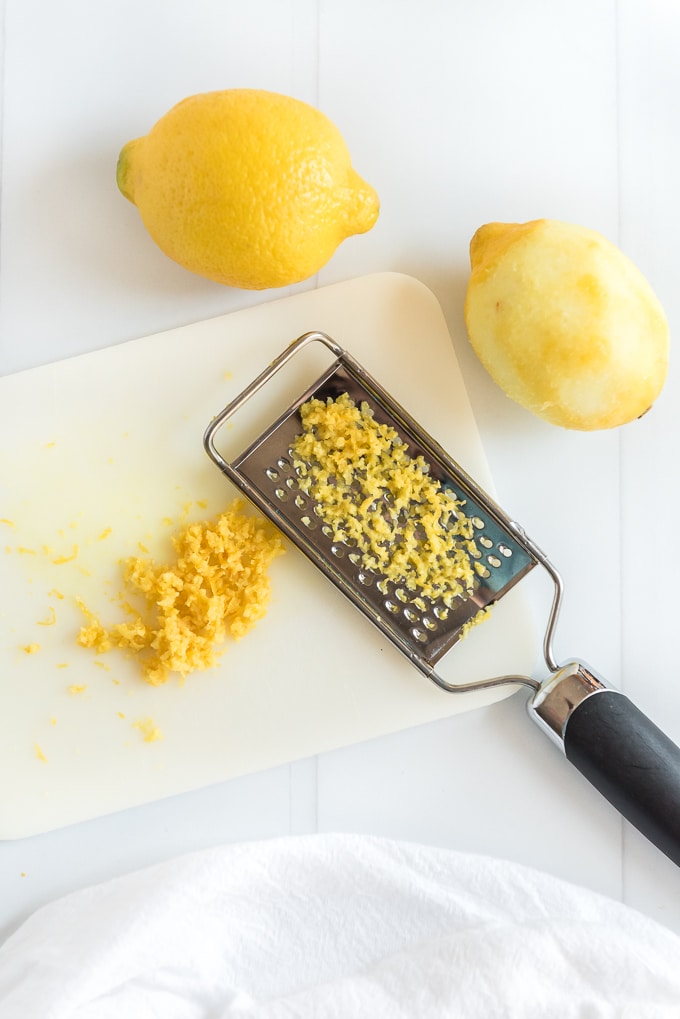 HOMEMADE LEMONADE INGREDIENTS:
You will only need 3 simple ingredients to make this homemade lemonade recipe:
FRESHLY SQUEEZED LEMON JUICE: Fresh lemon juice is what makes this lemonade the BEST! To make the lemon juicing process go super fast, I use this citrus juicer and this lemon zester.
SUGAR: To sweeten my lemonade, I use regular granulated sugar and water to make a simple syrup. Just boil 3 cups of water and only 1 cup of sugar for 5 minutes.
WATER: I like to use ice-cold water to speed up the process of chilling the lemonade so I can enjoy it right away.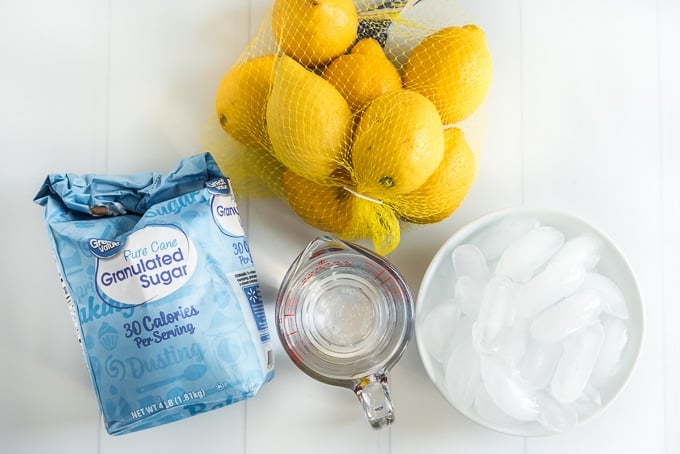 HOW TO MAKE LEMONADE:
(Scroll down for the complete step-by-step recipe)
ZEST LEMONS: Using a lemon zester, zest about 2 lemons.
MAKE SUGAR WATER: In a small saucepan, add water and sugar. Bring to boil.
SQUEEZE THE LEMON JUICE: Using your citrus juicer, strain 8 fresh lemons until you get about 1.5 cups of lemon juice.
SERVE: Pour lemon juice, water, and sugar water into a large pitcher. Pour over ice and enjoy!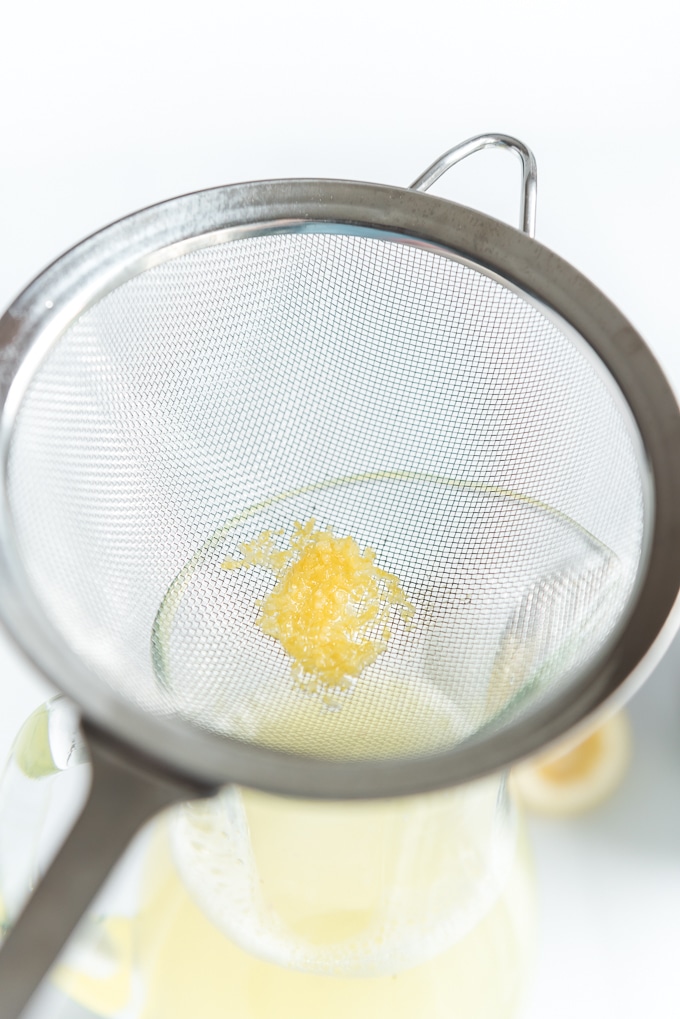 BEST LEMONADE TIPS
HOW MANY LEMONS DO I NEED TO MAKE LEMONADE?
You will need about 8 lemons to get about 1 1/2 cups of lemon juice.
WHAT ARE THE BEST LEMONS TO USE TO MAKE LEMONADE?
Meyer lemons are the best lemons to use to make homemade lemonade because they're sweeter and juicer.
HOW TO JUICE A LEMON?
The best way to juice a lemon is to first roll each lemon over your cutting board. This will help them to release more juice. Then use your citrus juicer.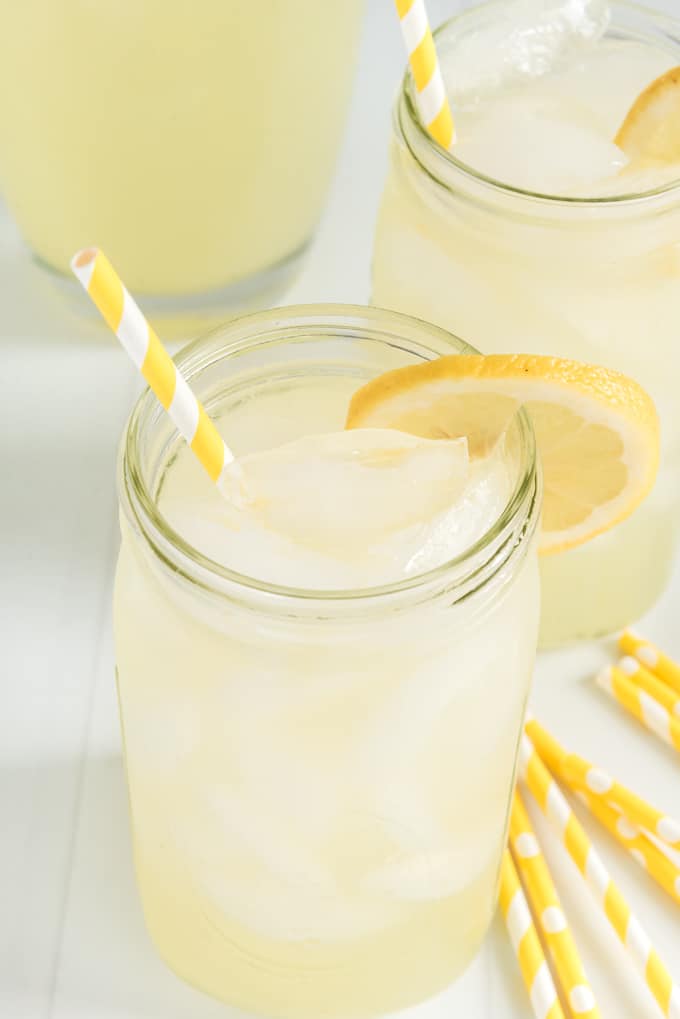 MORE FAVORITE DRINK RECIPES:
Looking for more easy drink recipes? Here are some of my favorites:
Yield: 8 cups
HOMEMADE LEMONADE RECIPE
Prep Time 10 minutes
Additional Time 20 minutes
Total Time 30 minutes
Homemade Lemonade made with 3 simple ingredients.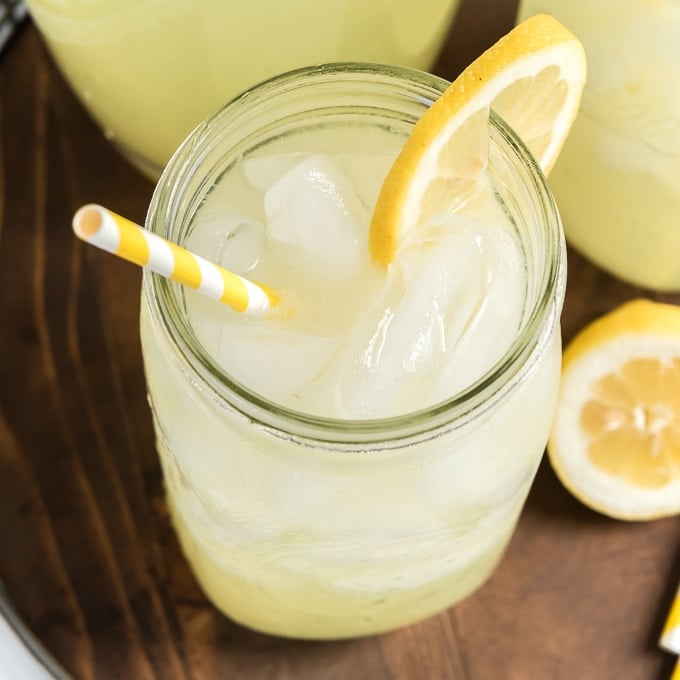 Ingredients
8 cups of water, divided
1 cup of sugar
Zest of 2 lemons
1 1/2 cups of lemon juice (about 8 lemons)
2 cups of ice cubes
Instructions
Pour 3 cups of water and 1 cup of sugar into a saucepan. Bring to boil. Boil for 5 minutes.

Remove pan from heat, add lemon zest into the sugar water. Let sit for 5 minutes or cooled to room temperature! Sometimes, I just put the pan in the fridge to cool it down faster!

In a large pitcher or jug, add the lemon juice and the remaining 5 cups of water. Pour COOLED sugar water over a strainer into the pitcher/jug, the strainer will catch the lemon zest. Discard the lemon zest.

Add ice and refrigerate for at least 30 minutes before serving! Pour over ice and serve with a lemon slice!
Notes
* Store lemonade in refrigerator after serving.
Nutrition Information:
Yield:
10
Serving Size:
1
Amount Per Serving:
Calories: 88
Total Fat: 0g
Saturated Fat: 0g
Trans Fat: 0g
Unsaturated Fat: 0g
Cholesterol: 0mg
Sodium: 17mg
Carbohydrates: 24g
Fiber: 1g
Sugar: 21g
Protein: 0g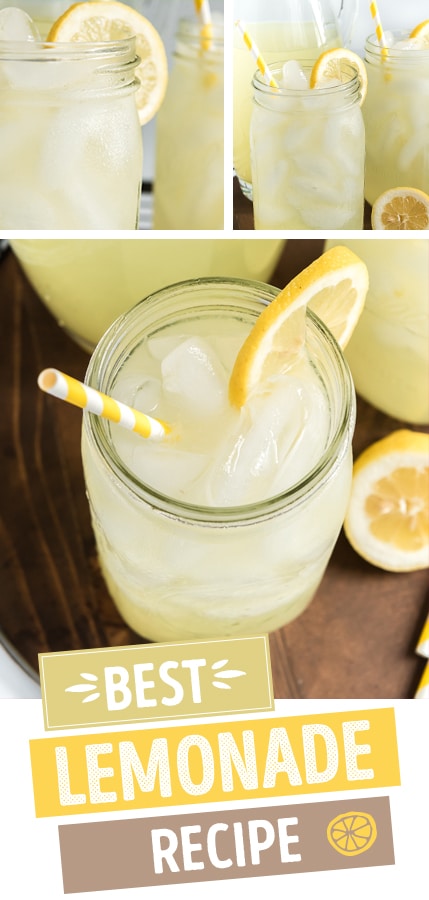 Some of the links above are affiliate links, which pay me a small commission for recommending my favorite products at no extra cost to you! Thank you for supporting Deliciously Sprinkled.