SLOW COOKER CHICKEN NOODLE SOUP
This Slow Cooker Chicken Noodle Soup is a classic chicken noodle soup recipe made right in the crockpot!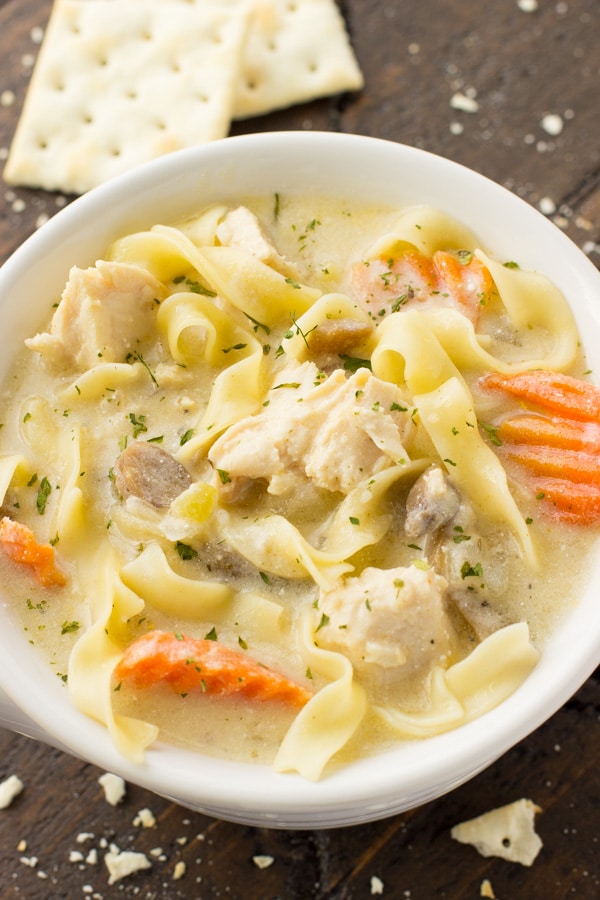 It's April 3rd and it feels like it's December 3rd today in Wisconsin.
We are suppose to get 6-10 inches of snow today.
WHAT!?!
I'm so over winter and I just want it to be warm again.
So with it still feeling like winter outside, I'm sharing my favorite Slow Cooker Chicken Noodle Soup recipe.
It's the perfect soup to warm you up on a cold, snowy day.
This chicken noodle soup is loaded with all your favorite veggies, like carrots, onions, celery and my personal favorite mushrooms.
If you don't like mushrooms, no problem just leave them out.
It's so easy to make this soup because you just throw everything into the slow cooker and you have a delicious, homemade soup in as little as 4 hours.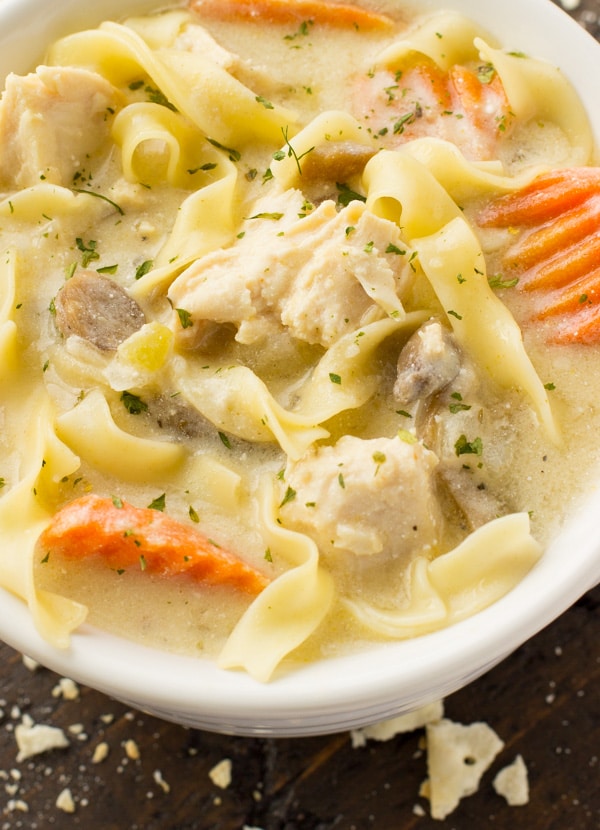 HOW TO MAKE CHICKEN NOODLE SOUP
BEST SLOW COOKER: I used my 6-quart slow cooker to make this chicken noodle soup. And don't forget to use these slow cooker liners for easy cleanup.
ADD YOUR FAVORITE VEGGIES: I love making chicken noodle soup because you can change it up by adding or eliminating certain veggies. I like to add mushrooms to our soup because my husband and I love love love mushrooms.
NOODLES: I usually use wide egg noodles but I've also used little springs noodles, wheel noodles, or even small shell noodles. It's fun to mix it up with the noodles.
HOW TO FREEZE LEFTOVER SOUP: We always have leftovers because it's just my husband and I right now, so I just place the leftovers in a freezer bag and it stays good in the freezer up to 3 months.
HOW TO RE-HEAT SOUP: We always have leftovers, so if i'm planning on having soup the next night I just place the leftover soup in the fridge. Once I'm ready to heat it up, I either put it back in the slow cooker for 1-2 hours or I heat it up on the stove until hot. If your soup is frozen, place the frozen soup in the fridge overnight to thaw. Once thawed, place soup in slow cooker or heat up on the stove.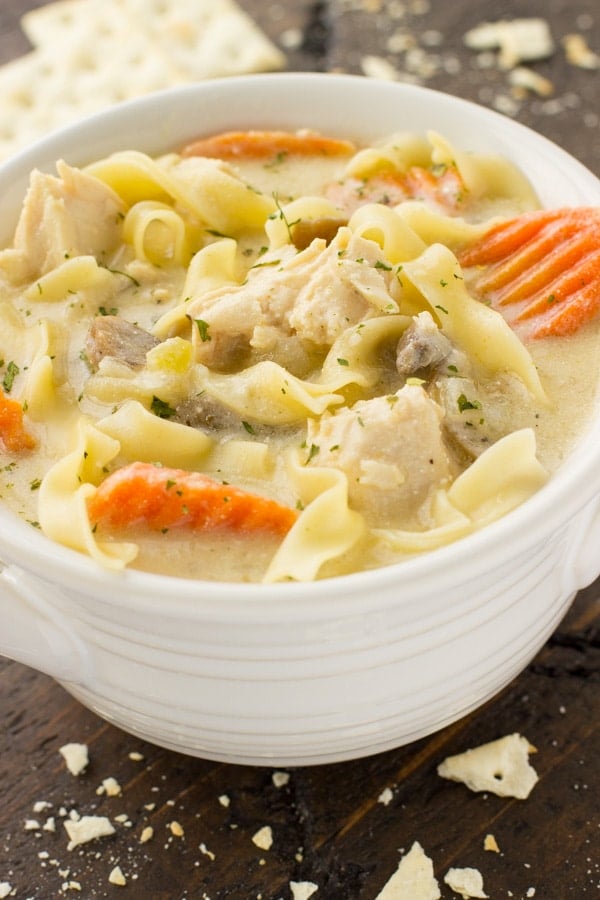 MORE SOUP RECIPES
SLOW COOKER CHEESY POTATO SOUP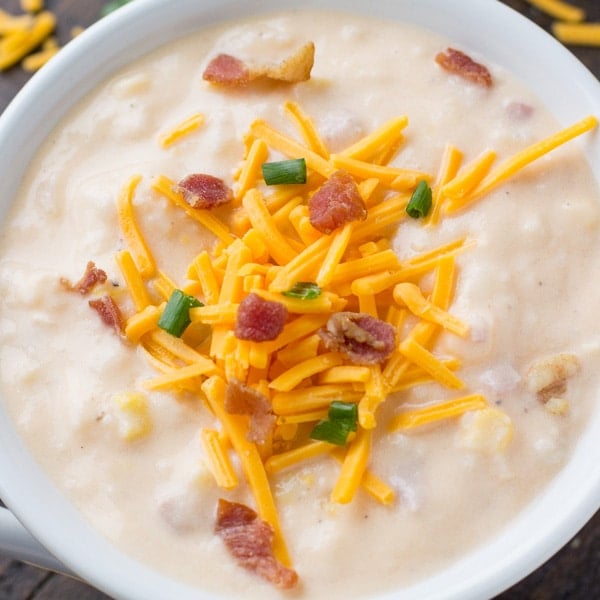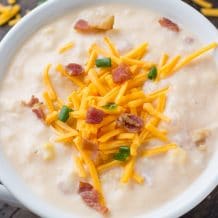 SLOW COOKER BROCCOLI CHEDDAR SOUP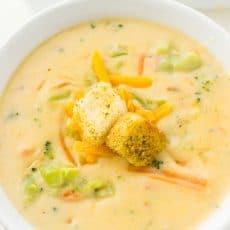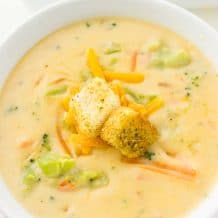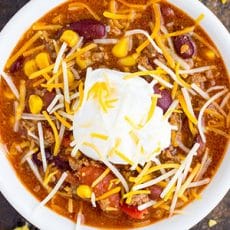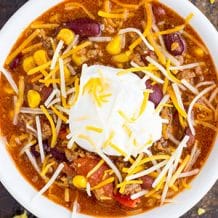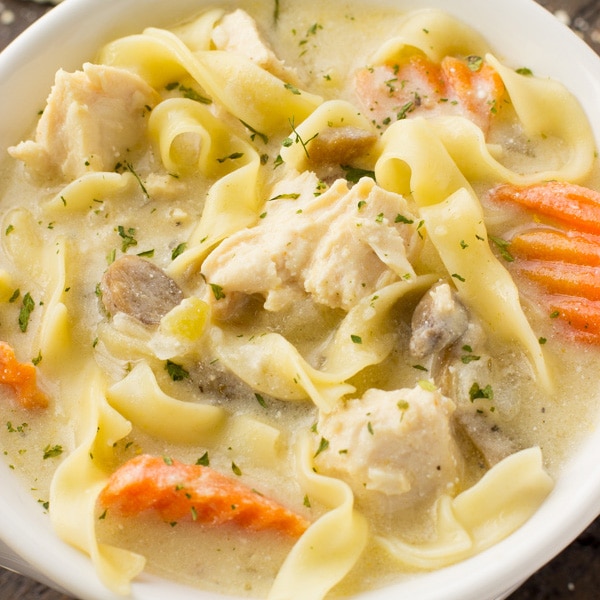 Yield: Serves 10-12
Slow Cooker Chicken Noodle Soup
Prep Time 10 minutes
Cook Time 4 hours
Total Time 4 hours 10 minutes
Ingredients
3 chicken breasts
2 cups carrots, chopped
1 medium onion, chopped
3 stalks celery, chopped
1 (8oz.) can mushroom stems & pieces, drained
4 cloves garlic, minced
1 Tablespoon poultry seasoning
1 teaspoon salt
1 teaspoon pepper
2 ( 10 3/4 oz.) cans cream of chicken soup
7 cups chicken broth
egg noodles, cooked separately
fresh parsley, for topping
Instructions
STEP 1: Place all the ingredients except the egg noodles into slow cooker.
STEP 2: Cover and cook on HIGH for 4 hours or LOW for 6-8 hours.
STEP 3: Remove chicken breasts, cut chicken into cubes. Place chicken back into slow cooker. Cook egg noodles according to package directions.
STEP 4: Stir in cooked noodles.
STEP 5: Serve and top with fresh parsley.
Notes
FREEZE: You can freeze this soup up to 3-4 months.