Air Fryer Asparagus Recipe
Say goodbye to lackluster side dishes and hello to crispy, flavorful, and totally delicious Air Fryer Asparagus! This easy recipe only calls for six inexpensive ingredients and is made in under ten minutes. If you're looking for the ultimate healthy side dish to toss on a weeknight dinner plate, this is it!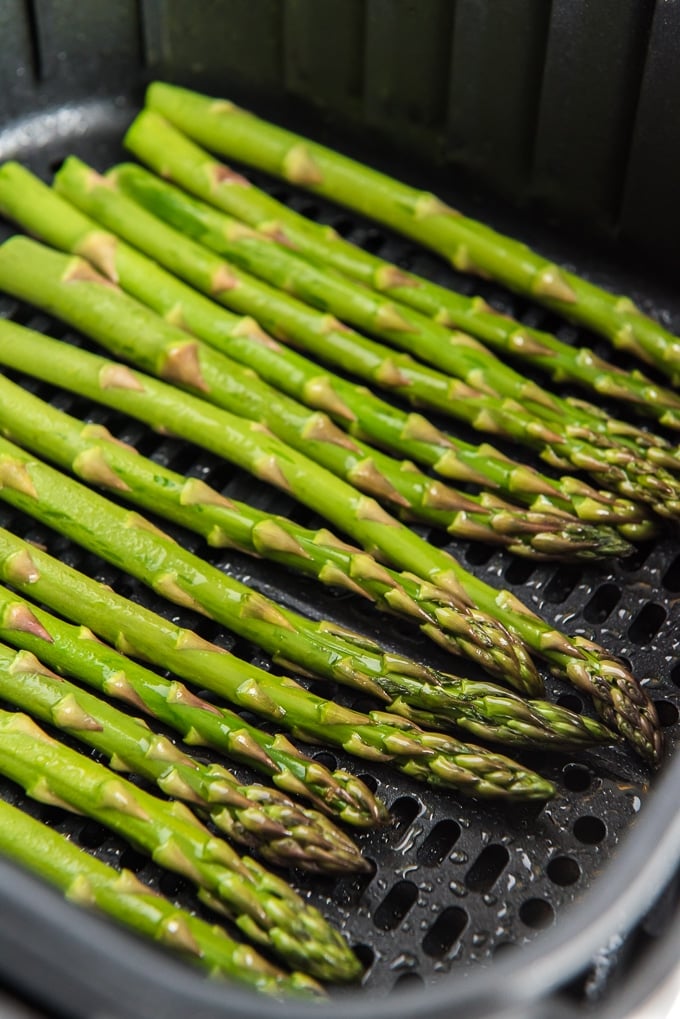 Air Fryer Asparagus Recipe
Let's be real – after a long day of working, dealing with kids, or doing whatever you do that keeps you busy, making a side dish with a lot of ingredients and strenuous steps is probably the last thing on your to-do list. Sometimes you gotta put a little extra love into the entree, but side dishes should always be easy going!
This asparagus recipe is pretty much the definition of hassle-free. Why? Because it's made in the air fryer, of course! I love using my air fryer because it preheats in no time and cooks food to perfection so much faster than the oven does. Every time I follow this recipe, I get the crispiest, most mouthwatering asparagus in just under 10 minutes.
Now let's talk about the ingredients. I like to keep the list pretty short when it comes to asparagus. Asparagus adapts so well to other ingredients, so it's best to not overdo it! With just a little garlic powder, salt, pepper, and parmesan cheese, you'll have asparagus that even the pickiest of eaters at your table will enjoy.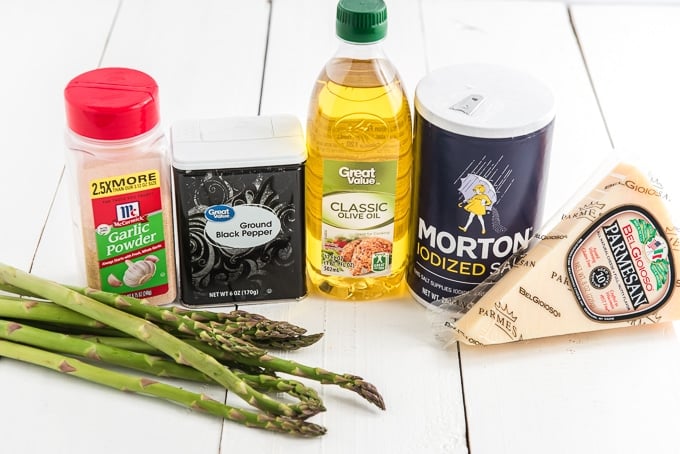 Air Fryer Asparagus Ingredients
ASPARAGUS: 1 bunch fresh asparagus, trimmed
COOKING SPRAY: olive oil can also be used
GARLIC POWDER: 1/2 tsp garlic powder
SALT: 1/2 tsp salt
PEPPER: 1/2 tsp pepper
PARMESAN CHEESE: 1/4 cup grated parmesan cheese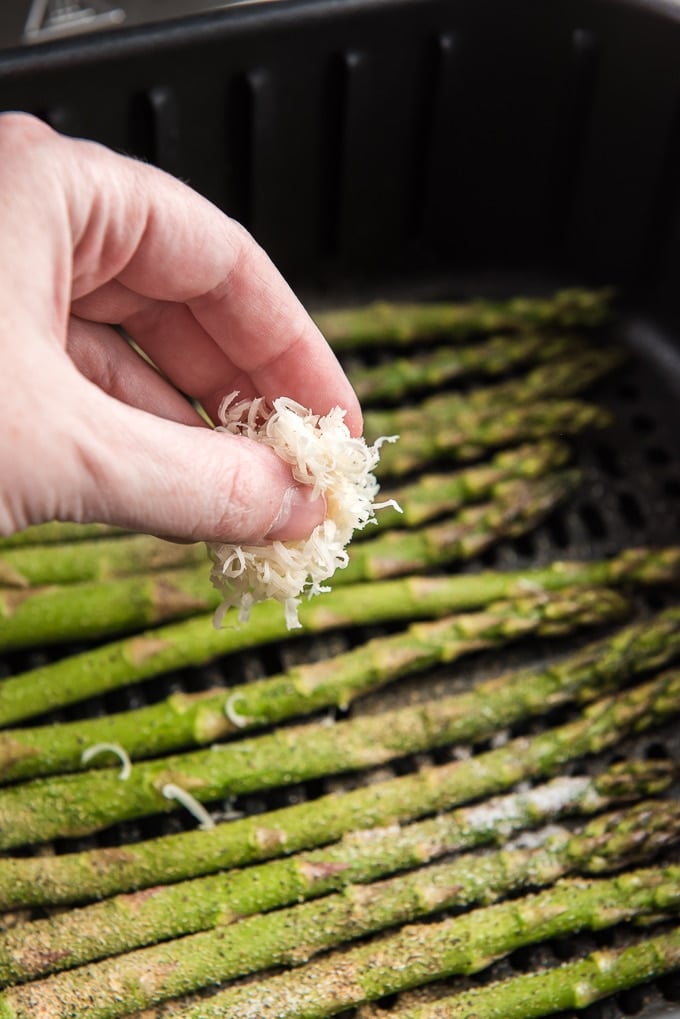 How to Make Easy Air Fryer Asparagus
These steps really couldn't be easier. You're going to love how quickly your new favorite side dish comes together!
PREPARE: Preheat the air fryer to 375°F. Spray the basket of the air fryer with cooking spray.
SEASON: Place the uncooked asparagus in the basket of the air fryer and spray it with cooking spray, or drizzle with olive oil. Then, sprinkle garlic powder, salt and pepper over the asparagus before topping with parmesan cheese.
COOK: Cook for about 6 to 9 minutes, or until the asparagus begins to char.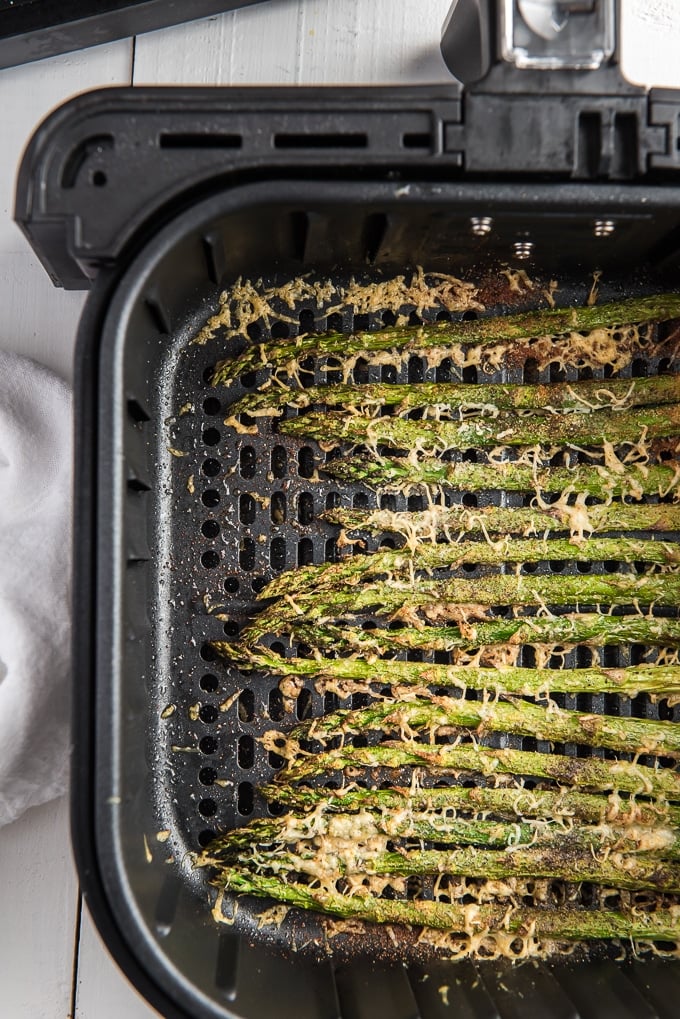 What should I serve with air fryer asparagus?
This is a pretty versatile side dish that pairs well with a ton of different entrees! You could serve this will grilled salmon, baked chicken, or your favorite cut of steak. Or enjoy a meatless Monday by serving this asparagus with some quinoa and pan seared tofu! It's also tasty when served with other sides like Instant Pot Mashed Potatoes.
How long will this asparagus stay fresh?
Once cooked, this asparagus will stay fresh in the fridge in an airtight container for up to 3 days. To reheat it, do NOT use the microwave unless you want your stalks to get soggy! Instead, just pop the asparagus back into the air fryer for about 5 minutes or less. It'll be just as tasty and crispy as when you first made it.
What are some health benefits in asparagus?
I'm sure this is a surprise to no one, but this asparagus isn't just delicious – it's good for you, too! Asparagus is rich with fiber, folate, and other nutrients. Also, it's got a ton of vitamins C, A, and K! This is a side dish you can feel good about having second (or third) portions of.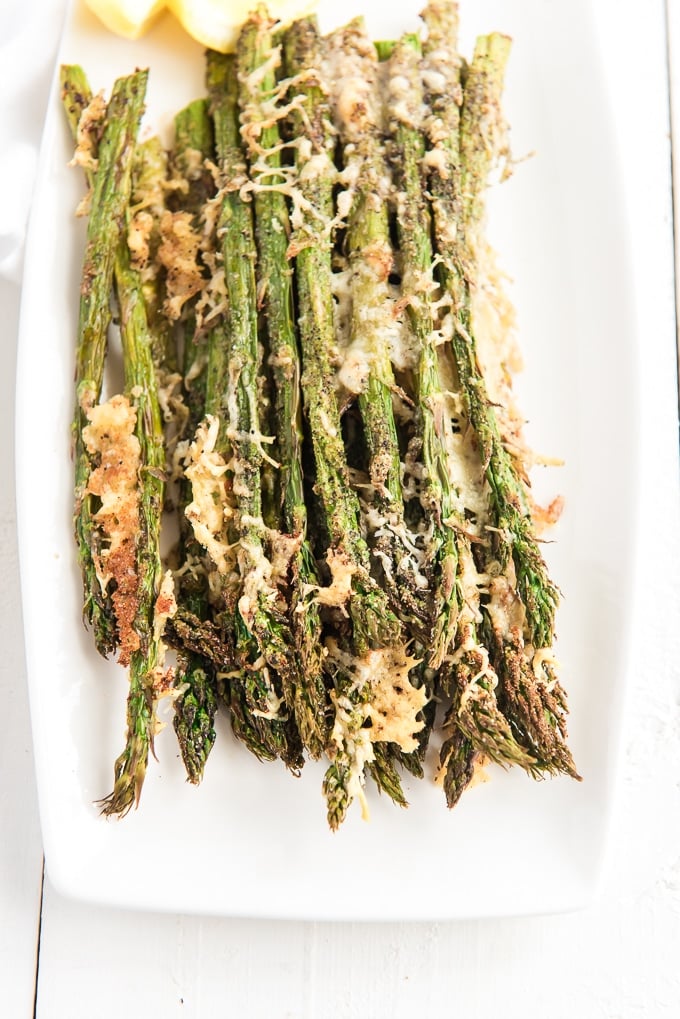 Are you looking for more easy and satisfying side dishes that are so good, they might just steal the show from the main course? Then you need to make Crockpot Cheesy Ranch Potatoes, Instant Pot Brown Sugar Glazed Carrots, and Crispy Ranch Zucchini Fries!
Yield: Serves 4-6
Air Fryer Asparagus Recipe
Prep Time 10 minutes
Cook Time 9 minutes
Total Time 19 minutes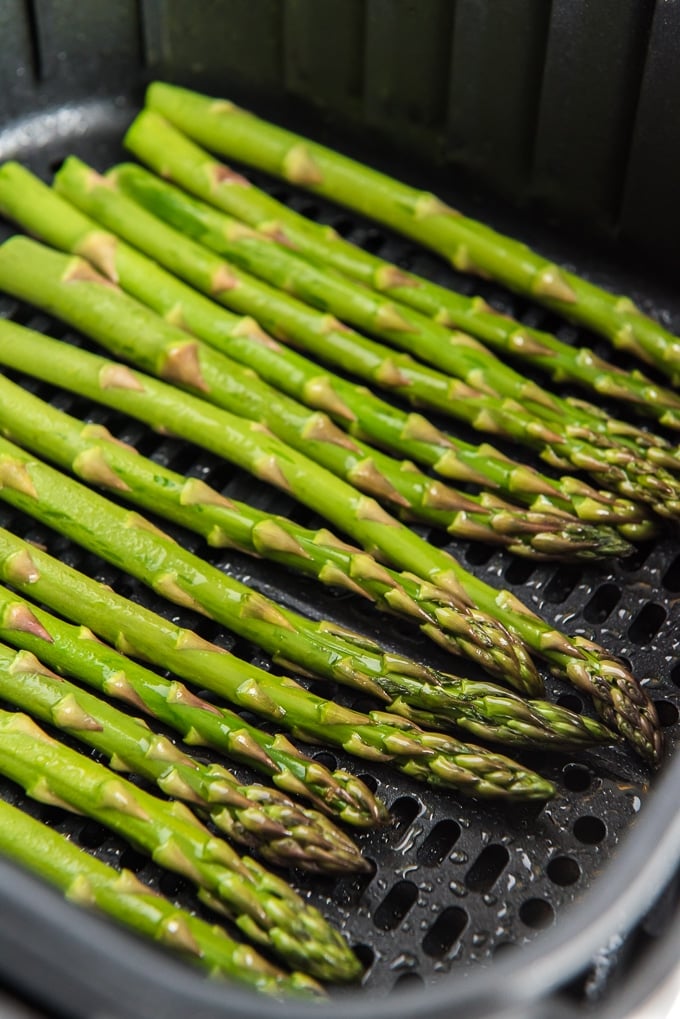 Ingredients
1 bunch fresh asparagus, trimmed
Cooking spray or olive oil
½ teaspoon garlic powder
½ teaspoon salt
½ teaspoon pepper
¼ cup grated parmesan cheese
Instructions
Preheat the Air Fryer to 375 degrees. Spray basket with cooking spray.
Place asparagus in the air fryer and spray with cooking spray or drizzle with olive oil. Sprinkle garlic powder, salt and pepper. Top with parmesan cheese.
Cook for about 6 to 9 minutes or until asparagus starts to char.
Nutrition Information:
Yield:
6
Serving Size:
1
Amount Per Serving:
Calories: 40
Total Fat: 3g
Saturated Fat: 1g
Trans Fat: 0g
Unsaturated Fat: 2g
Cholesterol: 4mg
Sodium: 252mg
Carbohydrates: 1g
Fiber: 0g
Sugar: 0g
Protein: 1g