Crockpot Pork Chops Recipe
There's nothing better than an easy crockpot recipe, is there? Especially not a crockpot pork chop recipe utilizing just 3 ingredients! It's equally as tasty and makes a great weeknight dinner.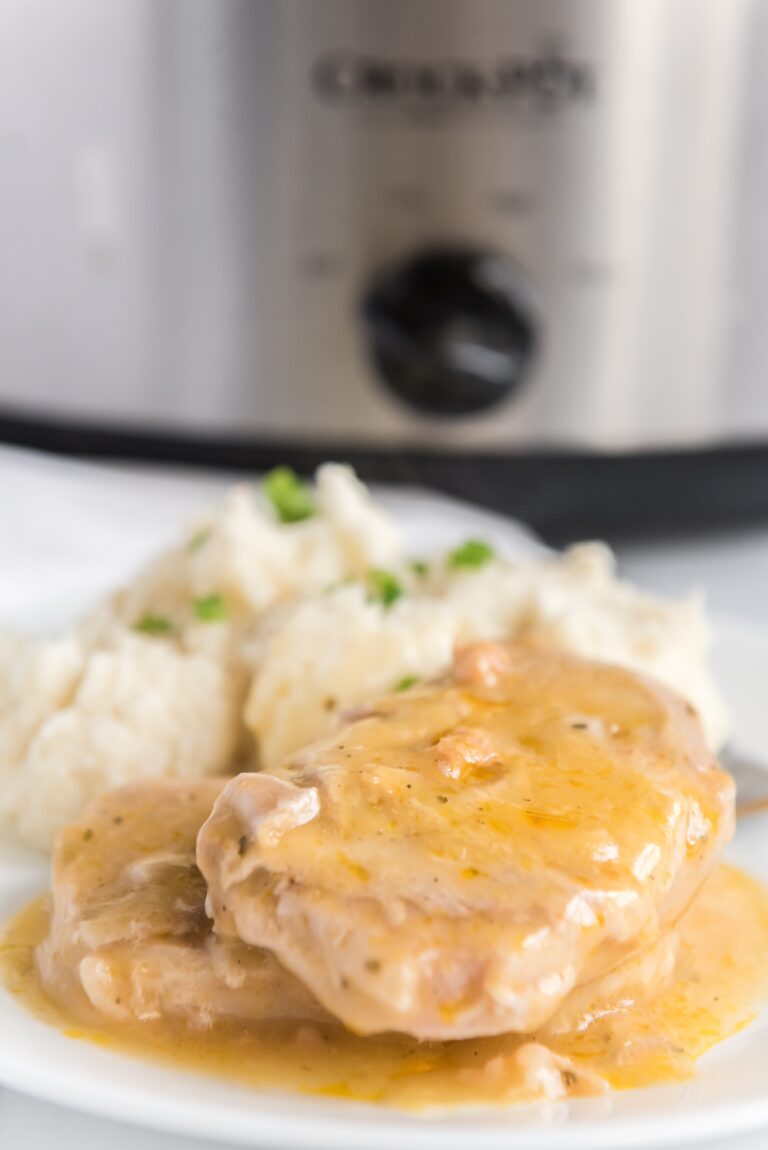 EASY CROCKPOT PORK CHOPS
The absolute best part about this dish is how easy it is!! These are 3 ingredient crockpot pork chops (2 if we don't count the pork chops!) and there is very little prep needed. Throw everything in, walk away, and you'll have a tasty dinner by the evening.
You'll still want to make some potatoes to go with these tasty pork chops, but that's so easy to do and really cuts down on the work needed.

RECIPE FOR CROCK POT PORK CHOPS
Recipes like these can really make some uneasy… I mean, can it really taste delicious and be this simple? The answer is YES! These boneless pork chops in the crockpot are so delicious – you won't believe how easy it is.
The sauce is the best part of this recipe, in fact. You'll want to really coat those crockpot pork chops in the stuff (and maybe your potatoes too!) as it's such a delicious flavor. This will easily become yet another recipe you run to again and again.
Let's get to the recipe now, shall we?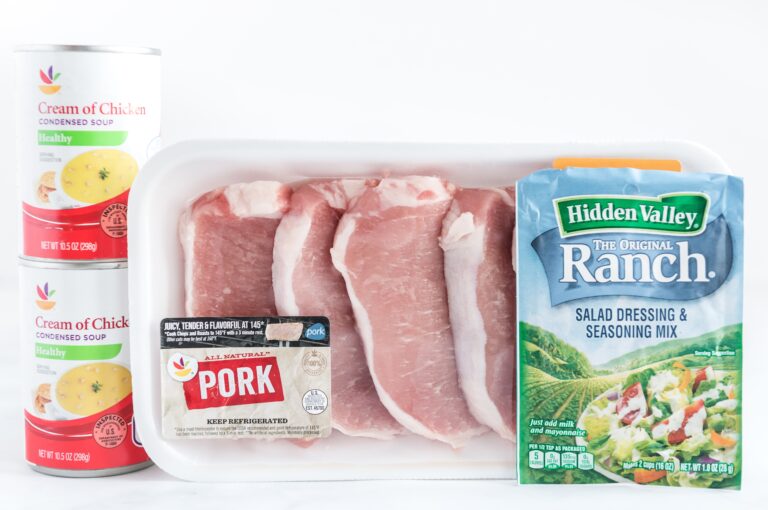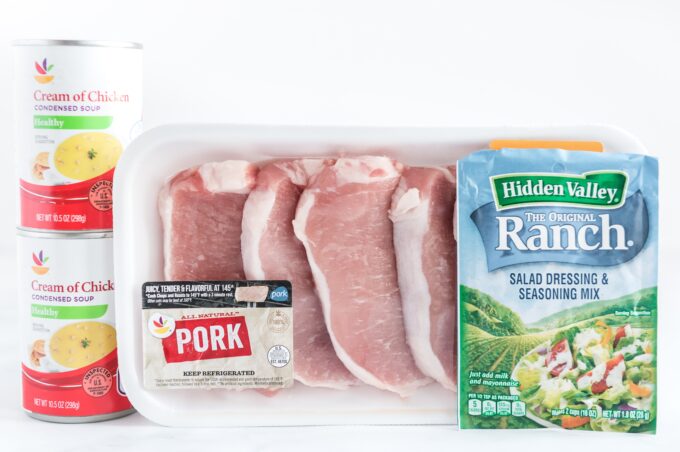 INGREDIENTS FOR CROCKPOT PORK CHOPS
For this easy pork chop recipe, you'll need just these 3 ingredients:
PORK CHOPS: Pick out the best boneless cut you can find for this recipe!
CREAM OF CHICKEN: This is the base of the mixture for your pork chops.
RANCH: Make sure to grab the dry packets as they add a delicious taste to this dish.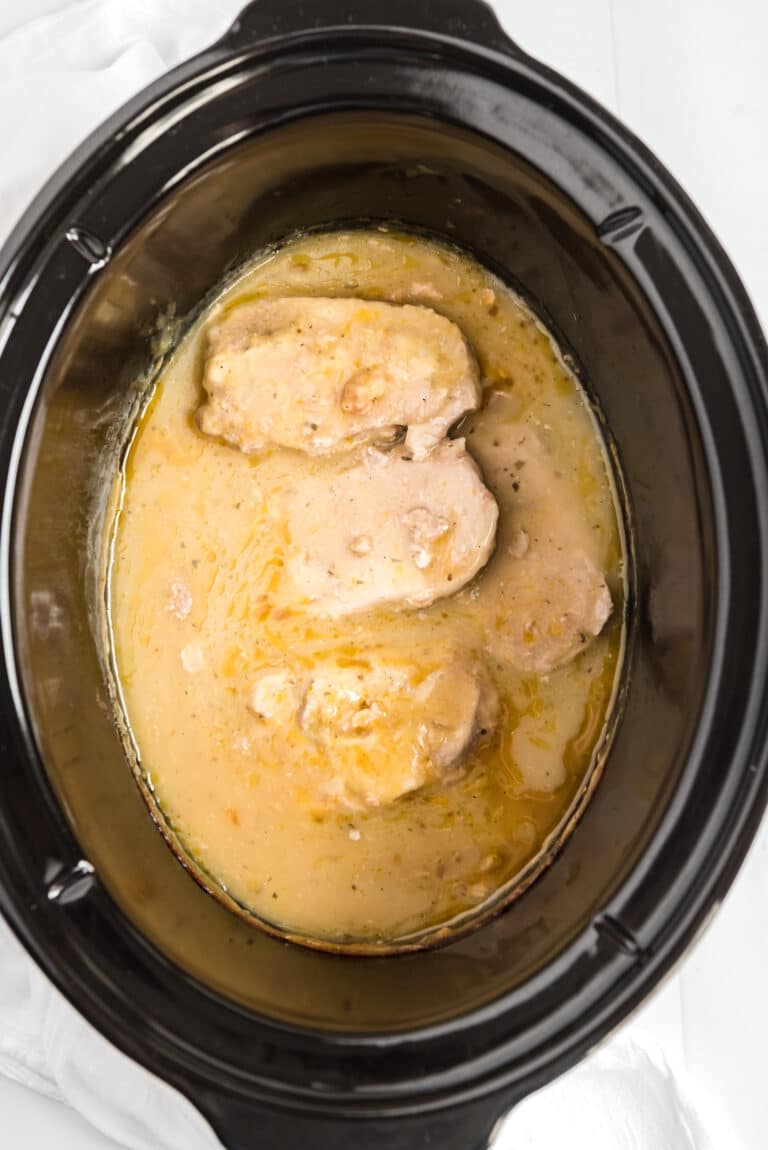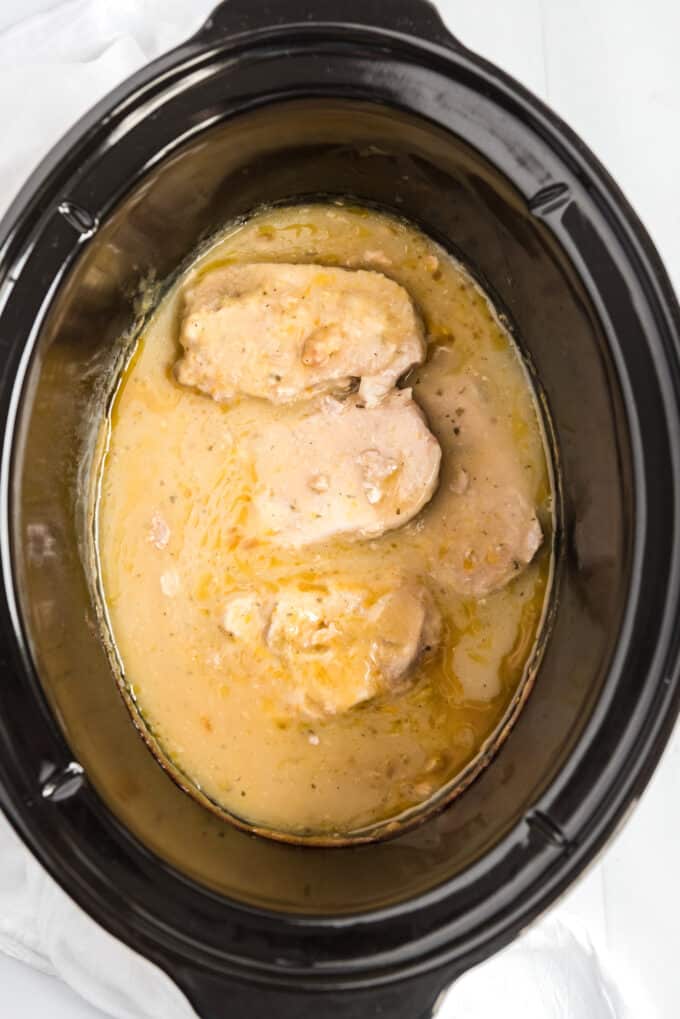 HOW TO MAKE CROCKPOT PORK CHOPS
Scroll down below for a printable step-by-step recipe!
ADD PORK CHOPS: Add the pork chops to the bottom of your crockpot.
MIX INGREDIENTS: Mix the cream of chicken and ranch together in a bowl. Top the pork chops with this mixture.
COOK AND SERVE: Cook on high for 4 hours or low for 6-8 hours. Serve with mashed potatoes and enjoy!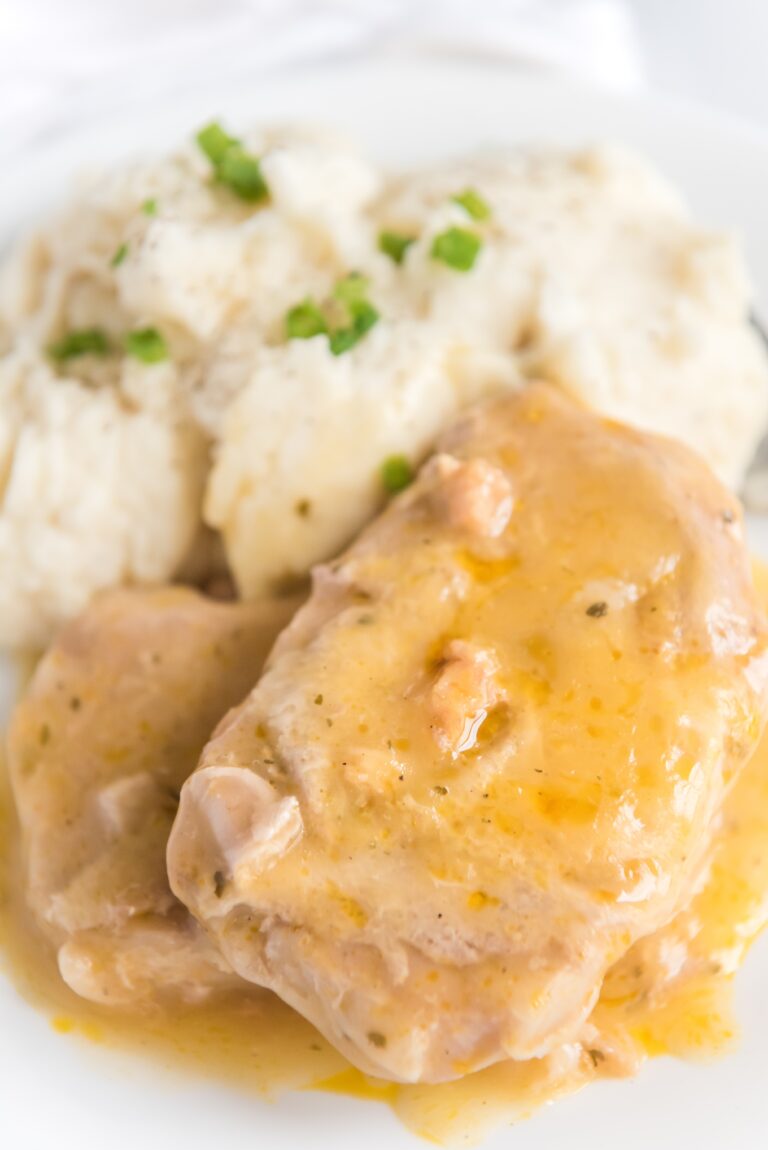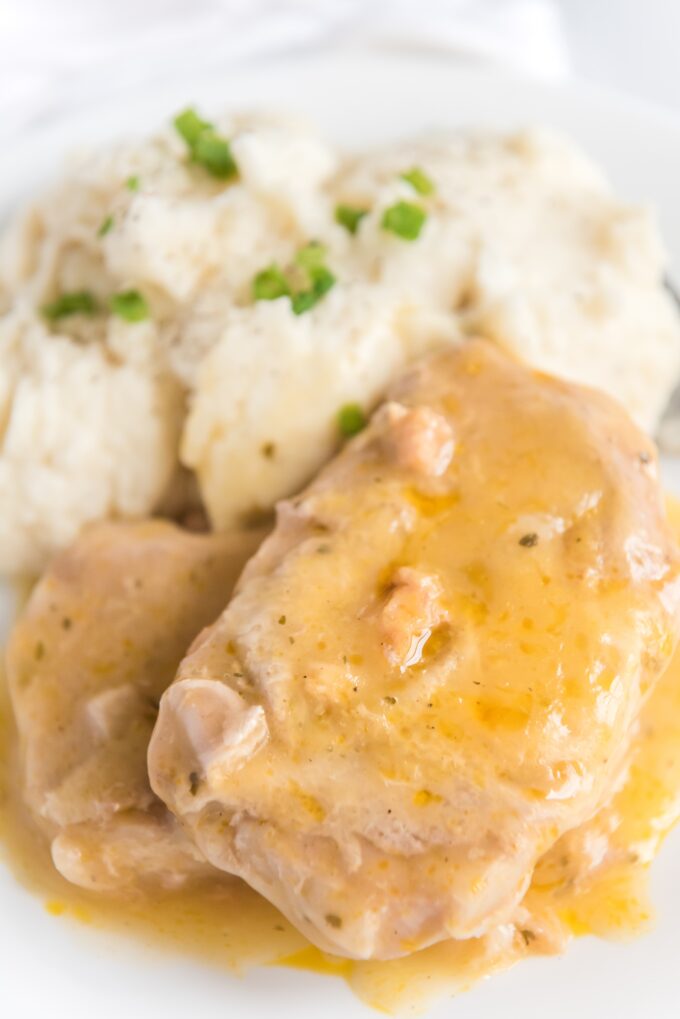 CAN YOU PUT FROZEN PORK CHOPS IN THE SLOW COOKER?
For this recipe, I do not recommend it. Place them in the refrigerator overnight and finish thawing on the counter before preparing this recipe.
WHAT TEMPERATURE SHOULD PORK CHOPS BE COOKED TO?
It's recommended for pork chops to be cooked to 145-160F, depending on how you like your meat cooked, followed by resting for 3 minutes.
WHAT ELSE CAN I SERVE WITH PORK CHOPS?
While I'm partial to mashed potatoes, you can also serve these with roasted veggies, rice, or even some rotini pasta! There are quite a few options that would pair well with pork chops.
HOW LONG WILL THESE PORK CHOPS LAST?
If properly stored in the refrigerator, they will last 3-4 days. You can also freeze them in an airtight container and they will last 3-4 months. This may fluctuate depending on the conditions of the room.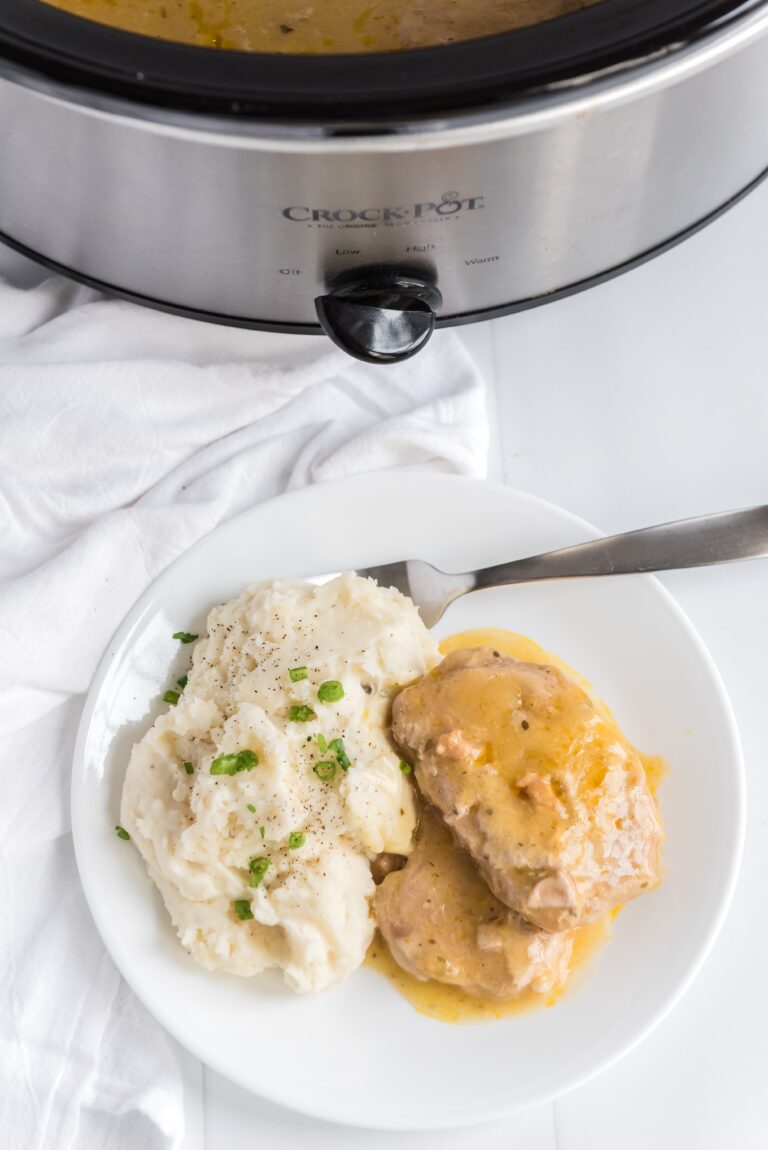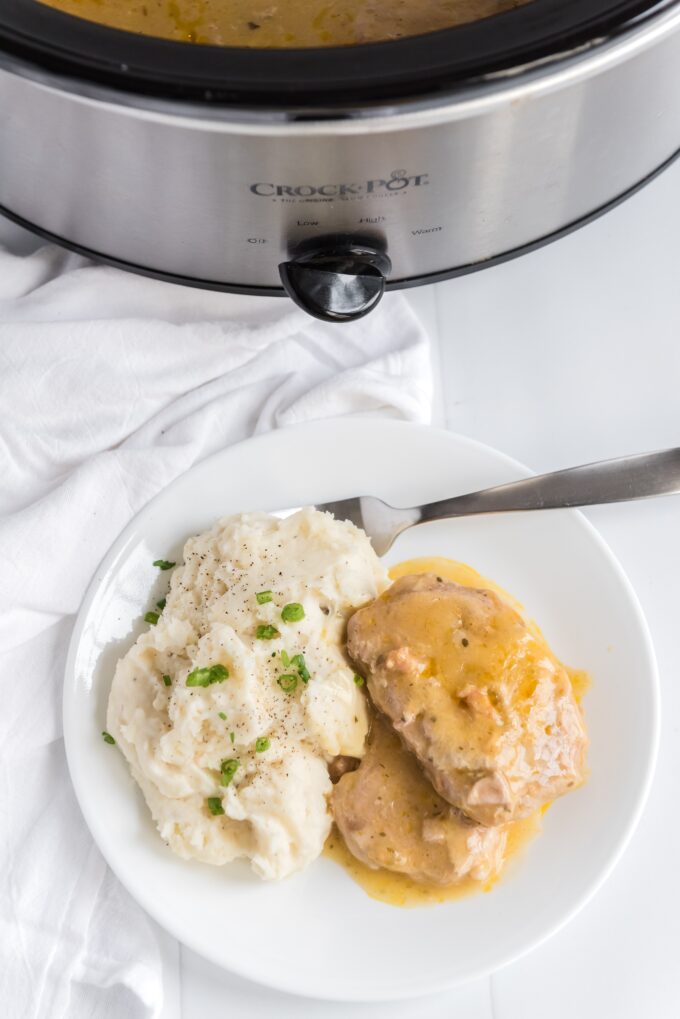 Check out these other crockpot recipes:
If you have tried this Crockpot Pork Chops recipe, then please rate it in the recipe card and let me know how it turned out in the comments below!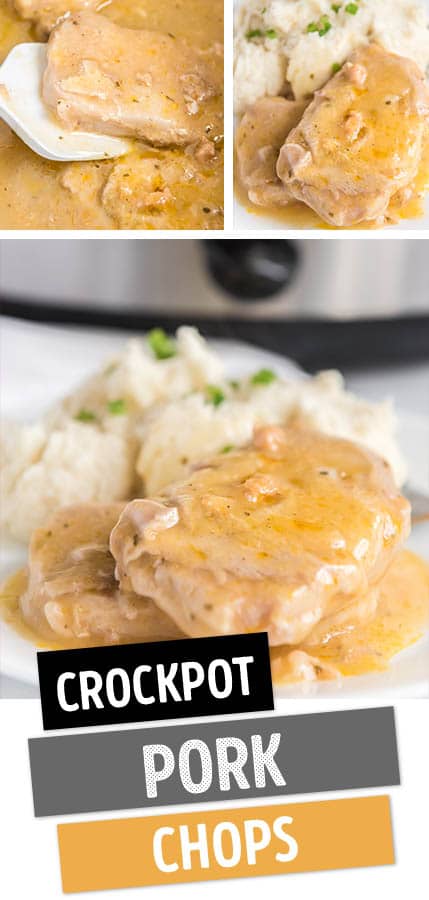 Yield: 4 servings
CROCKPOT PORK CHOPS RECIPE
Prep Time 5 minutes
Cook Time 8 hours
Total Time 8 hours 5 minutes
This crockpot pork chop recipe is equally easy to make and delicious. Perfect for busy weeknights!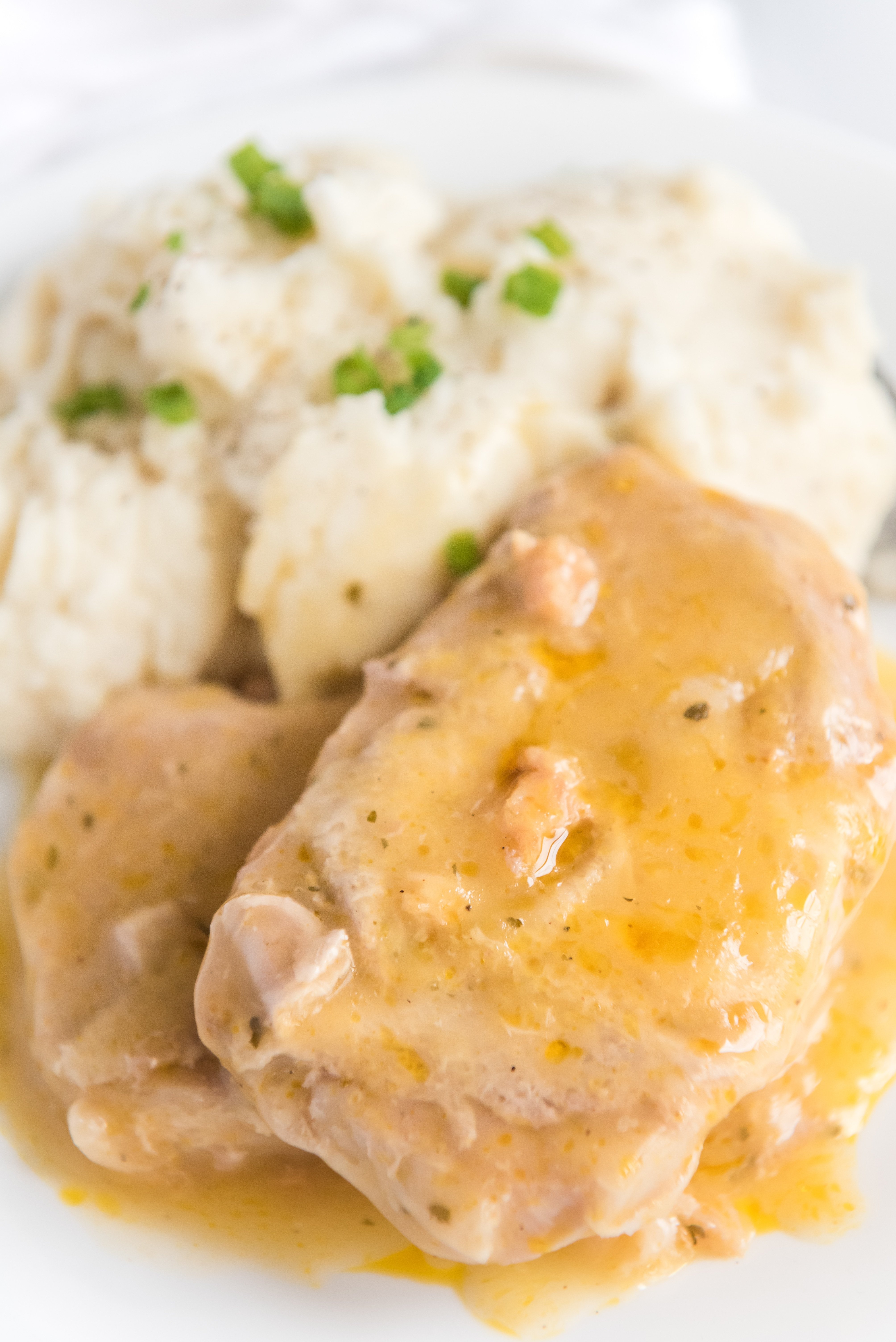 Ingredients
4 boneless pork chops
2 cans cream of chicken
1 packet ranch dressing mix
Instructions
Place the pork chops in the bottom of your crockpot.
Mix together the cream of chicken and ranch in a mixing bowl.
Pour the mixture over the pork chops as evenly as possible.
Cook on high for 4 hours or low for 6-8 hours.
Serve with mashed potatoes and enjoy!
Nutrition Information:
Yield:
4
Serving Size:
1
Amount Per Serving:
Calories: 471
Total Fat: 27g
Saturated Fat: 9g
Trans Fat: 0g
Unsaturated Fat: 16g
Cholesterol: 115mg
Sodium: 1745mg
Carbohydrates: 15g
Fiber: 0g
Sugar: 2g
Protein: 42g
This blog post contains affiliate and/or referral links, which pay me a small commission for recommending my favorite products at no extra cost to you! Additionally, as an Amazon affiliate, I earn from qualifying purchases.