Easy Corn Casserole Recipe
If you're looking for an easy Thanksgiving side dish recipe, you will LOVE this corn casserole recipe! Full of the perfect flavors and consistency, it is an absolute MUST have!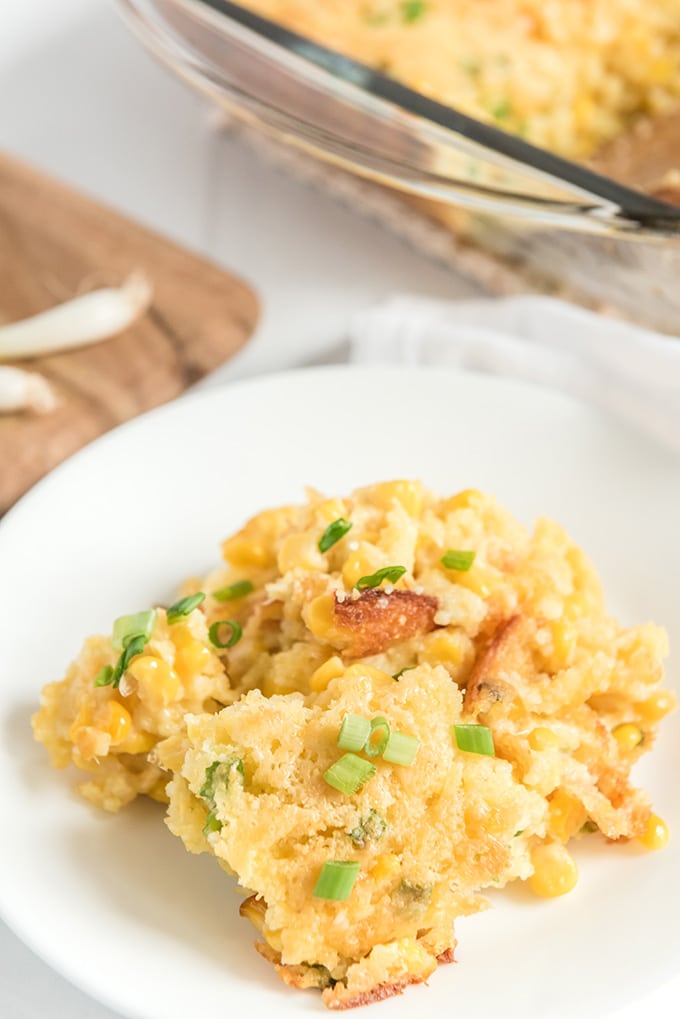 CORN CASSEROLE WITH JIFFY MIX
What makes this corn casserole recipe truly is easy is that it's a corn casserole with jiffy mix as one of the main ingredients. No need to make it complicated here! If you don't have jiffy mix, you can also make this corn casserole without jiffy mix by mixing together your own.
Another ingredient I really enjoy in this corn casserole bake is the green onions. It adds a very subtle flavor that everyone will love! I've also heard of corn casserole being made with other things such as cheese, sugar, bacon, peppers, and more. Experiment and see what you can come up with!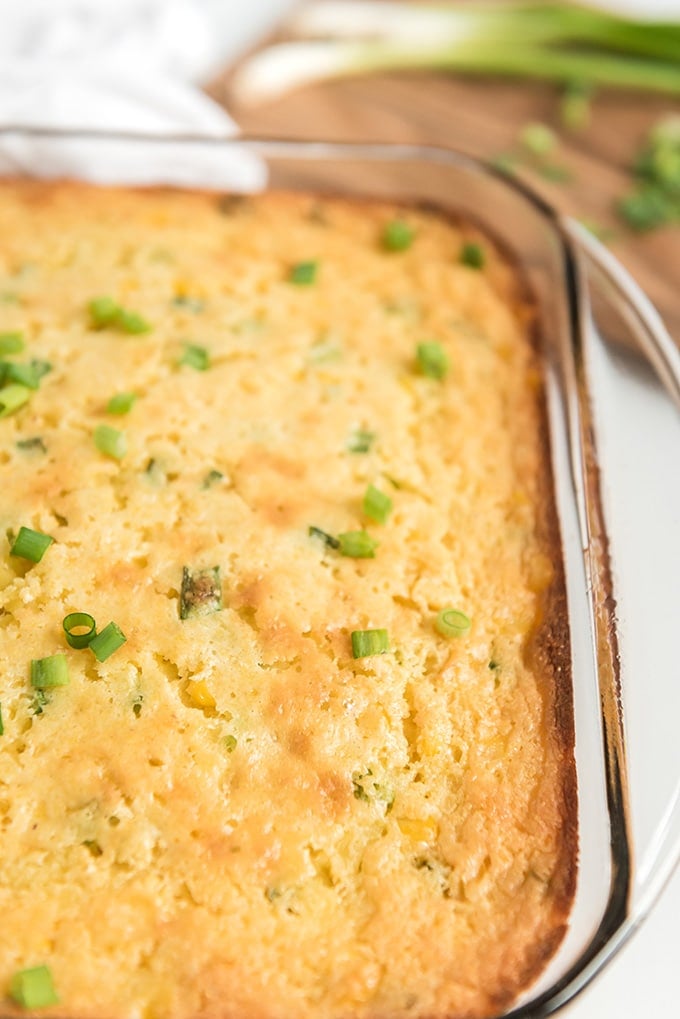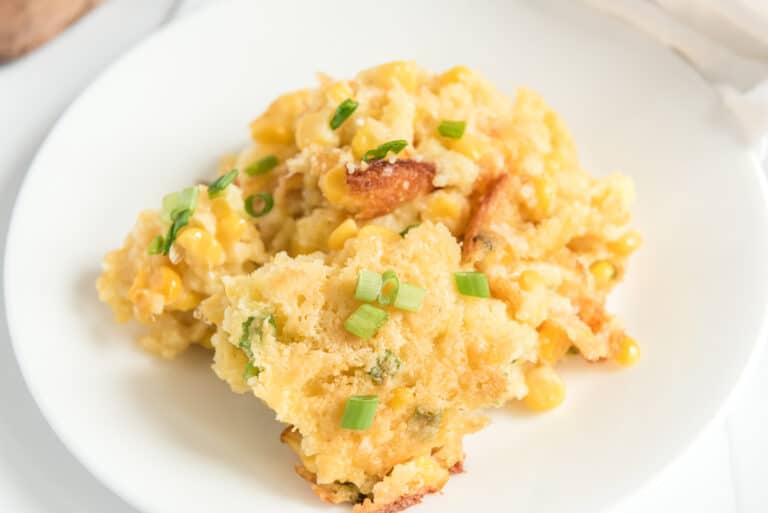 EASY THANKSGIVING SIDE DISH
This corn casserole really is an amazing side dish for Thanksgiving. If you've never tried including this on your Thanksgiving menu, I highly recommend it! It goes so well with turkey, mashed potatoes, green bean casserole, and of course some sweet potato casserole too.
But if you're not sold on the idea of it being included for a Thanksgiving side dish, it also pairs well with a classic chili recipe on a cold winter evening. While classic cornbread is delicious, this corn casserole recipe is a great alternative to mix things up.
But let's get to the recipe for corn casserole already, shall we?
CORN CASSEROLE RECIPE INGREDIENTS
For this corn casserole recipe, you'll need these easy ingredients:
BUTTER: Everything needs butter of course, ha!
EGGS: The eggs serve as the perfect glue in this dish.
CORNBREAD MIX: We love making this corn casserole with jiffy mix.
KERNEL CORN: Would it be corn casserole without the corn?
CREAMED CORN: Added for the creamy texture and delicious taste!
SOUR CREAM: The sour cream is the perfect thickening agent.
GREEN ONIONS: Adds some delicious flavor to this dish – you can also add other addins.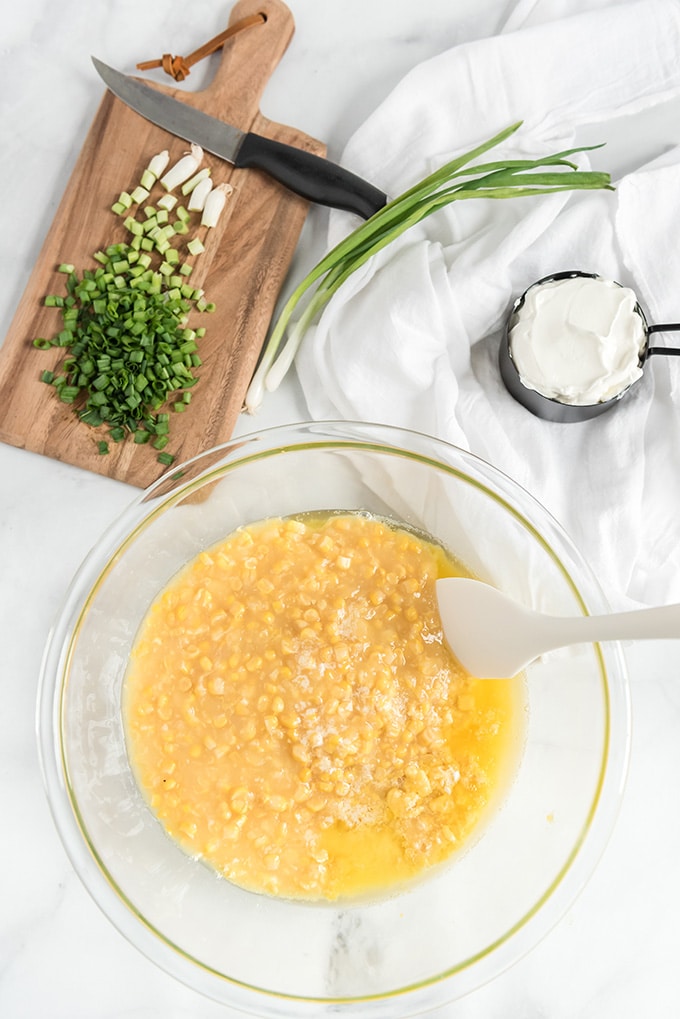 HOW TO MAKE CORN CASSEROLE BAKE
PREPARE: Preheat the oven to 350F and then spray a 9×9 baking dish with nonstick cooking spray.
MIX INGREDIENTS: In a medium-sized bowl, mix together the butter, eggs, cornbread mix, corns, and sour cream. Add the onions and stir
BAKE AND SERVE: Pour the mixture into the prepared baking dish and then bake for 50-55 minutes, until golden brown. Enjoy!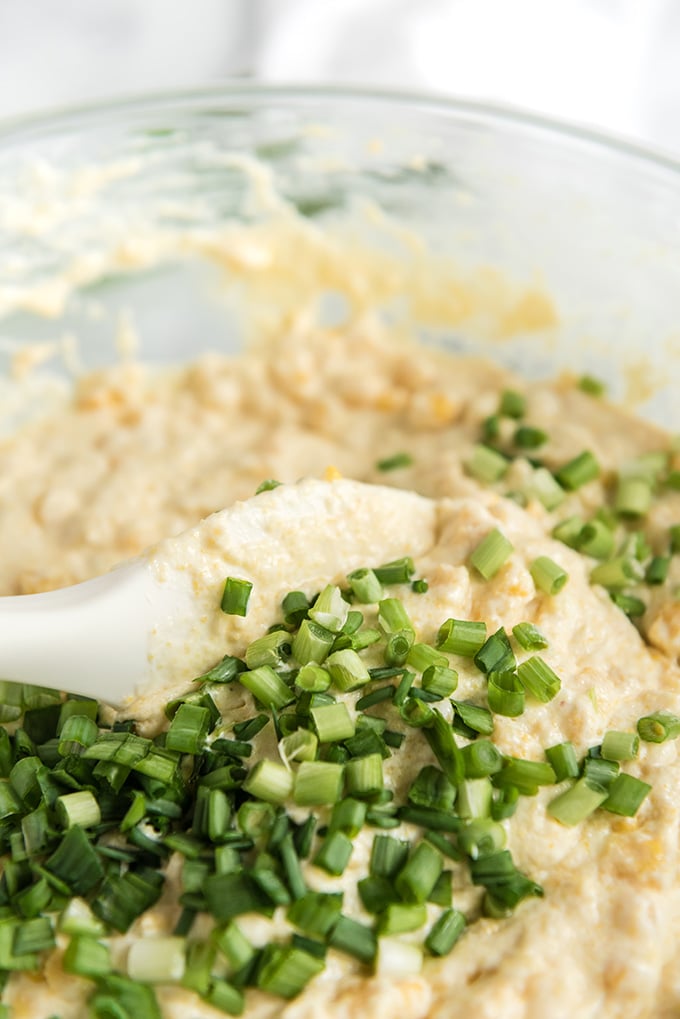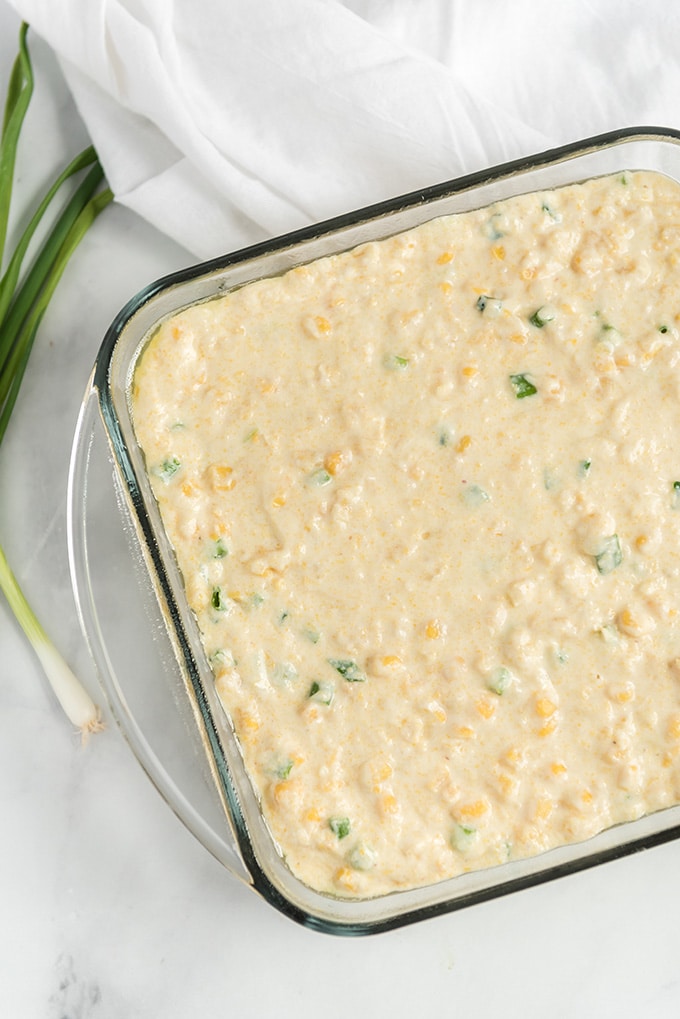 CAN CORNED CASSEROLE BE MADE AHEAD OF TIME?
It sure can! It can be placed in the fridge or frozen so long as you let it sit at room temperature for at least 30-45 minutes before baking. You don't want it to be cold when placing it into the oven!
CAN I MAKE CORN CASSEROLE WITHOUT JIFFY MIX?
Yes! With this recipe, you can use any cornbread mix you find at your local grocery store. Alternatively, you can attempt a homemade version using flour, cornmeal, sugar, baking powder, salt, and oil.
CAN I MAKE CORN CASSEROLE WITHOUT CREAMED CORN?
The creamed corn adds a delicious flavor and texture so I wouldn't recommend it. But if you absolutely have to, use standard corn, milk, and cornmeal.
WHAT DO YOU SERVE WITH CORN CASSEROLE?
There are so many ways to serve this corn casserole recipe! Everything from chili, pot roast, roasted turkey, stuffing, green bean casserole, and mashed potatoes! The possibilities are endless. Rule of them here is anything that goes with cornbread will go perfectly with this dish! It's an especially great side dish for Thanksgiving too.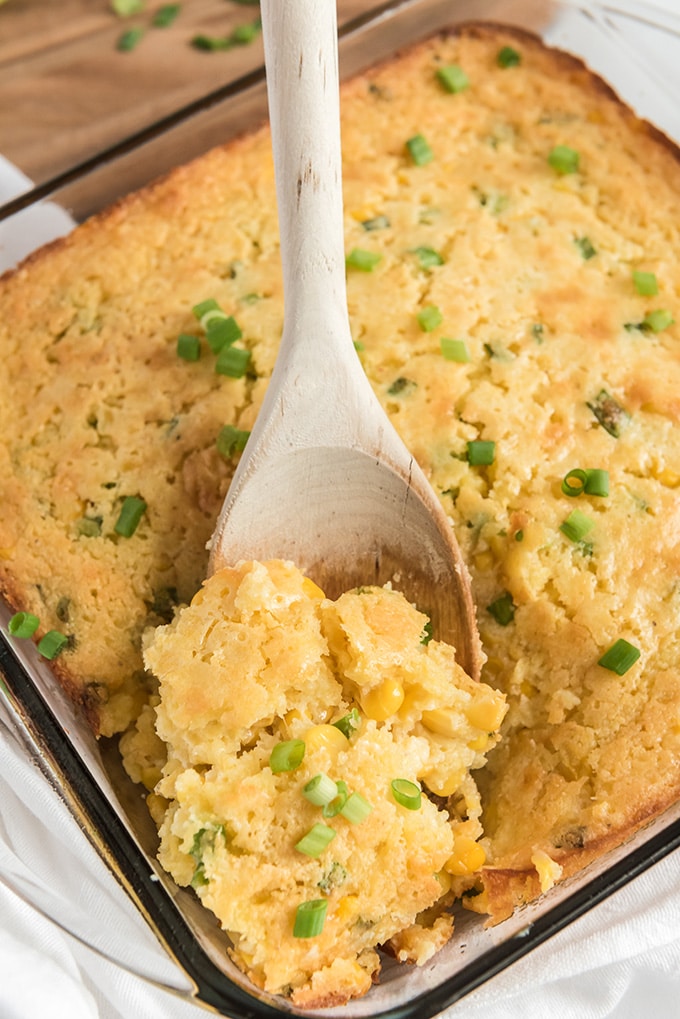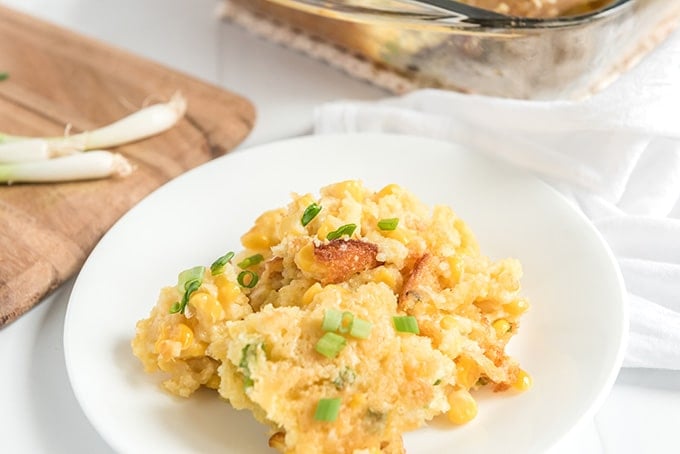 Check out these other Thanksgiving recipes!
If you have tried this Easy Corn Casserole recipe, then please rate it in the recipe card and let me know how it turned out in the comments below!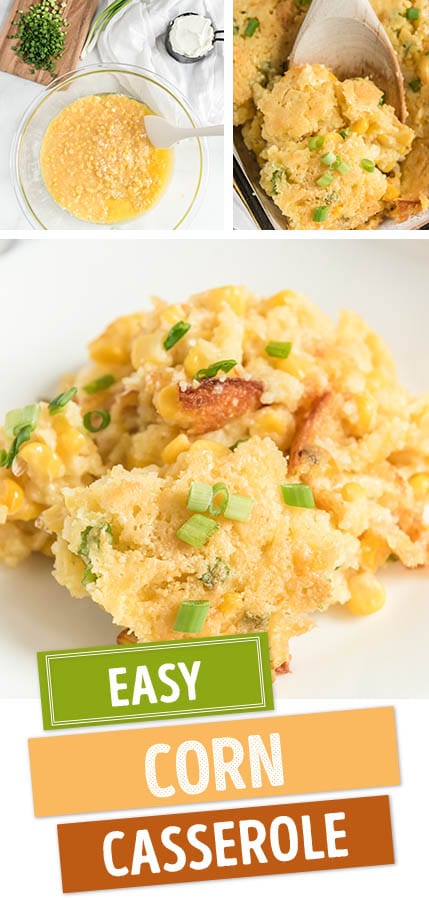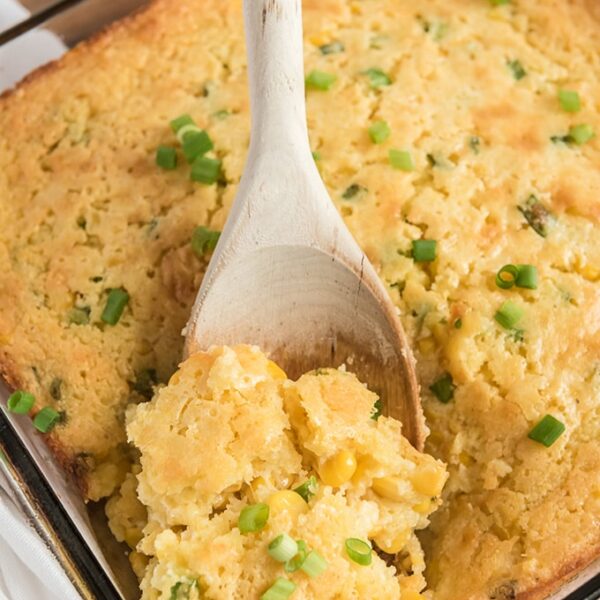 Leave a Review
Easy Corn Casserole
If you're looking for an easy Thanksgiving side dish recipe, you will LOVE this corn casserole recipe! Full of the perfect flavors and consistency, it is an absolute MUST have!
Print Recipe
Pin Recipe
Ingredients
½ cup butter, melted
2 eggs, beaten
1 box dry cornbread mix, 8.5 oz.
1 can whole kernel corn, drained, 15 oz.
1 can creamed corn, 14.75 oz.
1 cup sour cream
4-5 stalks green onions, chopped
Instructions
Preheat oven to 350 degrees. Spray a 9 x 9-inch baking dish with non-stick cooking spray. 

In a medium bowl, combine butter, eggs, cornbread mix, whole and creamed corn and sour cream.

Add green onions and stir. Pour into prepared baking dish.
Bake for 50-55 minutes or until the top is golden brown.
Notes
MAKE-AHEAD: You can also make this dish ahead of time and refrigerate before you need to bake, just let it sit at room temperature for at least 30-45 min before baking.
Calories: 370kcal, Carbohydrates: 38g, Protein: 6g, Fat: 23g, Saturated Fat: 12g, Polyunsaturated Fat: 2g, Monounsaturated Fat: 7g, Trans Fat: 0.5g, Cholesterol: 89mg, Sodium: 574mg, Potassium: 224mg, Fiber: 3g, Sugar: 9g, Vitamin A: 732IU, Vitamin C: 4mg, Calcium: 63mg, Iron: 1mg
This blog post contains affiliate and/or referral links, which pay me a small commission for recommending my favorite products at no extra cost to you! Additionally, as an Amazon affiliate, I earn from qualifying purchases.