Skip the store-bought cookie dough squares today, and instead, make these irresistibly good M&M Peanut Butter Cookies! They're rich with peanut butter flavor and even have tasty little peanut butter chips spread throughout. Of course, my favorite part may just be the gooey chocolatey M&M's!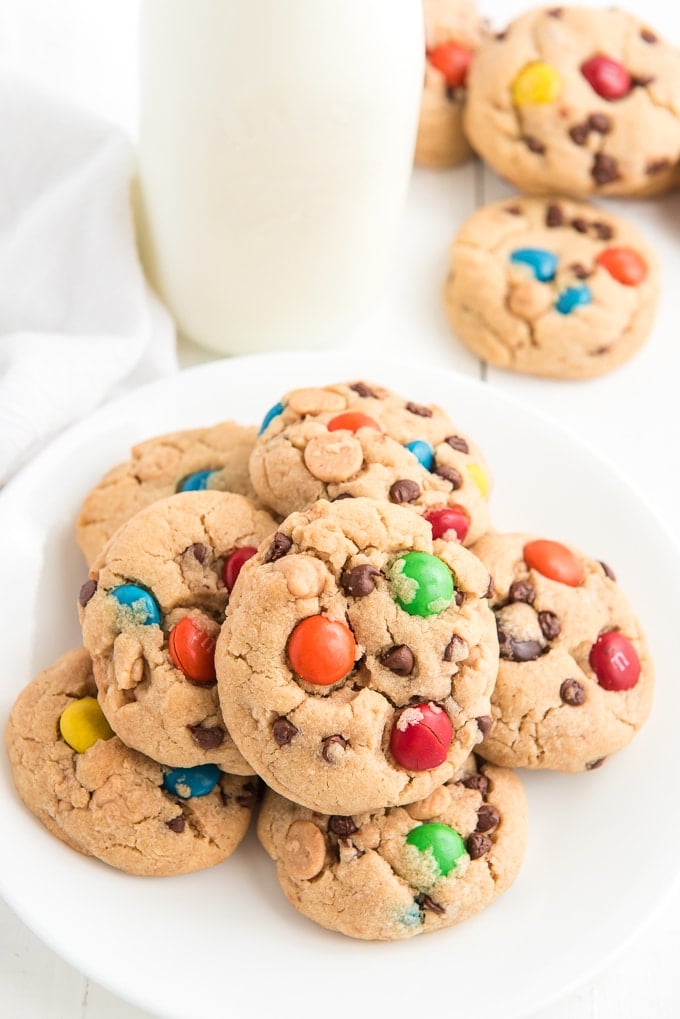 M&M Peanut Butter Cookies
I feel like every time I walk through the dairy section at the grocery store, I see new and exciting cookie dough flavors. Don't get me wrong – I love indulging in that store-bought dough as much as the next gal! However, once baked, none of those brands can hold a candle to homemade cookies. Especially these peanut butter and chocolatey cookies!
Little kids, grandparents, and everyone in between loves these M&M peanut butter cookies! Between the rich peanut butter flavor and bites of candy coated chocolate, there's nothing not to love about these delicious cookies. They're also easy to make, which is a huge plus! With simple ingredients and minimal steps, there's no reason you shouldn't treat yourself to a batch of these bad boys.
These cookies also turn out perfect not just in flavor, but in texture, too. I love how soft and fluffy they are! While sometimes I do enjoy crispier, flatter cookies, I really fall head over heels for these soft peanut butter pillows. They're thick, dense cookies that are decadent without being over the top indulgent. Between the sweet peanut butter and chocolate flavors and the soft consistency, there's nothing not worth craving about these cookies!