Fall is officially here, and the best way to celebrate is with a warm batch of homemade Pumpkin Chocolate Chip Cookies! These soft, chewy cookies are rich with spiced pumpkin flavor and gooey chocolate chips.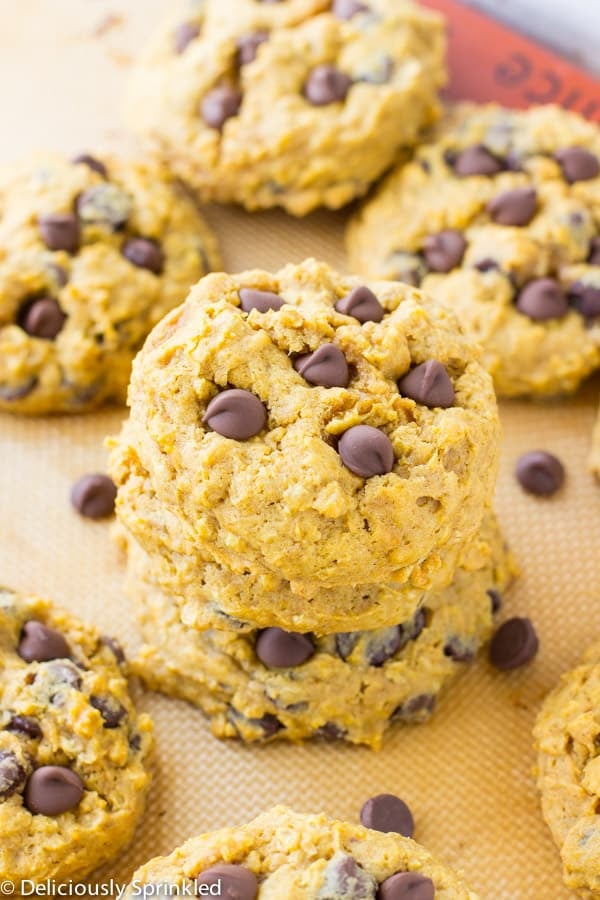 Pumpkin Chocolate Chip Cookies
Is there anything better than sinking your teeth into a pillow of warm, spiced pumpkin and sweet chocolate? I don't think so! These scrumptious pumpkin chocolate chip cookies come together with simple ingredients and easy to follow steps. They're made entirely from scratch, with love, and with such simplicity you won't believe it!
We live in a world filled to the brim with pumpkin recipes this time of year, so it's easy to get overwhelmed when thinking about what treats to make. I'll help you narrow down that everlasting list by saying THESE cookies right here are perfection! They're flavored to perfection with ingredients like cinnamon, vanilla extract and pumpkin puree. It's almost like everything you love about a pumpkin pie… But in cookie form, complete with chocolate chips.
It bears repeating just how soft and dreamy these cookies are, too. The baking soda really helps them rise to fluffy perfection! I also think the pumpkin puree is what keeps them so moist and irresistibly decadent. And for even more texture, I like to toss a couple cups of quick-cooking oats in the dough to make these cookies wonderfully chewy. All around, these cookies are a fall staple in my kitchen, and they're soon to be one in yours, too!