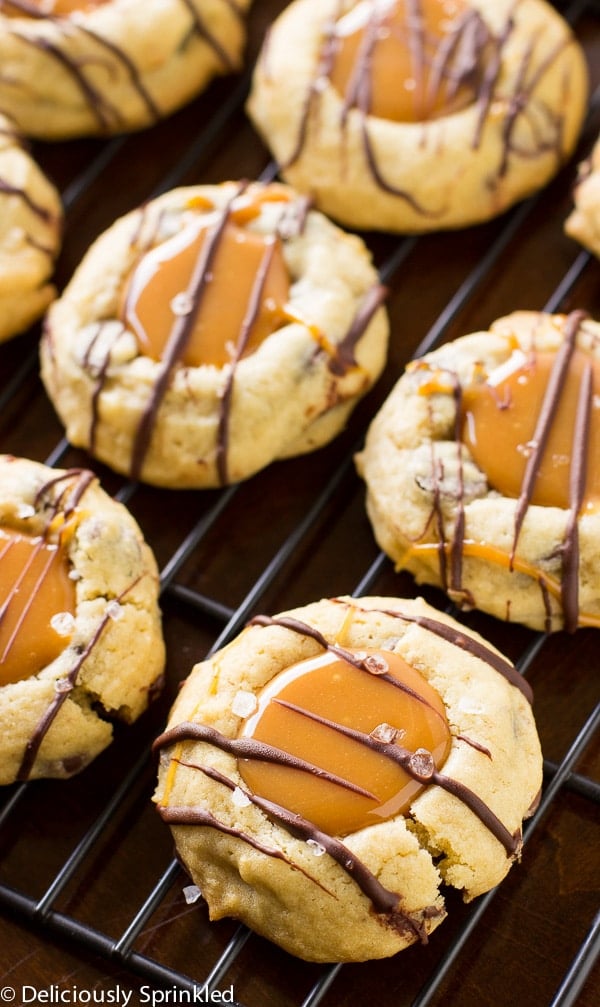 If you love the combination of salty and sweet, you won't want to miss out on these Salted Caramel Chocolate Chip Cookies!
I know what you're thinking…Chocolate chip cookies are already delicious on their own.
I get it, I totally do…BUT, trust me on this one.
These Salted Caramel Chocolate Chip Cookies will change everything you THOUGHT you knew about cookies.
They're delicious, simple and honestly…go perfectly with just about any type of setting.
Eating them during the winter makes me dream of Santa and Christmas while enjoying them during the summer makes my tummy warm and happy.
So, needless to say, this cookie recipe stays on my radar all year long!
If you find that you're a bit skeptical about the flavor combo, just give it a try.
There's something to be said and enjoy about it that just literally makes your taste buds dance.
And if you need to sample another one, or two…go for it.
The beauty of cookies is that they are perfectly sized to just grab and go as you go about your day.
Make a batch to share with your family and friends and brighten their day with ease!
There's no way anyone can't smile when receiving cookies!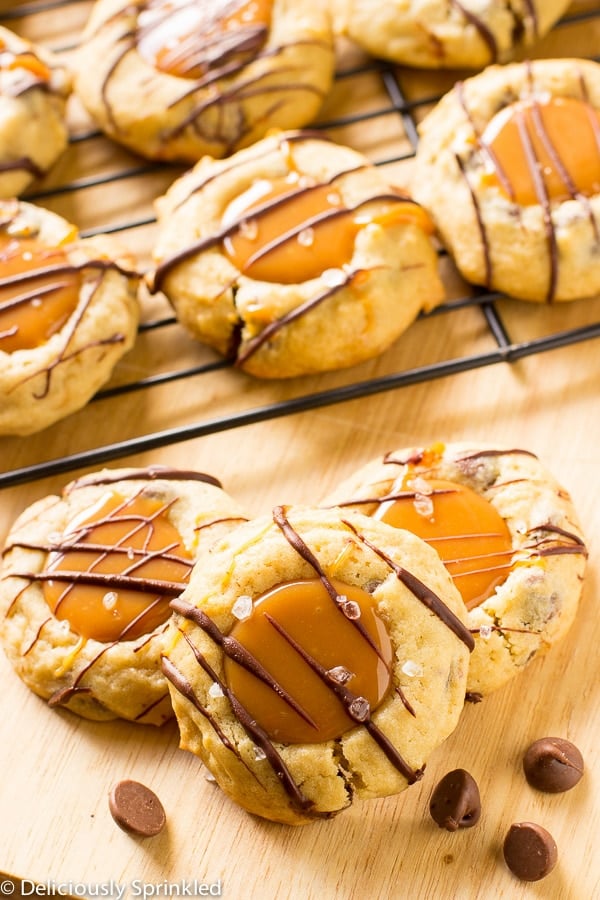 SALTED CARAMEL CHOCOLATE CHIP COOKIES INGREDIENTS
● ALL-PURPOSE FLOUR: 2 1/2 cups of flour. It's super important to measure the flour correctly. Too much or too little flour can change the consistency of the cookie.
● BAKING SODA: 1 teaspoon baking soda. Make sure your baking soda is no more than 3 months old. If your using old baking soda, the cookies won't rise properly and will be FLAT.
● SALT: 1/2 teaspoon of salt.
● BUTTER: 12 Tablespoons of unsalted butter. Make sure your butter is at room temperature. If your butter is TOO WARM, it will also result in cookies that will SPREAD. So the best thing to do is let the butter sit out on the counter for at least 1 hour before you start baking and it will be perfect!
● SUGAR: 1/2 cup of granulated sugar.
● BROWN SUGAR: 3/4 cup of light brown sugar.
● VANILLA EXTRACT: 1 Tablespoon of vanilla extract.
● EGGS: 2 large eggs.
● CHOCOLATE CHIPS: 1 1/2 cups of milk chocolate chips or dark chocolate chips.
● CARAMEL: 1 (11 oz.) bag of caramel bites.
● HEAVY WHIPPING CREAM: 2 Tablespoons of heavy whipping cream.
● CHOCOLATE BAKING BARS: 4 oz. semi-sweet chocolate baking bar
● SEA SALT: 1 Tablespoon of sea salt.

HOW TO MAKE CHOCOLATE CHIP COOKIES
To make these Salted Caramel Chocolate Chip Cookies, simply:
PRE-STEP: Preheat oven to 370F degrees. Line two large baking sheets with parchment paper or silicone baking mats. Set aside.
STEP 1: Whisk together the flour, baking soda, and salt in a medium-size bowl. Set aside.
STEP 2: In a large bowl, using an electric or stand mixer, cream together the butter, granulated sugar, light brown sugar, and vanilla extract until combined.
STEP 3: Add eggs one at a time, mixing between each egg.
STEP 4: Add flour mixture and mix until just combined. DO NOT OVERMIX, you should still see some flour.
STEP 5: Using a spatula, stir in chocolate chips until combined.
STEP 6: Using a cookie scoop, scoop dough into balls about 1 Tablespoon each and place onto prepared baking sheet.
STEP 7: Bake for 10 minutes or until golden brown around the edges.
STEP 8: Immediately after taking cookies out of the oven, using the handle of a wooden spoon, make an indentation into the center of each cookie. Let cool for 5 minutes on baking sheet.
STEP 9: In a medium-sized bowl, combine caramel bits and heavy whipping cream. Microwave for 1 minute, stirring until caramel is completely melted. Spoon 1 teaspoon of caramel into each indentation.
STEP 10: In a medium-sized bowl, microwave chocolate baking bars for 30 seconds, stirring after each 30-second intervals until chocolate is completed melted. Drizzle chocolate over cookies and sprinkle with sea salt.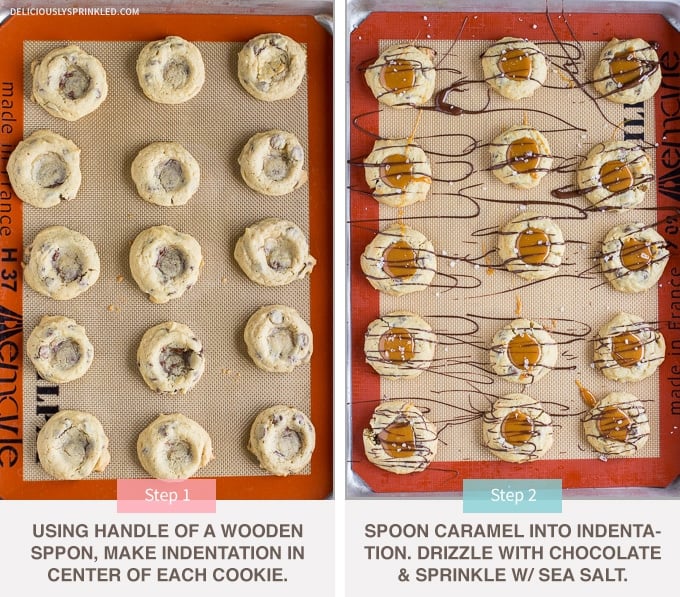 ADDITIONAL BAKING TIPS
DON'T OVERMIX: With almost all my cookie recipes, I always make sure to remind you to not OVERMIX the cookie dough. Meaning, when you mix the flour mixture into the wet ingredients, only mix them together until just combined…you should still see some flour in your mixing bowl.
SCOOPING THE COOKIE DOUGH: I used a 1 Tablespoon cookie scoop, each cookie dough ball has "1 scoop" of cookie dough. As SOON as the cookies are done baking, use the handle of a wooden spoon or the back of the cookie scoop to make an indentation in the center of each cookie. Let them cool for 5 minutes before adding the caramel.
SALTED CARAMEL & CHOCOLATE DRIZZLE: I used these caramel bites and this chocolate to drizzle on top of each cookie.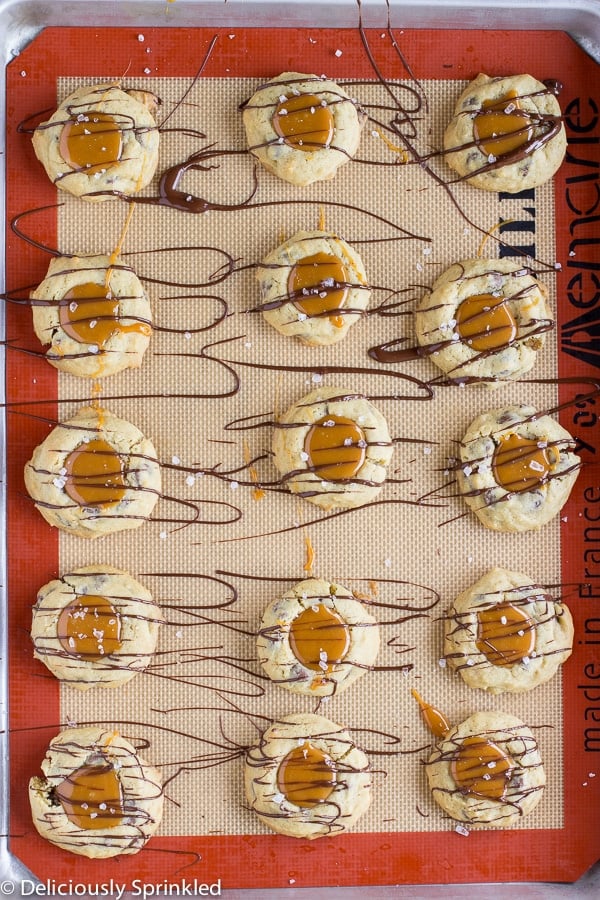 BAKING TOOLS NEEDED
MIXER: I love my KitchenAid Mixer, I use it for everything. Makes baking so much easier!
COOKIE SCOOP: This is the cookie scoop I used to make these cookies.
BAKING SHEET: You will need a large 16×11 inch baking sheet.
SILICONE BAKING MAT OR PARCHMENT PAPER: If you don't have a silicone baking mat…YOU NEED ONE!