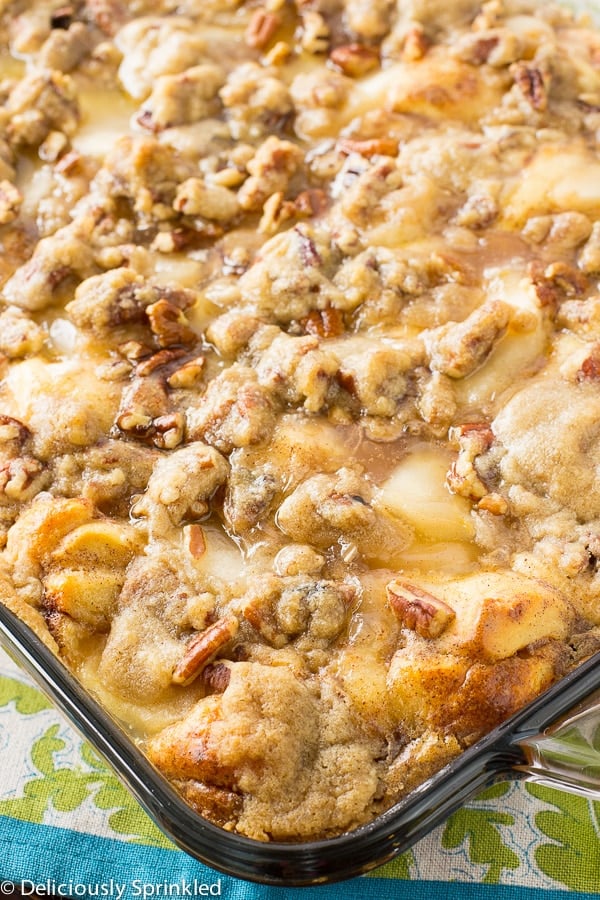 This delicious Apple Streusel French Toast Bake will keep your Fall taste buds into overdrive!
Fall is coming…I can literally feel it in the air. And with fall comes all the most amazing scents and flavors that one can even imagine. While I'm a huge fan of pumpkin, I also can't deny that I equally love apple as well. This Apple French Toast Bake is truly one of the best ways to start a brisk Fall morning!
I often find myself thinking of new ways to combine great dishes, and when this idea hit me, I knew it was perfect. French toast is already yummy on its own, but with the flavors of ripe apples? Forget about it. One bite, you'll be forever hooked.
I love having this as an option for overnight guests, or as a great dish to take to tailgating for those early football games. While it seems as though one batch would feed quite a few, I always encourage people to make extra because it will go really quick!
However you prefer to bake and share, enjoy making those around you smile and fall in love with food again! Great dishes are the perfect way to bond over incredible food!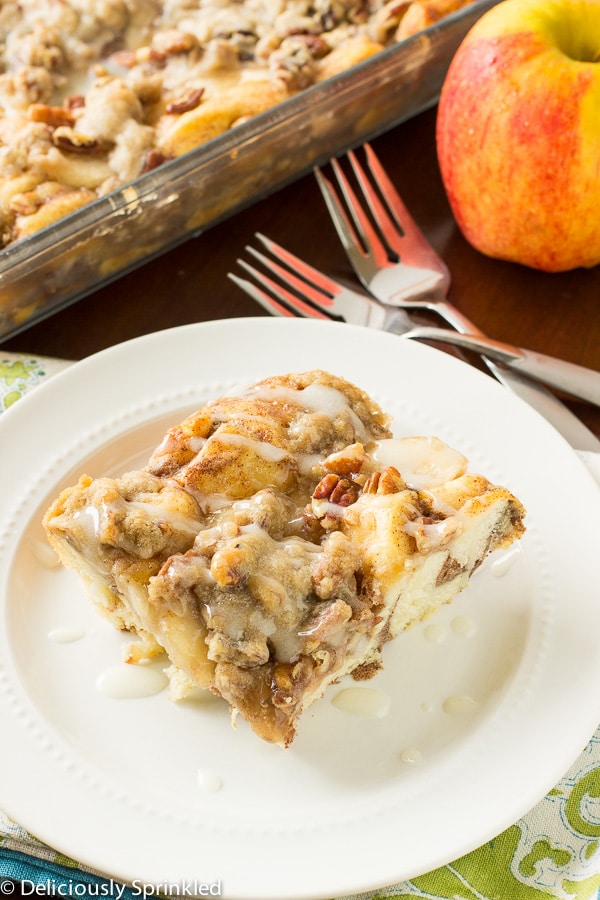 INGREDIENTS TO MAKE THIS FRENCH TOAST BAKE
✓BUTTER
✓BROWN SUGAR
✓ FLOUR
 ✓ GROUND CINNAMON
✓CHOPPED PECANS
✓HEAVY WHIPPING CREAM
✓NUTMEG
✓VANILLA EXTRACT
✓ 2 CANS FLAKY CINNAMON ROLLS
 ✓ APPLE PIE FILLING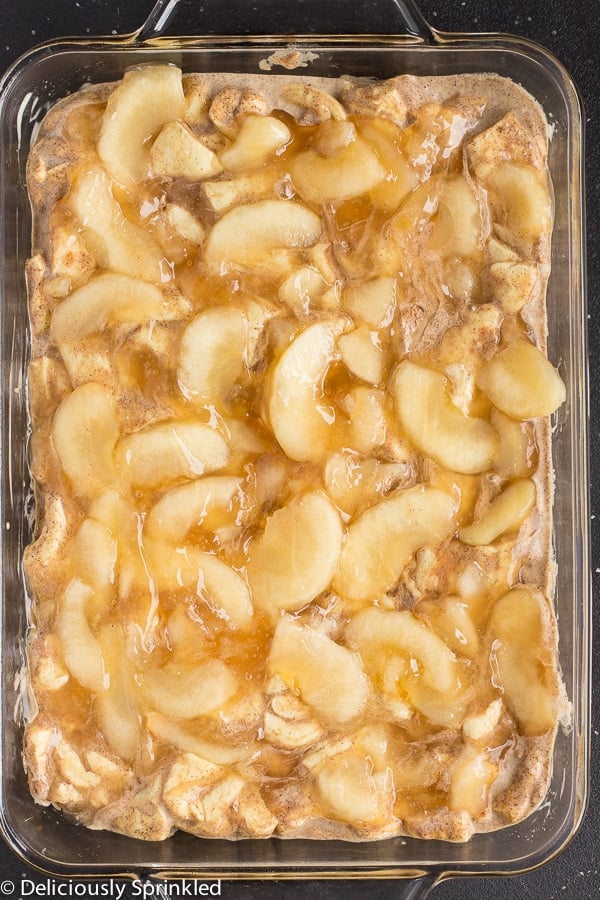 HOW TO MAKE BAKED FRENCH TOAST
PRE-STEP: Preheat oven to 350F degrees. Spray a 9×13 inch baking dish with non-sticking cooking spray. Set aside.
MAKE STREUSEL TOPPING:
STEP 1: In a small bowl, combine butter, brown sugar, flour, cinnamon and chopped pecans. Mix together until mixture becomes crumbly. Set aside.
MAKE FRENCH TOAST:
STEP 2: In a large bowl, whisk together eggs, heavy whipping cream, flour, cinnamon, nutmeg, and vanilla extract.
STEP 3: Open canned cinnamon rolls, slice each cinnamon roll into eighths. Place cinnamon roll pieces into prepared baking dish. Pour egg mixture over top of cinnamon roll pieces. Make sure that each piece is generously coated in egg mixture.
STEP 4: Evenly spread apple pie filling over top of cinnamon roll pieces.
STEP 5: Sprinkle streusel topping over apple pie filling.
STEP 6: Bake uncovered for 45-60 minutes or until top becomes lightly brown. Drizzle cinnamon roll icing over top of french toast bake and enjoy!

TIPS FOR MAKING THE PERFECT FRENCH TOAST
CINNAMON ROLLS: I used Pillsbury Grands Flaky Supreme cinnamon rolls for the french toast base. You could also use a couple day old french bread, if you do use french bread, make sure to add some more ground cinnamon.
APPLE PIE FILLING: I used apple pie filling in this french toast bake, but you could use fresh apple slices too. I love using fresh apples, especially in the fall when it's apple season. Fresh apples make this french toast outstanding but if it's not apple season then apple pie filling tastes just as good and so much easier!
CREAM CHEESE ICING: Before serving, I like to drizzle the cream cheese icing that comes with the cinnamon rolls over the top of the french toast bake. You could also keep it plain or dust powdered sugar on top instead.