INSTANT POT HAMBURGER STROGANOFF
This Instant Pot Hamburger Stroganoff is easy, creamy and ready in less then 30 minutes.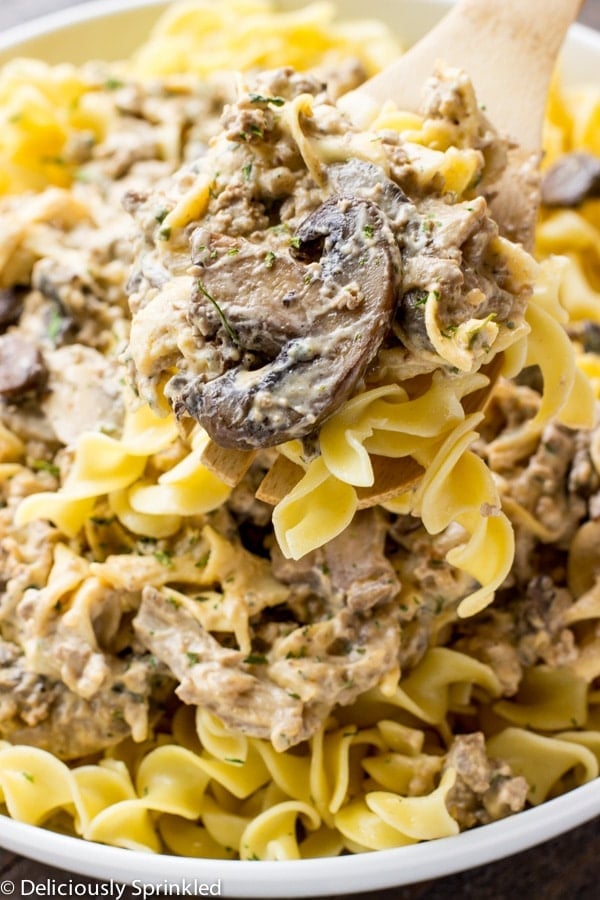 Happy Monday! It's the first full week back to work and that means it's back to regular programming.
I usually plan out what we are having for dinner for the week on Sunday nights and I go grocery shopping on Monday. I'm all about making easy dinners because at the end of the day, I just don't have the time or the energy to make a big, fancy dinner and we try not to eat out at all during the week.
So one of things that I love about my Instant Pot, is that I can make our favorite family dinners in less then 30 minutes. I use to make this Hamburger Stroganoff in my slow cooker but I love that I don't have to remember to start making it 4 hours before we want to eat dinner.
This Instant Pot Hamburger Stroganoff is easy to make, creamy and full of flavor. Serve it over noodles or rice. It's seriously one of our favorite dinner's…it's SOOO GOOD!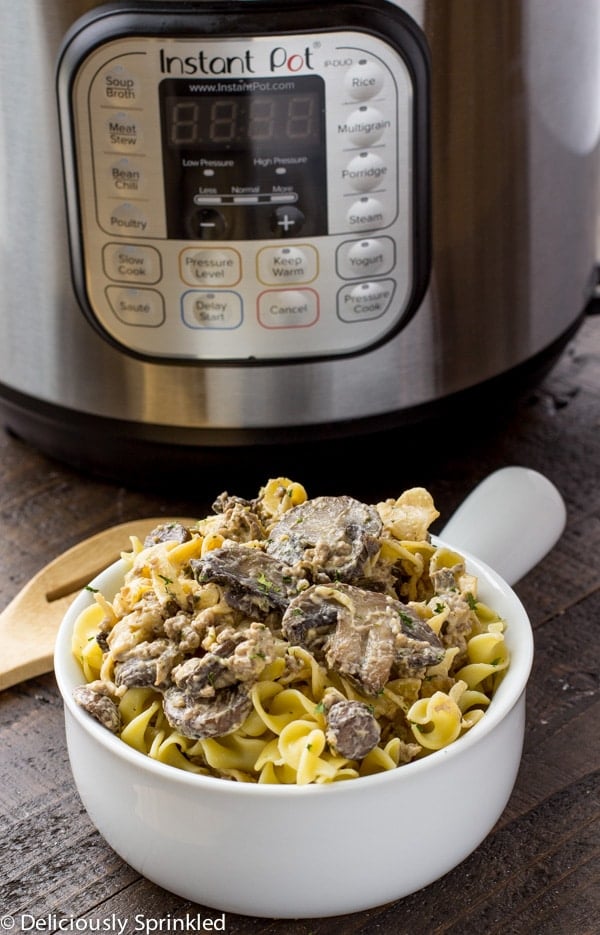 HAMBURGER STROGANOFF INGREDIENTS
✓ GROUND BEEF
✓ ONION
✓ MUSHROOMS
 ✓ GARLIC
✓ DRY RANCH SEASONING MIX
✓ CORNSTARCH
✓ CREAM OF MUSHROOM SOUP
✓ SOUR CREAM
✓ EGG NOODLES
HOW TO MAKE INSTANT POT HAMBURGER STROGANOFF
STEP 1—> BROWN THE HAMBURGER: Place the ground beef, onion, mushrooms and garlic into your Instant Pot. Press the "saute" button and brown the meat until fully cooked.
STEP 2—>  ADD THE FLAVOR:  Add the beef broth, cream of mushroom soup (you could also use golden mushroom soup), ground pepper and the best part, one packet of dry ranch seasoning mix.
STEP 3 —> ADD NOODLES & COOK:  If you don't want your noodles to be mixed in with the stroganoff then just skip this step and cook your noodles separately. Cook on high pressure for 6 minutes. Natural release for 5 minutes then quick release.
STEP 4—> STIR IN SOUR CREAM & ENJOY: After the quick release, stir in sour cream. Top with parsley and enjoy.