Hello, Christmas… and hello, Hot Cranberry Punch! When the weather drops, curl up next to the fire and stay warm with this festive, fruity Christmas classic. Both sweet and slightly spiced, this hot, fresh cranberry punch is sure to keep you cozy all season long. Cheers!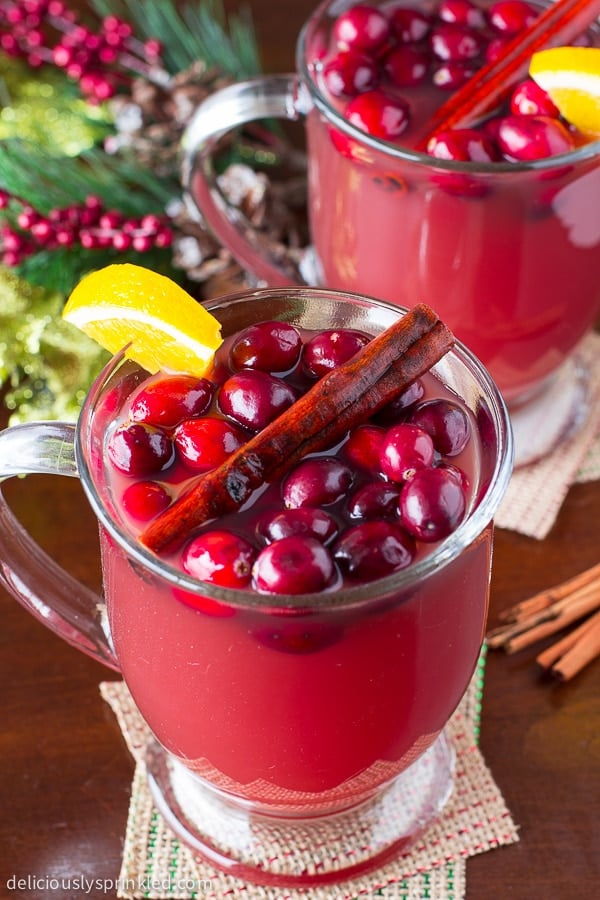 Hot Cranberry Punch
This hot cranberry punch is the perfect addition to any holiday party or gathering! It's sweetened with a medley of mouthwatering ingredients, and it also has a spiced depth to it from ingredients like cloves and cinnamon. With all of the different ingredients at play here, don't worry – cranberry is definitely still the most pronounced. If you love the taste of cranberry, you're going to be head over heels for this one. Trust me!
During the chilly holiday season, this is my go-to punch recipe for all my family gatherings. It's simple, so good, and it creates a batch big enough to share! And isn't that the beauty of Christmas, sharing things with each other that you love? Well, this easy to make punch is right up there with all of my favorite Christmas cookie recipes when it comes to things I love sharing.
Give this festive hot punch a try this holiday season. If you're a cranberry fan, I promise that you'll be so happy you stumbled upon this recipe! Make it for Christmas parties or just for cozying up on the couch with family and watching your favorite Christmas movies. It's spiced, sweet, and loaded with truly delicious cranberry flavor. It's so good, you might just want to leave a glass of it next to the cookies for Santa!