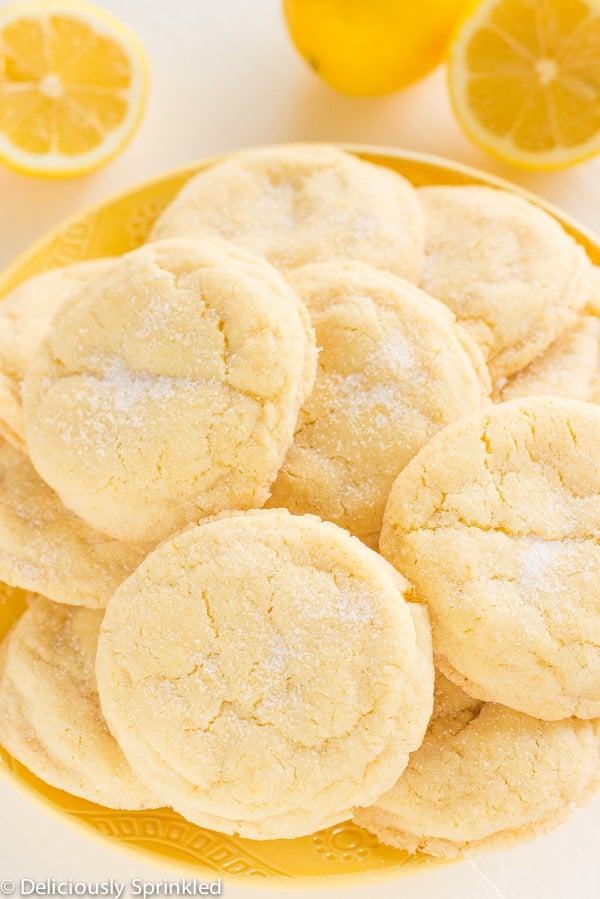 These Lemon Sugar Cookies will make your taste buds dance literally all night long.
I love a good lemon flavor.
And honestly, I'm not picky about the type of food it's typically associated with!
I think that lemon gives food a good acidity that really helps that overall flavor just POP.
This is probably why I love these Lemon Sugar Cookies so much!
The first bite is like a flavor sensation to your mouth.
You *think* that it may taste like lemon, but once you have a nibble, there is literally no doubt.
And don't get me wrong…it's not overwhelming at all.
It's more a "lemon taste that leaves you wanting more" kind of flavor.
These lemon cookies are obviously perfect for dessert, but having one (or maybe two) in the AM with your morning cup of coffee sounds pretty darn amazing as well.
And isn't that a perk of being an adult? You can eat your cookies any time of the day that you want!
This holiday season, whip up a batch of this sugary sweet cookies and "wow" all your family and friends.
One bite and they'll be standing back in line to have "just one more!"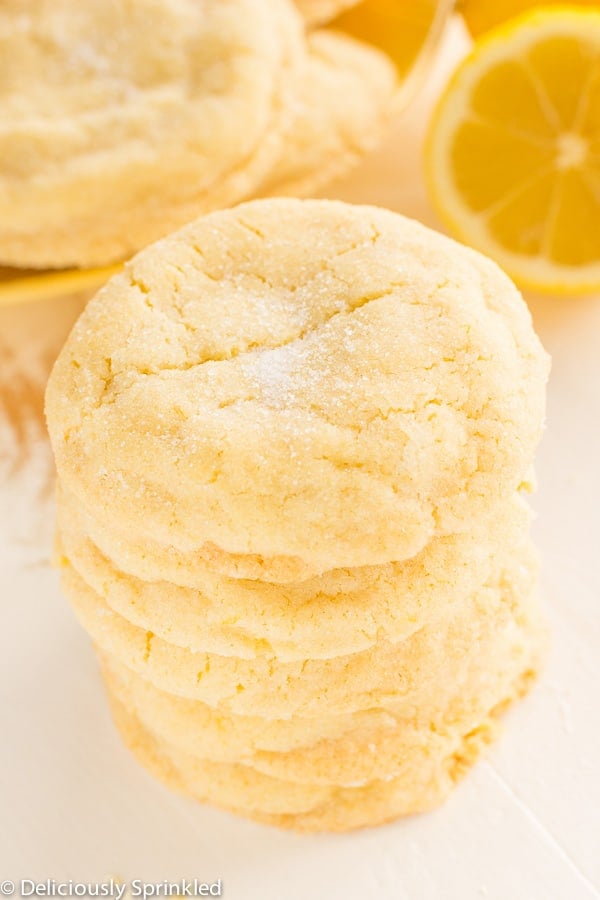 LEMON SUGAR COOKIE INGREDIENTS
● ALL-PURPOSE FLOUR: 2 1/2 cups of flour. It's super important to measure the flour correctly. Too much or too little flour can change the consistency of the cookie.
● BAKING SODA: 3/4 teaspoon baking soda. Make sure you baking soda is no more than 3 months old. If your using old baking soda, the cookies won't rise properly and will be FLAT.
● BAKING POWDER: just one teaspoon of baking powder. Again, make sure your baking powder is not too old or your cookies will come out FLAT and spread!
● SALTED BUTTER: 1 cup ( 2 sticks) of salted butter. If you don't have salted butter, I would add about 1/2-1 teaspoon of salt. Also, make sure your butter is at room temperature. If your butter is TOO WARM, it will also result in cookies that will SPREAD. So the best thing to do, is let the butter sit out on the counter for at least 1 hour before you start baking and it will be perfect!
● EGG YOLKS: you will need 3 egg yolks. It's very important that you separate the egg yolks, this recipe will NOT turn out if you use 3 whole eggs.
● VANILLA EXTRACT: just one teaspoon.
● LEMON ZEST: zest of about 2 lemons.
● LEMON JUICE: 1 1/2 Tablespoons fresh lemon juice.
● SUGAR: 1/4 cup granulated sugar to roll each cookie dough ball into.

HOW TO MAKE LEMON SUGAR COOKIES
To make these Lemon Sugar Cookies, simply:
PRE-STEP: Preheat oven to 350F degrees. Line two large baking sheets with parchment paper or silicone baking mats. Set aside.
STEP 1: Whisk together the flour, baking soda, and baking powder in a medium size bowl. Set aside.
STEP 2: In a large bowl, using an electric or stand mixer, cream together the butter, and granulated sugar until combined.
STEP 3: Add egg yolks, vanilla extract, lemon zest and lemon juice. Mix until combined.
STEP 4: Add flour mixture and mix until just combined. DO NOT OVERMIX!
STEP 5: Using a cookie scoop or ice cream scoop, scoop dough into balls about 2 Tablespoons each, roll in sugar and place onto prepared baking sheet.
STEP 6: Bake for 15-18 minutes or until tops of cookies start to crack. Let cool for 5 minutes on baking sheet before moving them to a wire rack. Let cool completely on wire rack.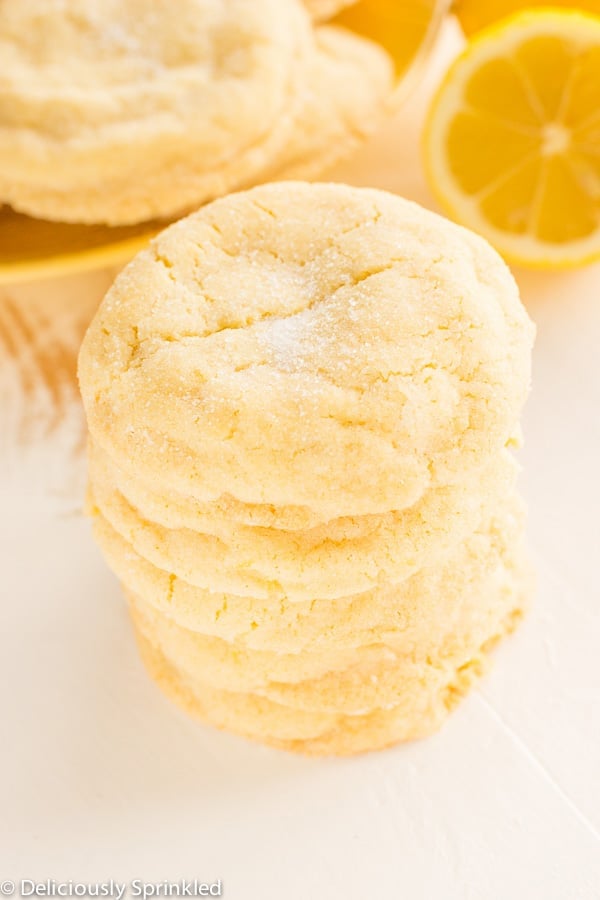 ADDITIONAL BAKING TIPS
SOFTENED BUTTER IS A MUST: Having softened butter is a MUST in this lemon sugar cookie recipe. If your butter is not softened the dough will be dry and crumbly, making it hard to form the dough into balls. So about an hour or two before you start making these cookies take 2 sticks of butter out of the fridge to soften.
★ To soften butter directly from the fridge, place stick of butter unwrapped in the microwave for 10-15 seconds.
DON'T OVERMIX: With almost all my cookie recipes, I always make sure to remind you to not OVERMIX the cookie dough. Meaning, when you mix the flour mixture into the wet ingredients, only mix them together until just combined…you should still see some flour in your mixing bowl.
SCOOPING THE COOKIE DOUGH: I always use a 1 Tablespoon cookie scoop, each cookie dough ball has "2 scoops" of cookie dough, meaning that each cookie dough ball is 2 Tablespoons in size. In my opinion, this is the perfect sized cookie. If you don't have a cookie scoop, you can use an ice cream scooper but you will only need 1 ice cream scoop of cookie dough.
★ And to make it super easier for you to learn how to scoop the perfect cookie, I created a step-by-step guide on How To Scoop The Perfect Cookie!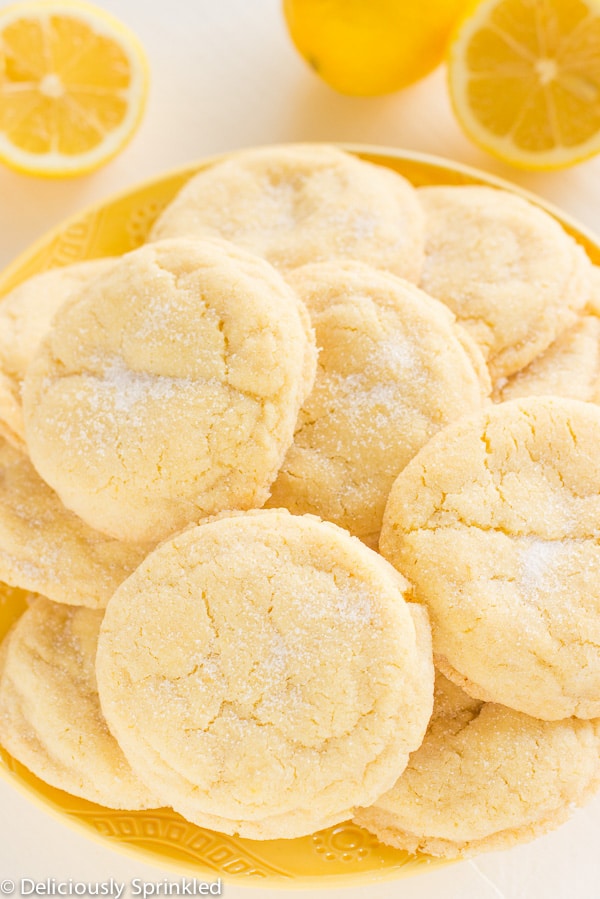 BAKING TOOLS NEEDED
MIXER: I love my KitchenAid Mixer, I use it for everything. Makes baking so much easier!
BAKING SHEET: You will need a large 16×11 inch baking sheet.
SILICONE BAKING MAT OR PARCHMENT PAPER: If you don't have a silicone baking mat…YOU NEED ONE!
ZESTER: Here is the lemon zester tool I use to zest the lemons for this recipe.