Pineapple Zucchini Bread is a quick bread that's moist, flavorful, and a little tropical too! This is one of my all time favorite summertime staples that I make at LEAST once a month when it's sunny out. If you also like easy bread recipes that yield dense, moist bread with the summery taste of pineapple, you're going to be smitten with this recipe.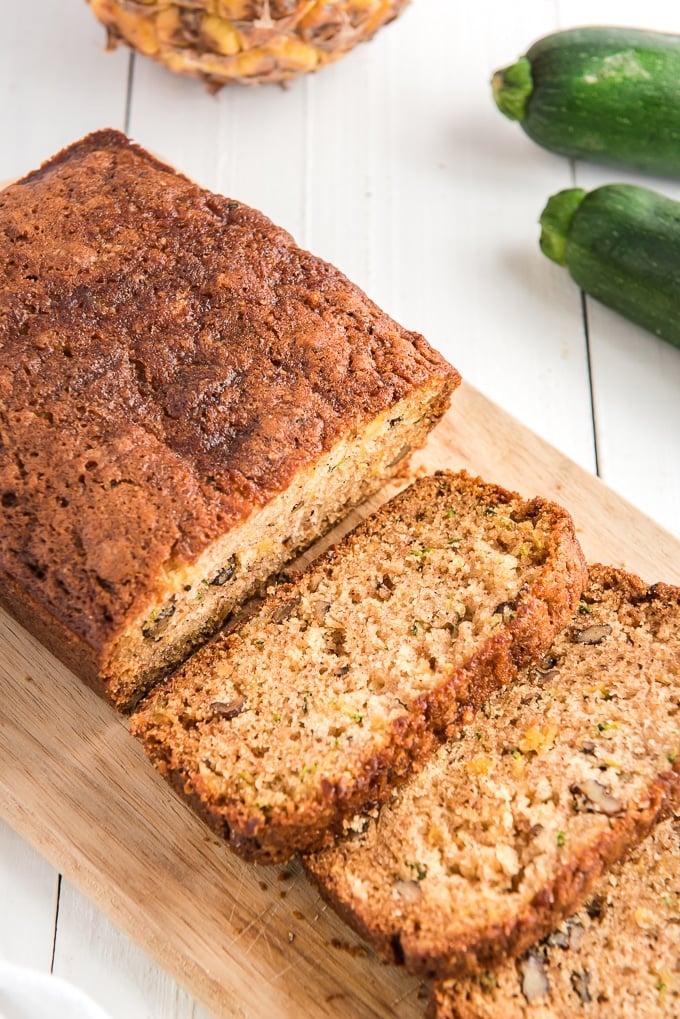 Pineapple Zucchini Bread Recipe
Quick bread recipes really are the best! As fun as it can be to let the dough rise and go through all the normal processes of traditional bread baking, nothing quite beats mixing everything together and popping it into the oven. This loaf is easy to make and always yields the best results!
Let's talk about those results. When making any kind of Zucchini Bread recipe, you know that it's going to be a super moist bread with a great amount of density. And no, it never tastes like you're eating veggies! The zucchini, when shredded and baked into the bread, actually adapts the sweeter flavors of the bread and gives it an incredible amount of moisture.
What makes this easy bread recipe so summery is the crushed pineapple, of course! To me, pineapple simply tastes like sunshine, and that translates perfectly to this bread. Each bite of this zucchini bread is rich with sweet, bright pineapple flavor that makes it impossible to just have one slice!