This Easy Vanilla Cake is sweet, moist, and perfect for dressing up on various holidays! With Valentine's Day just around the corner, whip out those heart shaped sprinkles and decorate this homemade cake for someone special in your life. Whether it's for your kids, spouse, or gal pals, everyone will want a second slice of this classic vanilla cake!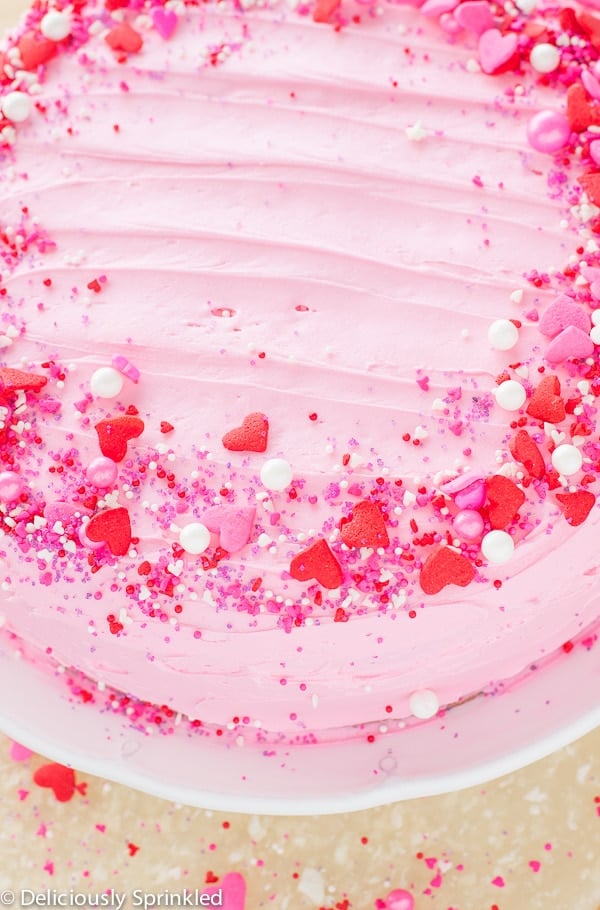 Easy Vanilla Cake
To be totally honest, I'm pretty guilty of using box cake mixes probably more than I should. They're easy, and usually pretty tasty! With that being said, some cake recipes deserve your time and effort more than the others, and this is one of those cakes. Vanilla cake is classic, and there are an endless amount of brands that have their own vanilla cake mix. But not a single one of them make a cake this good!
There are plenty of ingredients that go into making this cake batter bake into the most moist, thick, yet fluffy vanilla cake. But don't worry – they're all very simple ingredients that won't break the bank. After all, vanilla cake should never be expensive, homemade or store-bought! This tried and true classic recipe might be pretty simple, but that's also what makes it so beloved.
Even the pickiest eaters on this planet can't deny a slice of this stuff… Especially when it's smothered with homemade vanilla buttercream frosting. Believe me when I say you'll be fighting with your loved ones over who gets to lick the frosting spoon! This buttercream is deliciously sweet, creamy, and oh so complimentary to the cake itself. Plus, you can make it pretty for Valentine's Day so easily!