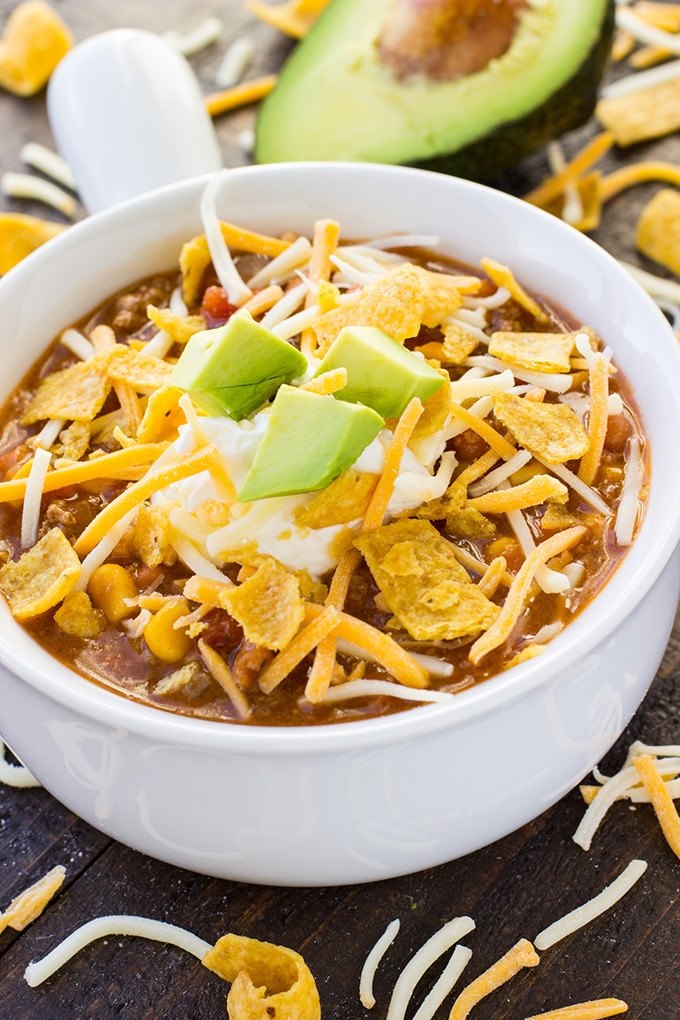 This Easy Taco Soup is bound to be a family favorite. And you can make it in your Instant Pot or Crockpot!
You'll love bite after bite, no matter what time of year it is!
I'm a sucker for soups. Not only are they hearty, but every soup has it's own unique and delicious flavor. To me, making homemade soups is one of the best meals there is.
It's versatile, it tastes delicious as a leftover and honestly, there's just nothing better than cuddling up after a long day of "whatever" with a giant, warm bowl of soup.
This easy taco soup is no different. But, the one thing that I really like about this soup is that the flavors truly make your taste buds dance. AND if you want to make 'em dance, even more, you can easily spice it up a bit also.
Adding in some fresh jalapenos, some hot sauce, or even a dab of salsa can and will take this taco soup to a whole other level.
My advice to you? Make up a giant batch for the upcoming weekend and week. That way, you'll have an awesome homemade soup waiting for you when you get home from work every single day.
Doesn't that make you feel all warm and cozy already?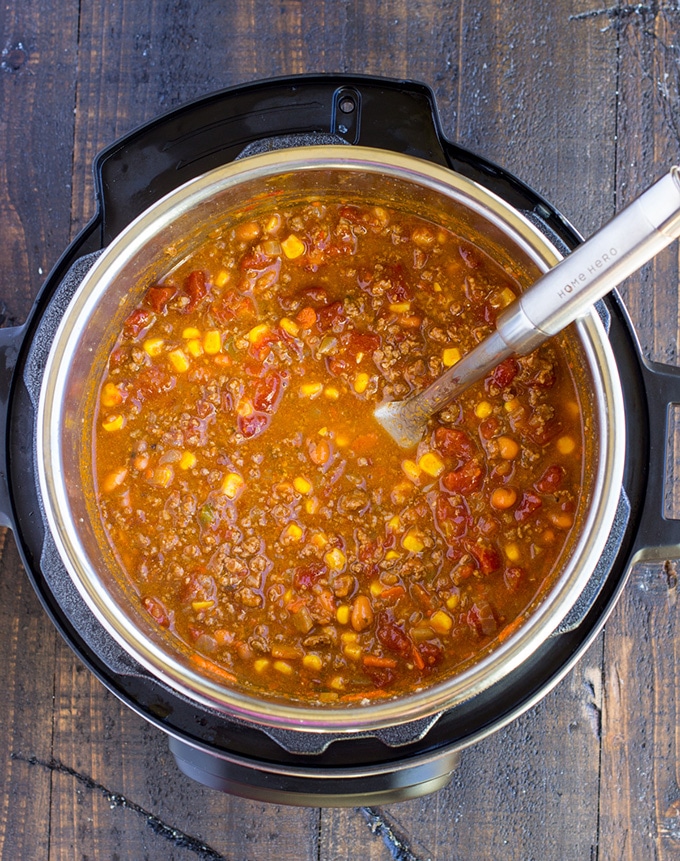 TACO SOUP INGREDIENTS
● OLIVE OIL: 2 Tablespoons olive oil.
● GROUND BEEF: 2 pounds of ground beef or ground turkey.
● ONION: 1 medium onion, chopped.
● CORN: 1 (15.25 oz.) can of corn.
● PINTO BEANS: 1 (16 oz.) can of pinto beans, drained and rinsed.
● ROTEL DICED TOMATOES AND GREEN CHILIES: 1 (10 oz.) can of Rotel diced tomatoes and green chilies.
● DICED TOMATOES: 2 ( 14.5 oz.) cans of diced tomatoes.
● RANCH SEASONING MIX: 1 packet dry ranch seasoning mix.
● TACO SEASONING: 2 packets of your favorite taco seasoning.
● CHICKEN BROTH: 2 1/2 cups of chicken broth.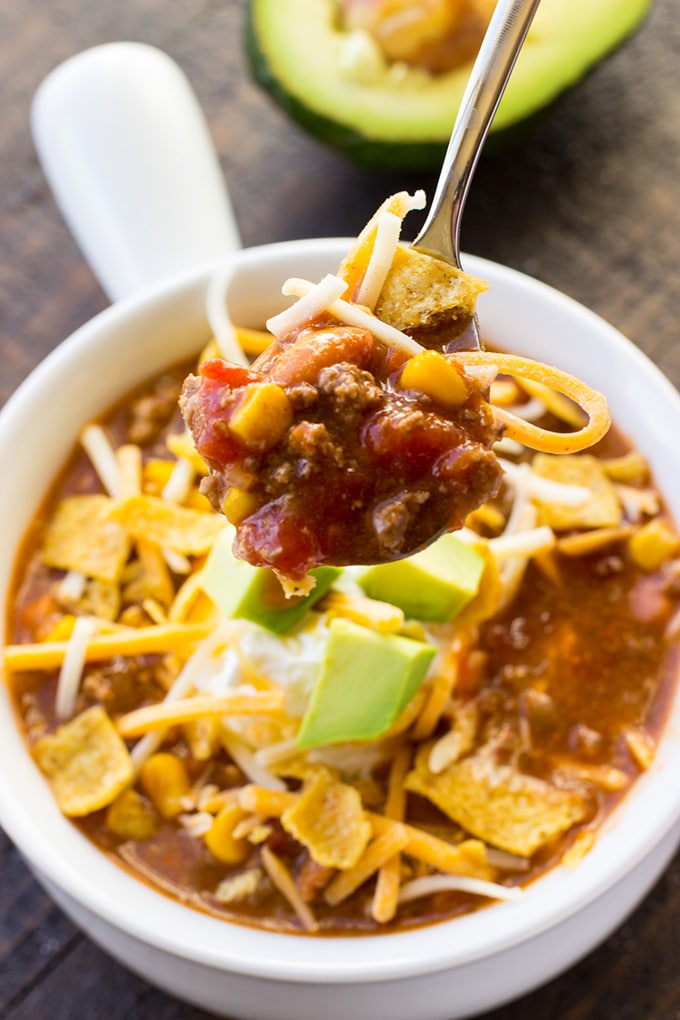 HOW TO MAKE TACO SOUP IN THE INSTANT POT
STEP 1: Set the instant pot to "Saute" and add olive oil.
STEP 2: Once hot, add the ground beef and onions, cook until meat is browned.
STEP 3: Turn off the instant pot and drain meat.
STEP 4: Put the meat back into the instant pot.
STEP 5: Add corn, beans, Rotel, diced tomatoes, ranch seasoning, and taco seasoning.
STEP 6: Add beef broth and stir.
STEP 7: Place the lid on and set the valve to "Sealed".
STEP 8: Press the "Soup" button and set the timer for 20 minutes.
STEP 9: Once the soup is done, turn the valve to "Quick Release".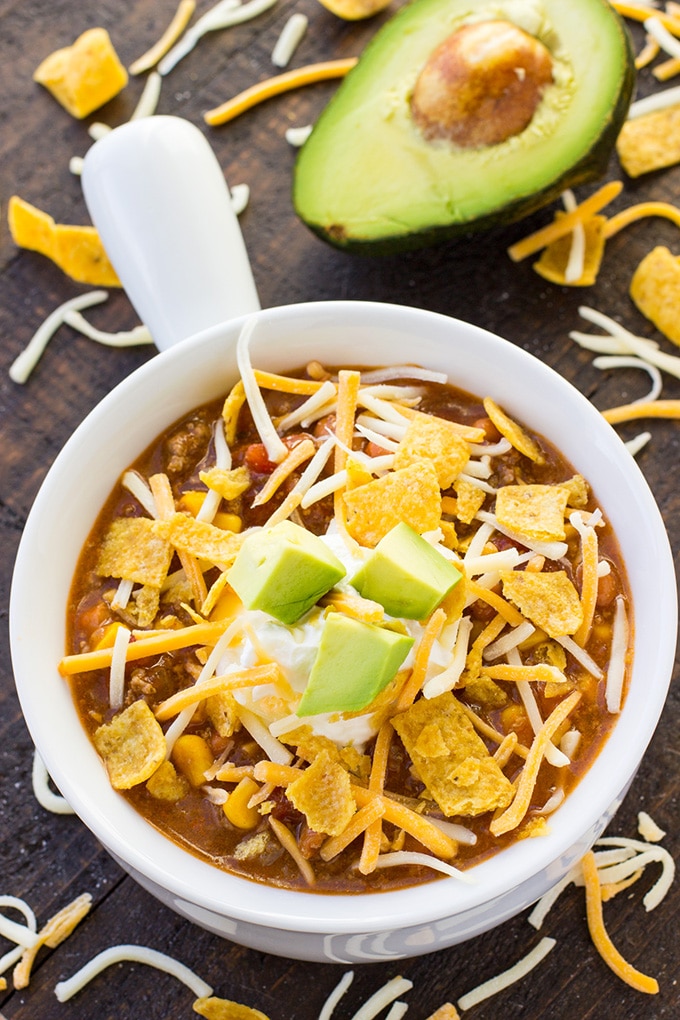 HOW TO MAKE TACO SOUP IN THE CROCKPOT
STEP 1: Heat a pan to medium heat and add olive oil. Once hot, add the meat and the onions. Cook until meat is browned. Drain.
STEP 2: Add meat and onions to the slow cooker. Add corn, beans, Rotel, diced tomatoes, ranch seasoning, and taco seasoning. Add beef broth and stir.
STEP 3: Cook on low for 5-6 hours or high for 4 hours.
TACO SOUP TOPPINGS
Shredded cheese
Avocado
Sour cream
Fritos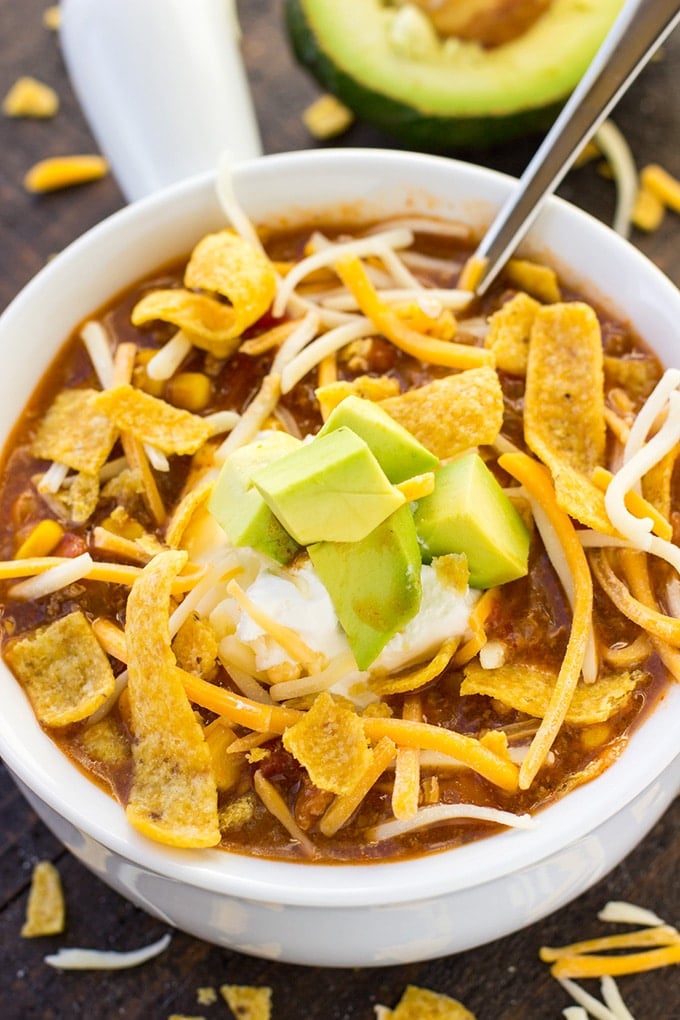 KITCHEN TOOLS NEEDED
INSTANT POT: I have this Instant Pot, it's a 6 quart and perfect for my husband and I. If you have a bigger family or if you are always hosting parties, I would HIGHLY recommend getting the 8 quart Instant Pot.
BOWLS: These are my favorite bowls, we use them for everything.