The Best Potato Chip Dip recipe will have you questioning that "no double-dipping" rule.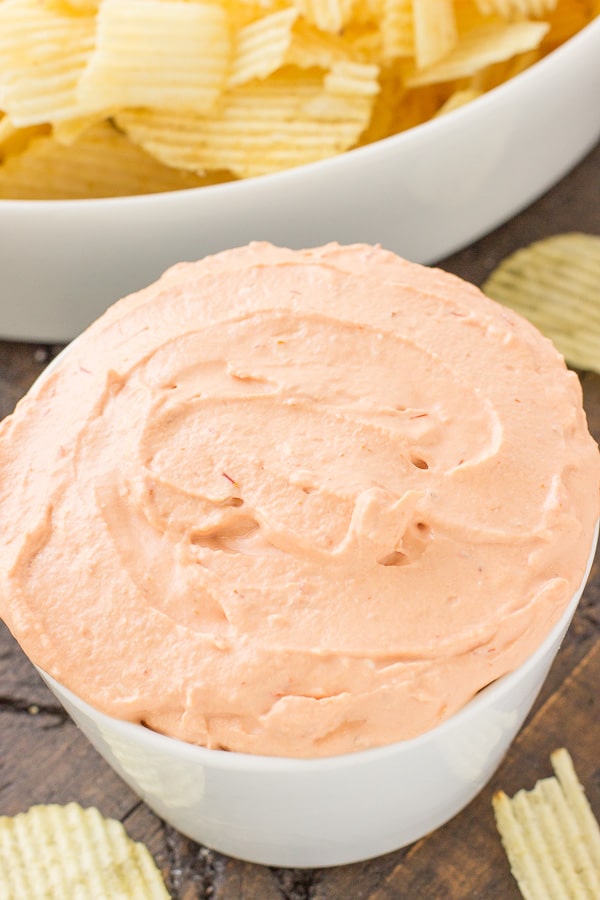 I love potato chips…and when I say love them, I mean that they are my go-to snack anytime I get a craving for something salty, crunchy and just downright delicious. But after years of eating chip after chip, I decided that it was time to give them some sort of a companion. A friend, if you will.
After racking my brain, I created one of the Best Potato Chip Dips, ever. Seriously. I'm not just saying this because it's my recipe (tempting…) but it truly is delicious. In fact, it's so delicious that it's become almost a requirement for me to bring to every family function. Without realizing it, I created a family tradition with this awesome Potato Chip Dip recipe.
I love creating this recipe because it's literally 4 (yes, four!) ingredients and it takes no time at all to create and eat. The sooner I can dip those chips into this awesome recipe, the better!
Not only is it super simple to make, the flavor is truly delicious. Something about the way that the chili sauce and the onion powder combine with the cream cheese…it's like the perfect tasty trio.
The next time that you need a quick and easy dish to make and take, this Best Potato Chip Dip recipe is sure to be a winner. Trust me and my family, we can't get enough!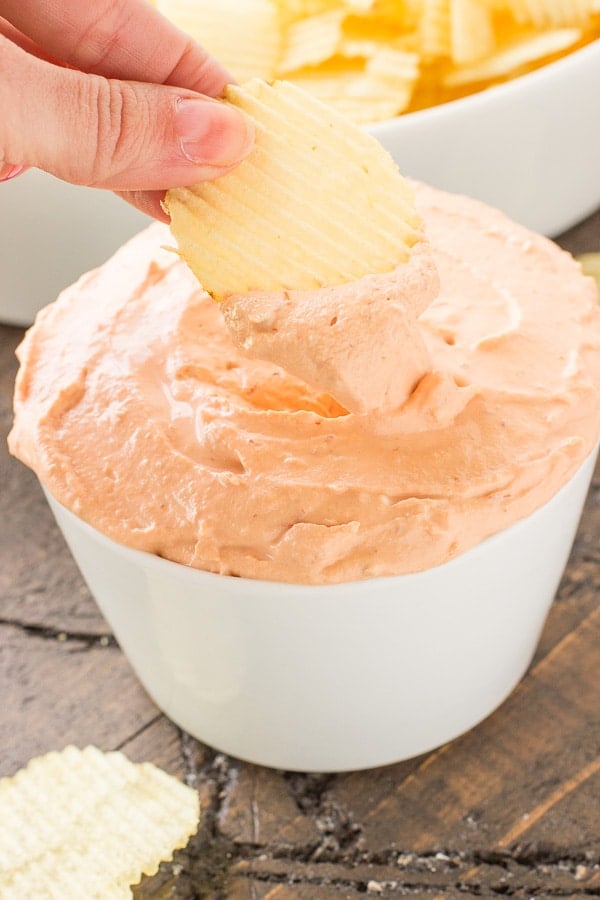 HOW TO MAKE POTATO CHIP DIP
ONLY 4 INGREDIENTS:  All you need is 2 packages of cream cheese, make sure the cream cheese is super softened. You do not want to have any lumps of cream cheese in this dip. Then you will need a jar of chili sauce and a dash of onion salt…and that's it. Mix it all together and you have the best dip ever!
MAKE-AHEAD: This potato chip dip is perfect for making the day ahead of a party because it is the best when it has been chilled in the refrigerator for at least 2-3 hours before serving but I like to make it the day before, so when the guest get here I can just take it out of the fridge and it's all ready to go.
SERVE WITH: Of course this dip is the best with potato chips but it's also good with crackers, pretzels, and I even love it with french fries.