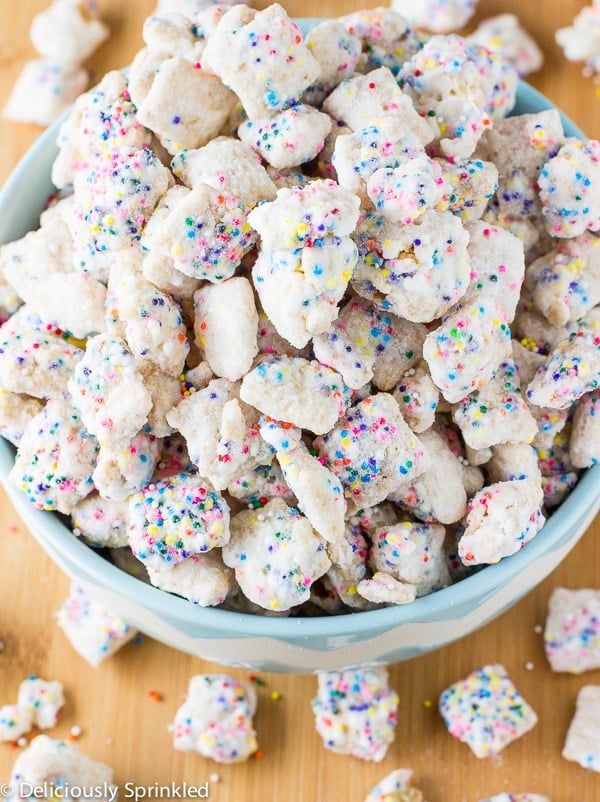 This Sugar Cookie Puppy Chow will not only be a hit…it'll steal the spotlight each and every time!
I often find myself thinking back to my childhood years about snacks and treats that I really, really loved.
While it's hard to narrow it down, two that I loved then (and still do now!) are sugar cookies and puppy chow. I mean, seriously. They are so good.
And how my mind works…is if they were that good separate, how would they be combined? AMAZING is the answer. Absolutely amazing.
There are few food items in this world that stop me in my tracks, but this one does. I love the sweetness, I love the combined flavors, and I love the fact that it's all my childhood flavor memories wrapped up in one nice, neat little snack.
I've taken this to parties, family get-togethers, and just made a batch of it to have around the house…and each and every time, it's 100% a win.
Honestly, I have to will myself to stay away from it because I find myself grabbing piece after piece (or sometimes handful after handful!) or this amazing Sugar Cookie Puppy Chow.
If you are searching for an easy holiday recipe, this is one that you just can't pass up!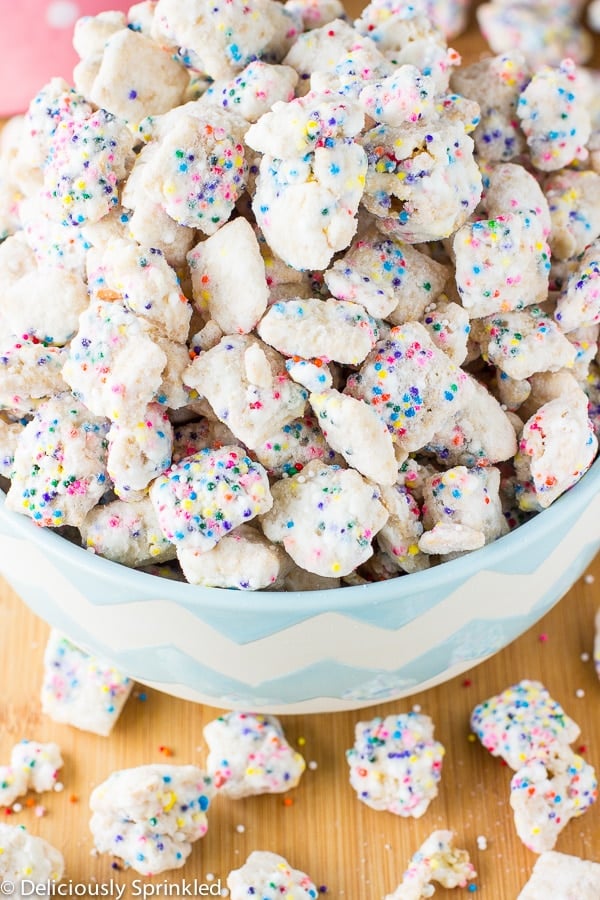 INGREDIENTS TO MAKE PUPPY CHOW
To make this sugar cookie puppy chow, you will need:
● CHEX CEREAL: you can use the plain Chex cereal or I love using the new Vanilla Chex cereal, it makes this puppy chow even better.
● ALMOND BARK: I used almond bark because it gives the puppy chow a more "sugar cookie" taste and almond bark holds up better than white chocolate which makes this puppy chow not "soggy".
● SPRINKLES: it wouldn't be sugar cookies without sprinkles! I love that you can change the sprinkle colors to match the colors of a party or holiday! This is a VERY POPULAR recipe during the holidays!
● FUNFETTI CAKE MIX: you will need 1 1/2 cups of funfetti cake mix! You could also use vanilla cake mix, as well!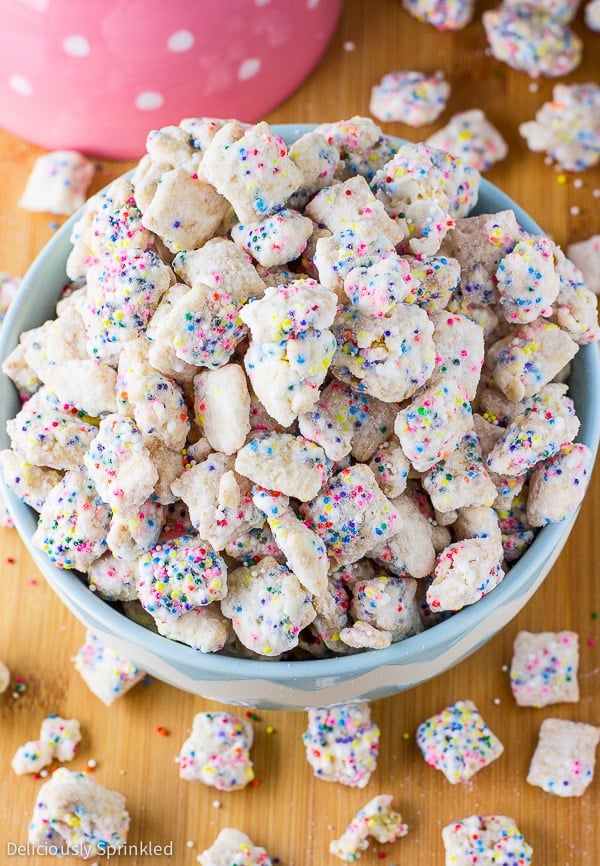 HOW TO MAKE PUPPY CHOW
To make this puppy chow, simply:
STEP 1: Pour the Rice Chex cereal in a large bowl, set aside.
STEP 2: In a microwave safe bowl, melt almond bark according to package directions.
STEP 3: Pour melted almond bark over cereal. Stir it all together gently, making sure not to break the cereal.
STEP 4: Gently, stir in sprinkles.
STEP 5: In a large zipped top bag or covered container, add the funfetti cake mix. Pour the almond bark covered cereal into the large bag or container. Seal the bag or container and shake until all the cereal is coated with the funfetti cake mix.
STEP 6: Discard excess funfetti cake mix and enjoy.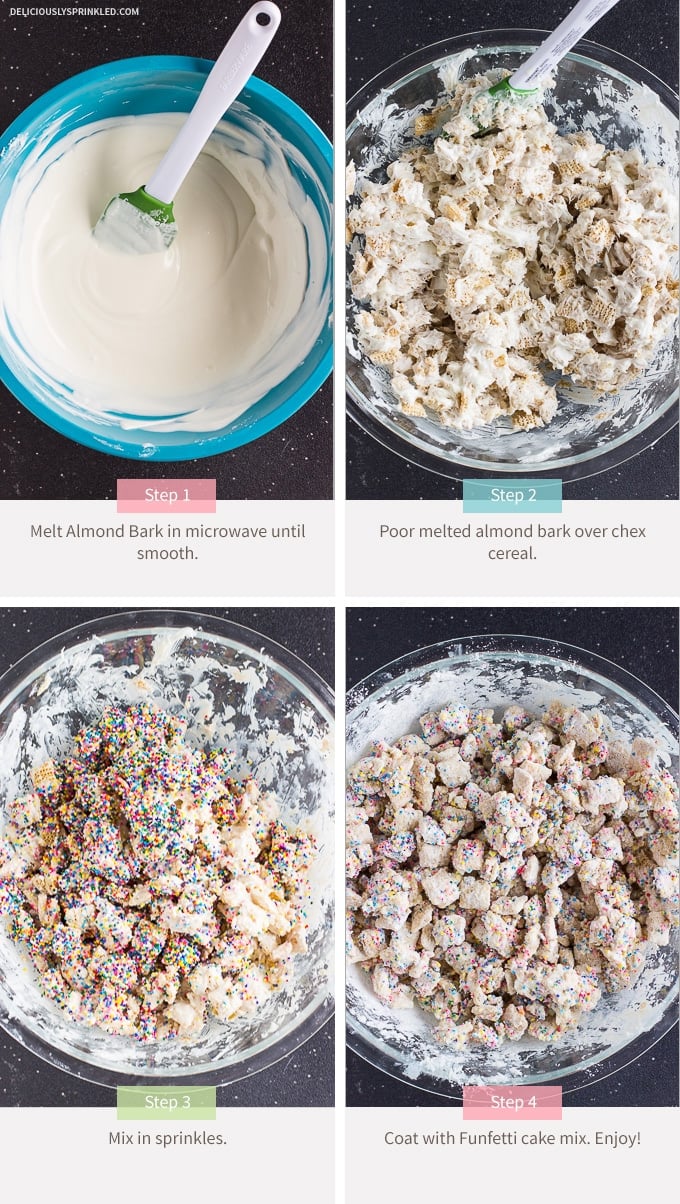 ADDITIONAL  TIPS
ALMOND BARK: I used almond bark to give this sugar cookie puppy chow that "sugar cookie" flavor. But if you don't want to use almond bark, you can use white chocolate baking bars…just do NOT use white chocolate chips.
SPRINKLES:  like to use nonpareil sprinkles (the little balls) because they mix into the cereal a lot easier then if you would use "normal" rainbow sprinkles. Just be careful when folding the sprinkles into the puppy chow mixture because you don't want the colors from the sprinkles to run.
MAKE SAME DAY: I would also recommend making this puppy chow the day you are planning on enjoying it. The longer it sits the less crunchy the puppy chow is, so I like to make it the day of or the night before for the BEST results!
BAKING TOOLS NEEDED
MIXING BOWLS: I love these mixing bowls, they're so durable and the colors are so fun!
SPATULA: Everyone needs a GOOD spatula and this one is my favorite!