This Baked Feta Pasta is gaining crazy popularity for a reason – it's SO GOOD! Feta cheese is baked with ingredients like cherry tomatoes, garlic, and Italian seasonings until it's gooey and delicious, then it's mixed with pasta of your choice and baby spinach. I don't know about you, but I'm already hungry!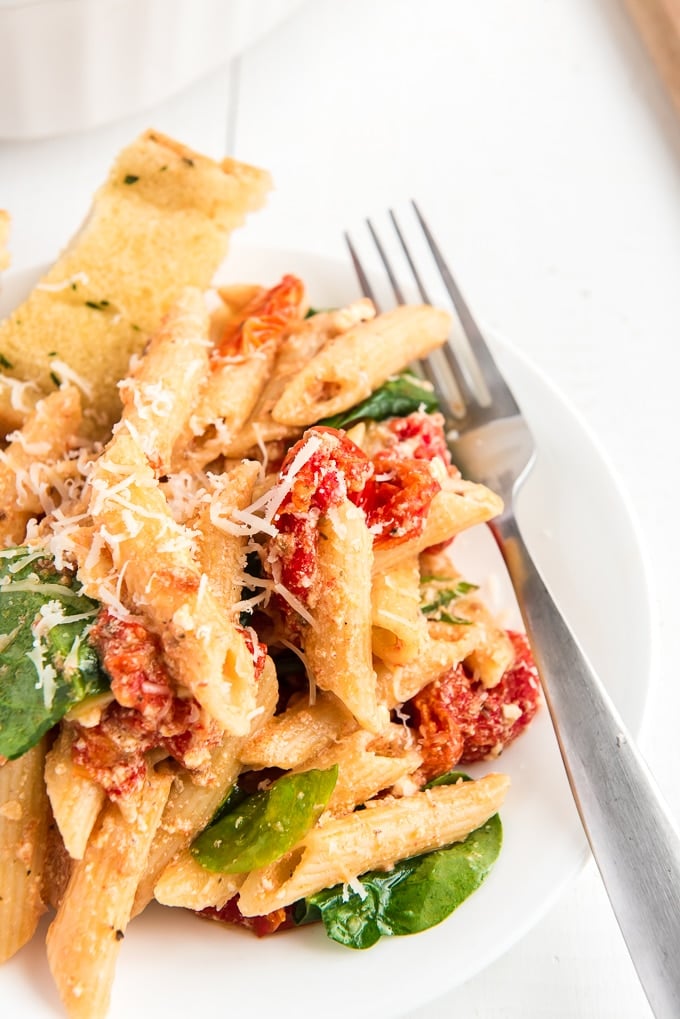 Baked Feta Pasta Recipe
Even if you don't have a TikTok account, chances are, you've seen this baked feta pasta floating around somewhere else on the internet. At this point, I don't think there's been a single person I know who hasn't tagged me in the comments saying "make this!"
The only issue is, in so many of the videos I've seen of this baked pasta recipe, there are little to no seasonings. Most people just mix up the baked feta and tomatoes with the noodles and call it a day… but not me! I love tossing in mouthwatering seasonings like garlic powder, onion powder, salt, black pepper, crushed red pepper and Italian seasonings for even more flavor.
This is a super easy dinner for the next time you're craving an easy pasta dinner that doesn't have store-bought jarred sauce. Baked feta pasta deserves all the hype it's getting right now, and I think this will stick around in my kitchen for a VERY long time. It's easy, delicious, and customizable to your tastes!