The way to the heart is through the stomach they always say. These Red Velvet Chocolate Chip Cookies are the perfect way to the heart this V-day.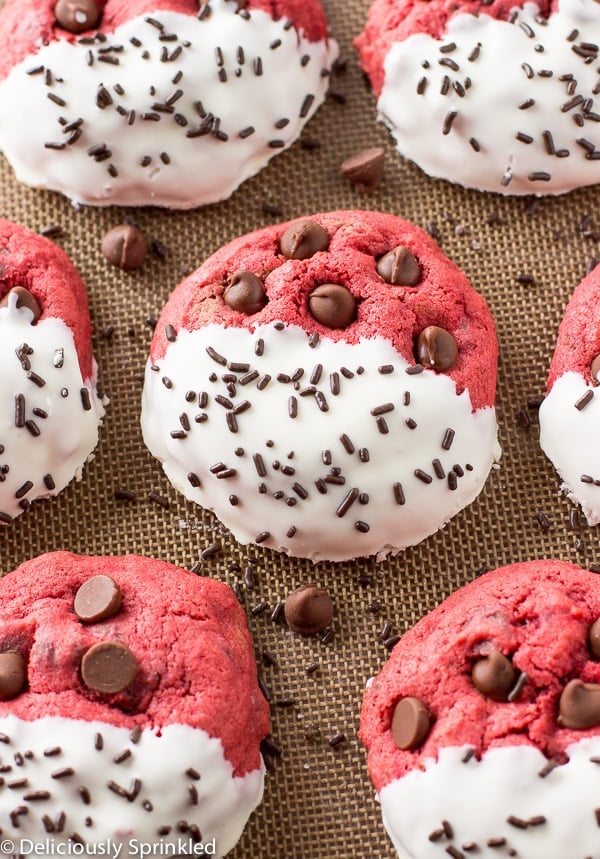 Red Velvet Chocolate Chip Cookies
Whether it's V-day or any day, making these delicious treats for someone shows them just how much you love them.
The great thing about these is that you can make them for a loved one, take them into the office for your coworkers, or send them to school with the kiddos for Valentine's party treat. Or, you could always just make them for yourself and eat them before anyone gets home.
With Valentine's Day right around the corner, it's time to start thinking of ways to show your significant other how much you love him or her.
These Red Velvet Chocolate Chip Cookies are definitely the way to anyone's heart.

Red Velvet Chocolate Chip Cookies Ingredients
You will need few ingredients for this recipe since you are making these homemade. Here's what you need:
All-purpose flour, cocoa powder, and baking soda: You need this for your dough.
Sugar, vanilla extract, and light brown sugar: Add these ingredients for a delicious flavor.
Eggs: Only add one at a time as you mix.
Butter: The butter creams your ingredients together. TIP: Bring your butter to room temperature.
Salt: This is for taste.
Chocolate chips: You can't make chocolate chip cookies without chocolate chips.
Red food coloring: Make these perfect for V-day with red food coloring.
Cream cheese frosting and sprinkles: Decorate your cookies with frosting and sprinkles.