M&M Cookies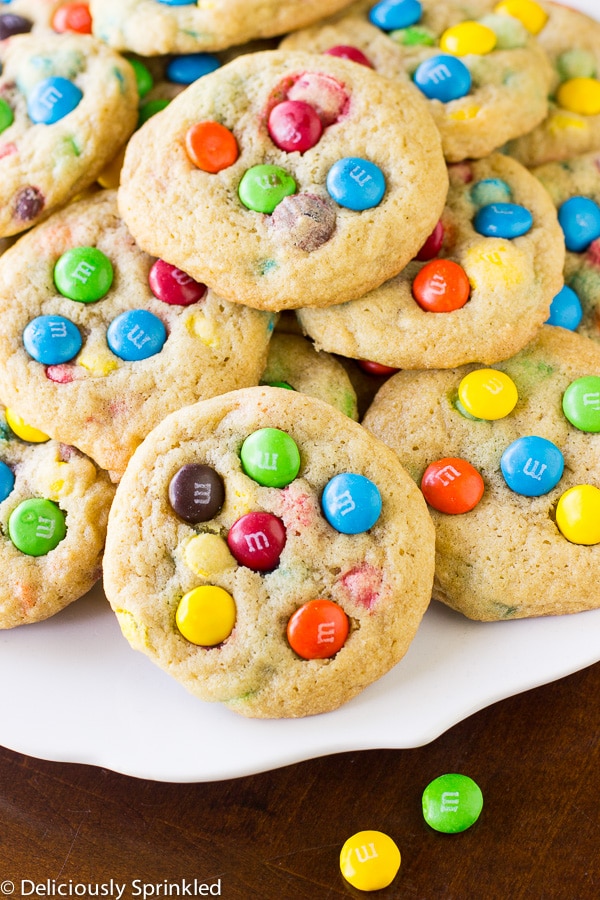 These M&M Cookies have everything my cookie loving heart desires. I love my cookies to be soft, I mean if you give me a crunchy or crispy cookie, I'll eat it but it's not going to go into my book of all-time favorite cookies, like these soft and chewy M&M Cookies.
Not only are they soft but they are loaded with M&Ms, making them even better. I used my favorite chocolate chip cookie base, if you haven't made my chocolate chip cookies, you need to because they are one of my most popular recipes! I guarantee these cookies will be your all-time favorite cookies too, especially one that's still warm out of the oven!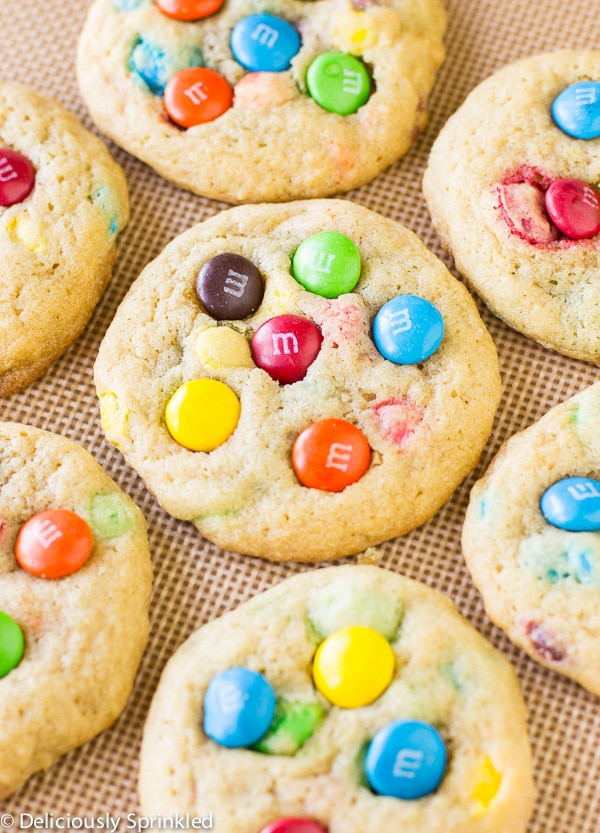 JUST A FEW BAKING TIPS:
✓ DO NOT OVER MIX COOKIE DOUGH: With almost all my cookie recipes, I always make sure to remind you to not OVERMIX  the cookie dough. Meaning, when you mix the flour mixture into the wet ingredients, only mix them together until just combined…you should still see some flour in your mixing bowl.
✓ SCOOPING THE BATTER: I always use a 1 Tablespoon cookie scoop but if you don't have a cookie scoop you can use a 1 Tablespoon measuring spoon. Each cookie dough ball has "2 scoops" of cookie dough, meaning that each cookie dough ball is 2 Tablespoons in size. In my opinion, this is the perfect sized cookie.
★ And to make it super easier for you to learn how to scoop the perfect cookie, I created a step-by-step guide on How To Scoop The Perfect Cookie!  
✓ MAKE THEM PRETTY: When they come out of the oven, I like to press 4 to 5 M&M candies on top of each cookie to make them pretty. But it's totally optional, the cookies will taste just as good without pressing M&Ms on top of each cookie!
STEP-BY-STEP GUIDE ON HOW TO MAKE THESE M&M COOKIES:

M&M Cookies
Yield: 24 Cookies
Prep Time: 10 minutes
Cook Time: 15 minutes
Total Time: 25 minutes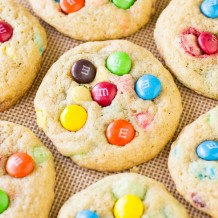 Ingredients:
2 1/4 cups all-purpose flour
1 teaspoon baking soda
1/2 teaspoon salt
12 Tablespoons unsalted butter, softened
1/2 cup granulated sugar
3/4 cup light brown sugar, packed
1 Tablespoon vanilla extract
2 large eggs
1 1/2 cups M&Ms
additional M&Ms, for topping
Directions:
PRE-STEP: Preheat oven to 370F degrees. Line two large baking sheets with parchment paper or silicone baking mats. Set aside.
STEP 1: Whisk together the flour, baking soda, and salt in a medium size bowl. Set aside.
STEP 2: In a large bowl, using an electric or stand mixer, cream together the butter, granulated sugar, light brown sugar, and vanilla extract until combined.
STEP 3: Add eggs one at a time, mixing between each egg.
STEP 4: Add flour mixture and mix until just combined. DO NOT OVERMIX!
STEP 5: Using a spatula, stir in M&Ms until combined.
STEP 6: Using a cookie scoop, scoop dough into balls about 2 Tablespoons each and place onto prepared baking sheet.
STEP 7: Bake for 10 minutes, rotate baking sheet clockwise and bake for additional 4-5 minutes or until golden brown around the edges.
STEP 8: Immediately after taking cookies out of the oven, place additional M&Ms on top of cookies, and let cool for 5 minutes on baking sheet before moving them to a wire rack.
* Freezing the cookie dough: Roll the dough into balls and place them in an airtight container. You can freeze the cookie dough for up to 2 months. Once your ready to bake them, place frozen cookie dough balls onto prepared baking sheet and bake for 16-18 minutes.
* Storing the cookies: Cookies will stay fresh for up to 7 days in an airtight container, stored at room temperature.
BAKING TOOLS I USED TO MAKE THESE COOKIES:
15 Responses to "M&M Cookies"
Leave a Comment