White Chocolate Blondies
If you're looking for an easy recipe with white chocolate, you're in luck! These white chocolate blondies are PURE HEAVEN!! Super easy to prepare and guaranteed to be gone in a blink they're so good.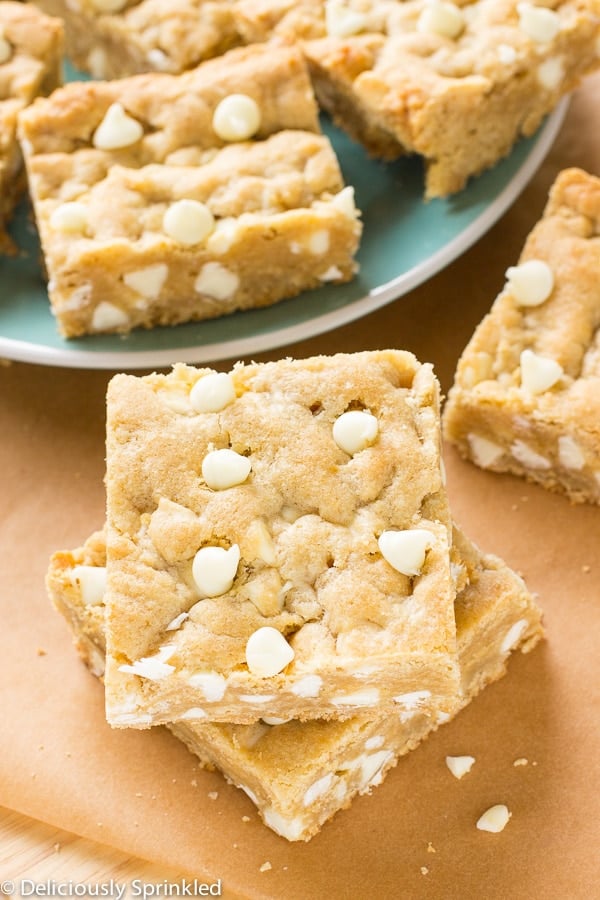 EASY DESSERT RECIPE WITH WHITE CHOCOLATE
This white chocolate blondie recipe will make you forget any other desserts even exist! Don't get me wrong…I love all types of desserts. From brownies to cookies and an occasional (or frequent) bowl of giant ice cream, I love me some delicious desserts.
BUT…this blondie recipe truly has won over my sugar-loving heart. Not only is the flavor out of this world, but they are so simple and easy to make, too! Making and taking them to share with others is one of my favorite things to do.
I'm not joking when I say that I'll hear cheers from family and friends when I bring these blondies to family gatherings or fun potlucks and BBQ's. Everyone loves them, everyone loves eating them, and if I'm not mistaken, most of them sneak in a second "taste" when they think no one is looking.
Who am I to judge? I seriously do the exact same thing every time I make this recipe! I can't help but nibble and taste test after they're done because I know that the flavor is going to be perfect.
If you are looking for an amazing dessert that is certain to bring a smile to your face as well as anyone who tries these blondies, this is the recipe that will do the trick!
WHAT ARE BLONDIES?
Now… if you landed here by searching for white chocolate brownies, easy desserts with white chocolate, white chocolate bars, or something else – you might be wondering what are blondies? They are the most underrated easy dessert recipe in history if you ask me!
The easy answer to this is that blondies are brownies without the chocolate.
With brownies, the chocolate is the main star and you might find yourself adding lots of extra! With blondies, the goal is a buttery vanilla taste that is pure heaven. These aren't to be confused with white chocolate brownies, however, as those include white chocolate as a key ingredient.
Think of these as brownies for people who hate chocolate (although I'm not sure how you could hate something so delicious, ha!).
COOKING TOOLS YOU MIGHT NEED
Now, before you get started making these heaven in a bite, make sure you have these essential tools in your kitchen:
BAKING PANS: Square baking pans are a MUST when baking brownies, bars, or any other related dessert.
STAND MIXER: A stand mixer makes baking a whole lot easier and FASTER! KitchenAid is my favorite, but feel free to search around for the best fit for you!
SPATULAS: Spatulas are a must in my kitchen as they make things so much easier. Plus, a cute spatula is the secret for happiness while you bake!!
WHITE CHOCOLATE BLONDIES INGREDIENTS
For this easy dessert recipe, you'll need these ingredients:
FLOUR: I mean… flour is kind of a necessary ingredient for baked goods!
BAKING SODA: Baking soda helps your brownies take shape into the perfect texture.
SALT: Just a bit of salt for the science-y part of baking, haha!
BUTTER: Make sure to use softened unsalted butter for the most delicious results!
SUGAR: You'll need granulated and light brown sugar for the perfect balance of sweet.
VANILLA: And of course – you need vanilla to create that blondie flavor!
EGGS: A couple eggs will help bind everything together, make sure they're room temp.
WHITE CHOCOLATE CHIPS: And of course you need white chocolate chips! Both for baking in and to top them with.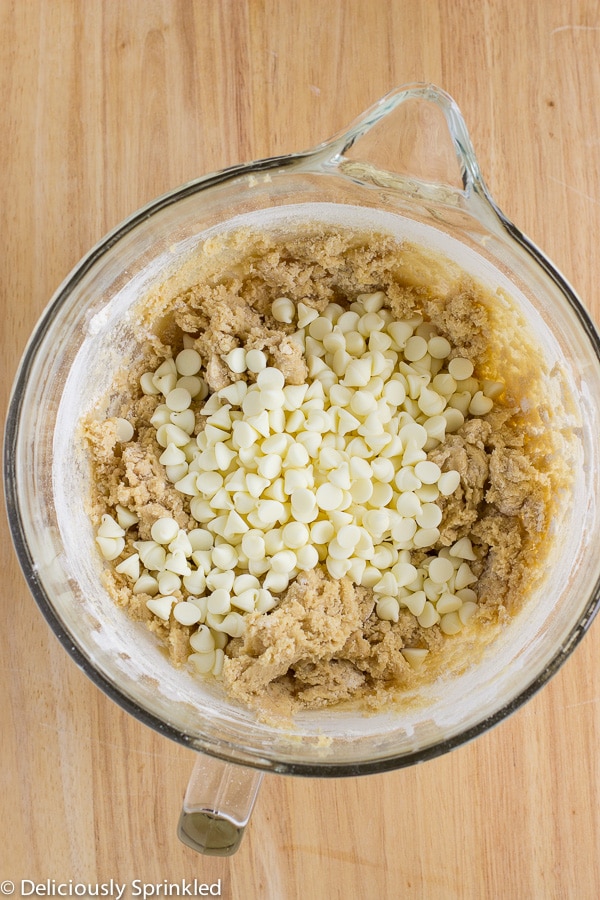 HOW TO MAKE BLONDIES WITH WHITE CHOCOLATE
A full step by step recipe is available for printing down below!
PREP: Start by preheating your oven to 370F and line a 9×9 baking pan with aluminum foil to make cutting easier; spray with cooking spray and set aside.
WHISK DRY INGREDIENTS: Whisk together the flour, baking soda, and salt in a medium sized bowl; set aside.
CREAM OTHER INGREDIENTS: In a large mixing bowl or stand mixer, cream the butter, sugars, and vanilla until well combined.
COMBINE INGREDIENTS: Add the eggs one at a time, mixing between each one. Then, add the flour mixture and mix until just combined – be careful not to overmix your batter!
BAKE: Stir in the chocolate chips with a spatula and then press the dough into a prepared baking pan. Bake for 20-23 minutes, until the edges are a light golden brown. Let them cool completely before cutting and serving. Enjoy!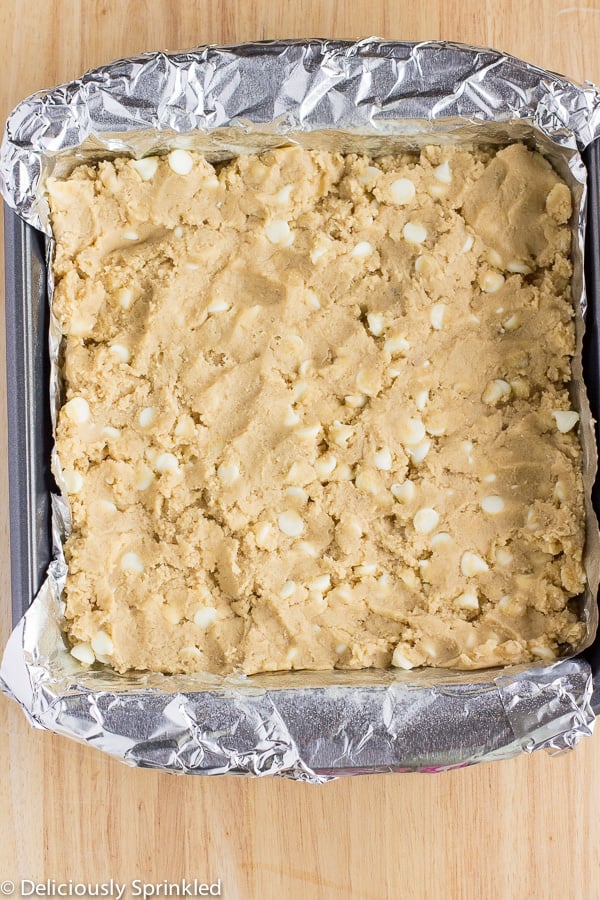 ARE BLONDIES SUPPOSED TO BE GOOEY?
Yes! With these, they may be a little gooey in the middle as you pull them out of the oven. They will continue to come together as they cool off. Be careful not to overbake them!
WHY AREN'T MY BLONDIES SOFT?
If upon baking you discover that you're missing that soft brownie-like texture, it's likely you overmixed the dough. With almost all my blondie recipes, I always make sure to remind you to not OVERMIX the dough. Meaning, when you mix the flour mixture into the wet ingredients, only mix them together until just combined…you should still see some flour in your mixing bowl.
The reason for this is when you overmix, you let more air flow into the batter and that can result in a change in texture. It is VERY important you don't overmix!!
That said – it's also possible that you overbaked them and now they're dry and sad. Time to try again!
WHAT'S THE BEST WAY TO CUT AND SERVE BLONDIES?
To make it super easy for you to cut these blondies into squares, line your 9×9 inch baking pan with aluminum foil, leaving enough overhang on the sides and spray the foil with non-stick cooking spray. Once the blondies have cooled lift the blondies out of the pan, folding down the aluminum foil sides. Use a sharp knife to cut these blondes into squares and enjoy!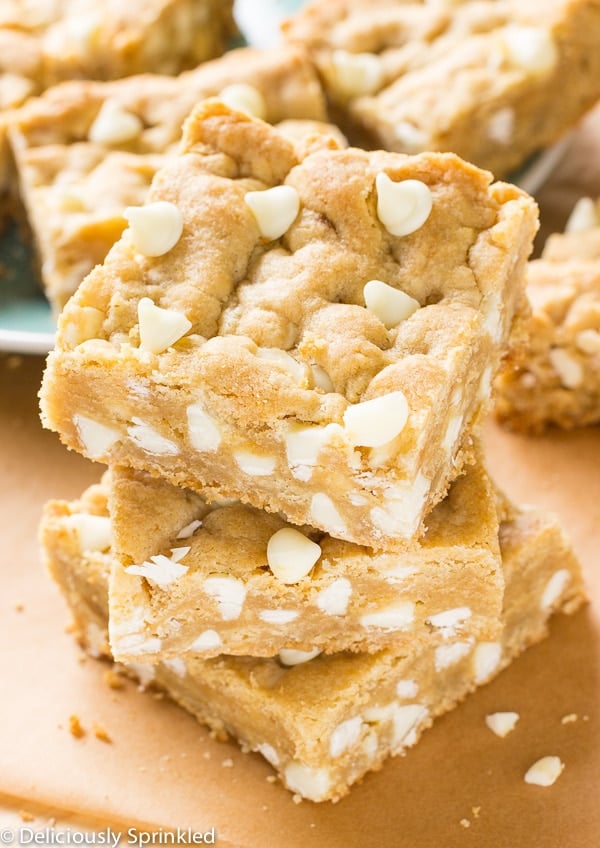 MORE EASY COOKIE BAR RECIPES:
If you have tried this White Chocolate Blondies recipe, then please rate it in the recipe card and let me know how it turned out in the comments below!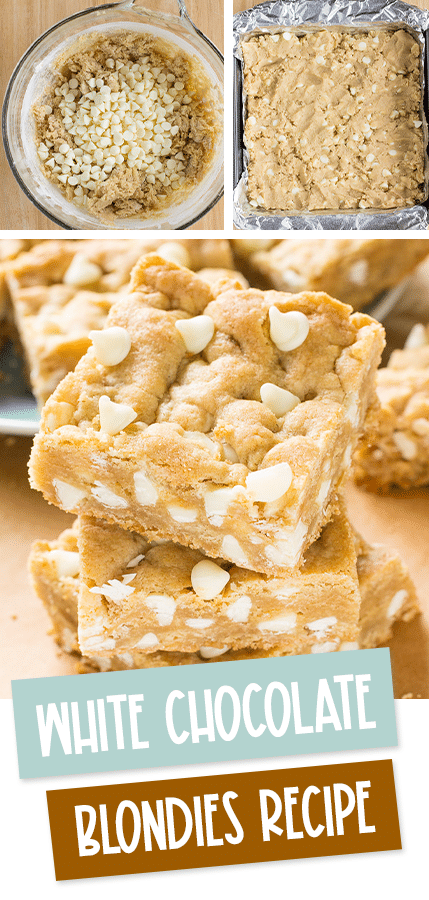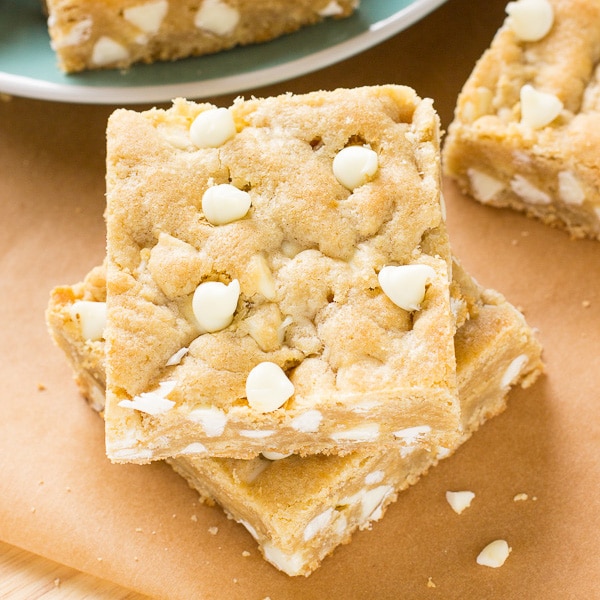 Yield: SERVES: 12
WHITE CHOCOLATE BLONDIES RECIPE
The BEST easy white chocolate blondies you've ever had! So simple to make and incredibly delicious to eat.
Prep Time 10 minutes
Cook Time 20 minutes
Total Time 30 minutes
Ingredients
2¼ cups all-purpose flour
1 teaspoon baking soda
½ teaspoon salt
12 Tablespoons UNSALTED butter, softened
½ cup granulated sugar
¾ cup light brown sugar, packed
1 Tablespoon vanilla extract
2 large eggs
1½ cups white chocolate chips
additional chocolate chips, for topping
Instructions
Preheat oven to 370F degrees. Line a 9x9 inch baking pan with aluminum foil and spray with non-stick cooking spray. Set aside.
Whisk together the flour, baking soda, and salt in a medium size bowl. Set aside.
In a large bowl, using an electric or stand mixer, cream together the butter, granulated sugar, light brown sugar, and vanilla extract until combined.
Add eggs one at a time, mixing between each egg.
Add flour mixture and mix until just combined. DO NOT OVERMIX!
Using a spatula, stir in chocolate chips until combined.
Press dough into prepared baking pan. Bake for 20-23 minutes or until edges are lightly golden brown. Let bars cool completely before cutting into squares.
Nutrition Information:
Yield:
12
Serving Size:
1
Amount Per Serving:
Calories: 408
Total Fat: 20g
Saturated Fat: 12g
Trans Fat: 0g
Unsaturated Fat: 7g
Cholesterol: 66mg
Sodium: 230mg
Carbohydrates: 52g
Fiber: 1g
Sugar: 34g
Protein: 5g
This blog post contains affiliate and/or referral links, which pay me a small commission for recommending my favorite products at no extra cost to you! Additionally, as an Amazon affiliate, I earn from qualifying purchases.