Lemon Sugar Cookies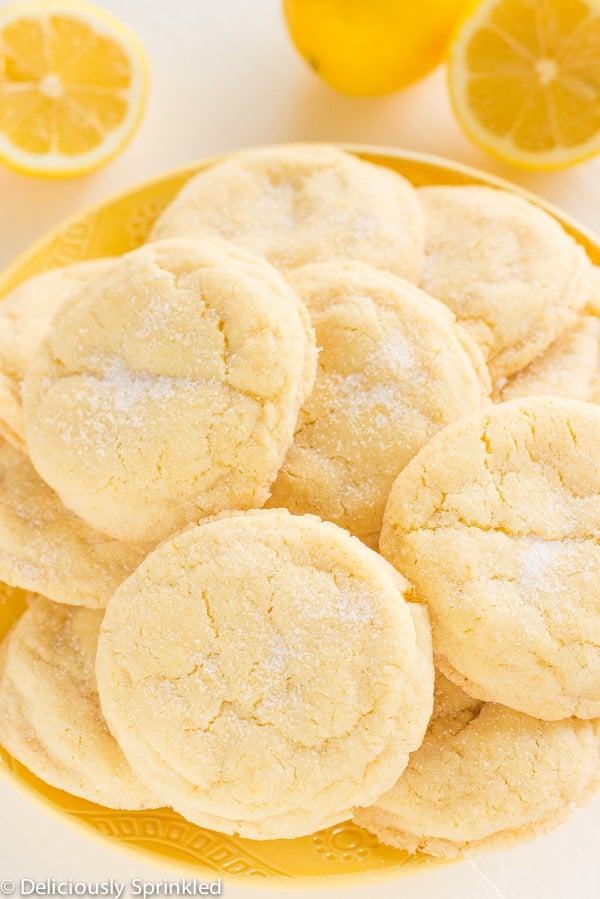 Spring is just around the corner and these Lemon Sugar Cookies are the perfect way to welcome the warmer weather ahead. ☀
These Lemon Sugar Cookies are adapted from one of my favorite cookie recipes, my amazingly popular Soft Suger Cookies recipe! To make these cookies, I added fresh lemon juice and lemon zest to give these cookies a delicious lemon flavor. Just like my original sugar cookies, these Lemon Sugar Cookies are soft and chewy in the middle with slightly crispy edges…just like a sugar cookie should be.
So if you're a fan of lemony treats, these cookies are for you. Enjoy! ♥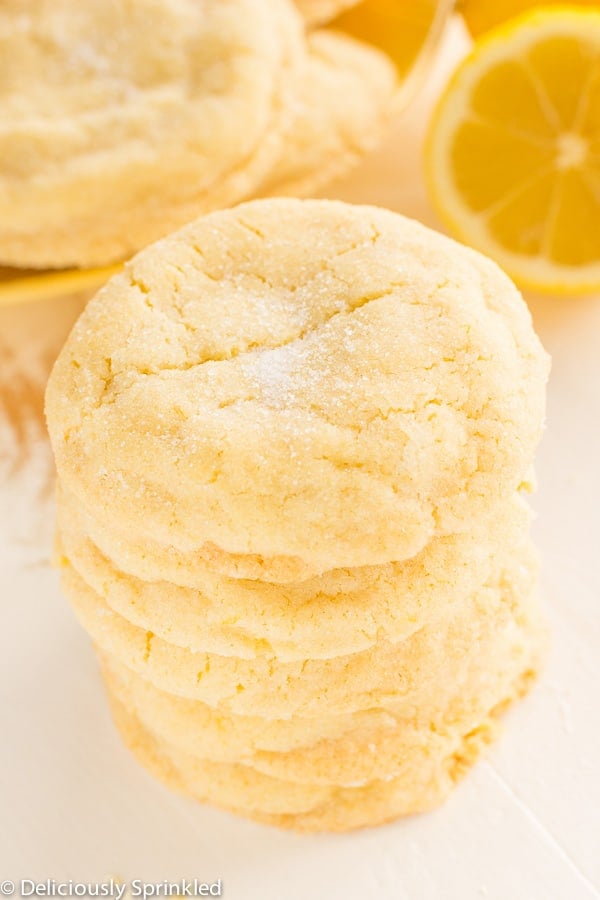 JUST A FEW BAKING TIPS:
✓ SOFTENED BUTTER IS A MUST: Having softened butter is a MUST in this lemon sugar cookie recipe. If your butter is not softened the dough will be dry and crumbly, making it hard to form the dough into balls. So about an hour or two before you start making these cookies take 2 sticks of butter out of the fridge to soften.
   ★ To soften butter directly from the fridge, place stick of butter unwrapped in the microwave  for 10-15 seconds.
✓ DON'T OVERMIX: With almost all my cookie recipes, I always make sure to remind you to not OVERMIX  the cookie dough. Meaning, when you mix the flour mixture into the wet ingredients, only mix them together until just combined…you should still see some flour in your mixing bowl.
✓ SCOOPING THE COOKIE DOUGH:  I always use a 1 Tablespoon cookie scoop, each cookie dough ball has "2 scoops" of cookie dough, meaning that each cookie dough ball is 2 Tablespoons in size. In my opinion, this is the perfect sized cookie. If you don't have a cookie scoop, you can use an ice cream scooper but you will only need 1 ice cream scoop of cookie dough.
   ★ And to make it super easier for you to learn how to scoop the perfect cookie, I created a step-by-step guide on  How To Scoop The Perfect Cookie!  
STEP-BY-STEP GUIDE ON HOW TO MAKE THESE LEMON SUGAR COOKIES:

Lemon Sugar Cookies
Yield: 24 Cookies
Prep Time: 10 minutes
Cook Time: 15-18 minutes
Total Time: 25 minutes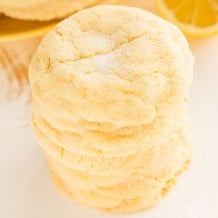 Ingredients:
2 1/2 cups all-purpose flour
3/4 teaspoon baking soda
1 teaspoon baking powder
1 cup (2 sticks) SALTED butter, softened
1 1/4 cup granulated sugar
3 egg yolks
1 teaspoon vanilla extract
zest of 2 lemons
1 1/2 Tablespoons fresh lemon juice
1/4 cup granulated sugar, for rolling
Directions:
PRE-STEP: Preheat oven to 350F degrees. Line two large baking sheets with parchment paper or silicone baking mats. Set aside.
STEP 1: Whisk together the flour, baking soda, and baking powder in a medium size bowl. Set aside.
STEP 2: In a large bowl, using an electric or stand mixer, cream together the butter, and granulated sugar until combined.
STEP 3: Add egg yolks, vanilla extract, lemon zest and lemon juice. Mix until combined.
STEP 4: Add flour mixture and mix until just combined. DO NOT OVERMIX!
STEP 5: Using a cookie scoop or ice cream scoop, scoop dough into balls about 2 Tablespoons each, roll in sugar and place onto prepared baking sheet.
STEP 6: Bake for 15-18 minutes or until tops of cookies start to crack. Let cool for 5 minutes on baking sheet before moving them to a wire rack. Let cool completely on wire rack.
NOTES:
* STORE: Cookies will stay fresh for up to 7 days in an airtight container, stored at room temperature.
* FREEZING: Roll the dough into balls and place them in an airtight container. You can freeze the cookie dough for up to 2 months. To bake, place frozen cookie dough balls onto prepared baking sheet and bake for 16-18 minutes.
5 Responses to "Lemon Sugar Cookies"
Leave a Comment