Strawberry Shortcake Bars
These Strawberry Shortcake Bars are a favorite summer dessert with a out of this world CRUMBLE topping!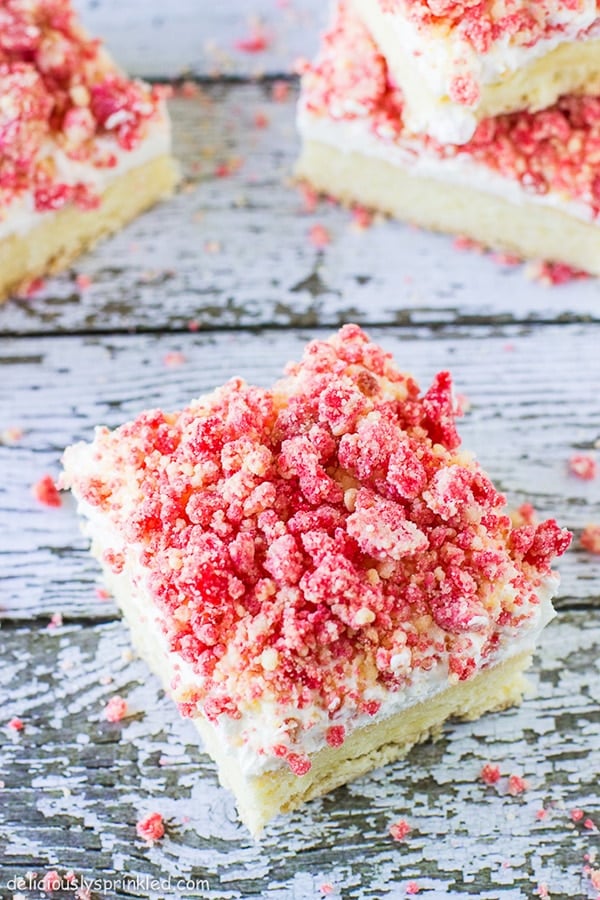 When I was a little girl, I would get so excited when I heard the ice cream truck coming down our street in the summer!
My brother and I would always run into the house to get my mom so she could pay for our $0.25 cent ice cream treat. One of my favorite ice cream bars to get were the Good Humor Strawberry Shortcake. They were so delicious and the crumble topping on the outside of the ice cream bar was the best part.
And now that we are full swing into summer, I thought I would make these Strawberry Shortcake Bars topped with a ton of the best part of those Good Humor bars, the strawberry crumble!
I could just eat a handful or two of this delicious crumble, it's amazing and I think I need to put it on everything like cookies, cakes, cupcakes, ice cream, yogurt whatever I am eating needs to have some strawberry vanilla crumble on it. Trust me it's that good!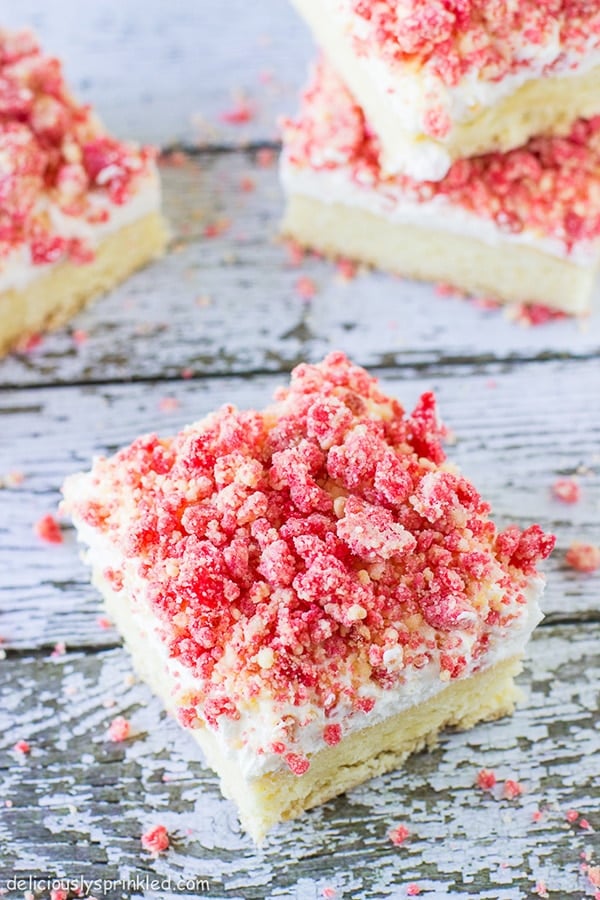 HOW TO MAKE STRAWBERRY SHORTCAKE BARS
LINE YOUR BAKING PAN: To make it super easy for you to cut these bars into squares, line your 9×9 inch baking pan with aluminum foil, leaving enough overhang on the sides and spray the foil with non-stick cooking spray. Once the bars have cooled lift the bars out of the pan, folding down the aluminum foil sides. Use a sharp knife to cut these bars into squares.
CRUMBLE: Keep an eye on the crumble when baking it, to make sure it doesn't burn! I checked and stirred mine at 5 minutes to make sure the crumble was not burning. After baking the crumble for 10 minutes, I put the whole pan in the freezer for another 10 minutes to cool it down quickly so that I could SPRINKLE the crumble on top of the  frosted bars.

MORE BAR RECIPES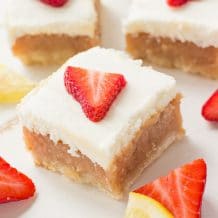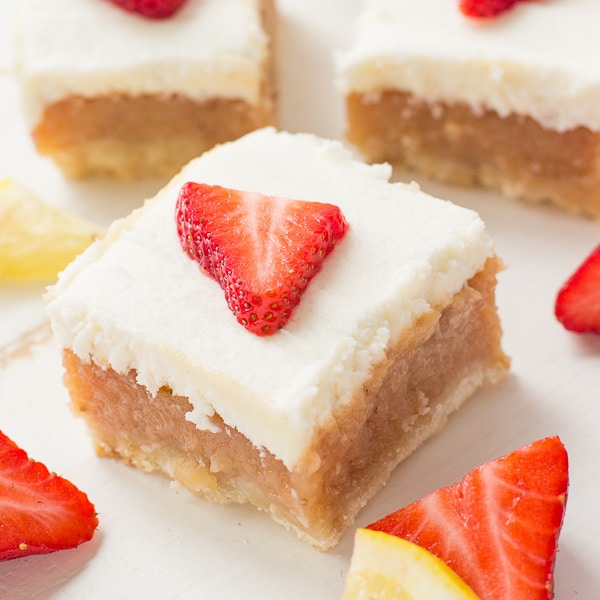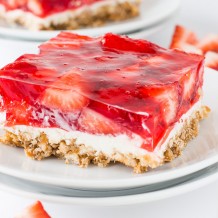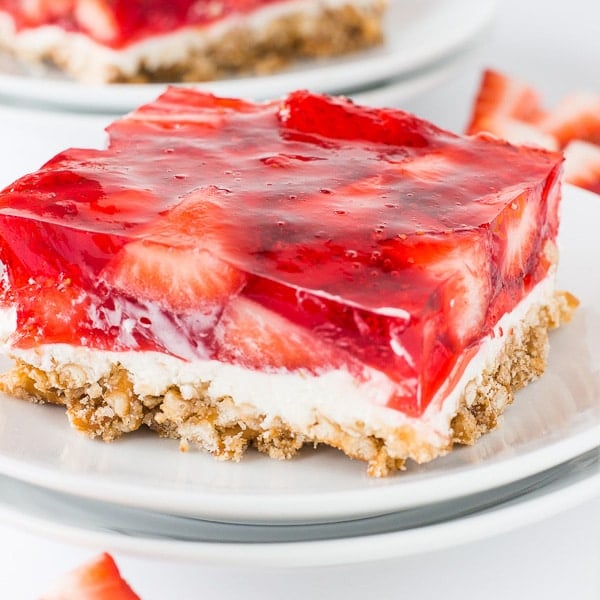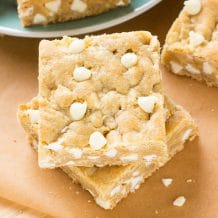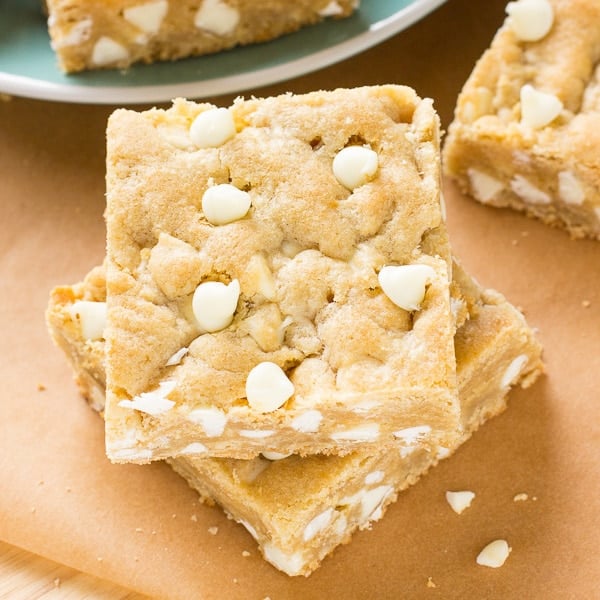 Strawberry Shortcake Bars
Yield: 12 Bars

Prep Time:15 minutes

Cook Time:25 minutes

Total Time:50 minutes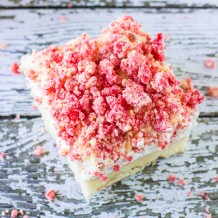 Ingredients:
VANILLA BARS:
1 box vanilla cake mix
2 large eggs
1/3 cup vegetable oil
STRAWBERRY VANILLA CRUMBLE:
1 (3 oz.) package strawberry gelatin mix, dry
1 (3 oz.) package vanilla INSTANT pudding mix, dry
1/2 cup unsalted butter, softened
1 cup all purpose flour, divided
COOL WHIP FROSTING:
8 ounces cream cheese, softened
1 cup powdered sugar
1 teaspoon  vanilla extract
1 tub (8 oz.) Cool Whip, thawed
Directions:
PRE-STEP: Preheat oven to 350F degrees. Line 9x9 cake pan with aluminum foil and spray with non-stick cooking spray. Set aside.

STEP 1: In a large bowl, using an electric or stand mixer, mix together the cake mix, eggs, and vegetable oil until combined and dough forms.

STEP 2: Press dough evenly into prepared pan using a spatula. Bake for 20 minutes or until edges are lightly brown. Let cool completely before frosting.

MAKE CRUMBLE:

STEP 3: In a small bowl combine the strawberry gelatin mix, 4 Tablespoons butter, and 1/2 cup flour. Using a fork to mix ingredients together until crumble forms. In another small bowl, combine the vanilla pudding mix, 4 Tablespoons butter, and 1/2 cup flour. Using a fork to mix ingredients together until crumble forms.

STEP 4: Spread both the strawberry and vanilla crumble onto a lined cookie sheet with parchment paper or a silicon baking mat. Bake at 350F degrees for 10 minutes. *Check crumble at 5 minutes, stirring so that the crumble doesn't burn. Place pan in freezer for 10 minutes to cool down the crumble quickly to sprinkle on top of bars.

MAKE FROSTING:

STEP 5: In a large bowl, using an electric or stand mixer, mix together the cream cheese, powdered sugar, vanilla extract, and Cool Whip blending on high until frosting is light and fluffy.

STEP 5: Frost top of cooled bars and sprinkle a generous amount crumble on top. Cut into squares and enjoy!

NOTES:

*STORE: Store leftover bars in an airtight container in the refrigerator for up to 1 week.
42 Responses to "Strawberry Shortcake Bars"
Pingback: 80+ Incredible Desserts - Savory Style

Pingback: 50 Strawberry Dessert Recipes
Leave a Comment