Potato Chip Cookies
Potato Chip Cookies are salty and sweet – the best of both worlds! These cookies are incredibly buttery and bake to the softest consistency while having tiny crispy bites of salty potato chips evenly baked throughout. Bring these unique treats to any cookie exchange and watch them disappear!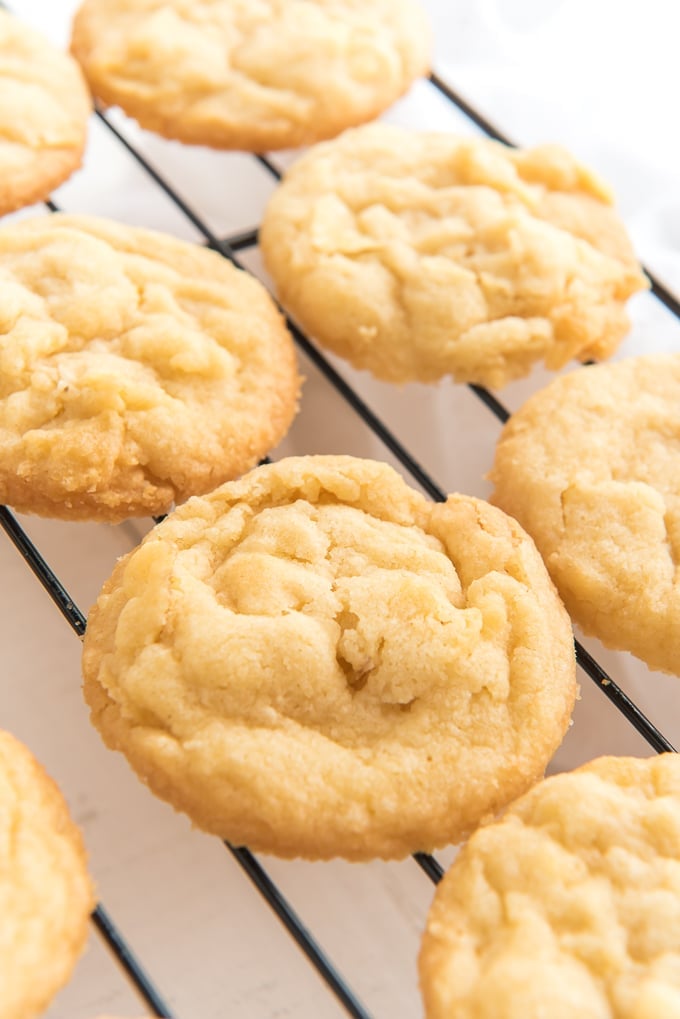 Potato Chip Cookies
You know when you have that craving for a little something sweet and salty? Usually, I just dunk my pretzels in some Nutella and call it a day! But when I have the time to bake a batch of homemade cookies, these Potato Chip Cookies are the ultimate way to satisfy that salty sweet craving. Buttery, sugary, soft cookies are loaded with potato chips… Are you drooling yet?!
You only need 5 inexpensive ingredients to make these little masterpieces. The best part? You probably already have them all in your kitchen right now! Butter, white granulated sugar, vanilla extract, all-purpose flour and of course potato chips come together to make the easiest (and quite possibly) best homemade cookie dough ever.
We're in the middle of cookie season right now. What better way to celebrate that than with a cookie like this?! When you bring a batch of Potato Chip Cookies to your cookie exchange, you can rest easy knowing that they've got two big things going for them. One, no one else will have these unique cookies with them. Two, they'll likely be the crowd's favorite. Everyone loves a little salty sweet treat!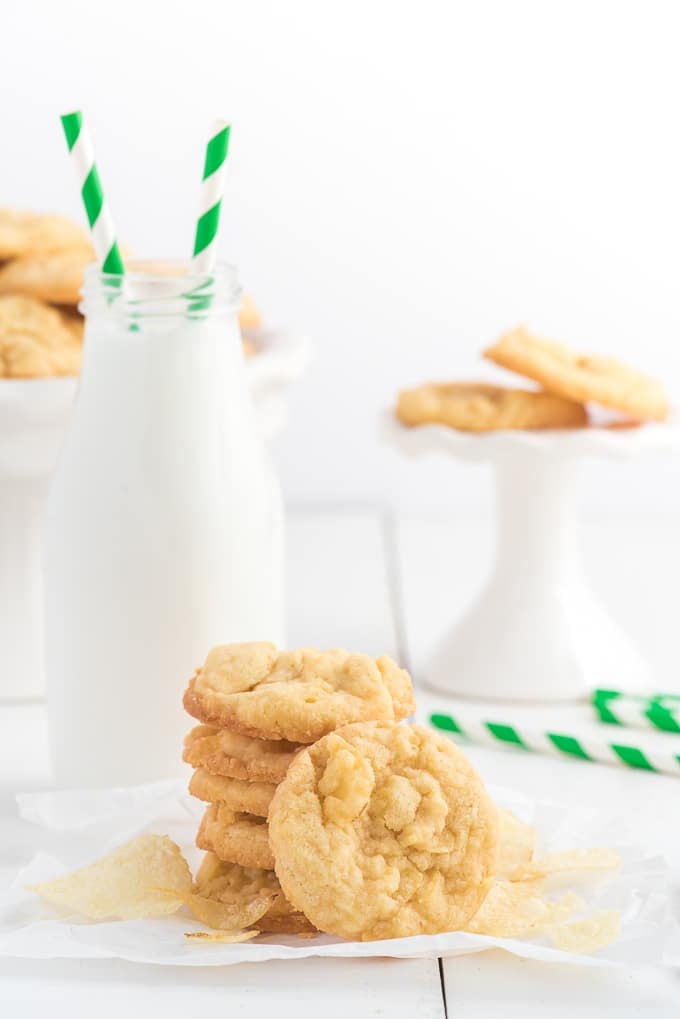 You can elevate these cookies even more by adding a handful of chocolate chips to the dough. Chocolate, potato chips, and buttery cookies all together in one bite… Swoon!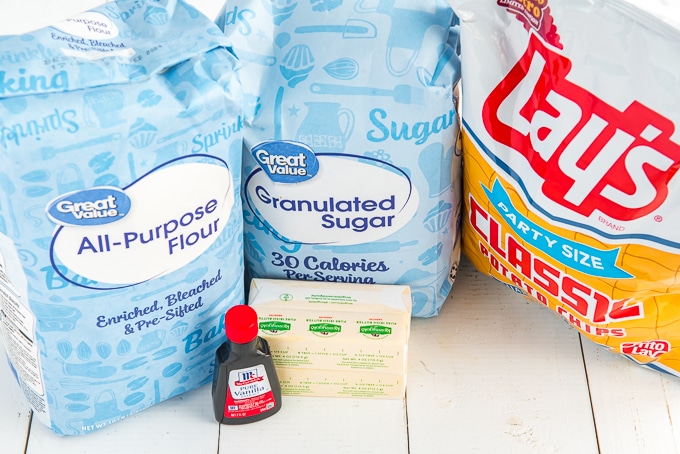 Recipe Ingredients
Here's what you'll need for this easy budget-friendly cookie recipe!
BUTTER – 2 cups unsalted butter (4 sticks), softened
SUGAR – 1 cup granulated sugar
VANILLA – 1 teaspoon vanilla extract
FLOUR – 3 ½ cups all-purpose flour
POTATO CHIPS – 1 ½ cups crushed potato chips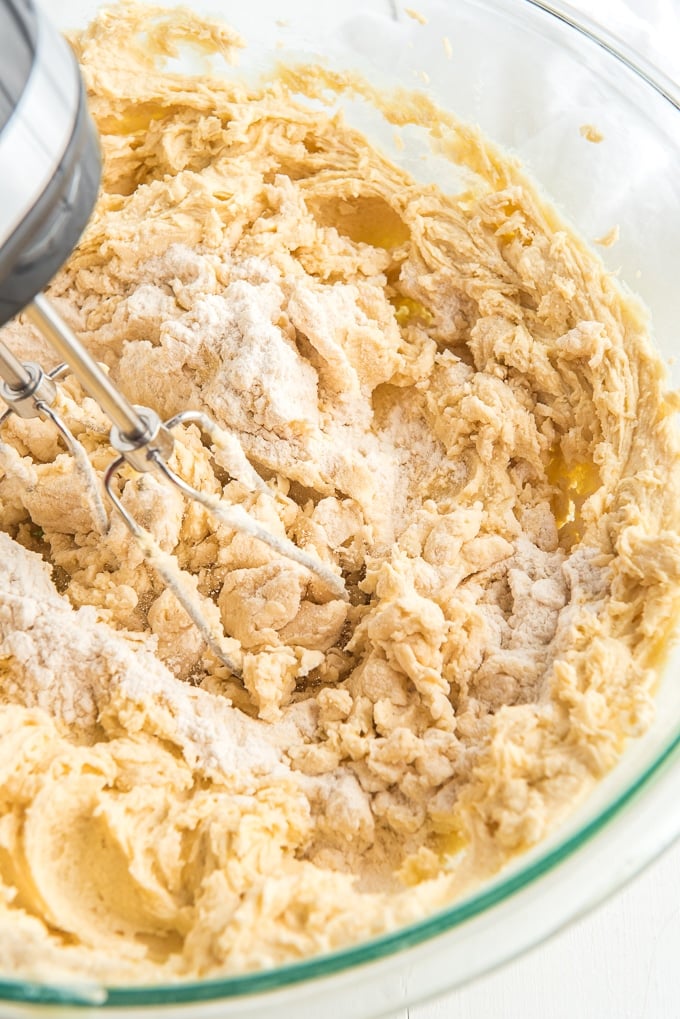 How to Make Potato Chip Cookies
PREPARE. Preheat your oven to 350°F and line your baking sheets with parchment paper or a silicone baking mat.
CREAM. Cream the butter, sugar, and vanilla with an electric mixer.
ADD FLOUR AND CHIPS. Stir in the flour and potato chips.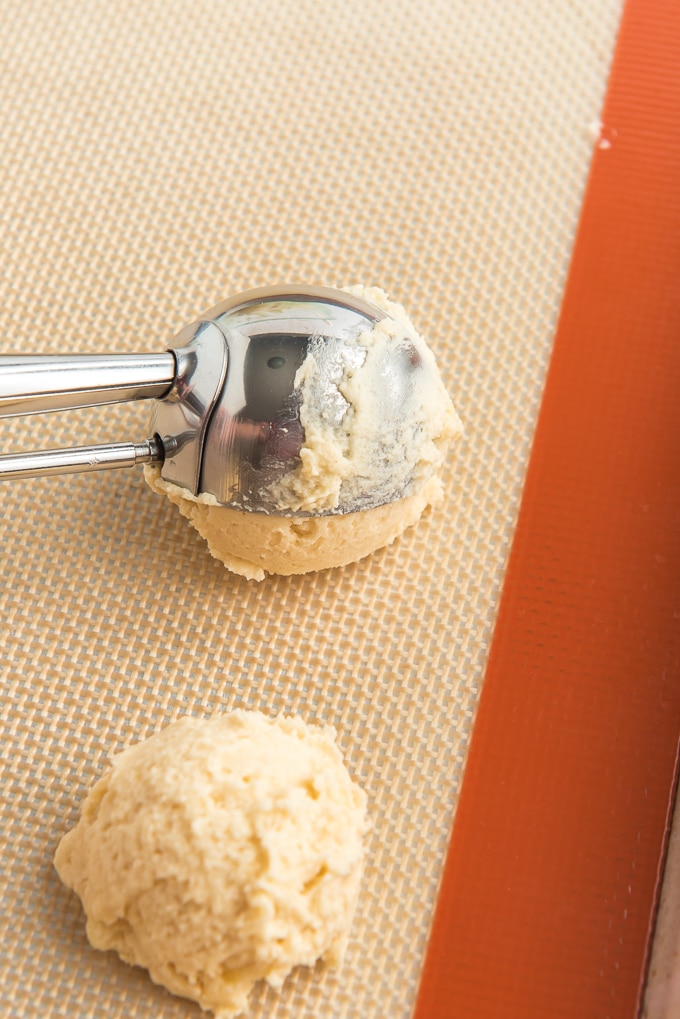 BAKE. Use a cookie scoop to place the dough balls all over the baking sheet. Bake for 10-12 minutes.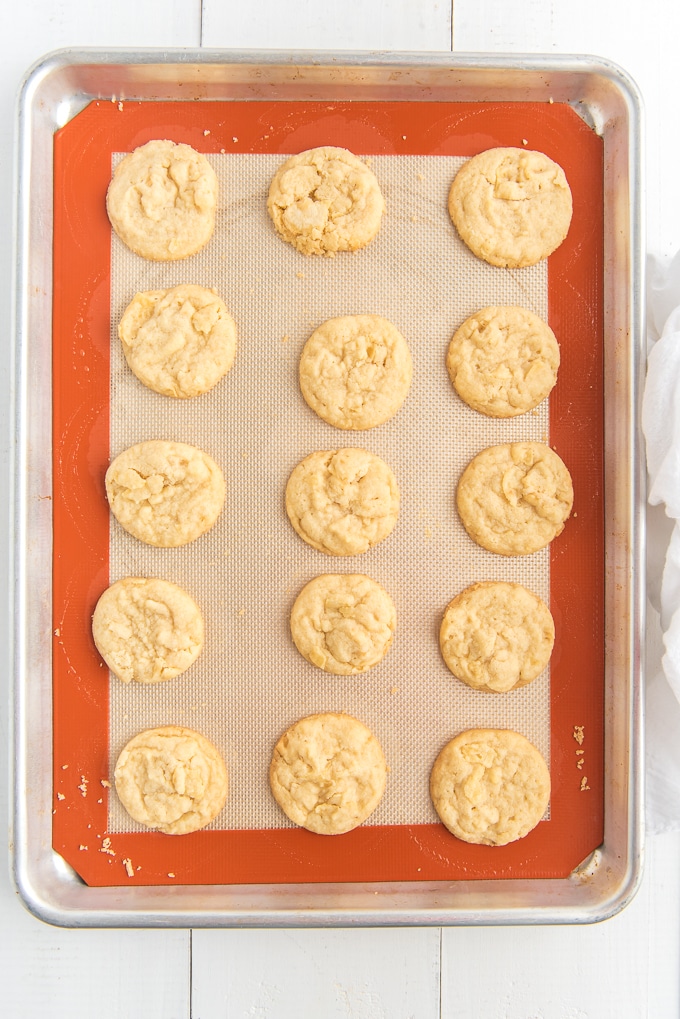 How long will Potato Chip Cookies stay fresh?
In an airtight container at room temperature, these sweet and salty cookies will stay fresh for about 3-4 days.
Can I freeze Potato Chip Cookies?
Yes! You can either freeze these cookies after they've been baked or freeze the dough in 1 Tablespoon balls to bake for later.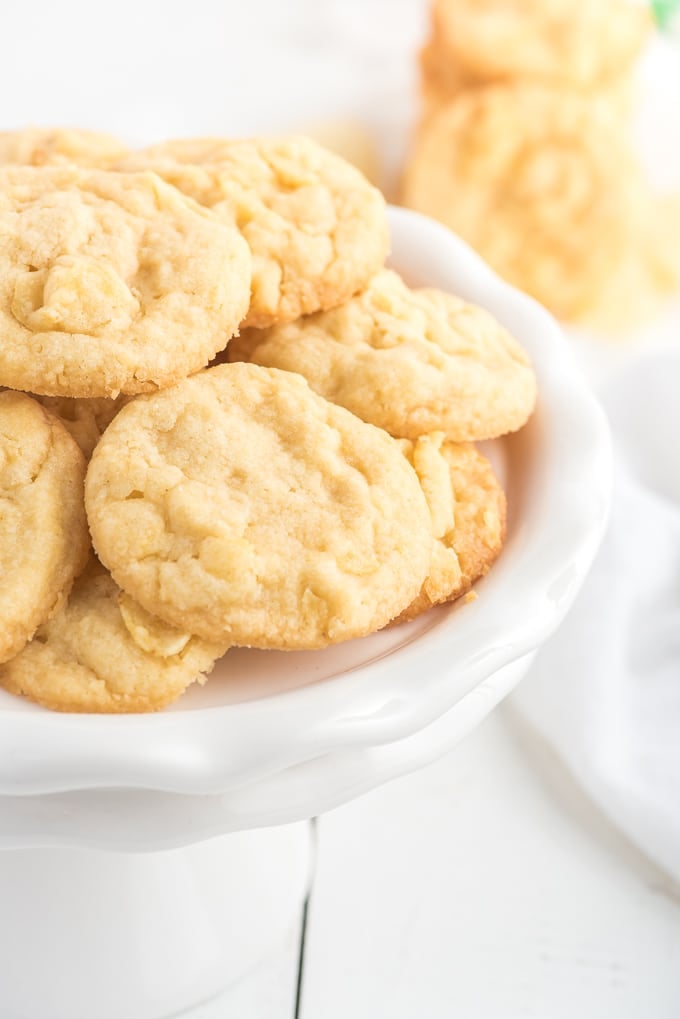 Tips for the Best Potato Chip Cookies
Check out these little tips and tricks to make sure your cookies are the best they can be!
Want to easily crush your potato chips? Toss them into a plastic zip-top baggie and crush them with your fists. You can make them as finely crushed or as chunky as you want.
Remember to soften your butter! Nothing it worse than reaching for your butter, only to realize that you forgot to let it soften on the countertop. Your best bet is to let it soften for about an hour prior to using it.
Use a cookie scoop. If you want all of your cookies to look picture perfect and bake evenly, make sure you use a cookie scoop!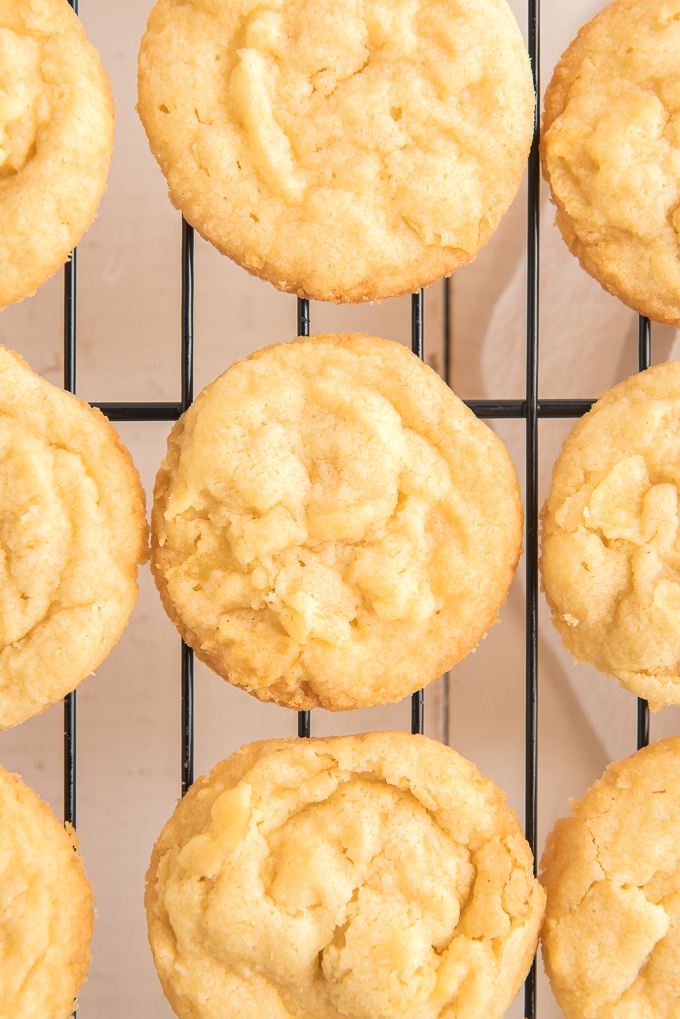 Yield: 60 cookies
POTATO CHIP COOKIES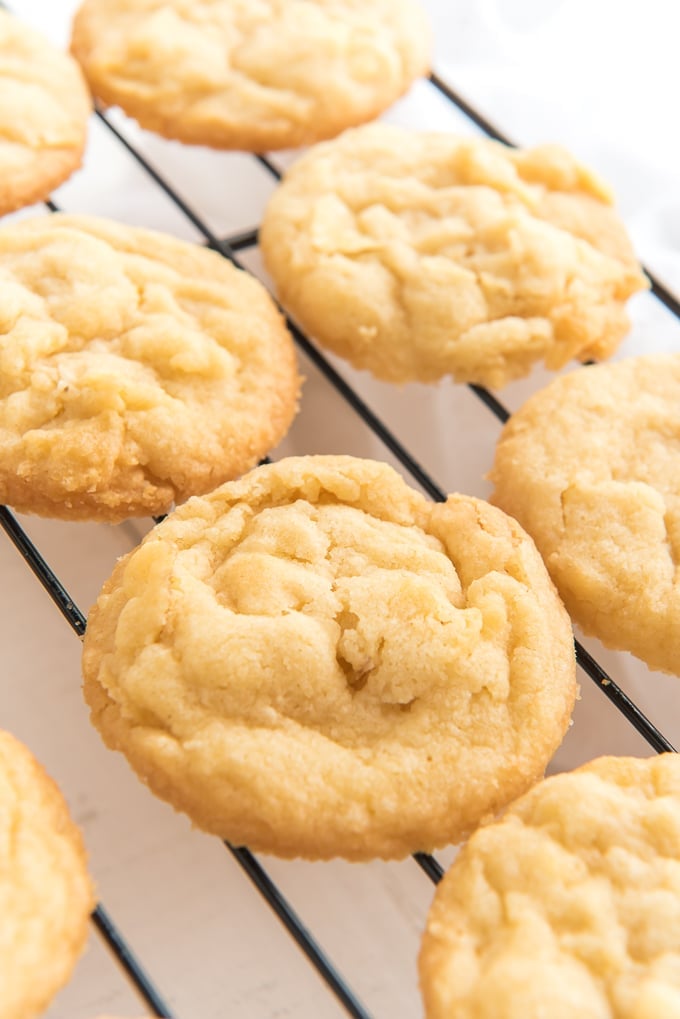 Ingredients
2 cups unsalted butter (4 sticks), softened
1 cup granulated sugar
1 teaspoon vanilla extract
3 ½ cups all-purpose flour
1 ½ cups crushed potato chips
Instructions
Preheat oven to 350 degrees F. Preheat oven to 350 degrees F. Line baking sheets with parchment paper or silicone baking mat.
In a large mixing bowl, using a stand or hand mixer, cream butter, sugar and vanilla.
Gradually add flour; mix well.
Gently fold in potato chips.
Drop dough by level tablespoonfuls onto prepared baking sheets.
Bake at 350 degrees for 10 to 12 minutes. Transfer to wire cooling racks.
Notes
FREEZE THEM: You can either freeze these cookies are they are baked or freeze the dough in 1 Tablespoon balls to bake for later.
CHOCOLATE LOVERS: Sometimes we add chocolate chips to these cookies. we add about 1 1/2 cups of chocolate chips or white chocolate chips.
Nutrition Information:
Yield:
60
Serving Size:
1
Amount Per Serving:
Calories: 101
Total Fat: 7g
Saturated Fat: 4g
Trans Fat: 0g
Unsaturated Fat: 2g
Cholesterol: 16mg
Sodium: 8mg
Carbohydrates: 10g
Fiber: 0g
Sugar: 3g
Protein: 1g
Craving more cookies?! Keep that oven preheated for all of the best cookie recipes like Peanut Butter Cup Cookies, Birthday Cake Cookies, and The BEST Homemade Chocolate Chip Cookies!