Valentine Cookies
Valentine Cookies are the perfect dessert to celebrate Valentine's Day with everyone you love!
These sprinkle sugar cookies are soft, chewy, and full of flavor. The best part about these cookies is they require no chilling which makes for an easy Valentine's Day dessert.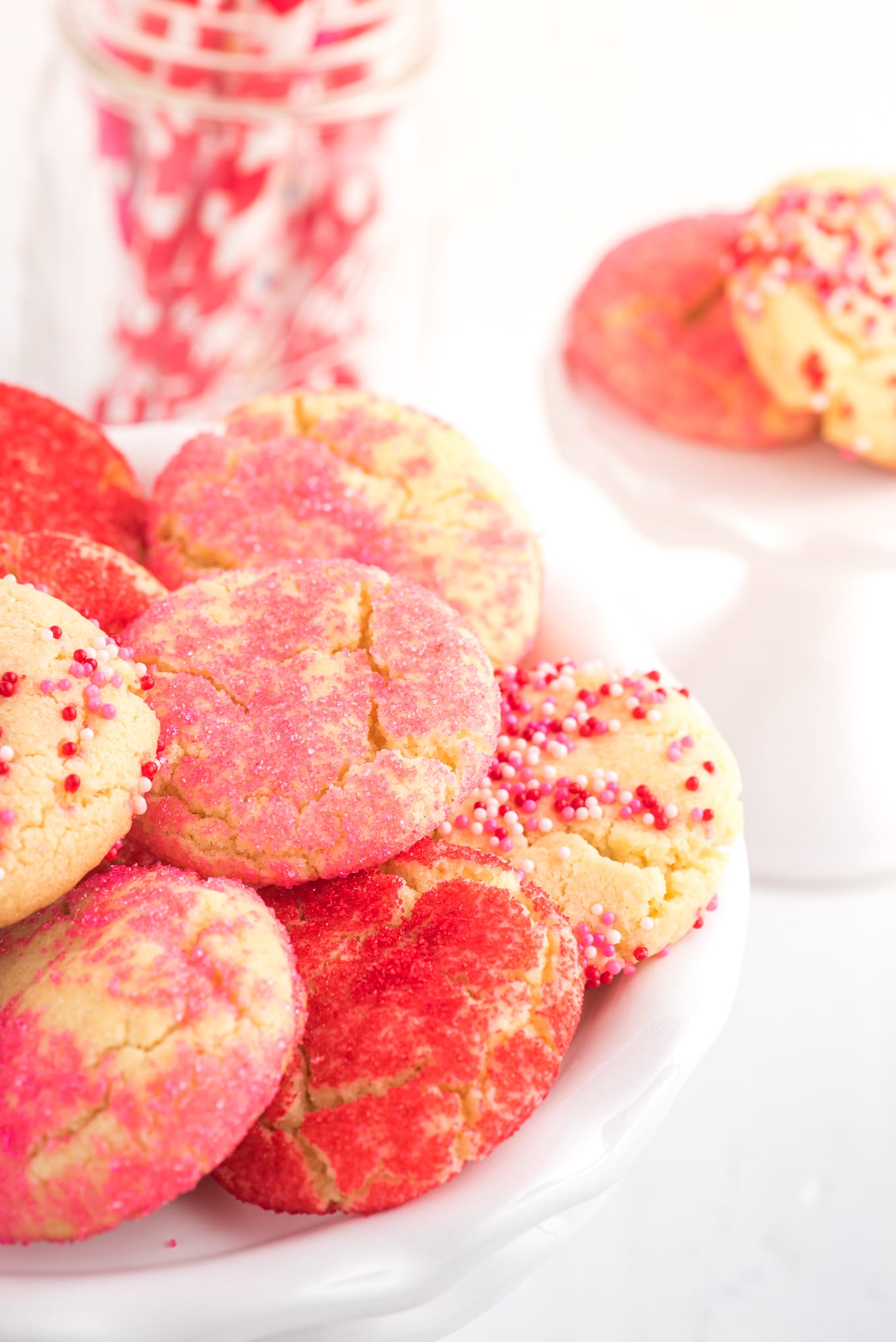 Valentine Cookies
These Valentine cookies start with the best sugar cookie recipe. One of the reasons I love these sugar cookies is because they are quick and easy to make when you don't have time to get the cookie cutters & rolling pins out. If you do have the extra time then you will definitely want to check out my favorite cut-out sugar cookies.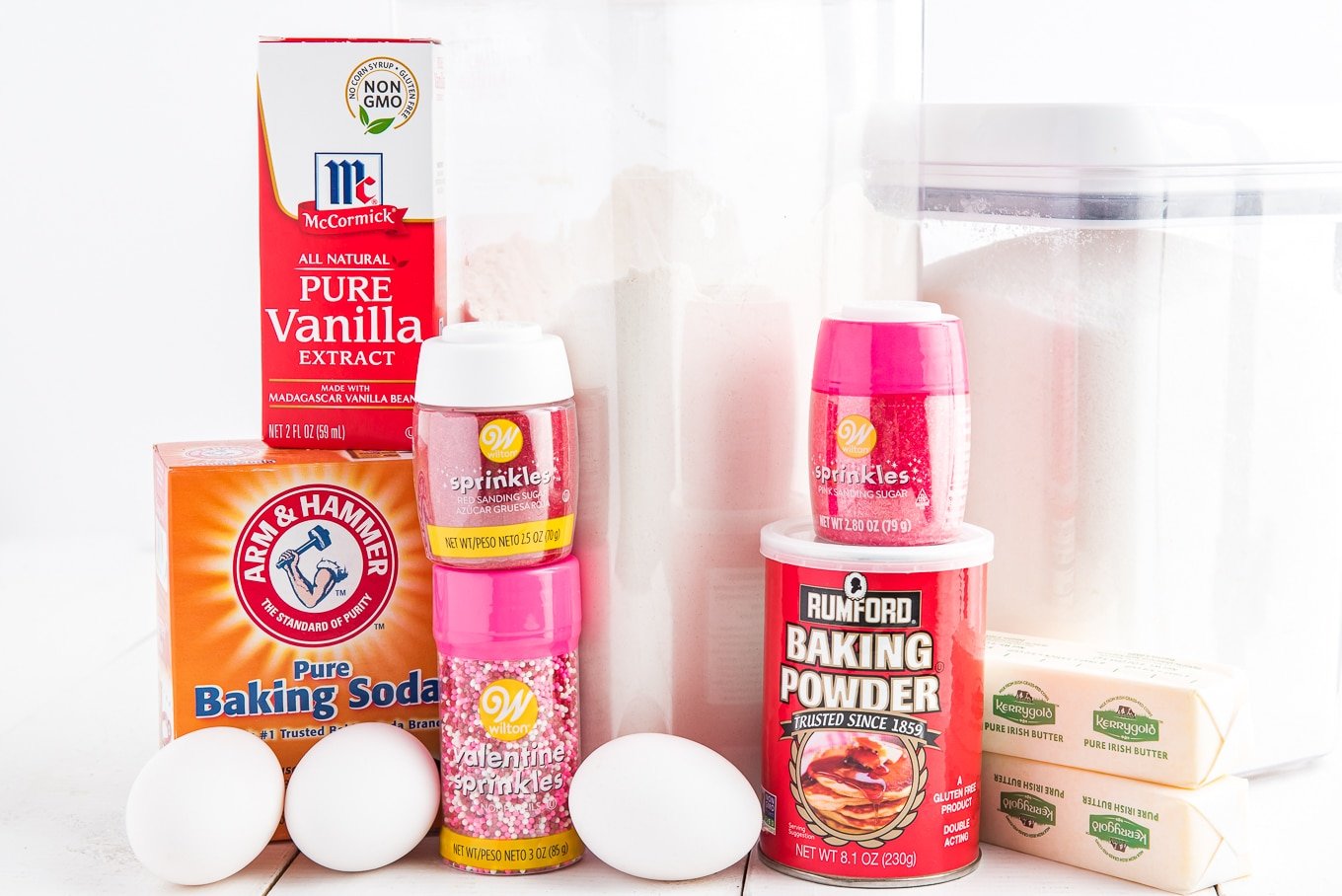 Recipe Ingredients
These ingredients are all pantry staples that easily mix together to create these delicious Valentine cookies. I love that these sugar cookies don't need any chill time in the refrigerator, so all you have to do is make the cookie dough, roll them in sprinkles, and bake them.
All-purpose flour: Helps thicken the cookies. Sift or whisk together the other dry ingredients to help make these cookies soft and fluffy.
Baking soda: This helps the cookies rise up and not be flat.
Baking powder: Makes the cookies chewy and softer when they bake.
Butter: Make sure to soften the butter ahead of time. Room-temperature butter makes it easier to mix with the ingredients.
Sugar: Adds sweetness.
Egg yolks: Just using the egg yolks helps stick the dough together. It also helps the cookies bake evenly.
Vanilla extract: Gives these cookies a delicious, sweet flavor.
Sprinkles: Makes the cookies sparkle for the holiday. Switch up the sprinkles to go with any holiday or party theme.
How to Make Valentine Cookies
These Valentine sugar cookies are soft and full of flavor. They are so much fun to make and the perfect dessert to celebrate Valentine's Day. As an added bonus, you can make these sprinkled treats for any occasion or holiday. Just change up the sprinkles to match your theme!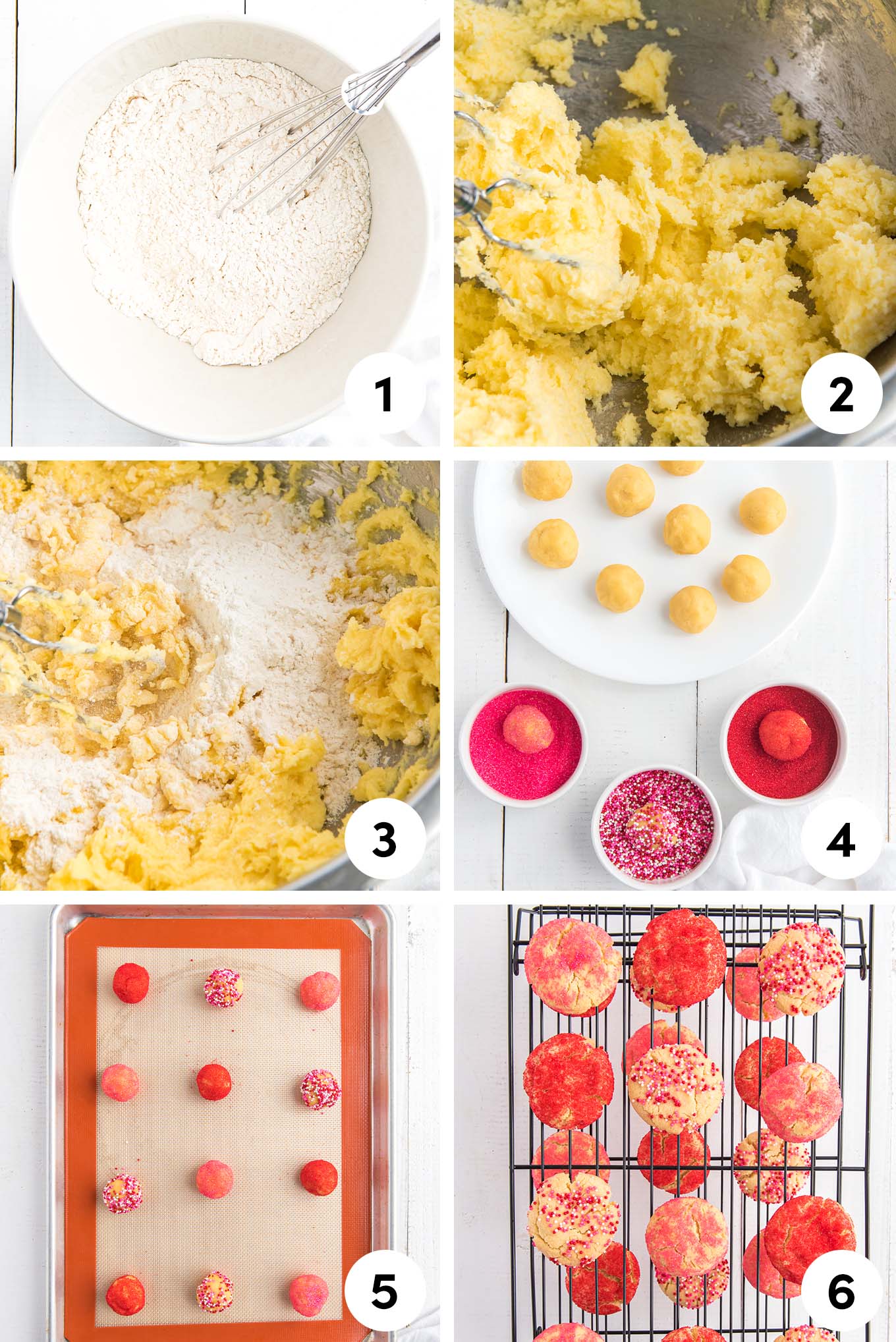 Sift. Start by sifting or whisking the flour, baking soda and baking powder together until combined.
Mix. Cream together the butter and sugar until smooth and fluffy. Add egg yolks and vanilla extract until combined.
Combine. Slowly add the flour mixture. Mix until combined but don't over mix the dough.
Roll. Scoop out the dough, then roll in between your hands. Roll balls into bowl of sprinkles and place on lined baking sheet.
Bake. Bake at 350°F for 10-15 minutes or until the tops start to crack. Let cook for a few minutes, then transfer to a wire rack.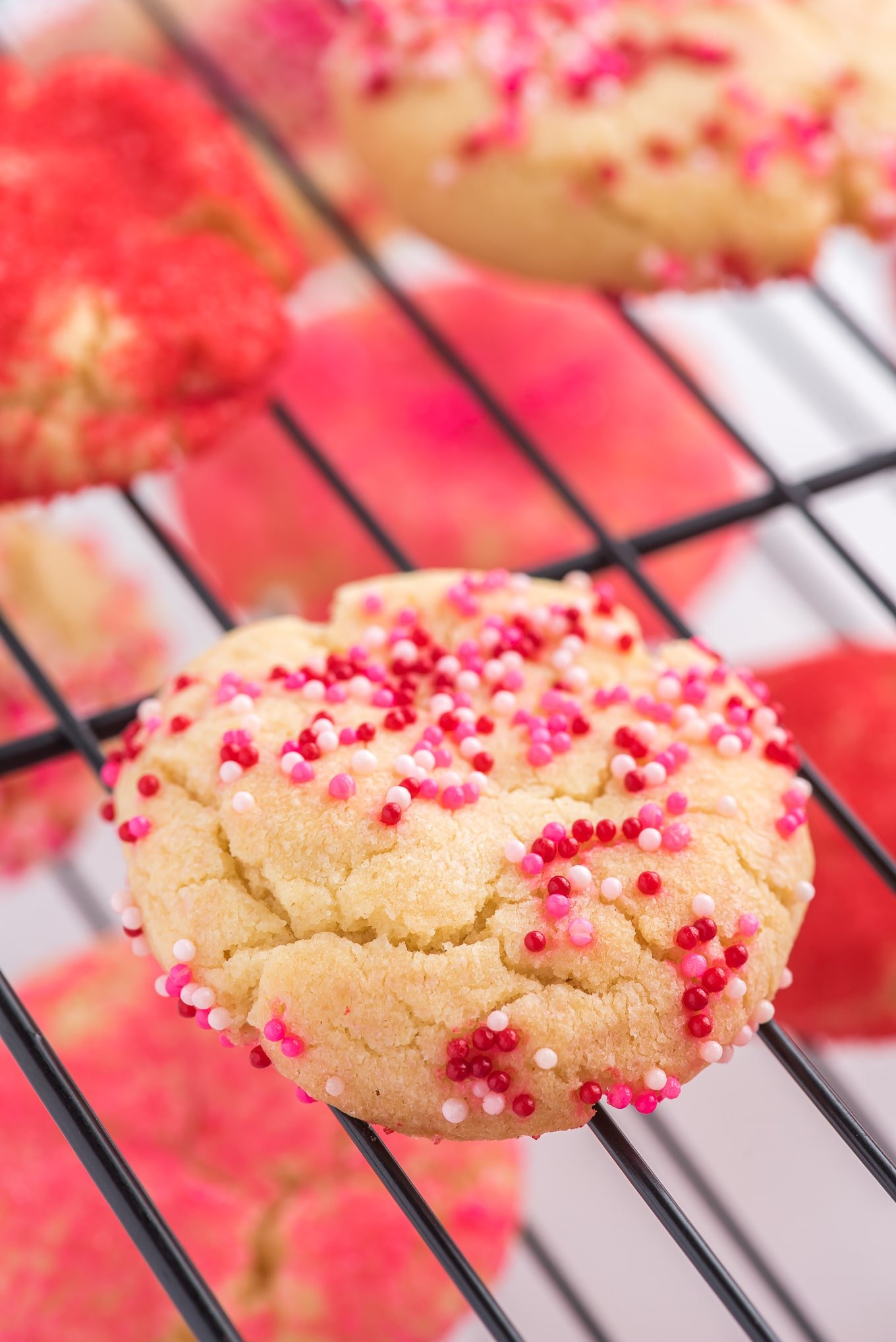 Expert Tips
Here are some extra tips to help you make the best sugar cookies!
Room temperature butter. I like to take my butter out about an hour before I'm ready to start making these cookies. If you leave your butter out too long, it will become too soft which will lead to flat cookies. If you do happen to leave your butter out too long or it's really warm in your house, just place the cookie dough in the fridge for like 30 minutes so that the dough isn't warm and sticky from the butter.
Don't over mix. It's super easy to just let the mixer start mixing everything together on the fastest speed and let it ride, but try not to do that. Only mix the dough until all the flour is mixed together. Over mixing causes the cookies to be dry and hard.
Decorations. I love that you can switch up the sprinkles to match the holiday or party theme, but if you don't have sprinkles, you can just use regular granulated sugar instead.
Frosting. Sometimes I top these cookies with my easy sugar cookie frosting if I don't have any sprinkles and just rolled them in sugar.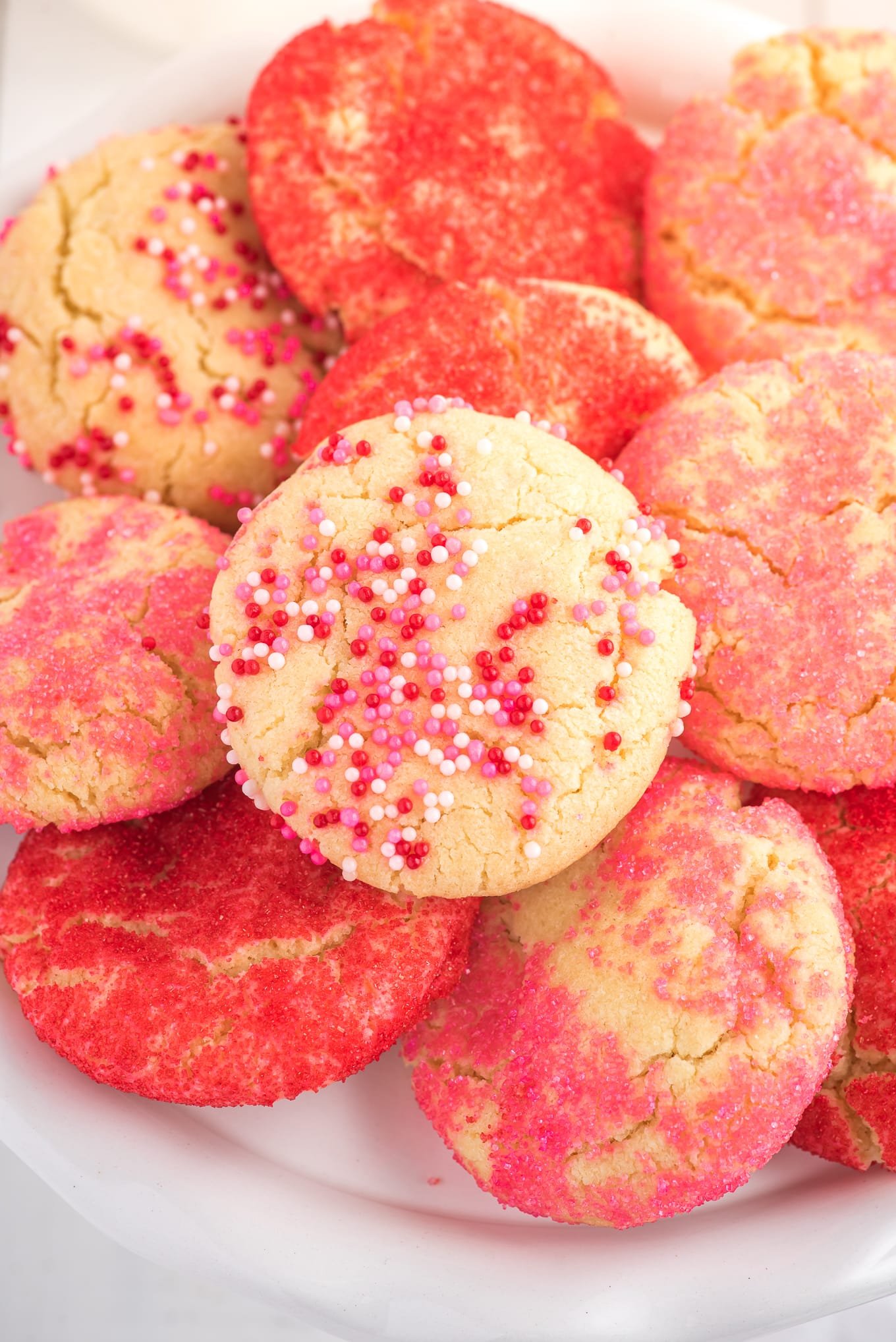 Recipe FAQs
Do you put sprinkles on sugar cookies before or after you bake them?
Add your sprinkles before you bake them so that they stick to the cookie dough and won't fall off the cookie after they are baked.
Can you freeze cookie dough?
Yes. After you make the cookie dough balls and roll them in the sprinkles, you can place the dough balls on a baking sheet and put the baking sheet in the freezer for about 30 minutes. Once the cookie dough balls are frozen, transfer them to a freezer Ziploc bag. Freeze for 3-4 months.
How to bake frozen cookie dough?
Place cookie dough balls on a baking sheet and allow to thaw while the oven is preheating. Bake the cookies according to the recipe directions. Sometimes the cookies may need an extra 1-2 minutes of baking.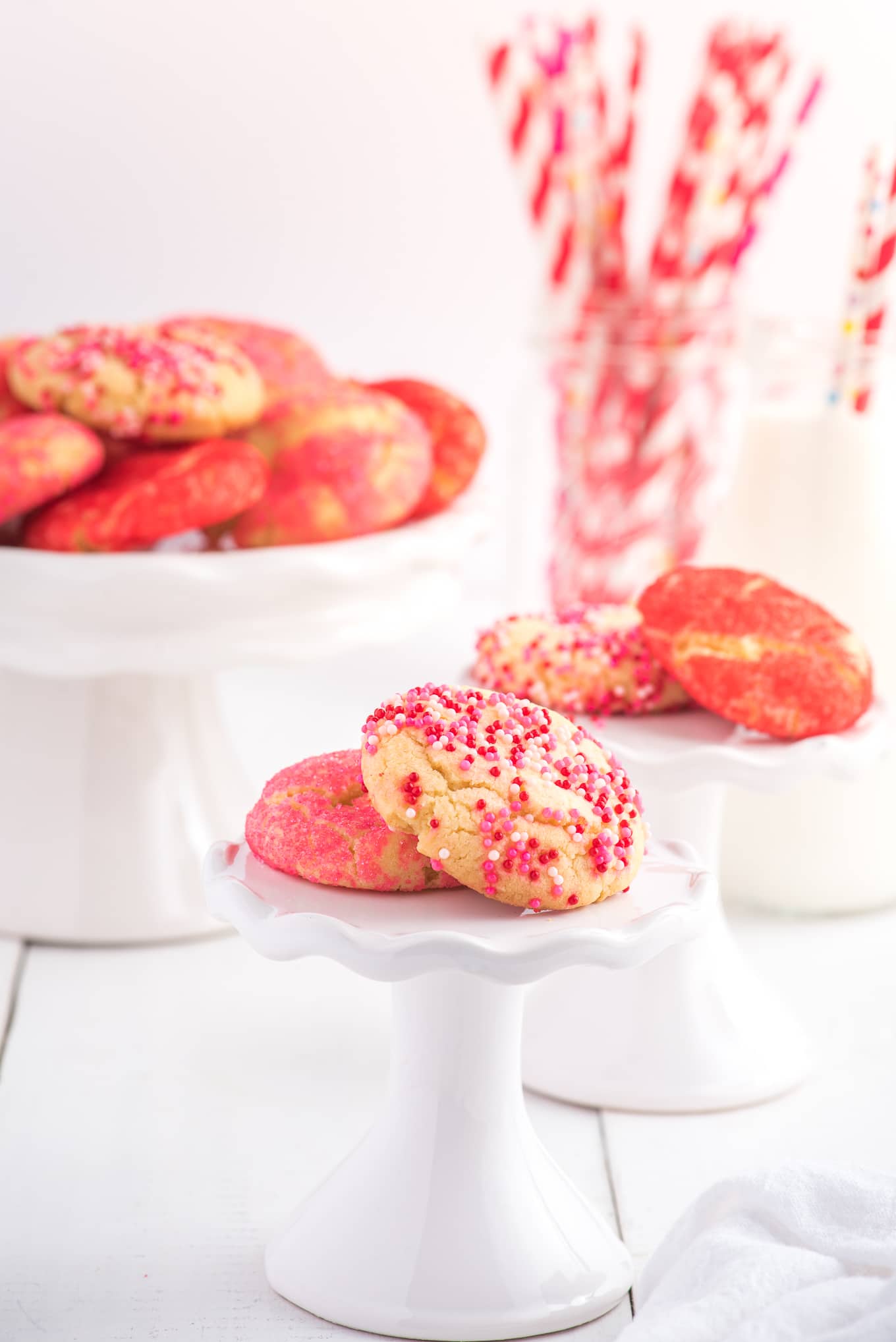 Storing
These cookies will be good for about 3 weeks. Store them in an airtight container at room temperature. Sometimes I add a slice of bread to the top of the container to keep the cookies soft. They can also be stored in the freezer. Wrap the cookies in parchment or wax paper and then place them in a ziploc bag. These cookies can be frozen for 3-4 months.
Looking for more Cookie recipes? I love these lemon sugar cookies, red velvet chocolate chip cookies and you have to try these potato chip cookies.
More Valentine's Day Desserts
Did you make these Valentine Cookies? Be sure to leave a rating and comment below!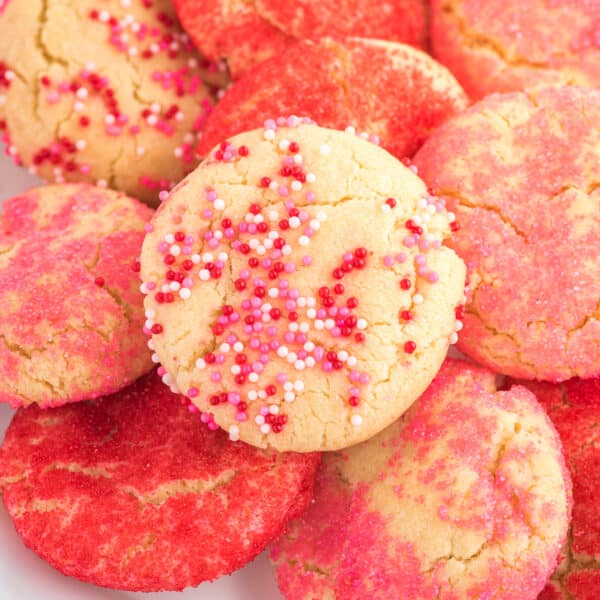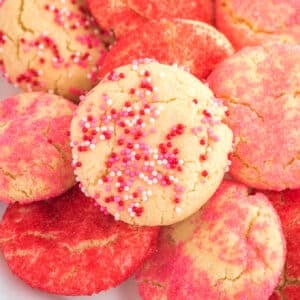 Leave a Review
Valentine Cookies
Valentine cookies are soft and chewy sugar cookies rolled in colored sugar and sprinkles. They are perfect for a Valentine's Day dessert!
Print Recipe
Pin Recipe
Ingredients
2 ½ cups all-purpose flour
¾ teaspoon baking soda
1 cup baking powder
1 cup (2 sticks) salted butter, softened
1 ¼ cup granulated sugar
3 egg yolks
1 teaspoon vanilla extract
½ cup sprinkles, sanding sugar or granulated sugar, for rolling
Instructions
Preheat oven to 350F degrees. Line two baking sheets with parchment paper or silicone baking mats. Set aside.

In a medium bowl, whisk together the flour, baking soda, and baking powder. Set aside.

In a large bowl, cream together the butter and granulated sugar with an electric mixer. Add egg yolks and vanilla extract and mix until combined.

Slowly add flour mixture and mix until just combined. Don't over mix the cookie dough.

Using a medium cookie scoop or Tablespoon, spoon out the dough. Roll in between two hands and then roll in sprinkles or sugar.

Place onto the pan 2 inches apart.

Bake for 10-15 minutes or until the top of the cookies start to crack. Allow to cool on the pan for 2 minutes and then transfer to a cooling rack. Store in an airtight container.
Notes
I prefer this vanilla extract in this recipe, it's my favorite for all cookies and desserts. If you don't have vanilla extract, you could swap the vanilla for another extract, like almond extract. 
Make sure to line your baking sheet with parchment paper or I love to use silicone baking mats, this helps the cookies hold their shape better. 
These sugar cookies can be made for any holiday or party. Just switch up the colors of the sprinkles or sugar for St.Patricks Day, Easter, Halloween or Christmas. 
Store these cookies in an airtight container for up to 3 weeks at room temperature. 
If you want to freeze these cookies, just wrap them in plastic wrap and place them in a ziploc bag. You can freeze the cookie dough too, just freeze the cooking dough balls and bake them from frozen. 
Serving: 24g, Calories: 171kcal, Carbohydrates: 23g, Protein: 2g, Fat: 9g, Saturated Fat: 5g, Polyunsaturated Fat: 0.4g, Monounsaturated Fat: 2g, Trans Fat: 0.3g, Cholesterol: 45mg, Sodium: 1144mg, Potassium: 21mg, Fiber: 0.4g, Sugar: 10g, Vitamin A: 279IU, Calcium: 587mg, Iron: 2mg