Peach Cobbler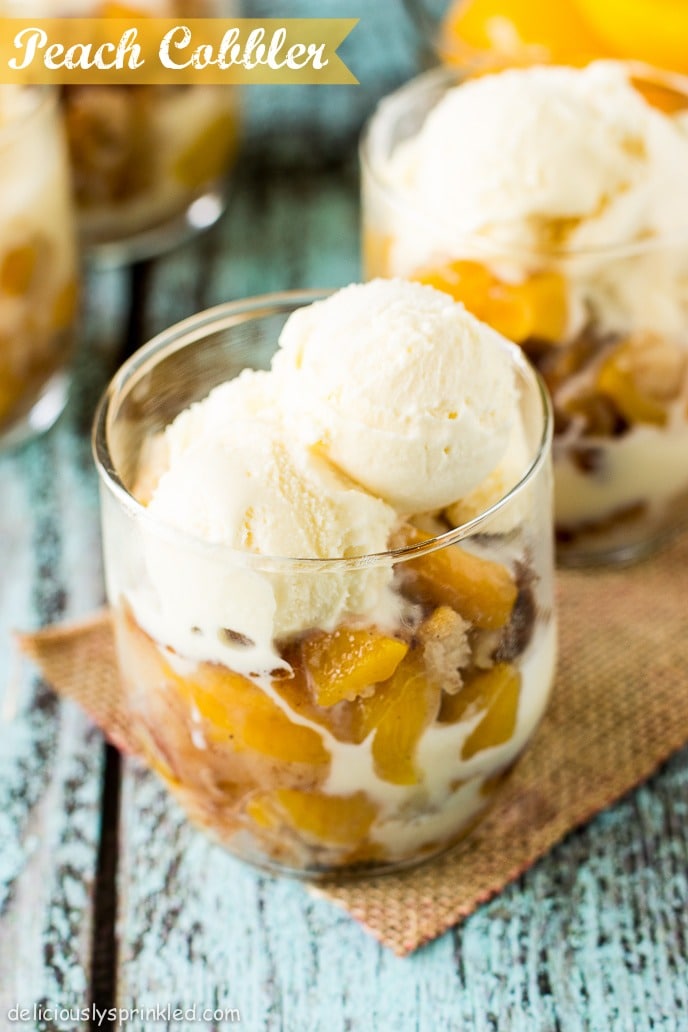 Summer wouldn't be complete without warm homemade peach cobbler with two scoops of vanilla ice cream on top. So delicious!
Last weekend, I stopped at our local fresh farmers market to see if they had any fresh peaches, and to my surprise they were all sold out! I guess, everyone in Wisconsin must be craving the summertime dessert, peach cobbler.
So with no fresh peaches available, I had to buy the next best thing which is canned peaches from the grocery store. One positive to using canned peaches, is that I didn't have to peel the peaches, which is the worst part, in my opinion, when it comes to making peach cobbler!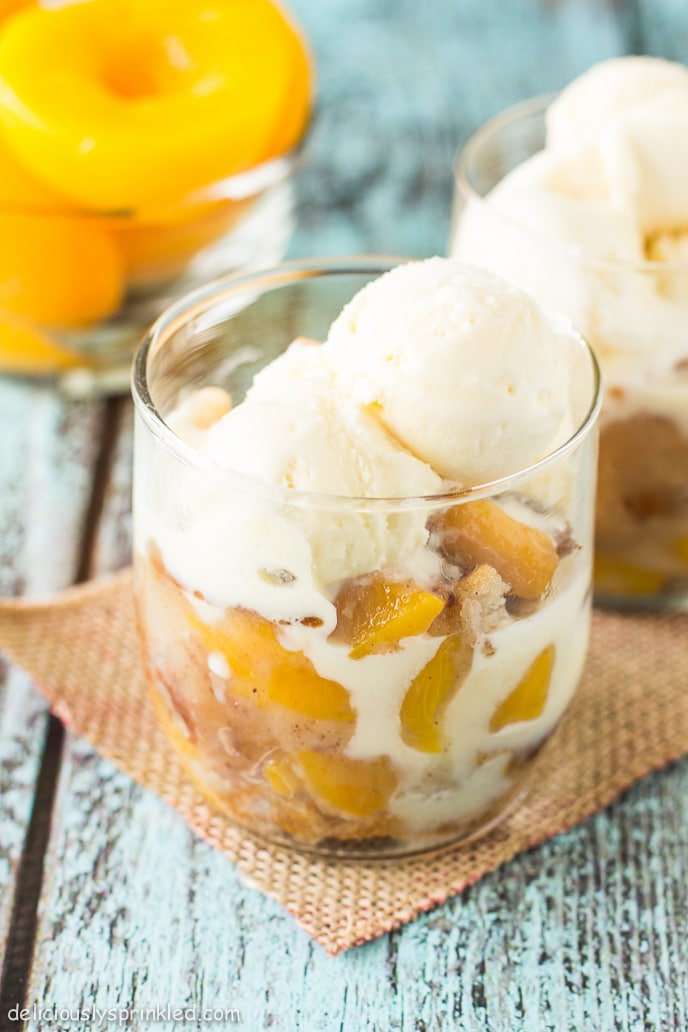 I have always made the traditional Bisquick peach cobbler recipe, and the only thing that I add to the original recipe is that I SPRINKLE brown sugar and cinnamon to the top of the batter before baking to really bring out the flavor of the peaches.
In my opinion, I think peach cobbler is served best warm with a scoop or two of vanilla ice cream. I also like serve it in cute small glasses, it's such a fun way to "dress up" peach cobbler for a party and it also makes it easier to eat and enjoy! 🙂
Step by step on how to make this delicious Peach Cobbler: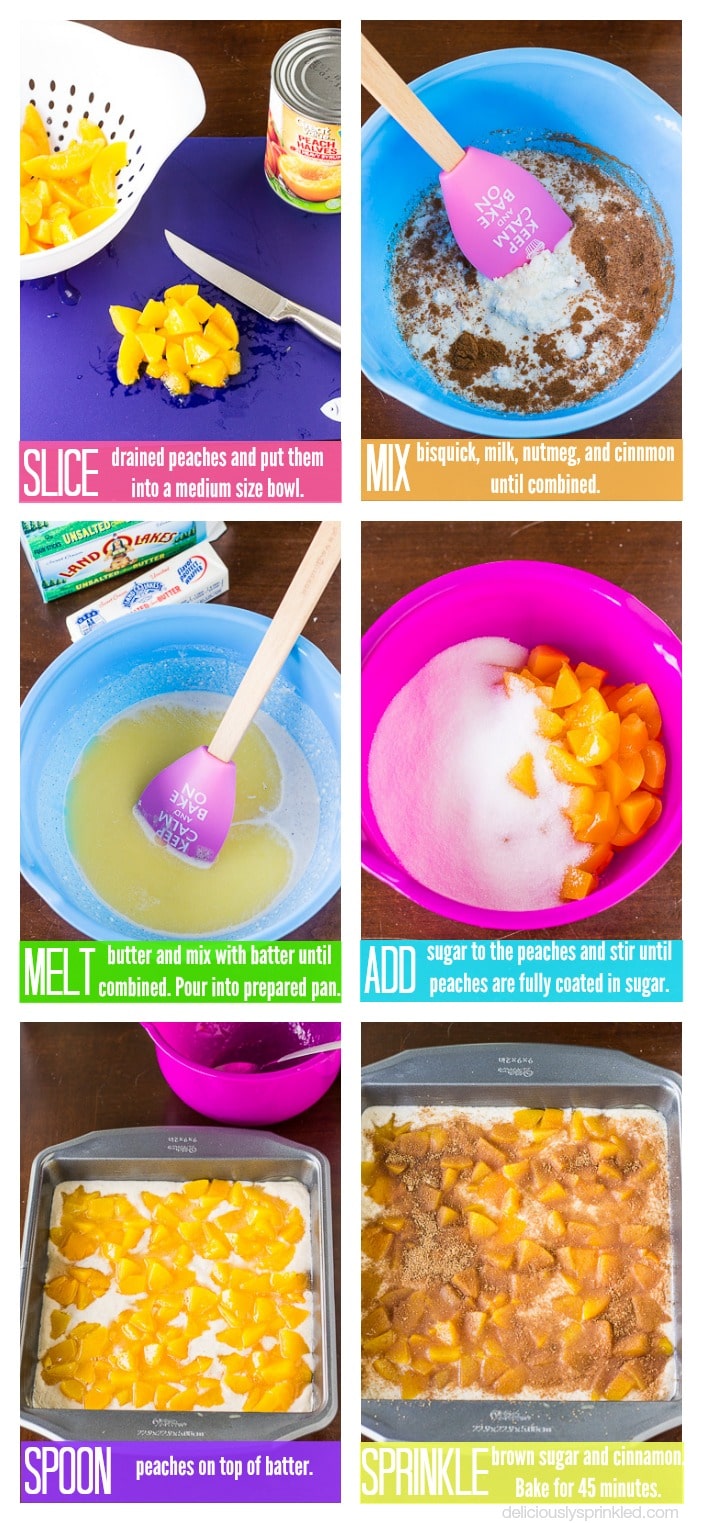 BAKING TIP
In this peach cobbler recipe, you can use fresh, canned or frozen peaches. If you use canned peaches like I did today, make sure that you DRAIN the peaches really good. After I drain them, I also pat them down with a paper towel to soak up as much juice as I can. If the peaches are not drained well enough, you will end up with a soggy peach cobbler! 🙁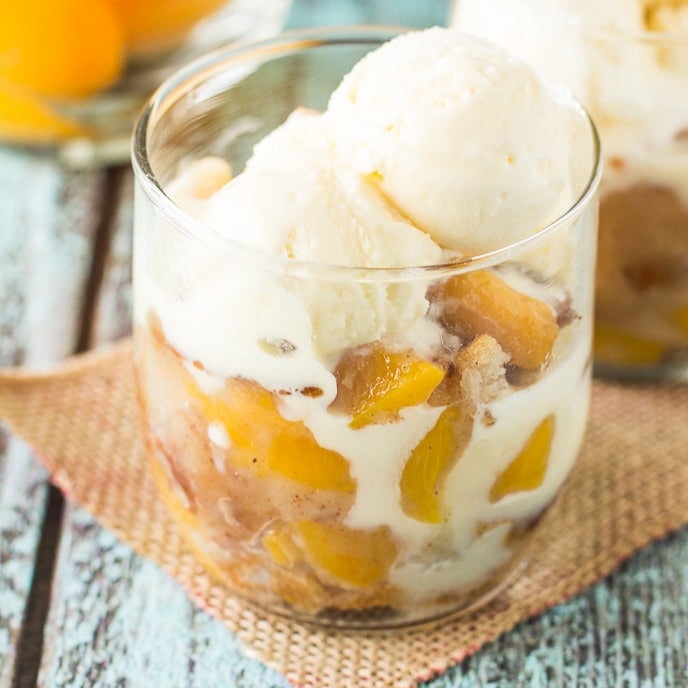 Yield: 8 Glasses
Peach Cobbler
Additional Time 1 hour

Total Time 1 hour
Ingredients
1 cup Bisquick mix
1 cup milk
1/2 teaspoon nutmeg
1/2 teaspoon ground cinnamon
1 cup granulated sugar
1/4 cup brown sugar
1/4 teaspoon ground cinnamon
vanilla ice cream, for topping
Instructions
Preheat oven to 375F degrees. Spray a 8x8 baking pan with non-stick cooking spray. Set aside.

Drain canned peaches, and slice into small pieces (see photo above) placing them into a medium sized bowl. Set aside.

In a large bowl, mix Bisquick, milk, nutmeg and cinnamon until well combined.

In a small microwavable bowl, microwave butter for 30 seconds or until completely melted. Add melted butter to the batter and mix until combined. Pour batter into prepared baking pan.

Add sugar to sliced peaches and mix until peaches are fully coated with sugar. Spoon peaches on top of the batter. Sprinkle top of cobbler with brown sugar and cinnamon.

Bake for 45-50 minutes or until edges are slightly brown on top of cobbler. Let cool for 10 minutes. Serve warm with vanilla ice cream. Enjoy!