Apple Pecan Pie
This homemade Apple Pecan Pie has all the flavors you love from a apple pie with the delicious crunch of a pecan pie. It's the best of both worlds!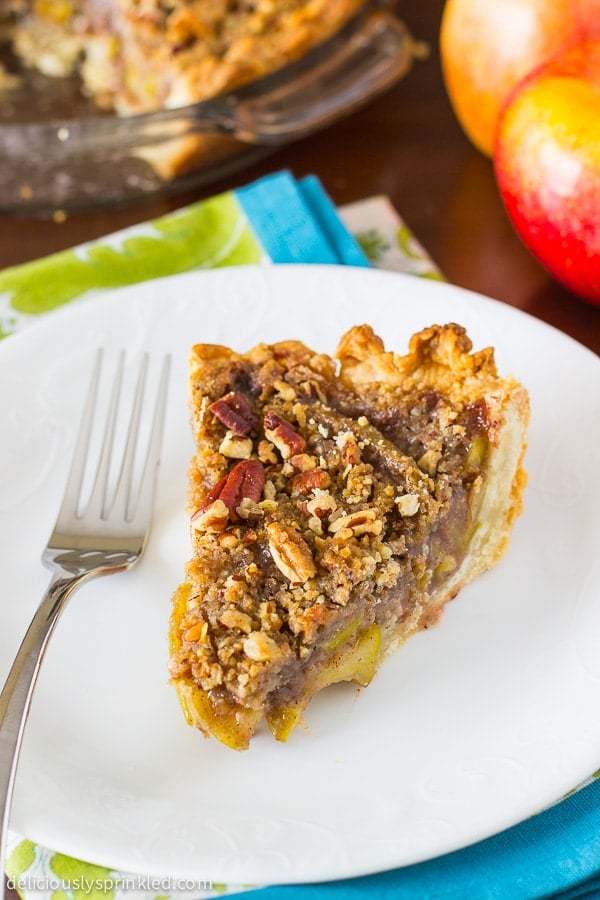 Thanksgiving is next week already and if your still trying to decide if your going to make an apple or a pecan pie for your Thanksgiving dessert, no need to make a decision because you can make this delicious apple pecan pie! It has everything you love about apple pie with the delicious crunch of a pecan pie. It really is the best of both worlds!
This apple pecan pie has been a family favorite of ours during the holiday season and it's so easy to make. The hardest part about this pie is waiting an hour (or overnight) for the pie crust to chill but other than that you can make this pie in under an hour which means you will have more time to spend time with your family this holiday season.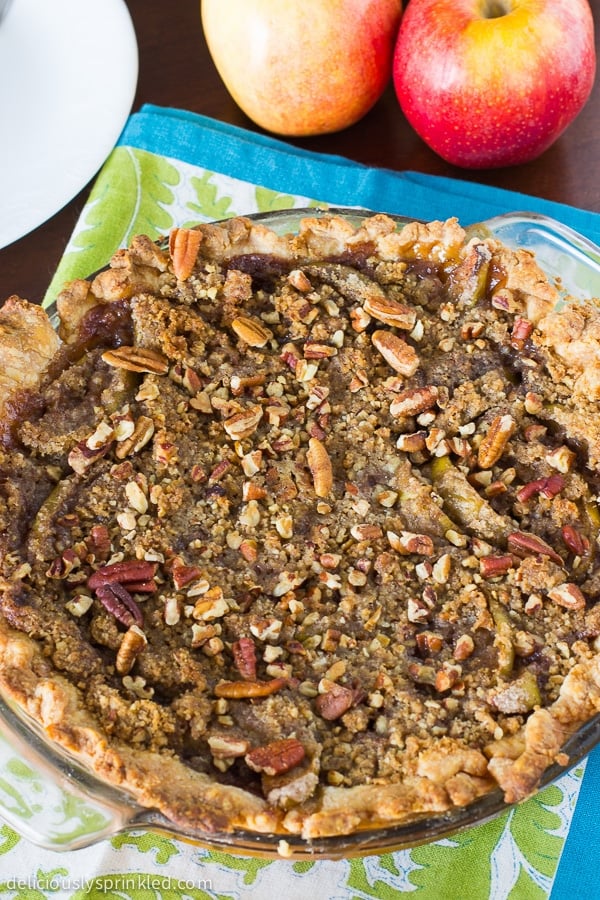 JUST A FEW BAKING TIPS:
✔ Make sure you make the pie crust, FIRST. I have created a step-by-step guide showing you exactly how to make the best pie crust. My pie crust dough recipe does make two pie crust but for this apple pecan pie you will only need one pie crust. No worries, my pie crust recipe is super easy to half.
✔ I used a mix of of gala and granny smith apples because they bake the best and I love the tart flavors of these apples, especially in this apple pecan pie.
✔ Serve this pie warm with a scoop of vanilla ice cream or top with whipped cream!
STEP-BY-STEP GUIDE ON HOW TO MAKE THIS APPLE PECAN PIE:

Apple Pecan Pie
Yield: 8-10 servings
Prep Time: 40 minutes
Cook Time: 55 minutes
Total Time: 95 minutes
★ Make sure to read my BAKING TIPS above before you start baking!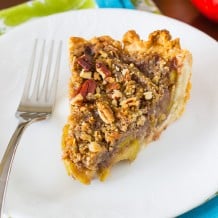 Ingredients:
Homemade Pie Crust (step-by-step guide, recipe, and instructions)
APPLE PECAN FILLING:
1/4 cup chopped pecans
8-9 medium tart apples (cored and sliced)
1 cup granulated sugar
2 teaspoons nutmeg
1/2 teaspoon ground cinnamon
2 teaspoons all-purpose flour
2 Tablespoons unsalted butter
CRUMB TOPPING:
1/2 cup dark brown sugar, packed
1/4 cup unsalted butter, softened
1/3 cup all-purpose flour
1/4 teaspoon ground cinnamon
1/4 cup chopped pecans
Directions:
Make pie crust- step-by-step guide, recipe and instructions.
PRE-STEP: Preheat oven to 375F degrees.
MAKE CRUMBLE TOPPING:
STEP 1: In a small bowl, using a fork, mix together brown sugar, butter, flour, cinnamon, and chopped pecans until crumbly. Set aside.
MAKE APPLE PECAN FILLING:
STEP 2: In a large bowl, mix together the sliced apples, sugar, flour, nutmeg, and ground cinnamon.
ASSEMBLE PIE:
STEP 3: Bake prepared pie crust for 10 minutes. Sprinkle chopped pecans onto bottom of pie crust. Spoon apple filling into pie crust and dot with butter. Sprinkle crumble topping on the top of the apple filling.
STEP 4: Bake 45- 50 minutes. Let cool for 10-15 minutes before serving.
STEP 5: Serve warm with a scoop of vanilla ice cream or whipped cream. Enjoy!
❤ I'd love to see what you have baked! Just snap a photo and hashtag it #DELICIOUSLYSPRINKLED or tag me @deliciouslysprinkled on Instagram!
BAKING TOOLS I USED:
Check out more Thanksgiving Recipes…
And these cute Baked Apple Pie Apples make the perfect Thanksgiving dessert, too!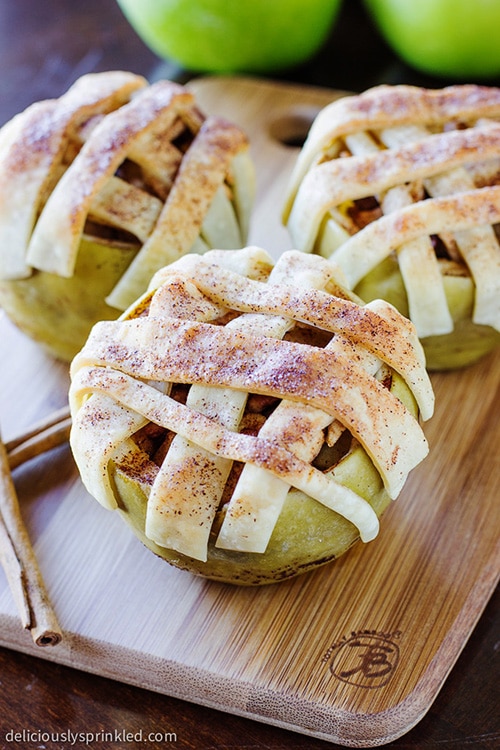 20 Responses to "Apple Pecan Pie"
Leave a Comment