Instant Pot Mashed Potatoes
These Instant Pot Mashed Potatoes are PERFECT for serving and only take 15 minutes to make! They're light and fluffy, yet rich and creamy and topped with cheese, bacon and onions.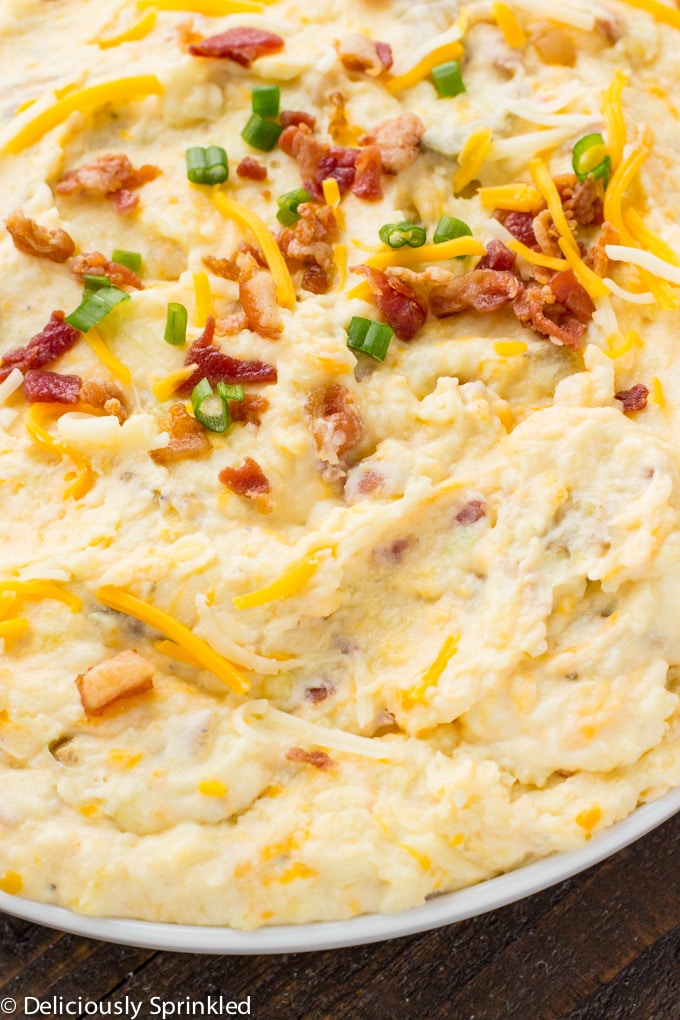 PRESSURE COOKER MASHED POTATOES
Once I discovered the Instant Pot, it was a GAME CHANGER. These pressure cooker mashed potatoes taste just like my regular homemade mashed potatoes but now they only take 8 minutes to make. I used to hate making homemade mashed potatoes because it just took WAY too long to make them and sometimes they would be not done enough or come out mushy.
But not anymore, thanks to my favorite kitchen appliance….my Instant Pot. In just 8 minutes, I had the BEST MASHED POTATOES EVER!!!
So this Thanksgiving and Christmas you'll be able to make these delicious mashed potatoes without all the work, giving you more time to spend with family and friends!

MASHED POTATOES MADE IN THE INSTANT POT
Holidays aren't the only time you need some delicious mashed potatoes as a side, however! I love to make these for dinner. I'm busy cooking the main course and then I just take a few minutes to whip these up. It makes dinner SO MUCH easier!!
Sometimes I'll make these in the middle of the afternoon too! Since they're so easy, they make a great snack for when you're just dying for some potatoes. (Potatoes are the best thing since sliced bread, after-all).
But let's get to the recipe for the BEST mashed potatoes!
RECOMMENDED KITCHEN TOOLS
Before you get started, I recommend having these tools in your kitchen:
INSTANT POT: .I have this Instant Pot and it's perfect for my husband and I. If you have a bigger family or enjoy hosting parties, I HIGHLY recommend the larger 8 quart Instant Pot. You can make a lot more in the larger size such as whole chicken, whole turkey, cheesecake, etc.
NONSTICK COOKING POT: I LOVE this for the instant pot! It makes such a huge difference because things don't stick or burn to the bottom of the pot anymore.
SERVING BOWL: These are the perfect little serving bowls for mashed potatoes! I highly recommend them for serving.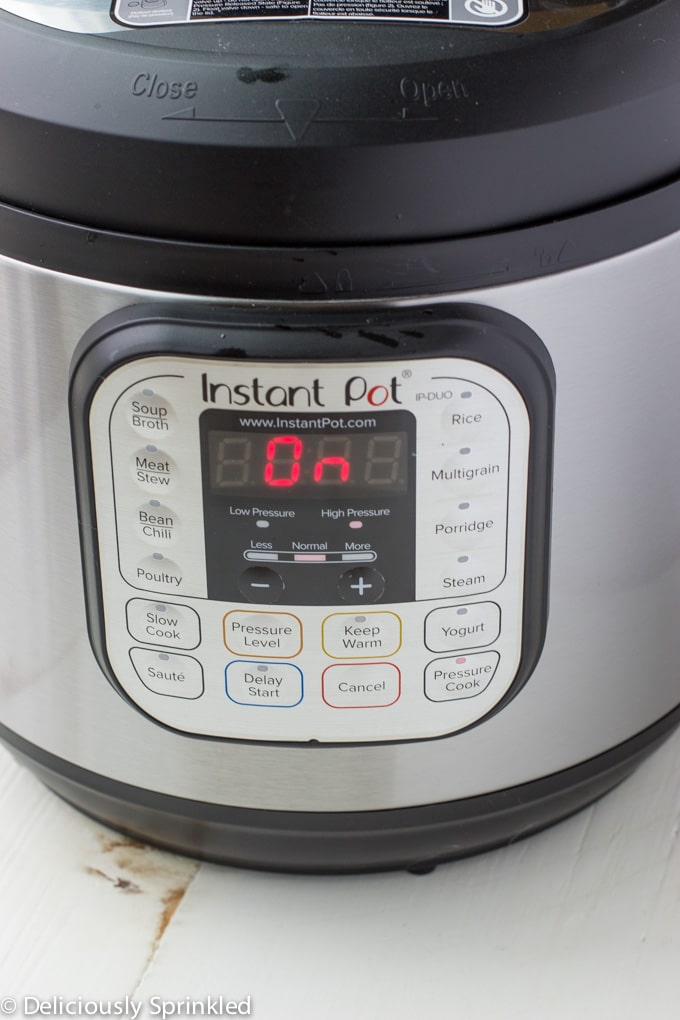 INSTANT POT MASHED POTATOES INGREDIENTS
For this pressure cooker mashed potatoes recipe, you'll need these ingredients:
POTATOES: We used Yukon (yellow) potatoes, but you can use any you like. I think these are the best for mashed potatoes, however!
BROTH: Chicken broth gives the most flavor while cooking the potatoes, but water will work too!
CREAM CHEESE: Cream cheese in mashed potatoes is such a game changer. It makes them more creamy!
BUTTER: Make sure to soften and cube your butter so it's easy to work with.
MILK: A bit of whole milk is the perfect liquid for mashed potatoes.
BACON: Bacon in mashed potatoes is HEAVEN! You'll want to make sure it's crumbled.
CHEESE: Cheddar jack and pepper jack cheese are used in the recipe for a yummy addition!
GREEN ONION: Chop up a few green onions for some added texture and flavor.
SEASONINGS: I used onion powder, garlic powder, salt, and pepper in this recipe.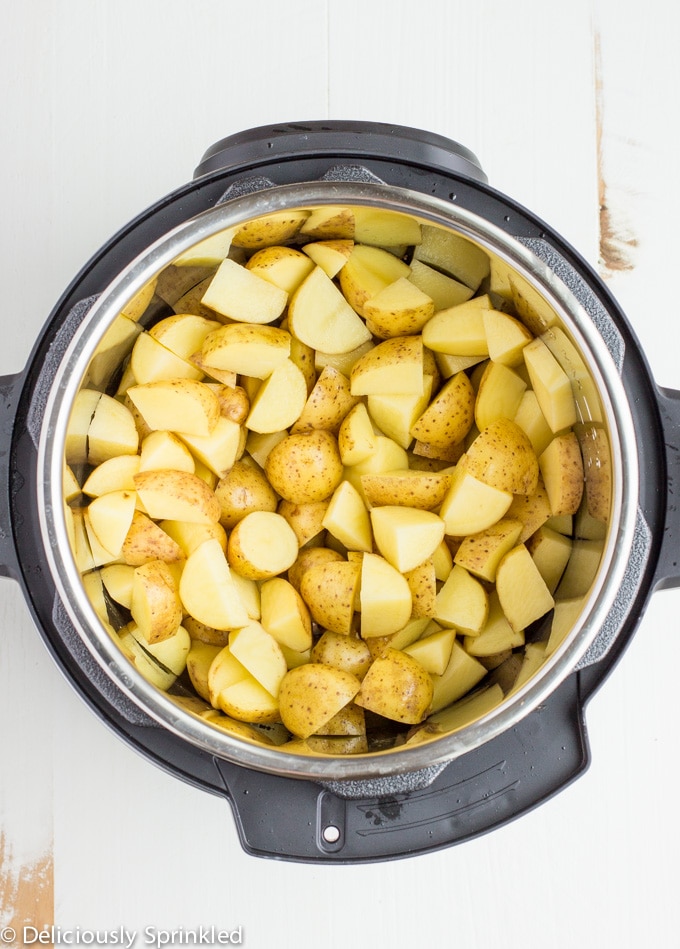 HOW TO MAKE MASHED POTATOES IN THE INSTANT POT
Scroll down for a printable step-by-step recipe for pressure cooker mashed potatoes!
PREP: Cut your potatoes into 1-inch cubes and toss them into your Instant Pot. I don't peel them but feel free to do so if that's your preference!
COOK POTATOES: Add chicken broth or water to the Instant Pot and cover. Make sure the vent is set to sealing. Set to either pressure cook or manual for 4 minutes.
MIX TOPPINGS: While the potatoes are cooking, mix together the cream cheese, sour cream, butter, milk, bacon, cheeses, onions, onion powder, and garlic powder; mix until well combined.
DRAIN POTATOES: Once the potatoes are done cooking, do a quick release by switching the vent to venting. Drain the potatoes and place them back in the instant pot.
MASH & STIR TOPPINGS: Mash the potatoes with a potato masher and then pour in the cream cheese mixture. Stir until the cheese and butter is melted. Add salt and pepper to taste and serve. Enjoy!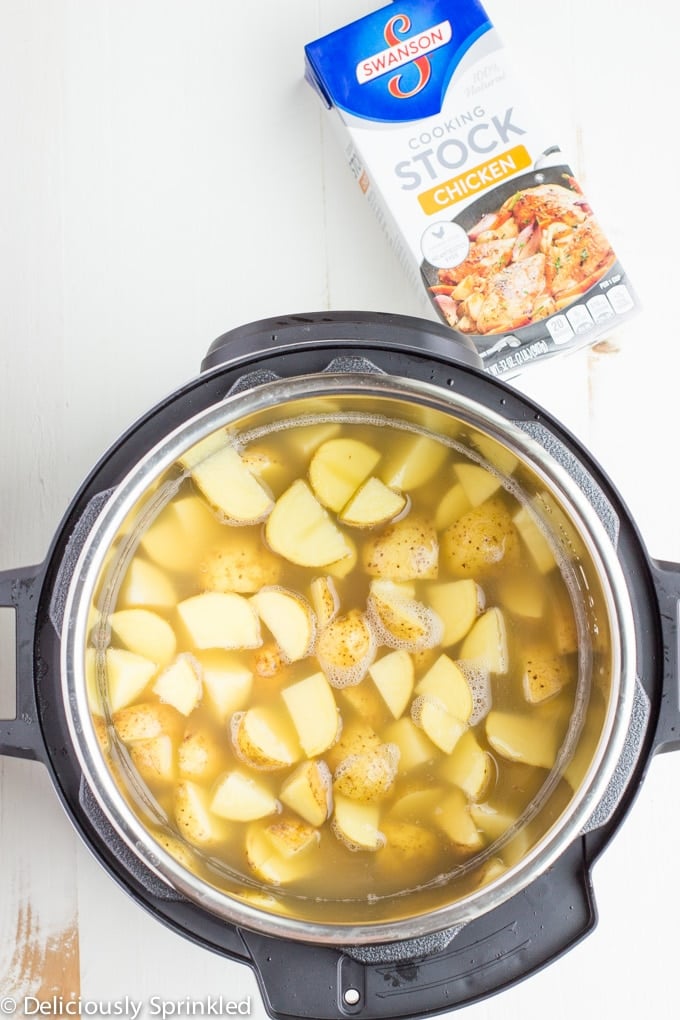 WHAT ARE THE BEST POTATOES FOR MASHED POTATOES?
The BEST potatoes for mashed potatoes are Yukon potatoes. They have a buttery taste as well as a starchy, creamy consistency that make them PERFECT for mashed potatoes.
However, Russet potatoes also work well if that's what you have available. They also have a lot of starch that help provide fluffy and smooth mashed potatoes.
CAN I MAKE THESE MASHED POTATOES ON THE STOVE?
You sure can! You would just boil the potatoes on the stove instead. Just make sure to return them to the heat after draining so you can mix in the cheese and butter once they're cooked.
CAN YOU MAKE INSTANT POT MASHED POTATOES WITH JUST WATER?
Sure! I used chicken broth because it gives the mashed potatoes even more flavor but you can use water, I would just suggest adding a dash or two of salt to the water to give the potatoes a little more flavor.
CAN YOU KEEP MASHED POTATOES WARM IN THE INSTANT POT?
Yes! If you're not ready to serve them just yet, turn the Instant Pot to the "KEEP WARM" setting. Fluff 'em up again before serving.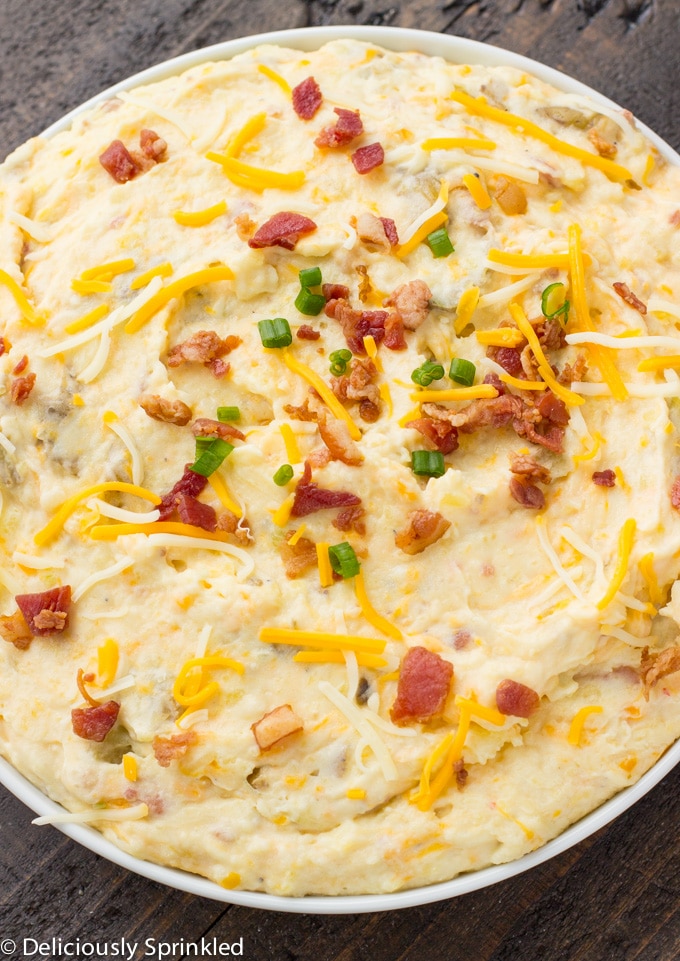 MORE SIDE DISH RECIPES:
If you have tried this Instant Pot Mashed Potatoes recipe, then please rate it in the recipe card and let me know how it turned out in the comments below!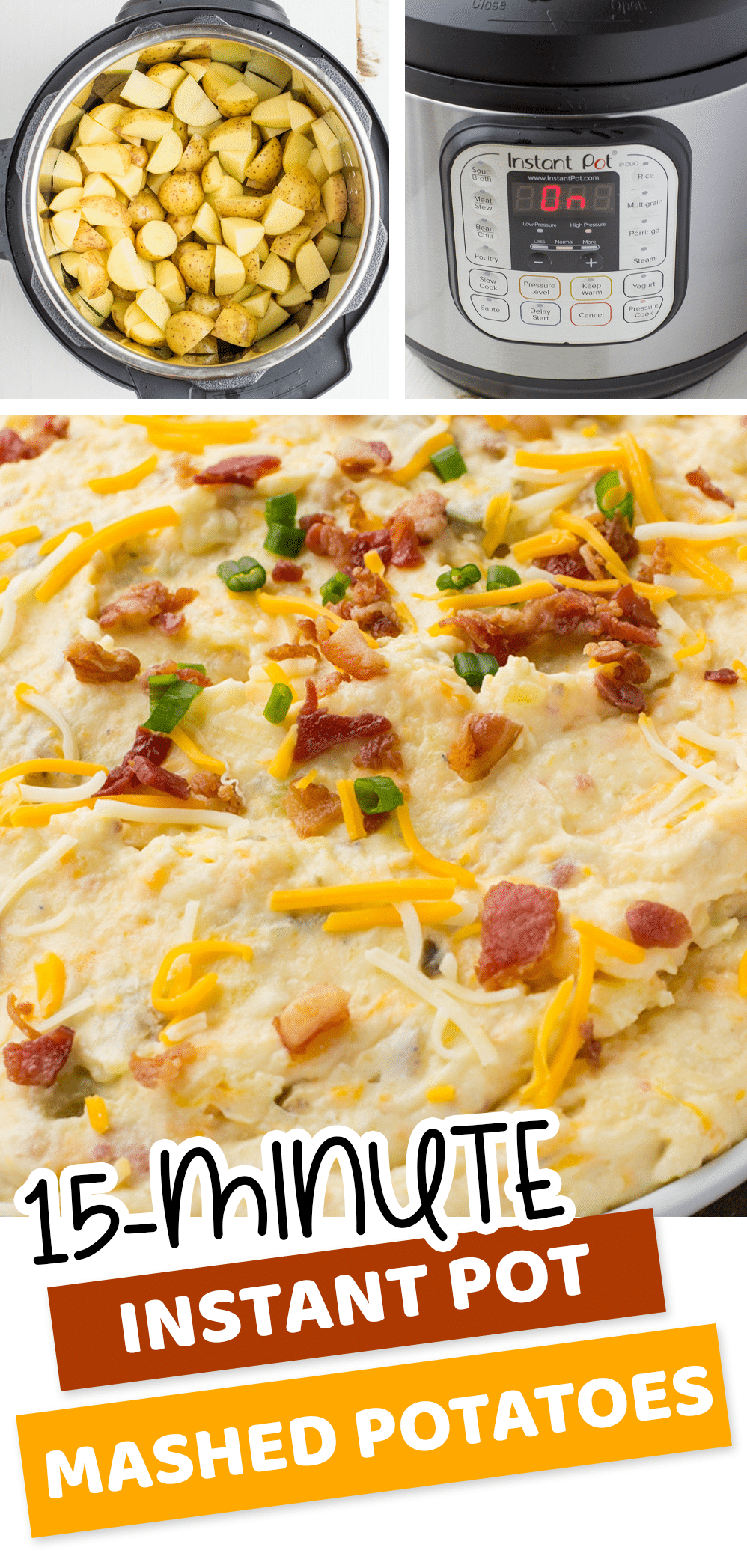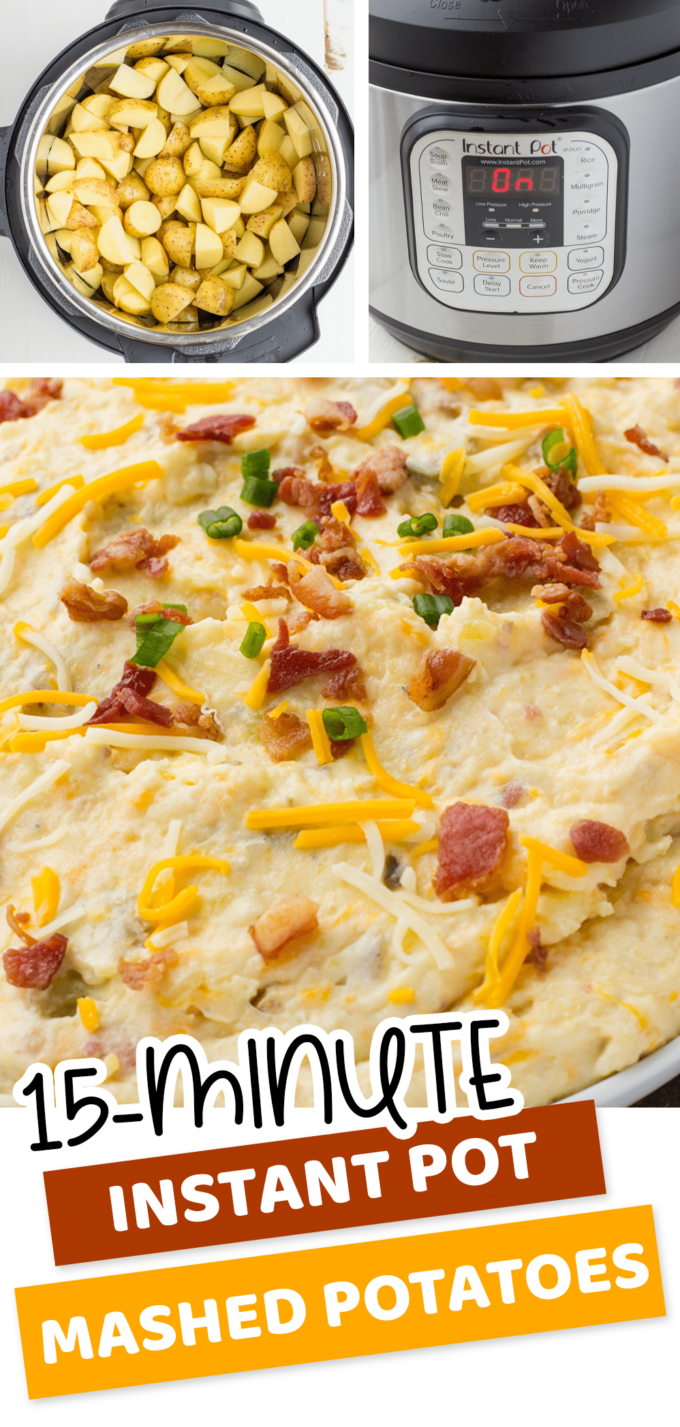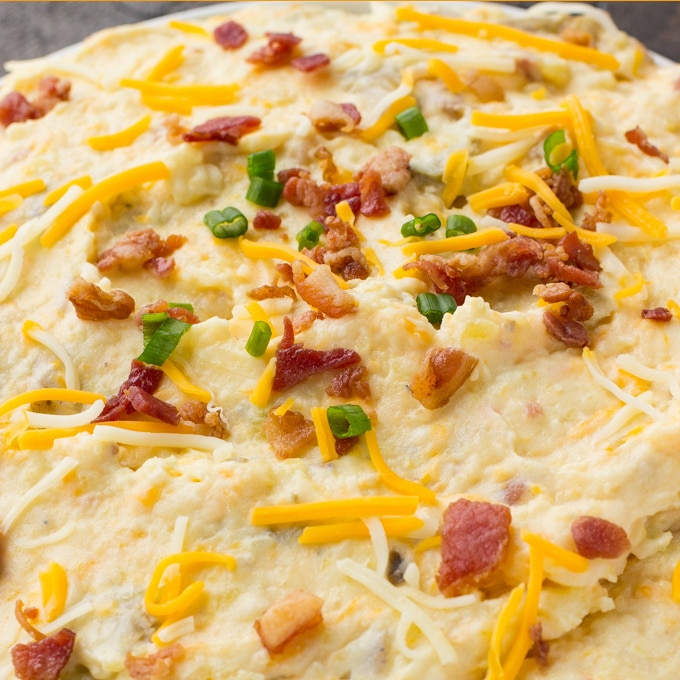 Yield: SERVES: 10
INSTANT POT MASHED POTATOES
Instant Pot Mashed Potatoes that only take 15 minutes to make! They're light and fluffy, yet rich and creamy topped with cheese, bacon and onions.
Prep Time 5 minutes
Cook Time 7 minutes
Total Time 12 minutes
Ingredients
3 lbs. potatoes
1 cup chicken broth or water
1 pkg. (8 oz.) cream cheese, softened
1 cup sour cream
1/2 cup (1 stick) butter, cubed
1/4 cup milk
1/2 cup crumbled bacon pieces
1 cup shredded cheddar cheese
1 cup shredded pepper jack cheese
4 green onions, thinly sliced
1/2 teaspoon onion powder
1/2 teaspoon garlic powder
salt and pepper to taste
Instructions
Cut potatoes into 1-inch cubes. (I didn't peel my potatoes, but feel free to peel your potatoes.)
Place potatoes into the Instant Pot. Add chicken broth or water.
Cover the pot and make sure the vent on the top of the cover is set to "Sealing".
Press the "Pressure Cook" or "Manual" button. Set timer to 4 minutes.
Meanwhile, in a large bowl mix cream cheese, sour cream, butter, milk, bacon pieces, cheddar cheese, pepper jack cheese, onions, onion powder and garlic powder until combined.
Once the potatoes are done cooking, switch the vent to "Venting". Drain potatoes.
Place potatoes back into the Instant Pot and mash potatoes with a potato masher.
Pour in cream cheese mixture. Stir until the cheese and butter is melted. Taste and add salt/pepper as desired. Serve and enjoy!
Nutrition Information:
Yield:
10
Serving Size:
1
Amount Per Serving:
Calories: 301
Total Fat: 15g
Saturated Fat: 8g
Trans Fat: 0g
Unsaturated Fat: 5g
Cholesterol: 43mg
Sodium: 381mg
Carbohydrates: 32g
Fiber: 3g
Sugar: 3g
Protein: 12g
This blog post contains affiliate and/or referral links, which pay me a small commission for recommending my favorite products at no extra cost to you! Additionally, as an Amazon affiliate, I earn from qualifying purchases.