Homemade Cranberry Sauce
Homemade Cranberry Sauce is so easy to make! This recipe features cranberries that are made deliciously with both white and brown sugar, a splash of orange juice, a touch of warm cinnamon. It's a festive holiday side dish that's perfect for serving on both Thanksgiving and Christmas!
Homemade Cranberry Sauce
Is there a side dish better than cranberry sauce? Well, I suppose that's an objective question, but it's certainly my favorite! This tangy, sweet, and fruity holiday staple is always best made fresh. While the canned stuff isn't too terrible, it just can't hold a candle to the real deal! Plus, why wouldn't you make this homemade recipe when it's this easy?
Essentially, you just toss everything into a pan, warm it up until it's thick, and serve! Homemade Cranberry Sauce might just be the easiest side dish you make this holiday season. On days where you feel like you're stressing over every little thing in the kitchen, relieve some of that stress by counting on easy, tried and true, quick recipes like this one.
Did I mention that cranberry sauce is also super budget friendly? This entire recipe only calls for five budget-friendly ingredients. Cranberries, brown sugar, white sugar, orange juice and a dash of cinnamon is all you need to make this classic holiday staples. Honestly, I already have most of that in my own kitchen at this very moment!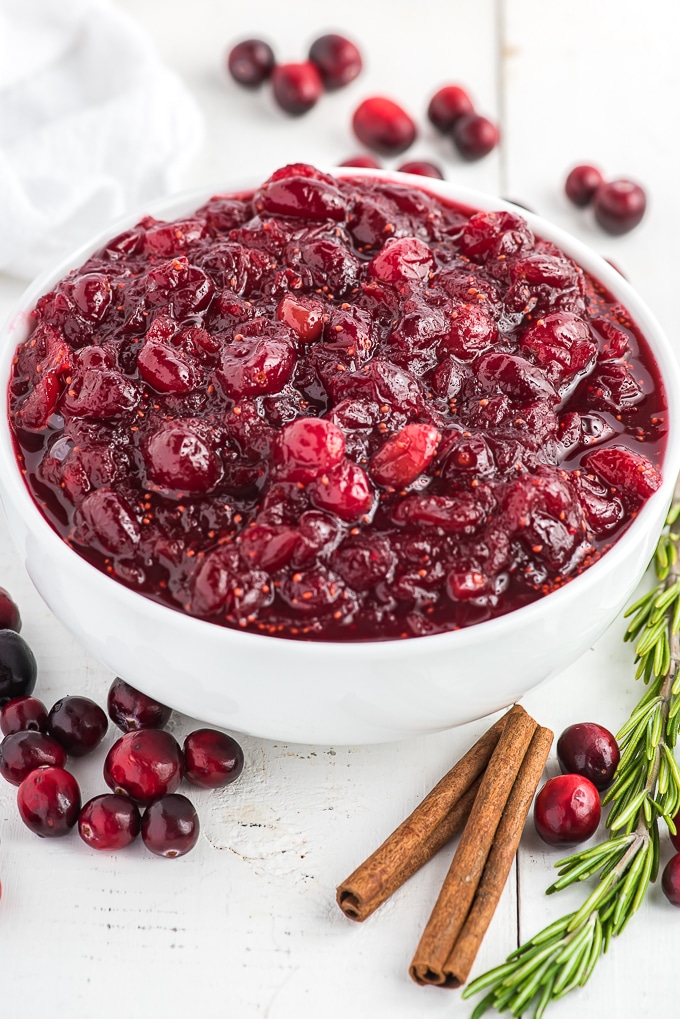 Thanksgiving and Christmas always have one big thing in common in my household… And that's cranberry sauce! I can't imagine celebrating either holiday without a big scoop of this vibrant side dish on my plate.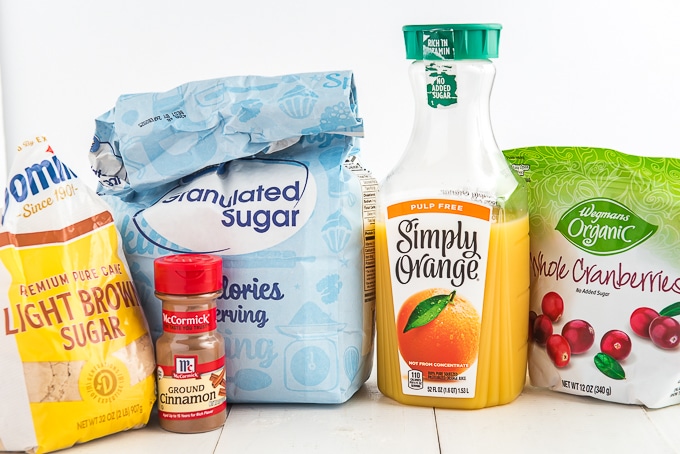 Ingredients for Homemade Cranberry Sauce
Five inexpensive ingredients come together to create your favorite holiday side dish!
CRANBERRIES – 1 1/12 cups cranberries (fresh or frozen)
BROWN SUGAR – ½ cup light brown sugar
WHITE SUGAR – ½ cup granulated sugar
ORANGE JUICE – 1 cup orange juice
CINNAMON – ⅛ tsp cinnamon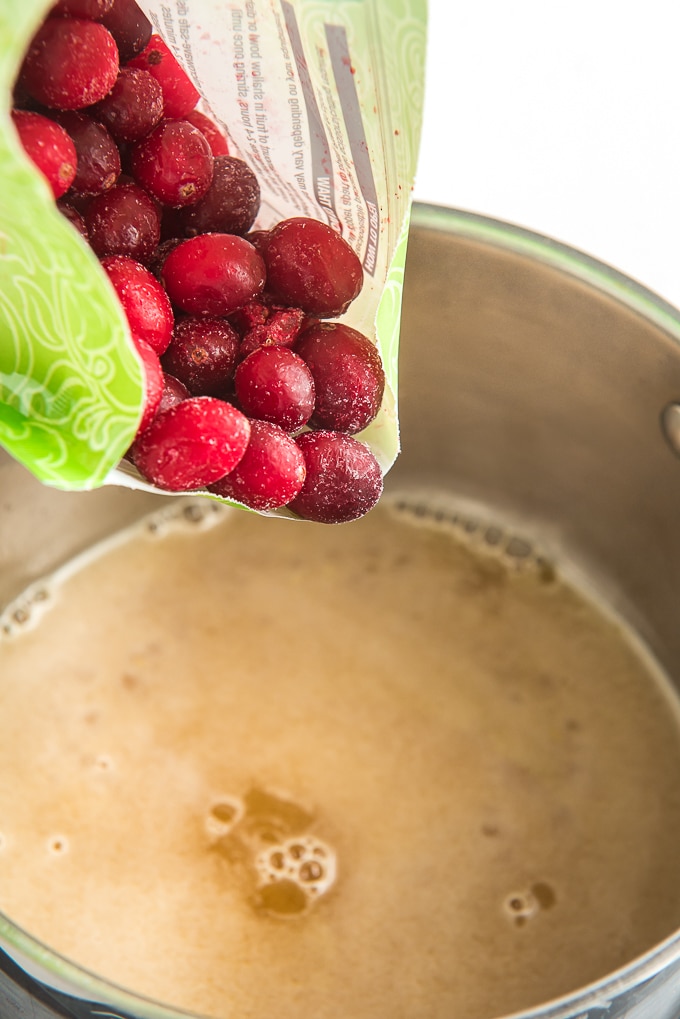 How to Make Homemade Cranberry Sauce
You'll spend less than thirty minutes making this Homemade Cranberry Sauce. It's such a quick recipe!
DISSOLVE. In a pan over medium heat, stir together both sugars and the orange juice until the sugars are fully dissolved.
STIR AND COOK. Stir in the cranberries and cinnamon. Cook until the berries begin to pop.
ENJOY! Remove the cranberry sauce from the heat and transfer it to a serving bowl. The sauce will continue to thicken as it cools down.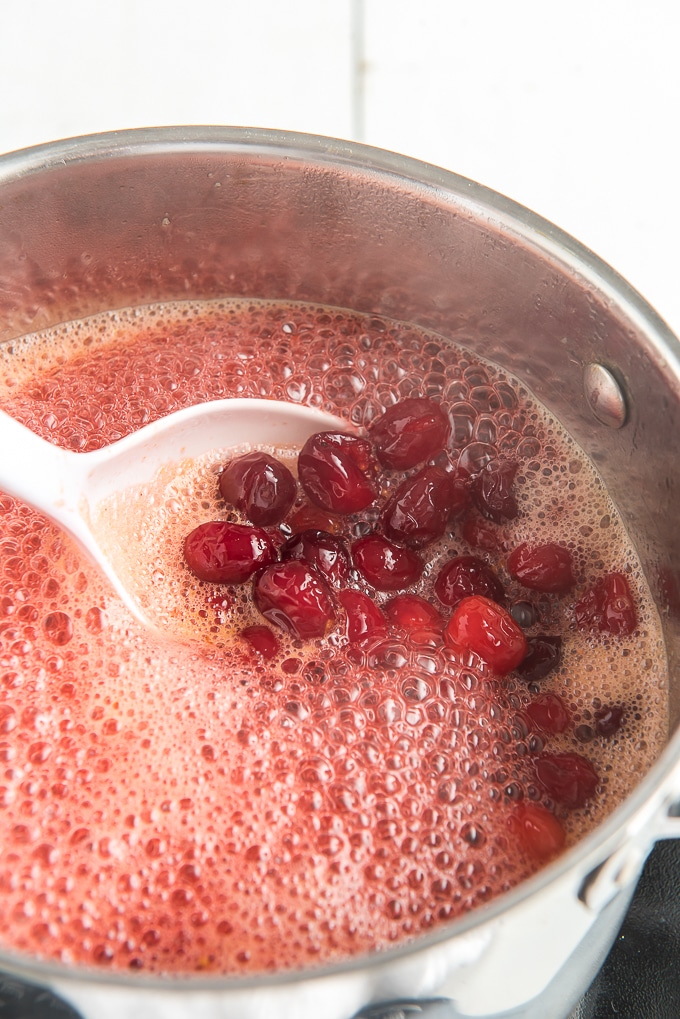 Can't get enough of that sweet, tart cranberry flavor? Cozy up with a mug full of Hot Cranberry Punch!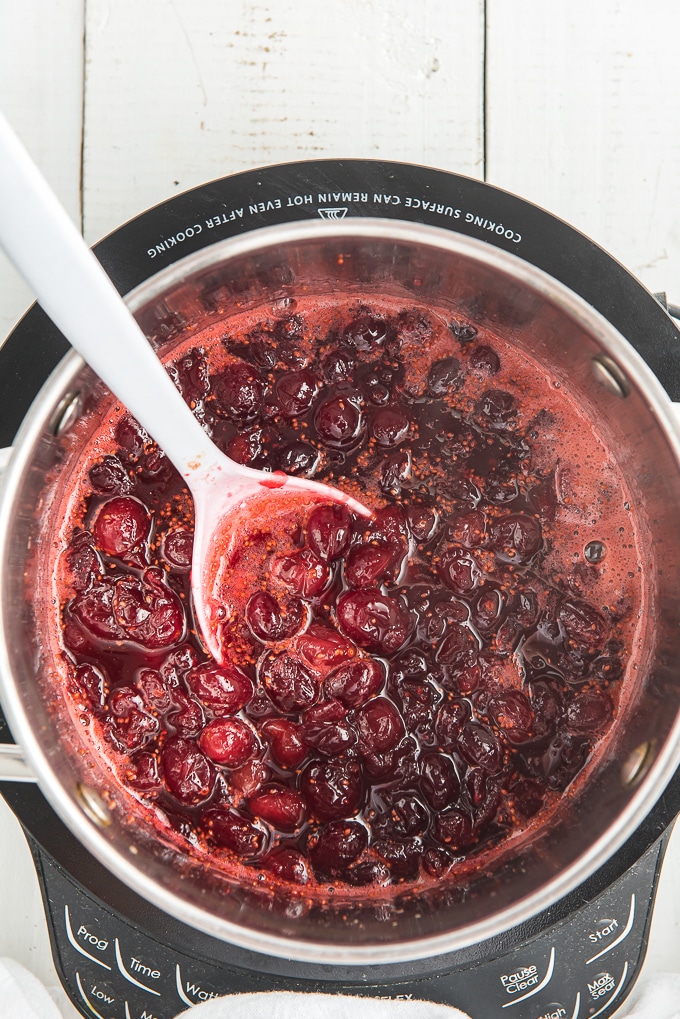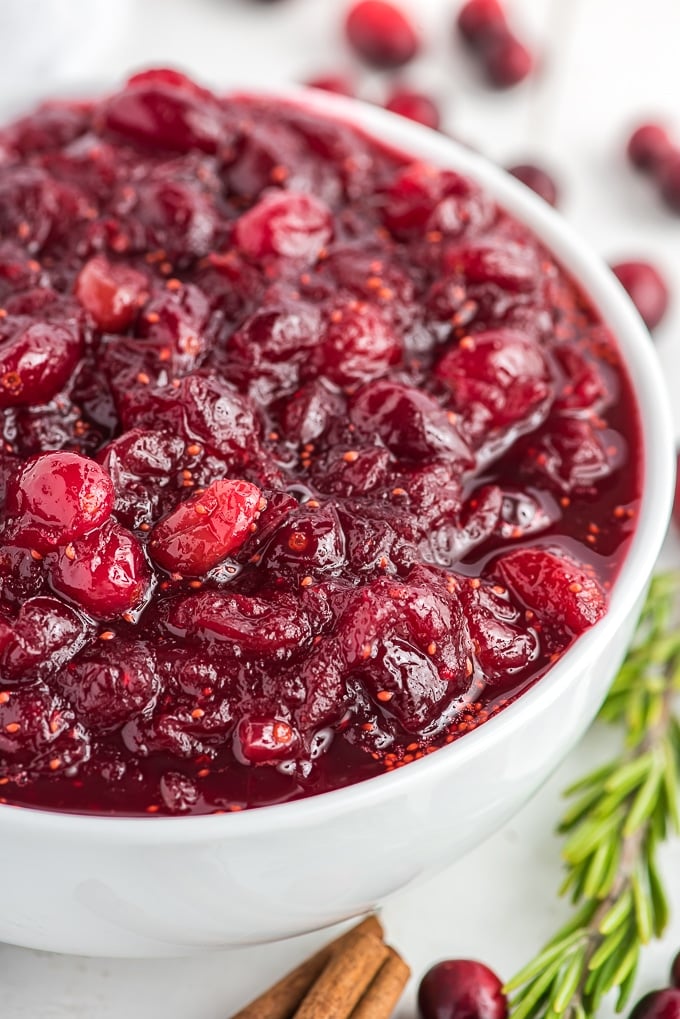 Can I make Homemade Cranberry Sauce ahead of time?
Yes! In an airtight container kept in the fridge, your Homemade Cranberry Sauce will stay fresh for up to TEN DAYS! Just make sure it's completely cooled to room temperature prior to storing.
Can I freeze Homemade Cranberry Sauce?
You sure can! In fact, this cranberry sauce freezes like a dream. Wait for it to fully cool to room temperature, then transfer it into a freezer-safe food storage container. In the freezer, cranberry sauce will stay fresh for up to 2 months. Just let it slowly thaw in the refrigerator for about 8 hours prior to serving.
Can I use frozen cranberries?
Absolutely! While I prefer using fresh cranberries in this easy recipe, frozen cranberries work just as well. Just grab whichever option is most convenient for you.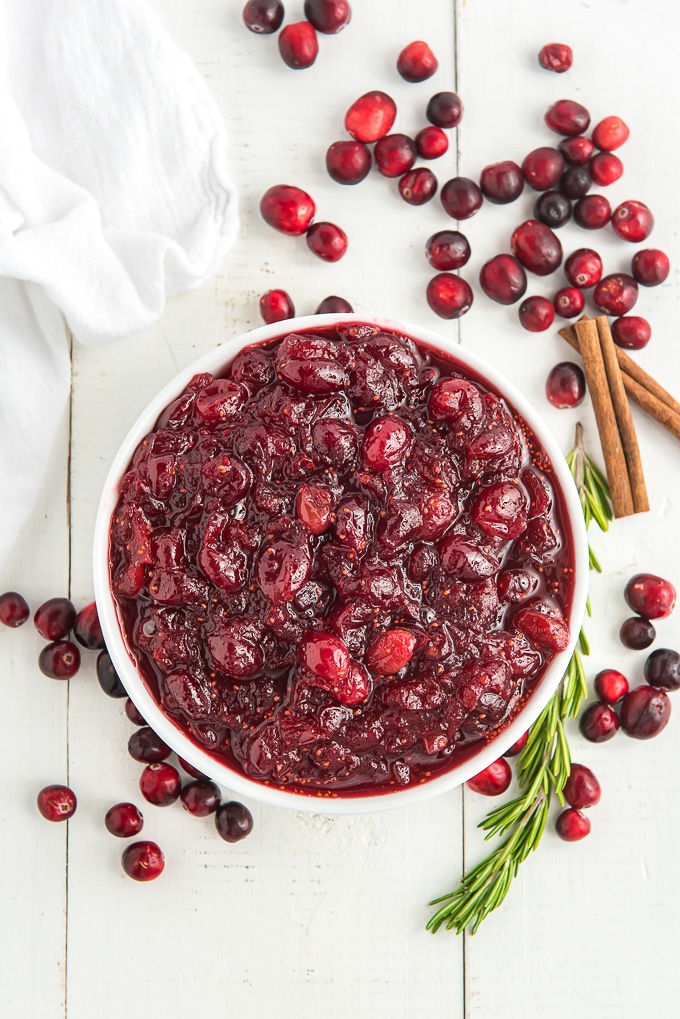 Yield: SERVES: 10-15
Homemade Cranberry Sauce
Prep Time 10 minutes
Cook Time 15 minutes
Total Time 25 minutes
Ingredients
1 1/12 cups cranberries (fresh or frozen)
½ cup light brown sugar
½ cup granulated sugar
1 cup orange juice
⅛ tsp cinnamon
Instructions
In a medium saucepan over medium heat, add brown sugar, granulated sugar and orange juice stir until sugars are dissolved.
Stir in cranberries and cinnamon, cook until they start to pop. About 10-15 minutes.
Remove from heat and place in a serving bowl. The sauce will thicken as it cools.
Nutrition Information:
Yield:
15
Serving Size:
1
Amount Per Serving:
Calories: 60
Total Fat: 0g
Saturated Fat: 0g
Trans Fat: 0g
Unsaturated Fat: 0g
Cholesterol: 0mg
Sodium: 2mg
Carbohydrates: 15g
Fiber: 0g
Sugar: 14g
Protein: 0g
This holiday season, don't skimp on the side dishes! Make more of the BEST recipes like my easy Instant Pot Mashed Potatoes, Sweet Potato Casserole, and my favorite Turkey Gravy. Honestly, I think I put that gravy on just about everything on my plate!