Pumpkin Pie Twists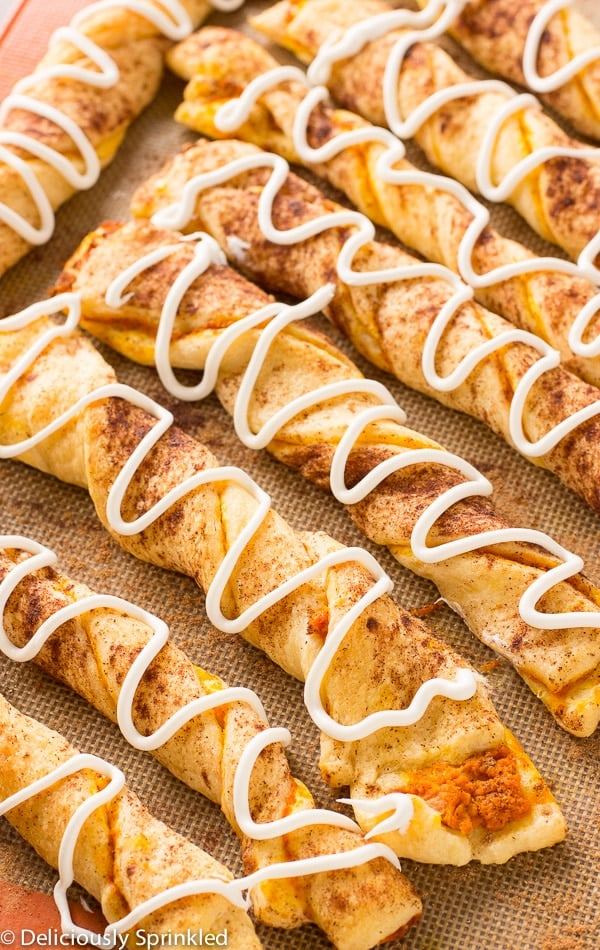 Fall has arrived and that means that some of my favorite holiday flavors are hereI love all things about fall– the changing colors of the trees, cozying up by the fire on a cool fall evening, and anything pumpkin! ♥
Speaking of pumpkin, these Pumpkin Pie Twists are my new favorite fall treat, and I can't wait to make them for my family on Thanksgiving this year. And to keep things super simple, these Pumpkin Pie Twists only have three ingredients; Pillsbury  Crescents®, pure pumpkin, and pumpkin pie spice that I got from my favorite store, Wal-Mart.
Pillsbury Crescents® are always a part of our Thanksgiving dinner and I know this year won't disappoint with these delicious Pumpkin Pie Twists.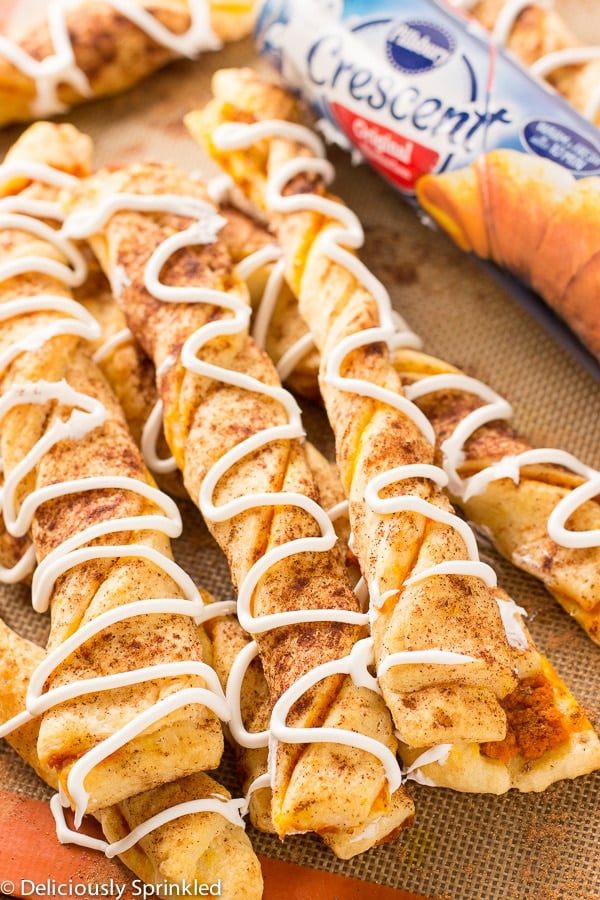 JUST A FEW BAKING TIPS:
✓ PUMPKIN: Just a reminder, make sure you use 100% pure pumpkin, not pumpkin pie filling.
✓ MAKE YOUR OWN PUMPKIN PIE SPICE: All you need is, 3 tablespoons ground cinnamon, 2 teaspoons ground ginger, 2 teaspoons ground nutmeg, 1 ½ teaspoons ground allspice and 1 ½ teaspoons ground cloves. Mix the spices together in a small bowl.
✓ CREAM CHEESE ICING: You might have some extra cream cheese icing leftover if you do you can put the leftover icing into a bowl and use it as a dip. Because you can never have enough cream cheese icing!
STEP-BY-STEP GUIDE ON HOW TO MAKE THESE PUMPKIN PIE TWISTS:
Pumpkin Pie Twists
Yield: 12 Twists
Prep Time:5 minutes
Cook Time:8-10 minutes
Total Time:15 minutes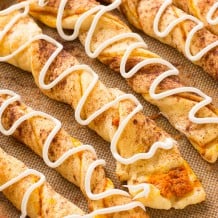 Ingredients:
1 can (8 oz) crescent rolls
1/2 cup pure pumpkin puree
3 Tablespoons butter, melted
3 teaspoons pumpkin pie spice
CREAM CHEESE ICING:
1/4 cup unsalted butter, softened
1/4 cup cream cheese, softened
1 cup powdered sugar
1/2 teaspoon vanilla extract
Directions:
PRE-STEP: Preheat oven to 375F degrees. Line baking sheet with parchment paper or silicon baking mat. Set aside.
STEP 1: Unroll crescent dough and lay down as 4 rectangles on prepared baking sheet.
STEP 2: Spread pumpkin onto 2 of the rectangles.
STEP 3:  Place the other 2 rectangles on top of the pumpkin. Press edges together.
STEP 4: Brush melted butter on top of rectangles. Sprinkle with pumpkin pie spice.
STEP 5: Using a pizza cutter, cut both rectangles into 6 strips.
STEP 6: Twist each strip a few times and sprinkle with remaining pumpkin pie spice. Bake for 8-10 minutes.
MAKE CREAM CHEESE ICING:
STEP 7: In a large bowl, beat together the butter and cream cheese with an electric mixer. With the mixer on low speed, add the powdered sugar until smooth and creamy. Beat in the vanilla extract.
STEP 8: Fill a zip-lock bag with cream cheese icing, lock it shut and snip off a corner of the bag. Ice tops of each pumpkin pie twist and enjoy. Simply throw the bag away when finished.
NOTES:
*STORE: Store leftovers in an airtight container at room temperature for up to 3 days.
This is a sponsored conversation written by me on behalf of Pillsbury. The opinions and text are all mine.
11 Responses to "Pumpkin Pie Twists"
Leave a Comment