Brownie Dessert Pizza
A fudgy brownie dessert pizza topped with Nutella, M&M's, mini candy bars, SPRINKLES and drizzled with marshmallow creme. It's a dessert that will put a smile on everyone's face!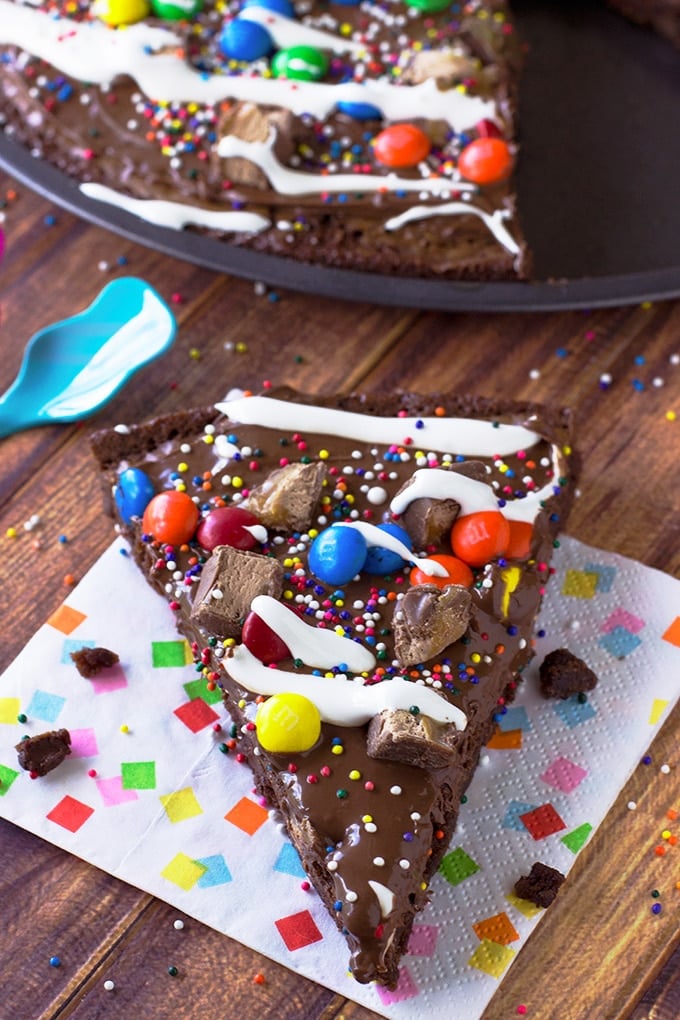 If you have been following my blog this whole summer, you have noticed that I have been teaming up with Nutella® to share things that make me happy like my homemade Peanut Butter Cookies, Chocolate Oreo Cupcakes,the delicious Strawberry Upside Down Cake, the no ice cream machine needed Homemade Vanilla Ice Cream, my Dad & I's favorite Chocolate Nutella Cookies, our families Banana Bread recipe and lastly,but definitely not least is this amazing Brownie Dessert Pizza which really puts a smile on my face and makes me super happy!
As you can see, it's been a fun summer spreading the happy with all my family and friends. Last week, I invited my good friend over to help me bake this delicious brownie dessert pizza. I told her to bring her three favorite candy toppings, she brought M&Ms, mini Milky Way candy bars, and a big jar of sprinkles….obviously you can see why we are friends! 😉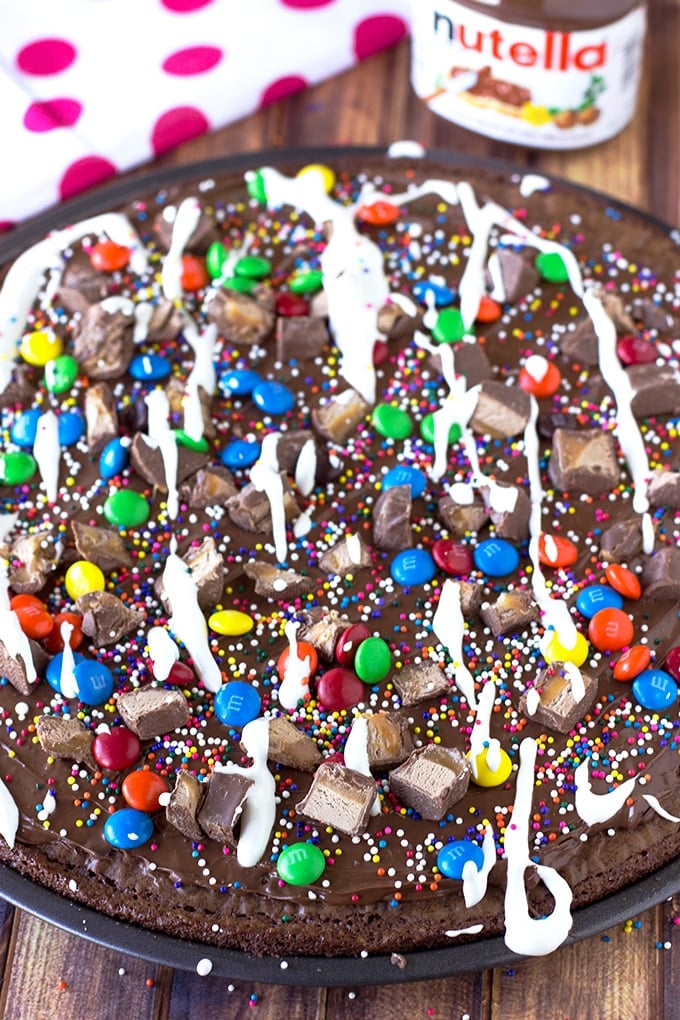 Can you believe that this was my first time ever making a brownie pizza!?! Crazy right, I have been missing out! But it was fun sharing my passion and excitement from baking something new with my friend. After we baked the brownie pizza and let it cool. We spread a generous amount, like the whole jar of Nutella on top of the pizza and then it was the fun part of sprinkling the top with our favorite candies and of course a ton of SPRINKLES!
Here is how to make this Brownie Dessert Pizza: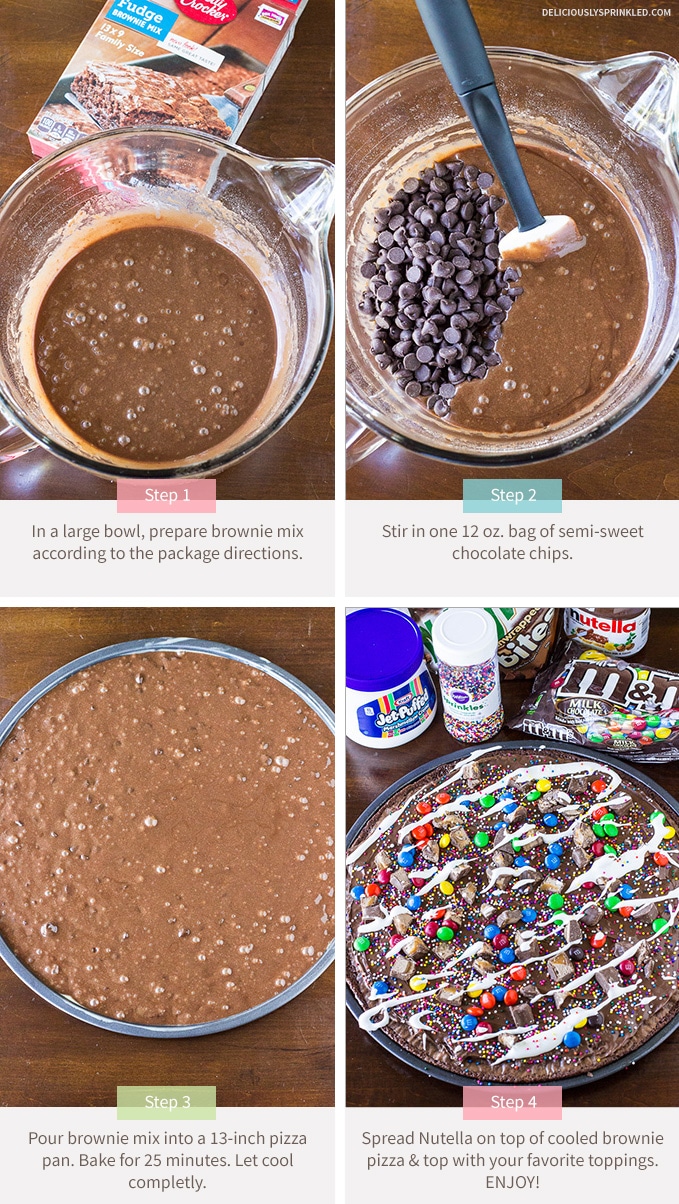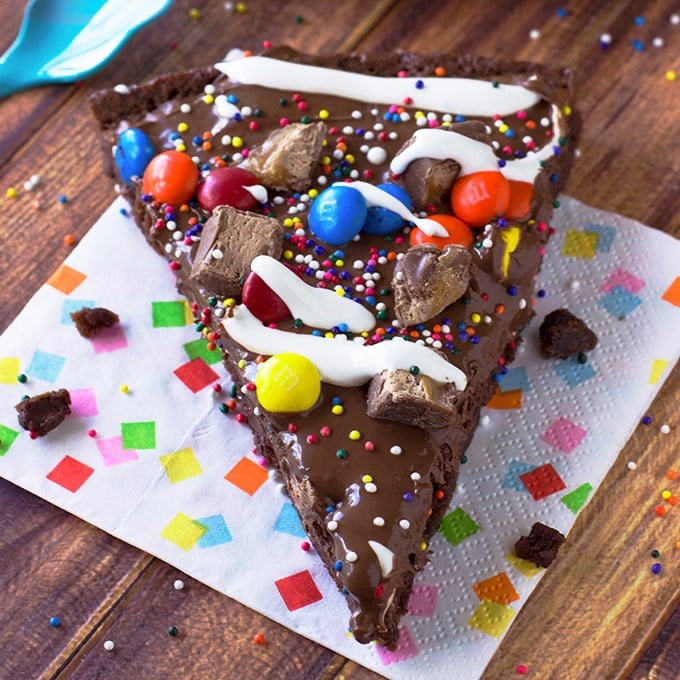 Yield: 8-10 slices
Brownie Dessert Pizza
Prep Time 10 minutes
Cook Time 25 minutes
Total Time 35 minutes
Ingredients
1 (18.3 oz.) family size package brownie mix (I used Betty Crocker Fudge Brownie Mix, 13x9 Family Size)
1 (12 oz.) bag semi-sweet chocolate chips
1 (13 oz.) jar of Nutella
sprinkles
M&Ms
mini Milky Way bars
marshmallow creme
Instructions
Preheat oven to 350F degrees. Spray a 13-inch pizza pan with non-stick cooking spray. Set aside.
Prepare brownie mix as directed on the back of the brownie mix box. Stir chocolate chips into brownie mix. Evenly, pour brownie mix into prepared pizza pan.
Bake for 25 minutes or until a toothpick inserted in the center comes out clean. Let cool completly.
Once cooled, top with Nutella and sprinkle your favorite candy toppings on top of the Nutella. Use a pizza cutter to cut into 8-10 slices and enjoy!
Notes
* Store covered at room temperature or in the refrigerator for up to one week.
Nutella® hazelnut spread is a happy start to every day! Pick up a jar of Nutella in the spreads aisle and enjoy it with whole wheat toast, waffles, pancakes, strawberries, bananas and many other foods. Nutella. Spread the Happy™.
Disclosure: Compensation was provided by the makers of Nutella via Mode Media. The opinions expressed herein are those of the author and are not indicative of the opinions or positions of Nutella.