S'mores Brownie Bars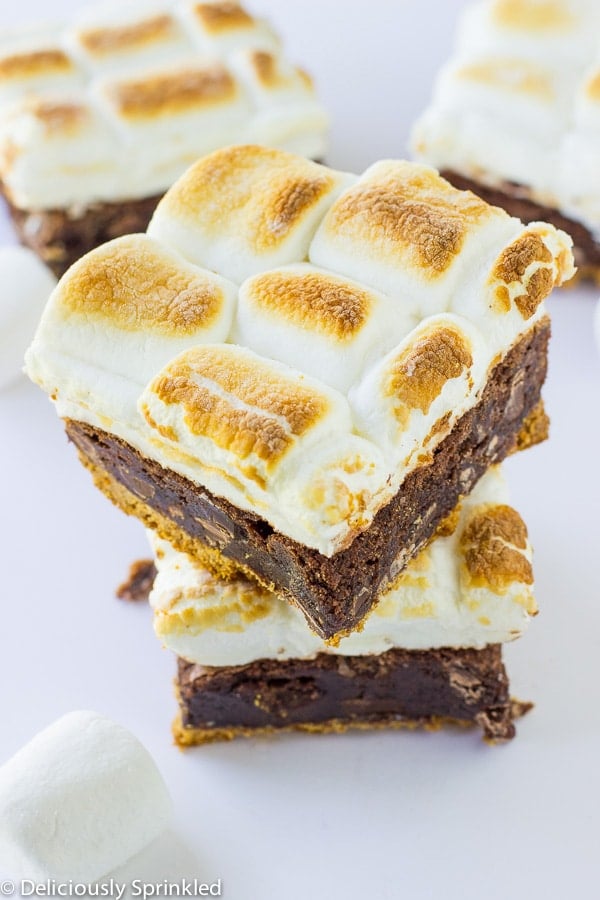 Nothing says summer like these S'mores Brownie Bars. These brownies taste just like a s'more and you don't need a campfire to make them! They have everything you love about a traditional s'more.
✓ Graham cracker crust.
✓ Chocolate brownie.
✓ Ooey gooey marshmallows.
I don't know about you but these s'more brownie bars sound even better than a traditional s'more. And with it already being June, summer BBQ's are in full swing and these brownies are super easy to make and perfect for a backyard BBQ!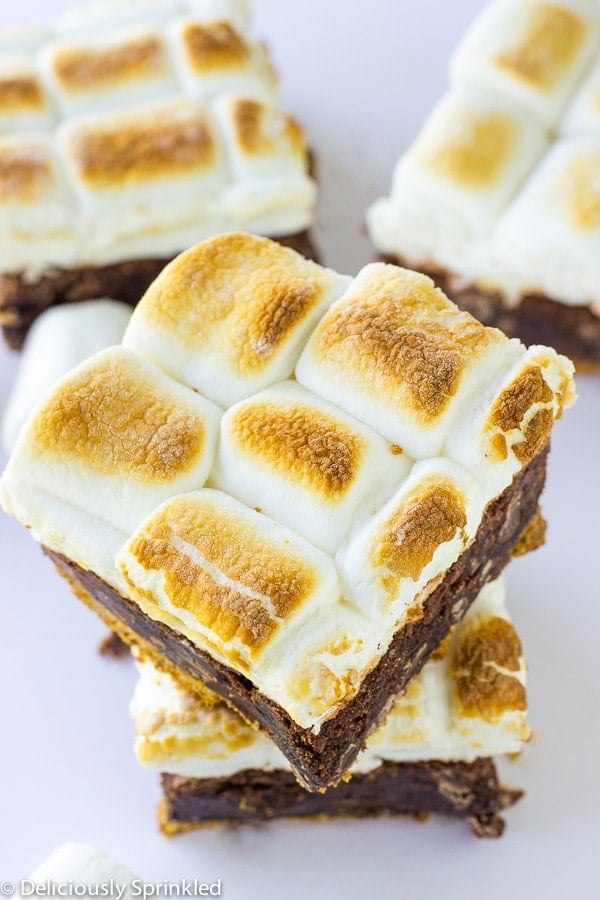 JUST A FEW BAKING TIPS:
✓ GRAHAM CRACKER CRUMBS: To make these bars even easier to make, I used the graham cracker crumbs from a box. You could also place about 10 whole graham crackers into a food processor/blender, and pulse until the graham crackers are crumbled.
✓ BROWNIES: I'm all about making things as easy as possible, so to make these s'more brownie bars I used my favorite brownie mix from a box. But if you want to make my recipe for homemade fudgy brownies.
✓ MARSHMALLOWS: When "toasting" the marshmallow topping make sure to watch the marshmallows through your oven door super closely so that the marshmallows don't burn!
STEP-BY-STEP GUIDE ON HOW TO MAKE THESE S'MORES BROWNIE BARS:

S'mores Brownie Bars
Yield: 12 Bars
Prep Time:15 minutes
Cook Time:45 minutes
Total Time:1 hour
Make sure to read my BAKING TIPS above before you start baking!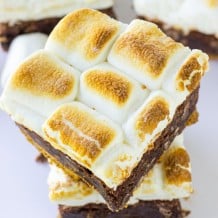 Ingredients:
CRUST:
1 1/2 cups graham cracker crumbs (about 10 whole crackers)
1/3 cup granulated sugar
1/3 cup salted butter, melted
BROWNIES:
1 (18 oz.) box brownie mix
1 cup milk chocolate chips
1 (16 oz.) bag of marshmallows
Directions:
PRE-STEP: Pre-heat oven to 350F degrees. Line a 9x9 baking pan with foil and spray with non-stick cooking spray. Set aside.
MAKE THE CRUST:
STEP 1: In a medium-sized bowl, mix together the graham cracker crumbs, sugar, and melted butter until crust forms.
STEP 2: Press graham cracker crust into the bottom of the prepared pan. Bake for 15 minutes or until crust is lightly brown.
MAKE THE BROWNIES:
STEP 3: Prepare brownie mix as directed on the back of the box. Stir in milk chocolate chips.
STEP 4: Pour brownie mix on top of the crust. Bake for 30-35 minutes or until a toothpick inserted into the center comes out clean.
STEP 5: Switch your oven to broil. Evenly top brownies with marshmallows (see Step 5 photo above).
STEP 6: Place the pan into the oven, broil until the marshmallows just begin to brown.
IMPORTANT: I highly recommend standing near the oven while you do this to ensure that the marshmallows do not burn, checking every 20 seconds or so.
STEP 7: Remove from the oven and let the brownies cool completely. To remove, gently lift the brownies out of the pan by using the extra foil on the sides. Pull the foil away and cut into squares.
TIP: Before you cut these brownies into squares, spray your knife with non-stick cooking spray so that the marshmallows don't stick to your knife! 🙂
11 Responses to "S'mores Brownie Bars"
Leave a Comment