Peanut Butter Cookie Brownies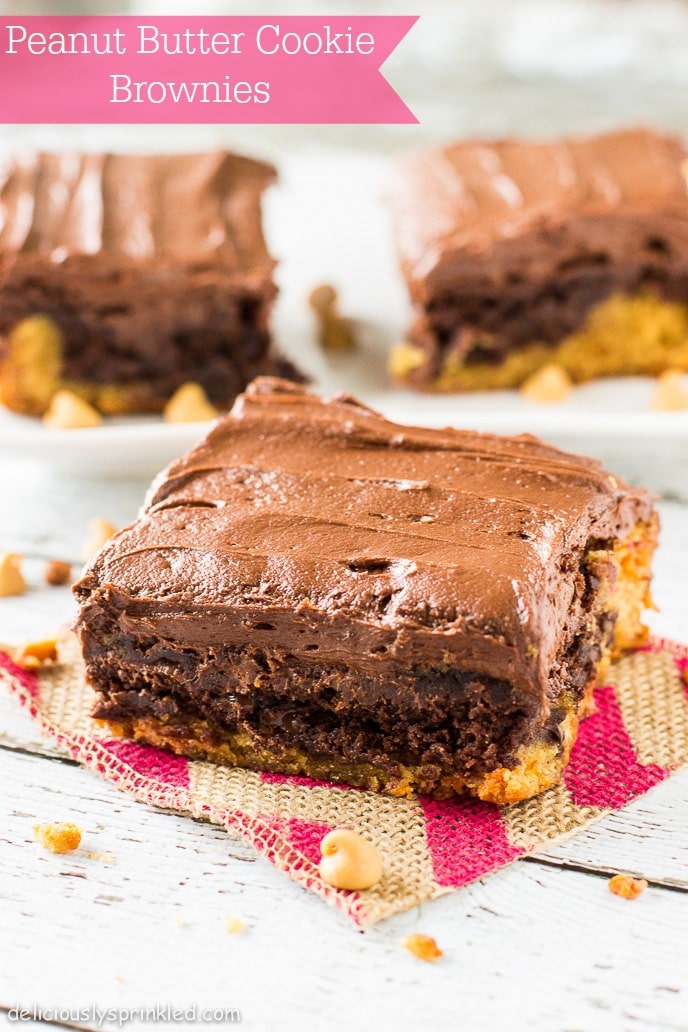 After enjoying my new favorite snack, Trail Mix Peanut Butter Bars, I just couldn't get enough peanut butter. So I decided to make peanut butter cookie brownies, yes you read that right, these brownies have a peanut butter cookie bottom topped with my super LAZY girl chocolate frosting!
Seriously, the frosting is so easy, it's a little embarrassing!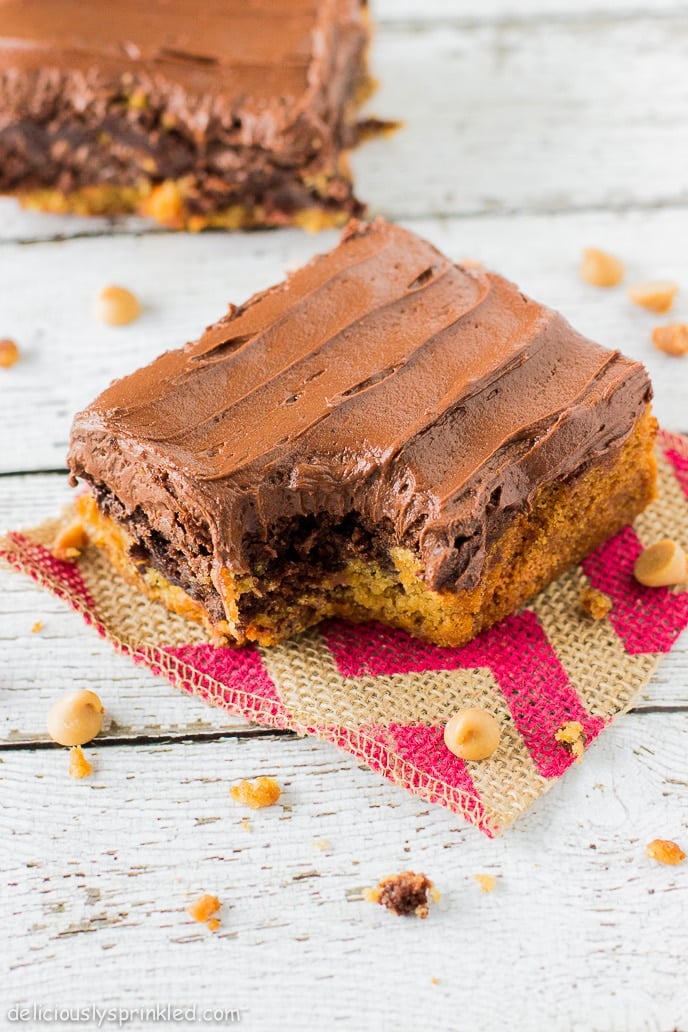 JUST A FEW BAKING TIPS:
 ✔  These brownies start out by using refrigerated peanut butter cookie dough, I used Pillsbury Big Deluxe Reese's Mini Pieces Peanut Butter Cookie Dough, for even more delicious peanut butter flavor. I pressed the 12 cookie dough pieces into a 9×9 pan lined with foil. Don't forget to line your pan with foil AND spray with non-stick cooking spray, this will make it so easy to take the brownies out of the pan to cut them into squares.
✔  I made my favorite brownie mix, Betty Crocker Triple Chunk Premium Brownie Mix with Hershey's, according to the directions on the box. No need to jazz up brownie mix like a cake mix, I think they're just as good from the box as they are from scratch but that's just me!
✔  I baked these brownies for 30 minutes, make sure you watch them so they don't burn…no one likes burnt brownies or cookies for that matter.
✔ And lastly, I frosted these brownies with my lazy girl frosting! So here it is, all you need is 1/4 cup powdered sugar, 1/2 cup peanut butter and one tub of whipped chocolate frosting. Mix it all up and it taste just like you made it from scratch without all the work! Told ya it was a super lazy girl frosting. That's it, now you have the best of both worlds, peanut butter cookies and brownies in one delicious brownie bar, kinda like my Chocolate Chip Cookie Brownie Bites!
STEP-BY-STEP GUIDE ON HOW TO MAKE THESE PEANUT BUTTER COOKIE BROWNIES: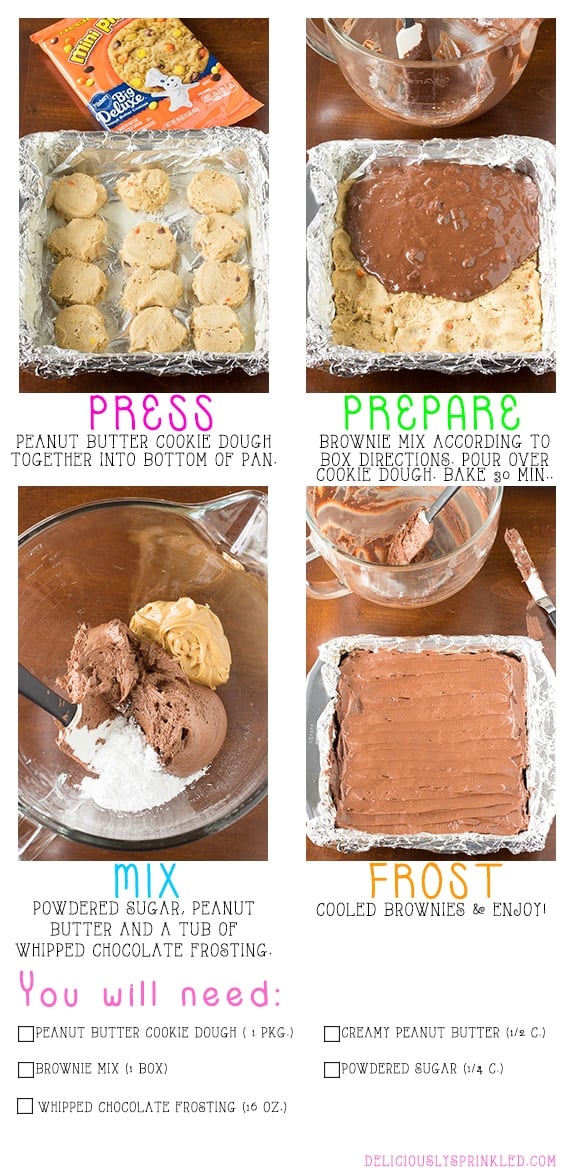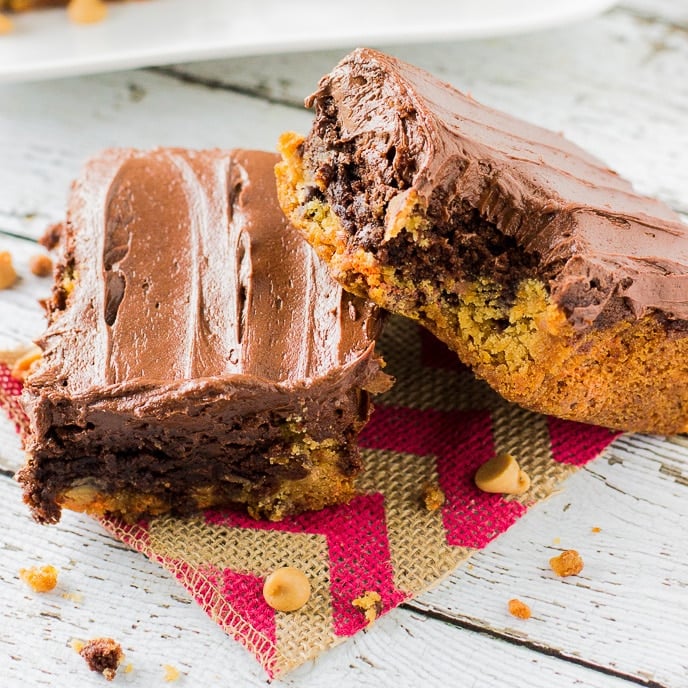 Yield: 12 Brownies
Peanut Butter Cookie Brownies
★ Make sure to read my BAKING TIPS above before you start baking!
Prep Time 15 minutes
Cook Time 30 minutes
Total Time 45 minutes
Ingredients
16 ounces refrigerated peanut butter cookies dough
1 tub of whipped chocolate frosting
1/4 cup powdered sugar
1/2 cup creamy peanut butter
Instructions
PRE-STEP: Preheat oven to 350F degrees. Line 9x9 pan with foil and spray with non-stick cooking spray.
STEP 1: Press peanut butter cookie dough into bottom of prepared pan.
STEP 2: Mix brownie mix according to package directions. Pour over peanut butter cookie dough and spread evenly with a spatula.
STEP 3: Bake for 30 minutes or until tooth pick inserted into center comes out clean. Let cool for 15 minutes before frosting.
MAKE THE FROSTING:
STEP 4: In a large bowl, mix powdered sugar, peanut butter and whipped chocolate frosting until combined.
STEP 5: Frost cool brownies and cut into squares before serving.
Notes
*Store brownies in an airtight container at room temperature for up to 1 week. Unfrosted brownies can be frozen for up to 2 months.
BAKING TOOLS I USED TO MAKE THESE BROWNIES:
Check out more delicious Brownie Recipes…
Try these Chocolate Frosted Peanut Butter Bars next!