Cherry Chocolate Chip Brownies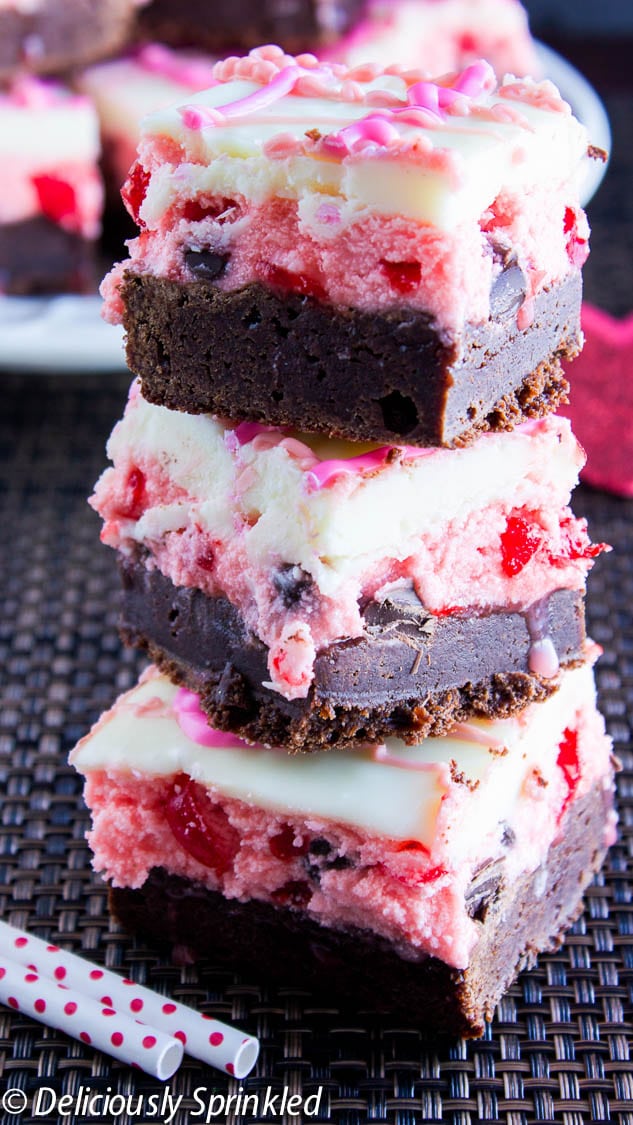 January has just flown by for us, even though we have had sub-zero temperatures and snow the past couple of weeks forcing us to stay inside, I can't believe it's almost the end of January. I am not complaining because that means we are closer to summer, which makes me super happy!
And speaking of summer, these Cherry Chocolate Chip Brownies taste just like one of my all time favorite ice cream flavors, Ben and Jerry's Cherry Garcia. Soft and fudg-y brownie topped with maraschino cherry filling with dark chocolate chips and layered with white chocolate ganache. I am pretty sure I could have just eaten the filling straight out of the bowl with a big spoon, it was just like Ben and Jerry's Cherry Garcia. Yummy! ❤
If you love cherries and chocolates together, this brownie is for you. And they are an easy dessert to make for your family and friends for Valentine's Day.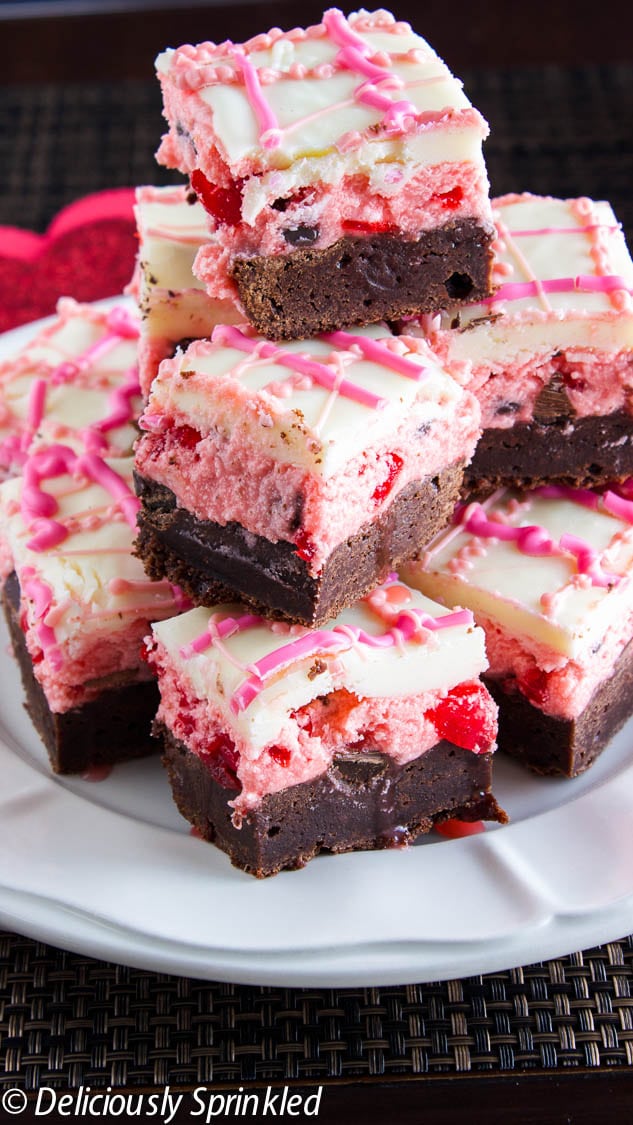 JUST A FEW BAKING TIPS:
✔ To make it super easy for you to cut the brownies into squares, line your 9×9 inch baking pan with aluminum foil, leaving enough overhang on the sides and spray the foil with non-stick cooking spray. Once the brownies have cooled, lift the brownies out of the pan, folding down the aluminum foil sides. Then use a sharp knife to cut the brownies into squares. SUPER EASY! 
✔  The pink candy melts I used to drizzle on top of the white chocolate, can be found at Wal-Mart or any craft store. And they have a TON of different fun colors to choose from.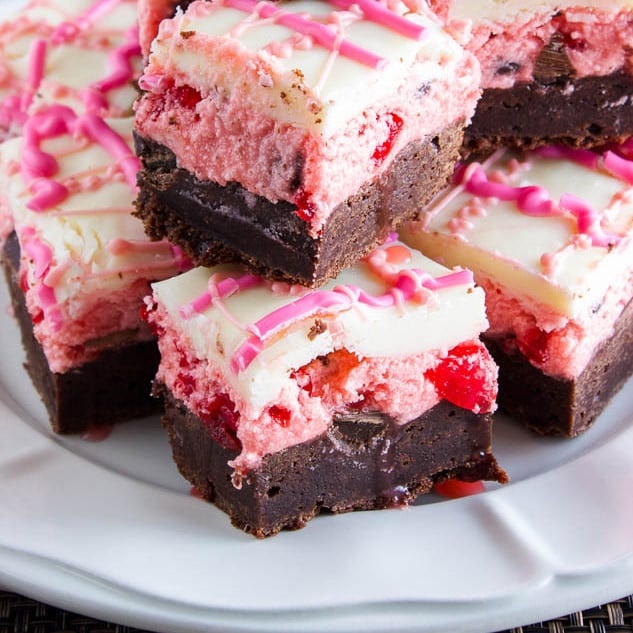 Yield: 10 Brownies
Cherry Chocolate Chip Brownies
Prep Time 20 minutes

Cook Time 30 minutes

Additional Time 2 hours

Total Time 2 hours 50 minutes

★ Make sure to read my BAKING TIPS above before you start baking!
Ingredients
8 ounces coarsely chopped semi-sweet chocolate
1 and 1/4 cups granulated sugar
3 large eggs
1 teaspoon vanilla extract
3/4 cup all-purpose flour
1/4 teaspoon salt
3 and 1/2 cups powdered sugar
1/2 cup dark chocolate chips
6 ounces maraschino cherries, chopped
5 Tablespoons cherry juice from jar
10.5 ounces white chocolate chips
3/4 cup heavy whipping cream
Instructions
MAKE THE BROWNIES:

PRE-STEP: Preheat oven to 350F. Spray 9x9 inch baking pan with cooking spray. Set aside.

STEP 1: Melt butter and semi-sweet chocolate in a medium saucepan on medium heat, stirring constantly until smooth. Remove from heat and let cool to room temperature (about 10 minutes).

STEP 2: Stir sugar into cooled chocolate/butter mixture until combined.

STEP 3: Add eggs one at a time, whisking until smooth after each addition. Whisk in the vanilla.

STEP 4: Gently fold in the flour and salt. Pour batter into prepared pan.

STEP 5: Bake for 30 minutes, or until a toothpick comes out clean. Let cool before topping with cherry buttercream filling.

MAKE THE CHERRY BUTTERCREAM FILLING:

STEP 6: In a large bowl using an electric or stand mixer, combine butter and juice from the maraschino cherries jar. Beat until the butter is smooth.

STEP 7: Slowly add powdered sugar and beat until combined.

STEP 8: Fold in roughly chopped cherries and dark chocolate chips. CAREFULLY, spread over the top of cooled brownies.

MAKE WHITE CHOCOLATE GANACHE:

STEP 9: In a large bowl, melt white chocolate chips and heavy whipping cream together in microwave for 30 seconds. Stir, and repeat for 30 more seconds.

STEP 10: Spread over cherry filling and place in fridge for at least 2 hours or until hardened before cutting into squares.
Check out more delicious Brownie & Bar Recipes…
And if you LOVE cherries like me, you have to try my Sweet Cherry Bread next!