Mint Chocolate Chip Brownies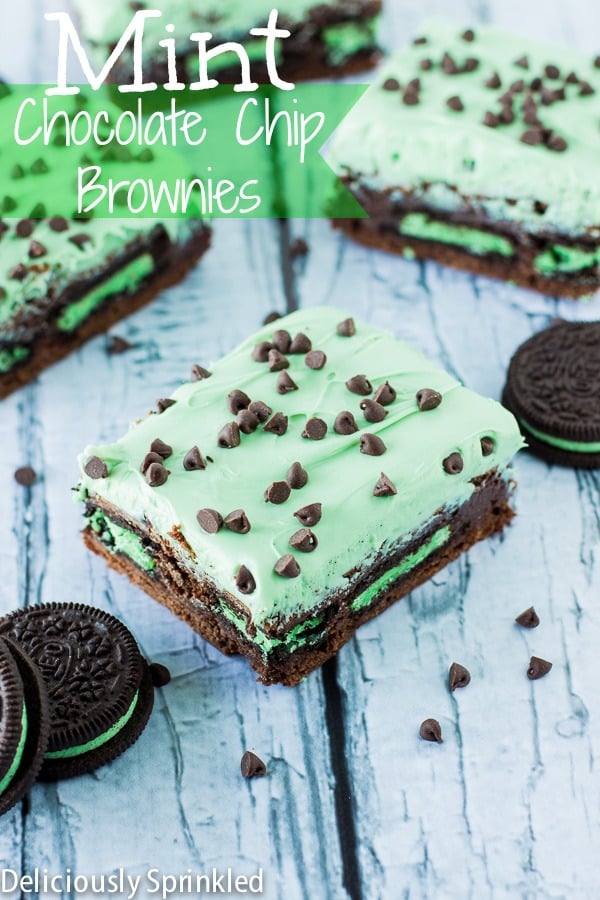 St. Patrick's Day is one of my favorite holidays, not only because I am Irish but because every where you go it's all about mint these days, which is my favorite. I make my Homemade Minty Chocolate Cupcakes all year-long when I have a craving for mint chocolate or I get a tub of loaded chocolate chip mint brownie ice cream. Yum!
And these fudgy Mint Chocolate Chip Brownies loaded with mint Oreos and topped with mint chocolate frosting and SPRINKLED with mini chocolate chips taste just like the ice cream but so much better.
Although, I love making my own frosting sometimes it's nice to cheat a little and have less dishes to clean. Right? For theses brownies I used the new Duncan Hines Frosting Creations with the mint chocolate frosting flavor mix and I am so glad I did because the frosting is so easy to make and taste almost as good as homemade.
These Mint Chocolate Chip Brownies are the perfect treat for St. Patrick's Day or any time of year that you have a mint chocolate craving. Enjoy!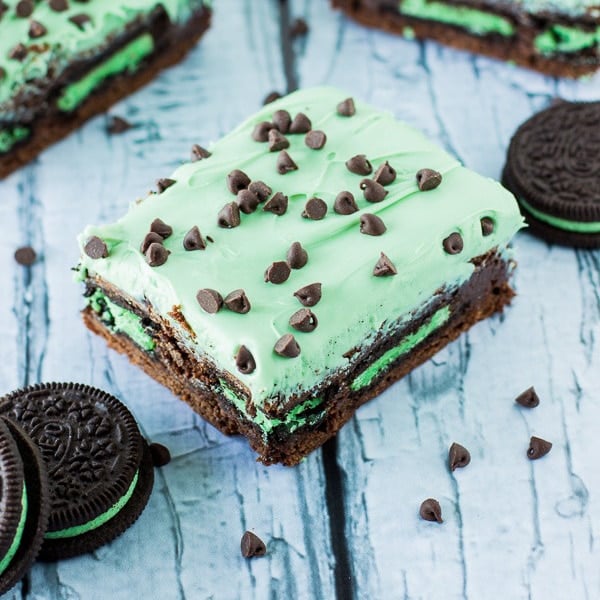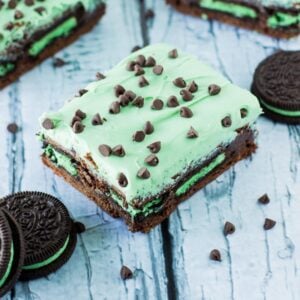 Leave a Review
Ingredients
1 box brownie mix, prepared according to back of box
16 mint Oreos
1 Duncan Hines Frosting Creations Frosting Starters
1 Mint Chocolate Frosting Flavor Mix
¼ cup mini chocolate chips
Instructions
PRE-STEP: Preheat oven to 375F degrees. Line an 9×9 inch pan with foil and spray with cooking spray. Set aside.

STEP 1: In a medium bow, mix brownie mix according to directions on the back of the box.

STEP 2: Pour half of the batter into prepared pan. Lay a single layer of mint Oreos side by side on top of batter. Pour remaining batter over Oreos and spread evenly.

STEP 3: Bake 30-40 minutes until a toothpick comes out mostly clean. Let cool before frosting.

STEP 4: Mix frosting flavor mix with frosting, spread on top of brownies and sprinkled mini chocolate chips on top.
Notes
*Store them in the refrigerator in an airtight container for up to 10 days.