Taco Dip
This Taco Dip is perfect for an easy appetizer or game day snack.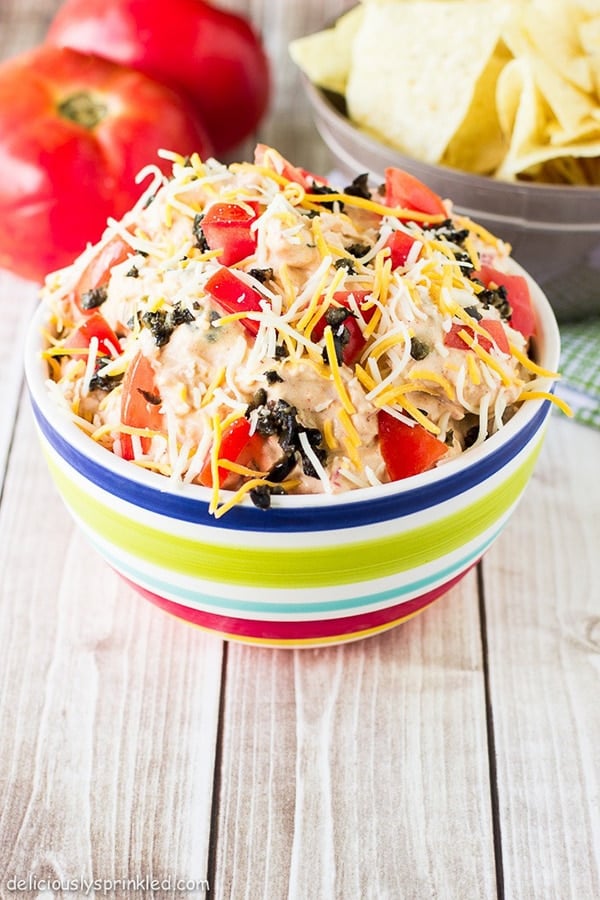 When it comes to chips & dip, my all-time favorite dip is Taco Dip!
In college, I would make taco dip on a Sunday and that would be my dinner for the whole week…I know, not very healthy! But it was so good and easy to make.
I also like to make my taco dip in a big bowl, rather than the traditional layered dip on a platter. My taco dip also doesn't have any lettuce in it because I don't know about you but I hate when the lettuce gets soggy and gross…it just ruins the taco dip, in my opinion!
I make this dip all the time for friends and family, it's one of those dips that is always requested! And if your still in need of a 4th of July snack, just stop by your local grocery store and grab some fresh tomatoes from their produce section and you will be on your way to making this delicious dip to bring to your party!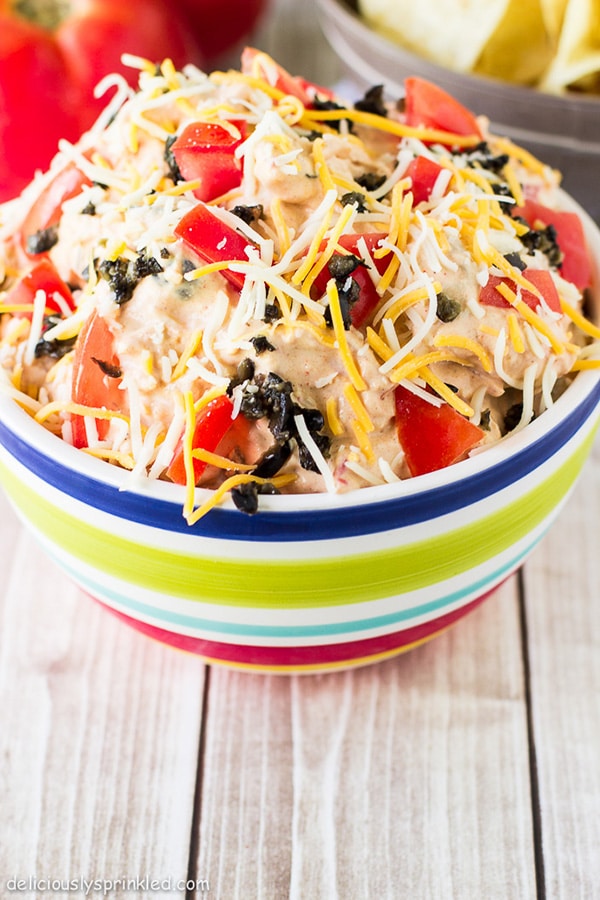 HOW TO MAKE TACO DIP
TACO SEASONING: I like to use this taco seasoning in this dip, but you can use your favorite taco seasoning.
CHUNKY SALSA: Using chunky salsa is VERY important when making taco dip, if the salsa is too "runny" the dip tends to be watery and lose it's flavor. I use this chunky salsa, it's the best!
 MIX-INS: The best part about making this dip is you can add all of your favorite toppings, my favorite is tomatoes so I like to add a ton of them into the dip but feel free to add jalapeño peppers, green peppers and onions, the options are endless.
MAKE-AHEAD: If you are not serving the taco dip right after you make it, then I would wait until your just about ready to serve this taco dip to top with the additional shredded cheese, tomatoes, black olives, or any other favorite topping you want to add.

TRY THESE EASY DIP RECIPES TOO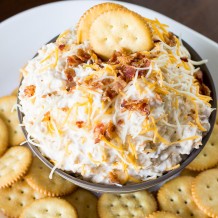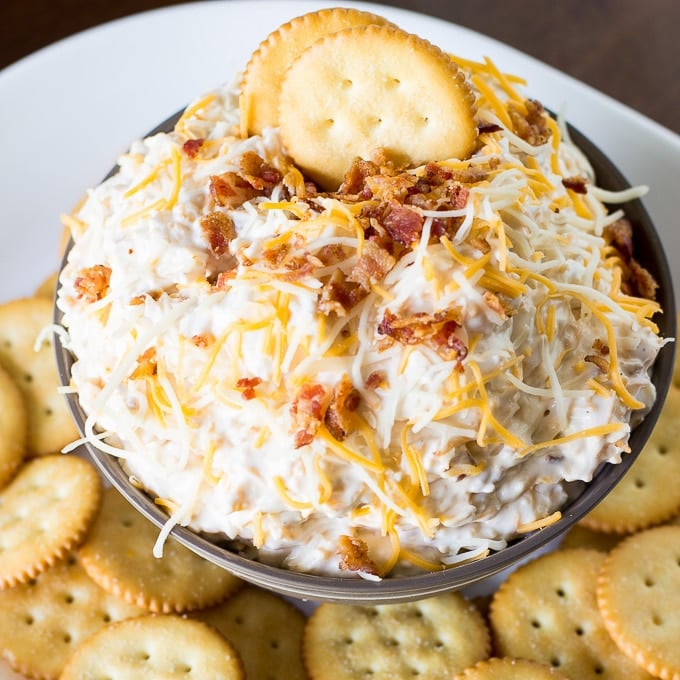 5-MINUTE HOT SPINACH & ARTICHOKE DIP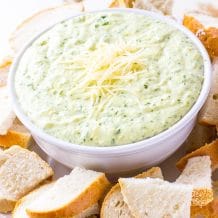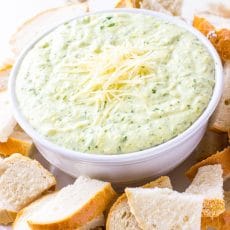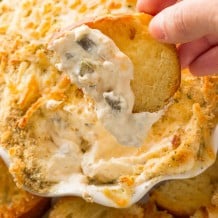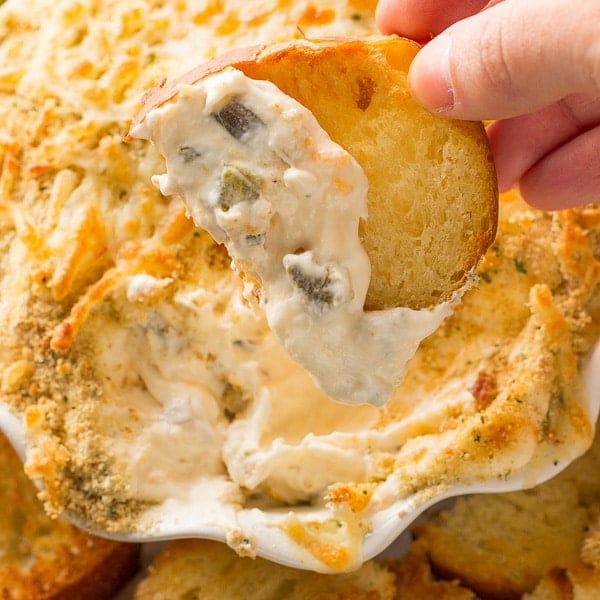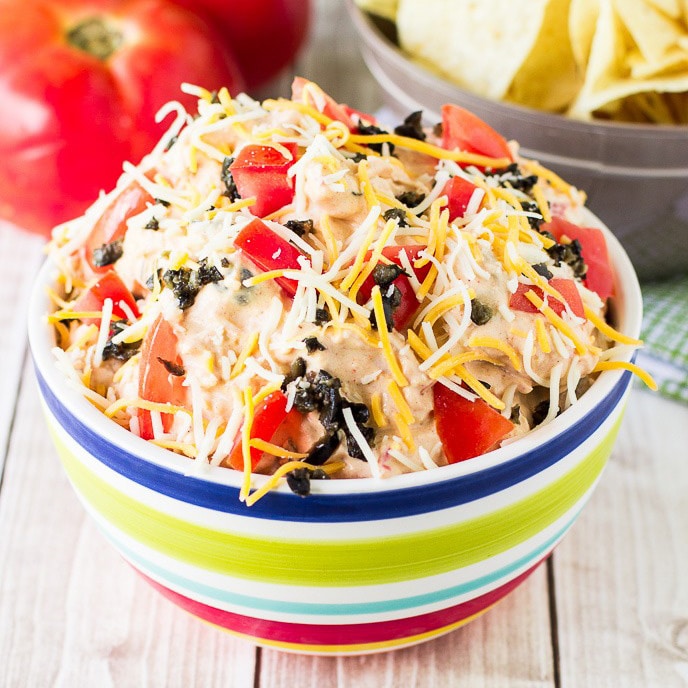 Yield: 10-15 Servings
Taco Dip
Prep Time 15 minutes
Total Time 15 minutes
★ Make sure to read my BAKING TIPS above before you start baking!
Ingredients
2 cups sour cream
1 cup chunky mild salsa
1 cup shredded cheddar cheese
2 large tomatoes, chopped
Instructions
STEP 1: In a medium-sized bowl, combine cream cheese, sour cream and taco seasoning.
STEP 2: Stir in chunky salsa to taco dip mixture, mix until combined.
STEP 3: Add shredded cheese, and black olives to taco dip mixture.
STEP 4: Dice two large tomatoes.
STEP 5: Add tomatoes to taco dip mixture and stir until just combined.
STEP 6: Scoop taco dip into serving bowl. Top with additional shredded cheese, black olives and tomatoes.
Notes
*Store covered in the fridge until ready to serve or up to 1 week.