Streusel Cranberry Orange Bread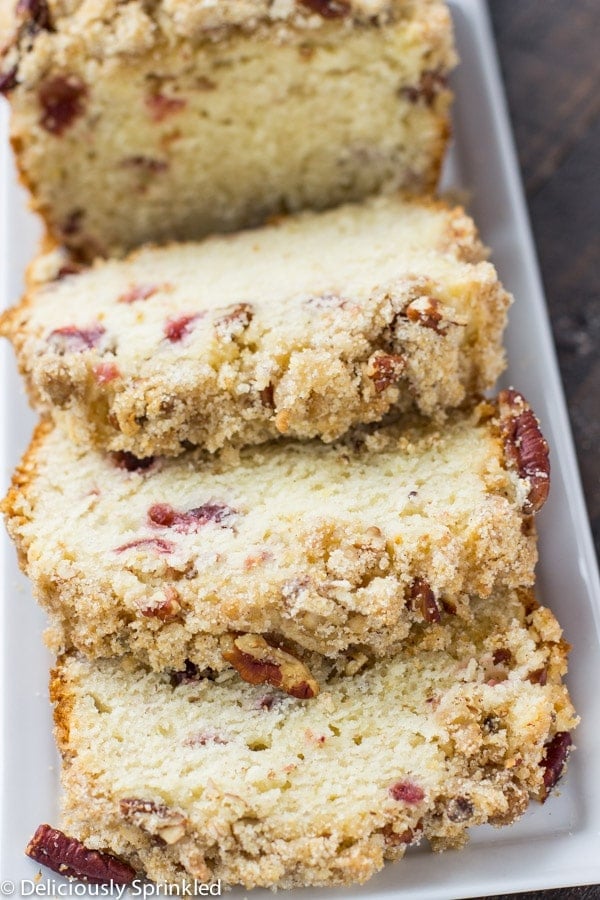 Hey, friends!  Are you looking for the perfect weekend breakfast, holiday morning snack or even a gift?
This Streusel Cranberry Orange Bread is so easy to make using my favorite Krusteaz Cranberry Orange Muffin Mix.
This bread has a sweet orange flavor with just the right amount of real cranberries. The pecan streusel topping adds the perfect crunch and the pecans compliments the orange-cranberry flavor of the bread, making this bread the ultimate holiday bread .
And to make this bread extra special  I drizzled it with an orange glaze.
Enjoy!
HOW TO MAKE STREUSEL CRANBERRY ORANGE BREAD
 KRUSTEAZ® CRANBERRY ORANGE MUFFIN MIX: To make this bread I used Krusteaz Cranberry Orange Muffin Mix, I love that it comes with a can of real cranberries.
 DON'T LET THE TOP BURN: Don't let the top of your bread BURN! About half way through baking this bread, make sure to check to see if the top of the bread is getting too brown and if it is just place a piece of aluminum foil over top of bread for the rest of the baking time to avoid burning the top of the bread.
 MAKE AHEAD: This bread freezes very well for about 3-4 months. When ready to enjoy, place bread in refrigerator overnight to thaw. Then place the bread on your kitchen counter top for about 30-60 minutes to allow it to come to room temperature. Then make the orange glaze, drizzle on top of the bread and enjoy!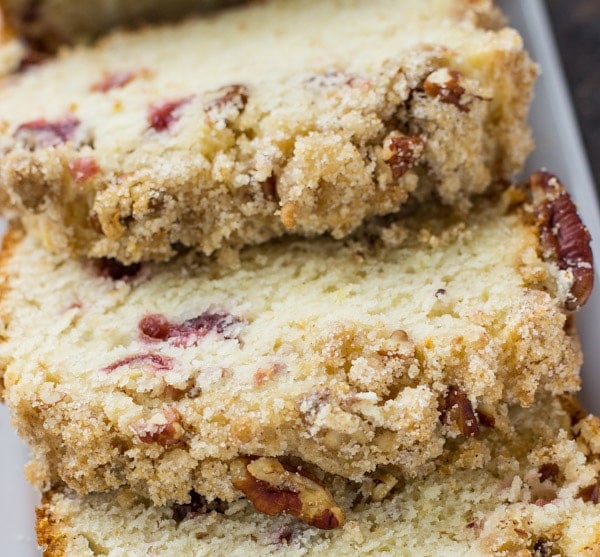 Yield: 1 Loaf
Streusel Cranberry Orange Bread
Prep Time 10 minutes
Cook Time 50 minutes
Total Time 1 hour
Ingredients
1/3 cup granulated sugar
¼ cup brown sugar
3 Tablespoons flour
¼ teaspoon ground cinnamon
½ cup chopped pecans
2 Tablespoons butter, melted
½ cup water
1/3 cup vegetable oil
2 large eggs
1 cup confectioners' sugar
¼ teaspoon grated orange zest
1 Tablespoon orange juice
I am a proud member of the Krusteaz® Baker's Dozen program. I was hired by the brand as an ambassador and content creator. Thank you for supporting my wonderful sponsors. They make it possible for me to keep the ideas coming! All content, ideas, photography and opinions are that of my own and I'd have it no other way!