Strawberry Banana Bread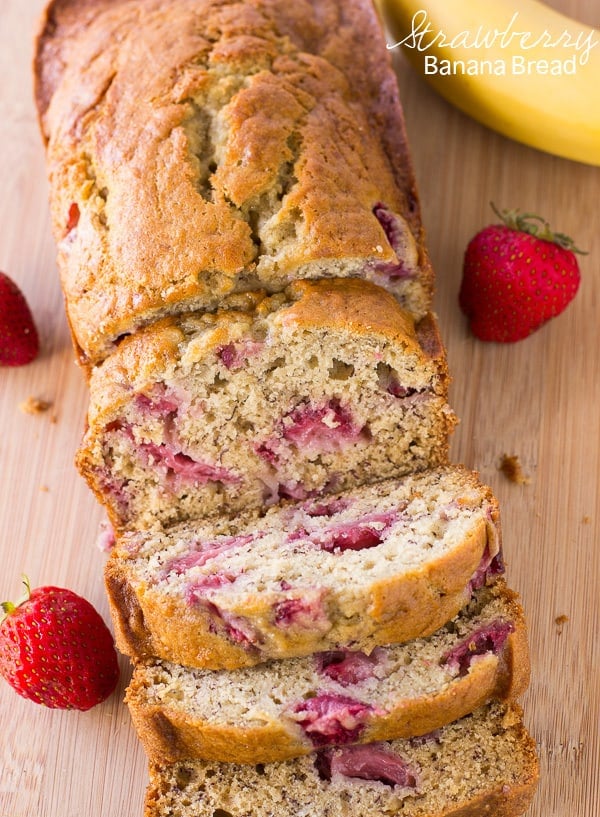 One of my favorite things to do during summer is going to our local farmers market to stock up on all the delicious, fresh vegetables and fruits, like these strawberries I used in today's Strawberry Banana Bread.
This bread is a simple to make quick bread perfect for breakfast or as a snack! I love banana bread but when you add fresh strawberries it takes this bread to a whole new level of deliciousness! And when this bread is baking in the oven, it makes your house smell amazing.
So the next time your at your local farmers market or store, don't forget to pick up some fresh strawberries and bananas so you can make this delicious bread. I know your going to love it!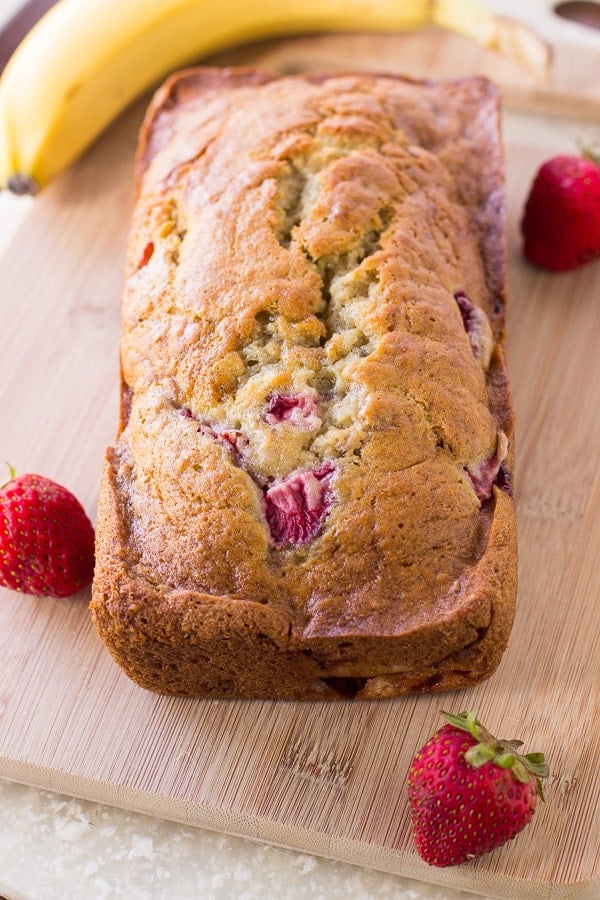 JUST A FEW BAKING TIPS:
✓ BAKING TRICK: Want to know the trick to get the big, fluffy top!? Well, it's easy, all I do is bake the banana bread at 375F for 15 minutes, then I REDUCE the heat to 350F and bake for an additional 30 minutes. I then let the bread completely cool before removing from loaf pan.
✓ DON'T LET THE TOP BURN: Don't let the top of your bread BURN! About half way through baking this bread, make sure to check to see if the top of the bread is getting too brown and if it is just place a piece of aluminum foil over top of bread for the rest of the baking time to avoid burning the top of the bread.
✓ MAKE AHEAD: This bread freezes very well for up to 3 months. When ready to enjoy, place bread in refrigerator overnight to thaw. Then place the bread on your kitchen counter top for about 30-60 minutes to allow it to come to room temperature before slicing and enjoying.
STEP-BY-STEP GUIDE ON HOW TO MAKE THIS STRAWBERRY BANANA BREAD:

★

To get the recipe for this bread, click here: Strawberry Banana Bread
6 Responses to "Strawberry Banana Bread"
Leave a Comment