Mint Oreo Truffles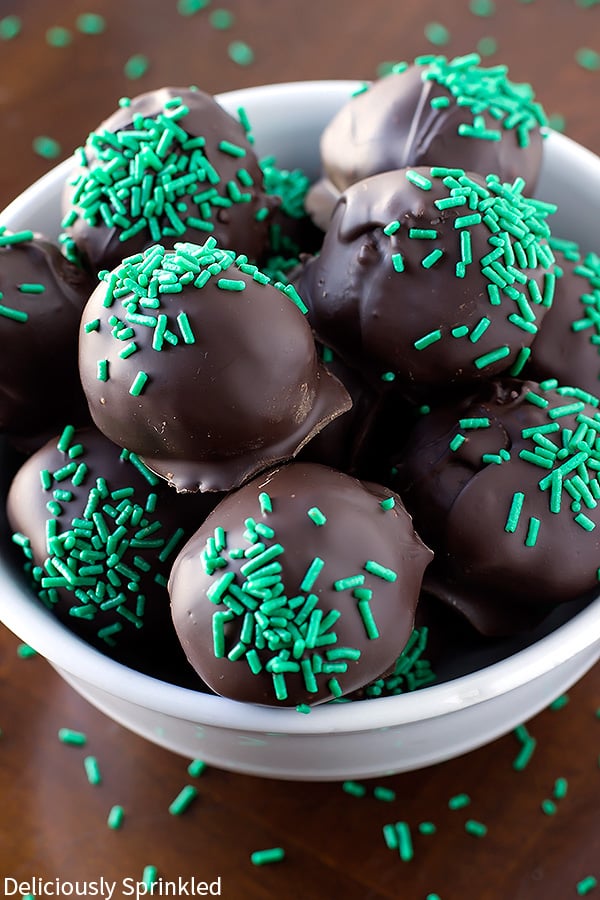 Sometimes, you just need something simple to make to bring to a party or a last minute gift. And these Mint Oreo Truffles are the perfect, no-bake dessert/candy that will guaranteed to be a huge hit. And they make a perfect St. Patrick's Day treat.
I love making Mint Oreo Truffles because not only are they super easy to make but to be honest, I need any excuse I can get to buy Mint Oreo cookies…they are one of my FAVORITE Oreo cookie flavors. And these Mint Oreo Truffles are the best of both worlds, to me they taste like a mix between a Mint Oreo and a Thin Mint cookie, which in my book these truffles are a match made in heaven.
JUST A FEW BAKING TIPS:
✔  When crushing the Mint Oreos in the food processor, you want to add the whole cookie, the filling and the cookie part. The mint filling from all the Oreo cookies are what gives these Truffles their amazing mint flavor.
✔ Freezing the Oreo balls is a MUST! If you do not freeze the Oreo balls, then the melted chocolate will not stick to the ball. So after you have rolled them into balls, make sure to place them in the freezer for about 30 minutes before dunking them into the melted chocolate.
✔ Here's the EASIEST way to coat the Oreo balls in chocolate:
(I like to use Ghirardelli baking chocolate for these truffles. Do NOT use chocolate chips, they will NOT coat the Oreo balls properly.)
STEP 1: Drop the Oreo ball in the middle of the melted chocolate. 
STEP 2: Coat the chocolate all the Oreo ball with a fork. 
STEP 3: Pick up the Oreo ball with a fork – do not pierce it, simply pick it up on top of the fork's prongs (see STEP 4 image below). 
STEP 4: Tap the fork on the edge of the bowl to allow the excess chocolate to drip off. Place on a lined baking sheet. Top with green SPRINKLES while the chocolate is still wet.
STEP-BY-STEP GUIDE ON HOW TO MAKE THESE MINT OREO TRUFFLES:

Mint Oreo Truffles
Yield: 30 Oreo Truffles
Prep Time: 45 minutes (includes freezing time)
Total Time: 45 minutes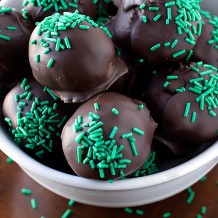 Ingredients:
1  package Mint Oreos
1 (8oz.) package cream cheese, softened
1 (24 oz.) bag semi-sweet chocolate chips
12 ounces high quality semi-sweet chocolate baking bars
green sprinkles
Directions:
PRE-STEP: Line two large baking sheets with parchment paper or silicone baking mats. Set aside.
STEP 1: Using a food processor, process the Oreos (the entire cookies) until cookies are crumbly.
STEP 2: Using a hand-held or stand mixer, beat the Oreo crumbs with the cream cheese and chocolate chips until combined.
STEP 3: Using your hands, roll Oreo mixture into 30 balls. Place balls onto prepared baking sheets. Freeze the Oreo balls for about 30 minutes.
STEP 4: Melt chocolate baking bars according to package directions.
STEP 5: Working with 1 Oreo ball at a time, coat in chocolate.  Place on a lined baking sheet and top with sprinkles while the chocolate is still wet.
STEP 6: Refrigerate truffles for at least 10 minutes so the chocolate sets. Truffles must always be kept chilled.
*Store truffles in a closed container in the fridge for up to 5 days. Truffles can be frozen for up to 3 months, when ready to enjoy just thaw them in the fridge.
13 Responses to "Mint Oreo Truffles"
Leave a Comment