Easy Egg Bake
This Easy Egg Bake recipe is certain to start your morning off on a delicious note.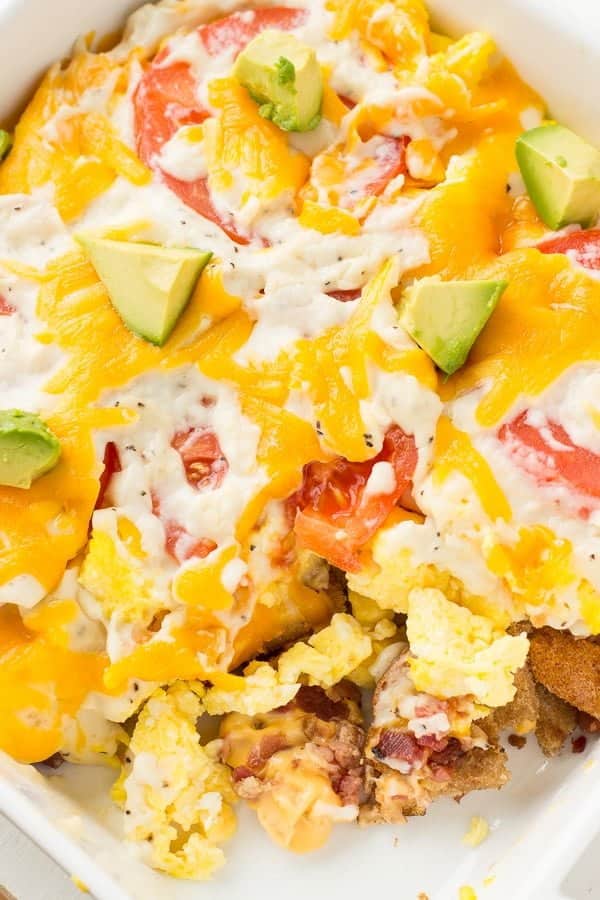 If you are anything like me, you love and adore the cooking power of eggs. Oddly enough, I'm always amazed by how some people just tend to forget about these awesome little protein packers when it comes to delicious recipe ideas.
For me, I cook with eggs any chance I can. And with good reason! Eggs are versatile, packed with protein and take on the flavors of seasonings and condiments perfectly.
One of my favorite egg casseroles to whip up in a jiffy is this Easy Egg Bake recipe. And when I say "jiffy", I'm not kidding around! From start to finish this amazing egg bake takes only 20 (yes, you read that right!) minutes!
It literally takes me longer to drink my first cup of coffee in the morning than it does to whip up this delicious Easy Breakfast Egg Bake! But the true reason that I'm head over heels for this recipe?
It's all about the bacon! Why not make your taste buds truly dance by cooking up this awesome super easy egg bake WITH bacon? It's the perfect way to start your day, or take a midday break and treat yourself to an awesome brunch. It also makes for an easy breakfast to make your mom on Mother's Day.
If you have twenty minutes to spare, you'll be so happy that you did! Give this recipe a go and be prepared to instantly want a second helping before you're already finished with your first!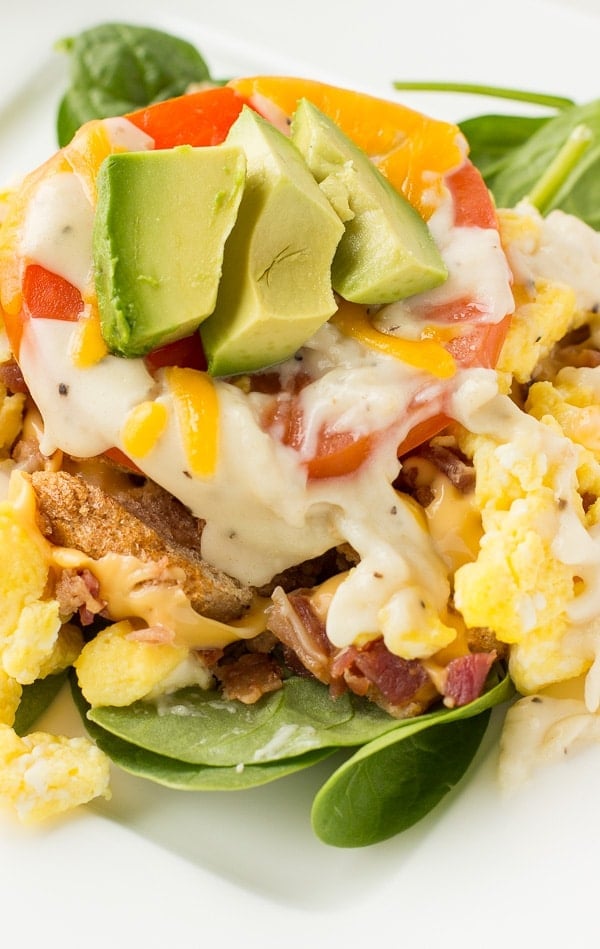 HOW TO MAKE AN EGG BAKE
BAKING DISH: To make this egg bake, you just need a 8-inch square baking dish. This is the one I used and it's my favorite!
ADD YOUR FAVORITE VEGGIES: I love that you can add all your favorite veggies to this egg bake. I've added sautéed mushrooms, onions, green peppers and even zucchini.
TOPPINGS: I like to top this egg bake with avocado slices, but shredded cheese is all you really need.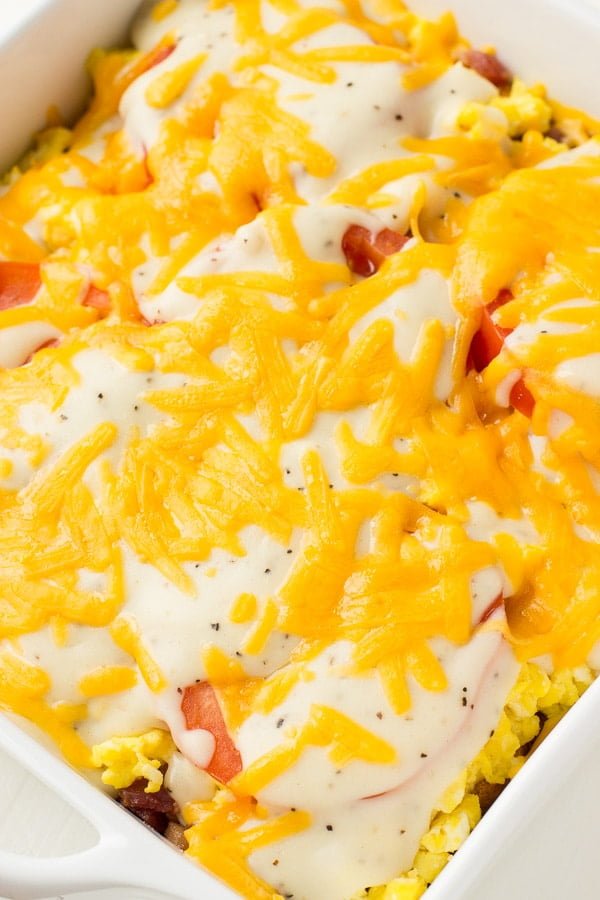 MORE BREAKFAST RECIPES
VEGGIE HASH BROWN BREAKFAST BURRITO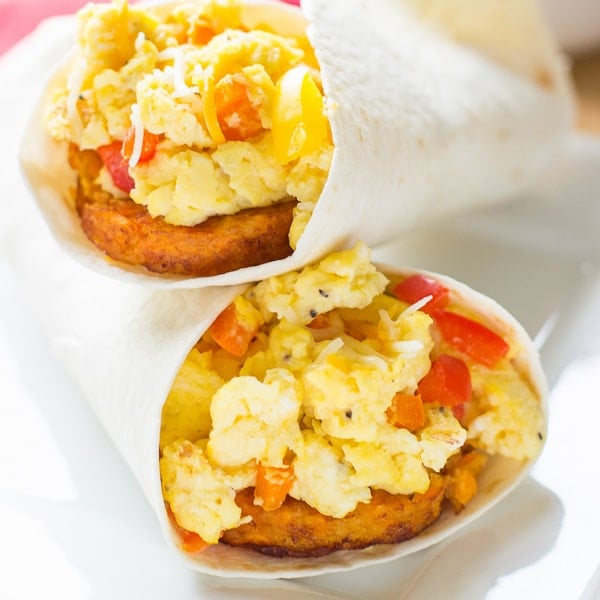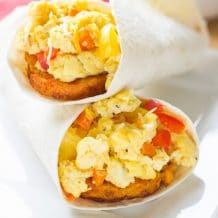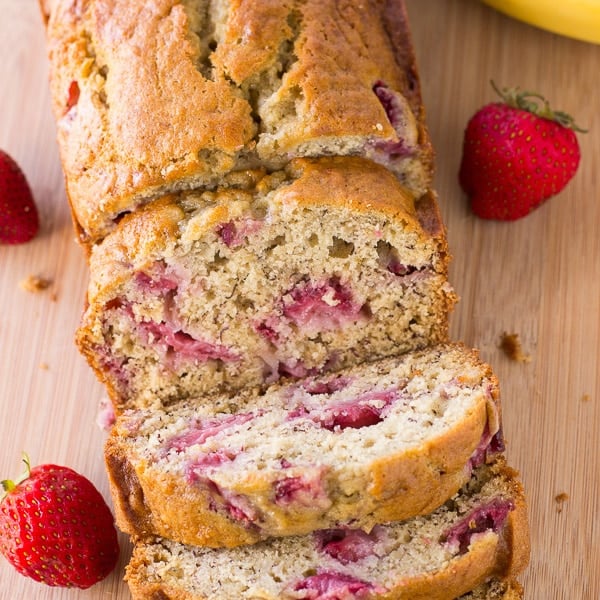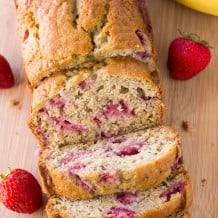 APPLE STREUSEL FRENCH TOAST BAKE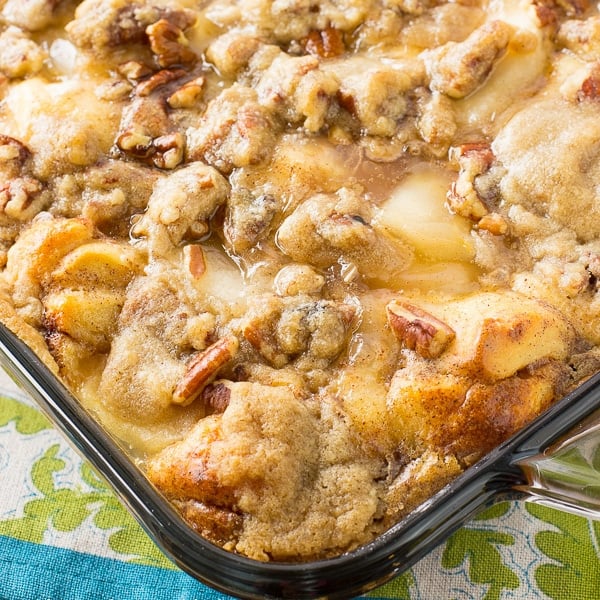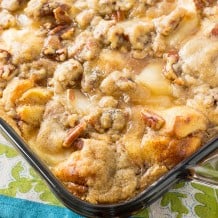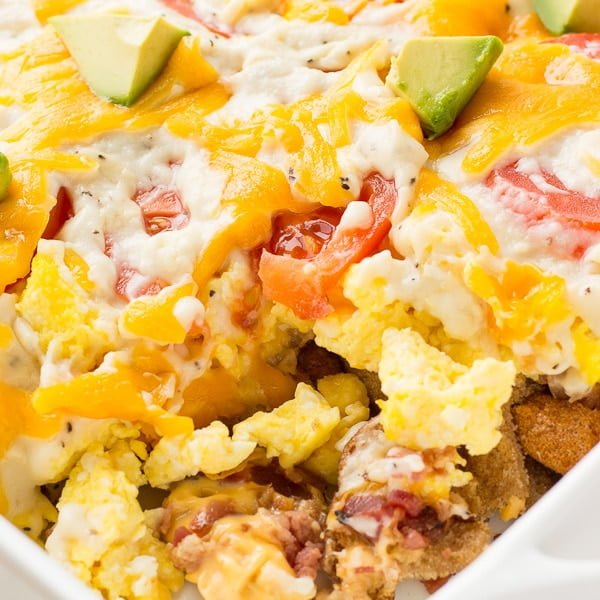 Yield: Serves 6
Easy Egg Bake
Prep Time 10 minutes
Cook Time 10 minutes
Total Time 20 minutes
Ingredients
1/4 cup mayonnaise
5 slices bread, toasted
4 slices american or cheddar cheese
12 bacon strips, cooked and crumbled
4 large eggs
1 medium tomato, sliced
2 tablespoons butter
2 tablespoons all-purpose flour
1/4 teaspoon salt
1/8 teaspoon pepper
1 cup milk
1/2 cup shredded cheese
2 green onions
avocado, sliced
Instructions
PRE-STEP: Pre-heat oven to 325F.
STEP 1: Spread mayonnaise on one side of each slice of toasted bread and cut into small pieces.
STEP 2: Arrange toast, mayonnaise side up, in a greased 8-inch square baking dish.
STEP 3: Top with cheese slices and bacon.
STEP 4: In a skillet, scramble eggs over medium heat until fully cooked. Place scrambled eggs over bacon. Top with tomato slices; set aside.
STEP 5: In a saucepan, melt butter. Stir in flour, salt and pepper until smooth. Gradually add milk. Bring to boil; cook and stir for 2 minutes or until thickened. Pour over tomatoes.
STEP 6: Sprinkle with cheddar cheese and onions. Bake, uncovered, for 10 minutes. Serve and top with avocado slices.