LEMON POPPYSEED ZUCCHINI BREAD
No matter how bad it is for you, I just love bread. And, I especially love sweet bread with my morning coffee. This Lemon Poppyseed Zucchini Bread is a perfect breakfast or snack option and it is super easy to make. Plus, it tastes so much better than what you would find on the shelves, anyways.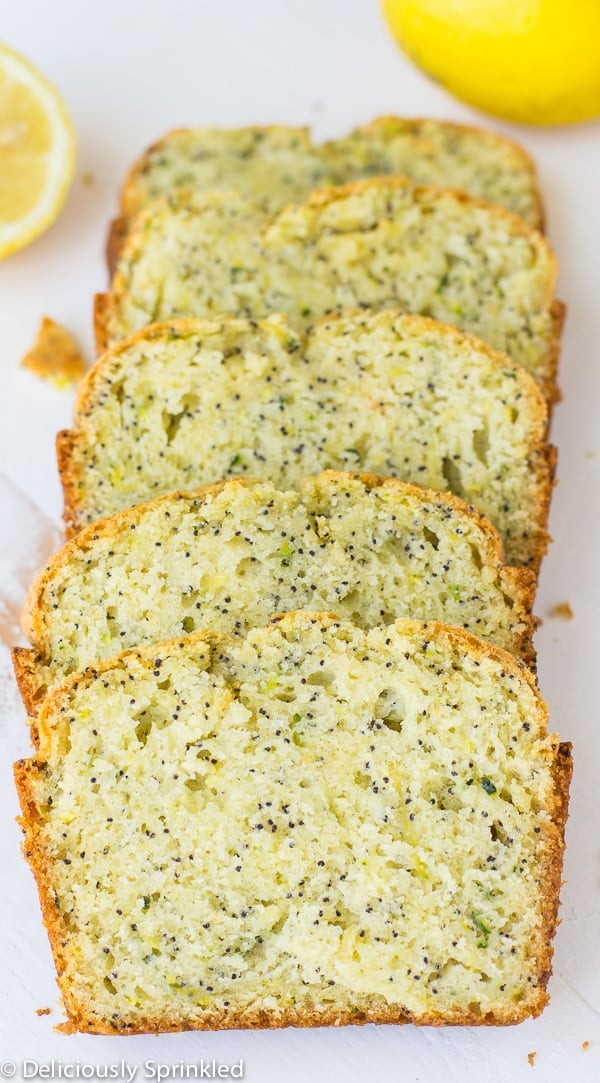 Lemon Poppyseed Zucchini Bread
I love making my own bread. The sweet aroma of the bread rising fills the house and smells just like grandmas always used to. Not only is this recipe super easy, but it's baking your own bread is so much better for you than the store-bought stuff.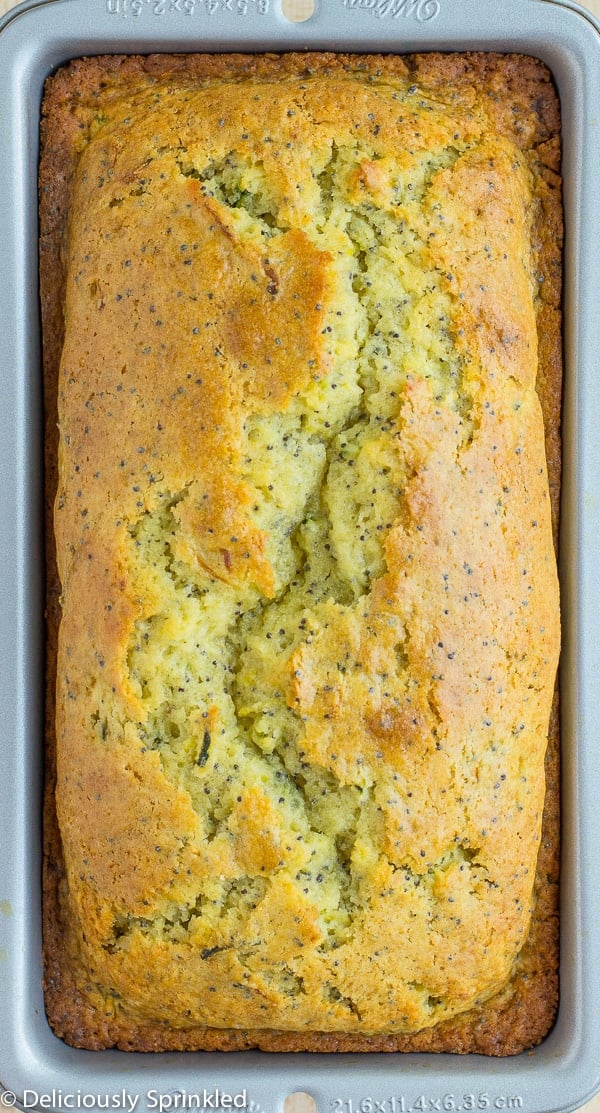 ZUCCHINI BREAD INGREDIENTS
For this easy Zucchini bread recipe, you will need the following ingredients:
Flour, baking powder, and baking soda: All ingredients you need for fluffy, delicious bread that rises.
Sugar: A little bit of sugar makes this a delicious snack.
Lemon pudding mix: You will only need 1 package of lemon pudding mix
Salt: A little dab will do you.
Eggs: Farm fresh eggs are the best, but any large eggs will work.
Milk: If you want it a little more moist, use whole milk.
Vegetable oil: It's kind of hard to make anything without a little oil.
Lemon juice and lemon extract: You can't really get the lemon taste without a little lemon flavoring.
Shredded zucchini: You will need about 2 medium-size zucchini's.
Poppy seeds: These are just the icing on the bread.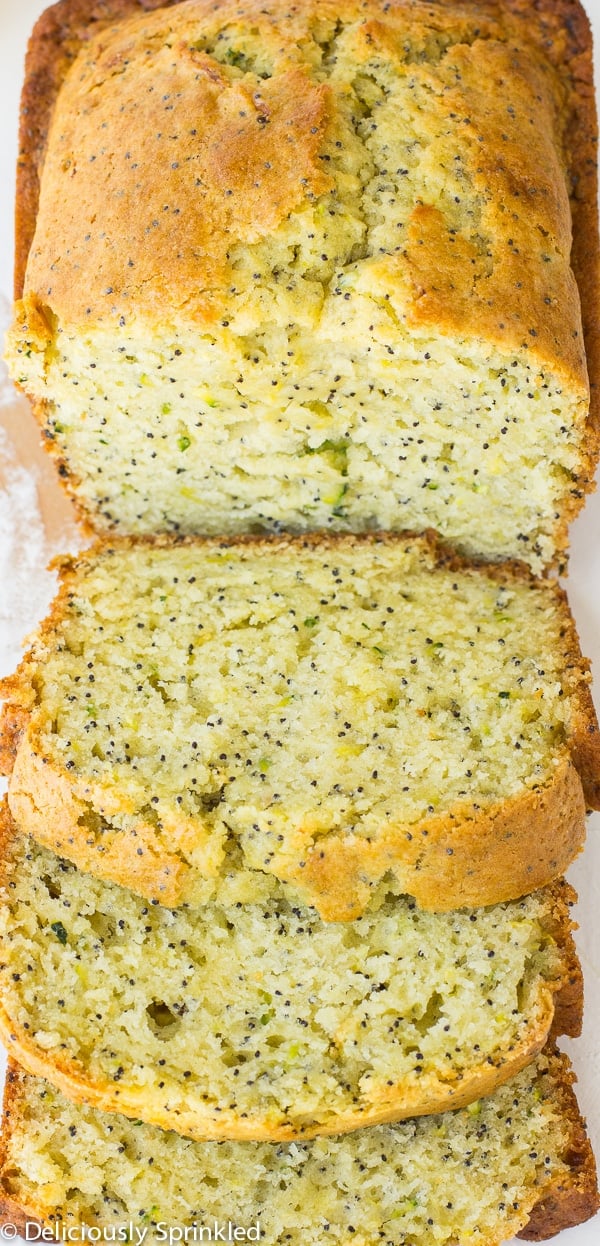 HOW TO MAKE LEMON POPPYSEED BREAD
Scroll down below for the printable step-by-step recipe
Preheat: Preheat your over to 350F degrees. Then, spray two 9×5 loaf pan with non-stick spray.
Shred zucchini: You can shred your zucchini with a food processor with a shredder attachment.
Make the Dough: In a large bowl, combine flour, sugar, pudding mix, baking soda, baking powder, and salt. In another bowl whisk eggs, milk, oil, lemon juice, and lemon extract together. Pour liquid ingredients into dry ingredients and then mix.
Add zucchini and poppy seeds: Once you have made the dough, fold in the zucchini and poppy seeds.
Bake Zucchini bread: Pour the zucchini mixture into your long pans. Bake for 50-55 minutes. Cool for 10 minutes before removing from pans.

Is Zucchini Bread Good for You?
Let's be honest; no it's not really good for you. We could say, you are getting you're serving of veggies, but the sugar and flour kind of outweigh the healthiness of the zucchini. However, baking your own bread of any kind is always healthier than buying store-bought. This is because you are not using any chemicals or preservatives. If you want to make this recipe healthier, consider using whole wheat pastry flour and Stevia sugar instead.
How Long Does Zucchini Bread Last?
Freshly baked zucchini bread will last 1-2 days if you just leave it on your counter. However, if you store it properly, it can keep well for almost a week.
How do You Store Lemon Poppyseed Zucchini Bread?
Zucchini bread can be left on the counter for a couple of days or you can store it to maintain its freshness. There are two ways you can store your zucchini bread. You can store it in the refrigerator or you can freeze it.
Refrigerate Zucchini Bread
To maximize the life of your zucchini bread in the fridge, you will want to cover it with foil or plastic wrap and place it in a plastic ziplock bag. Then, put it in the refrigerator. The foil and plastic bag will keep your zucchini bread from drying out. It should last a week if you put it in the fridge this way.
Freeze Zucchini Bread
You can also freeze your zucchini bread for about 2 to 3 months. You will need to wrap it tightly with aluminum foil or plastic wrap. Then, you will place it in a plastic ziplock freezer bag and put it in your freezer.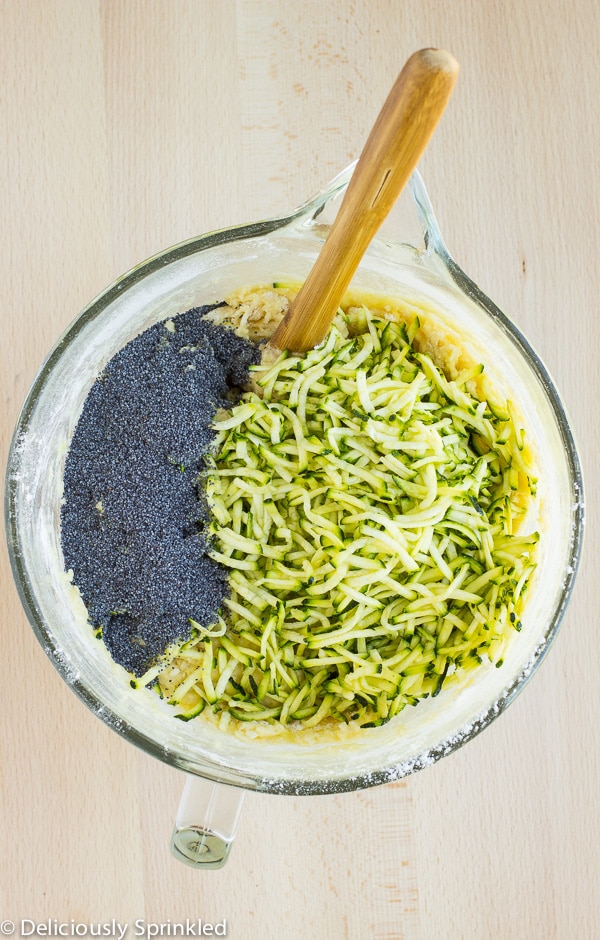 MORE RECIPES TO TRY
Don't stop at making zucchini bread. Check out our other delicious bread recipes!
If you have tried this Mint Chocolate Chip Cupcake recipe, then please rate it in the recipe card and let me know how it turned out in the comments below!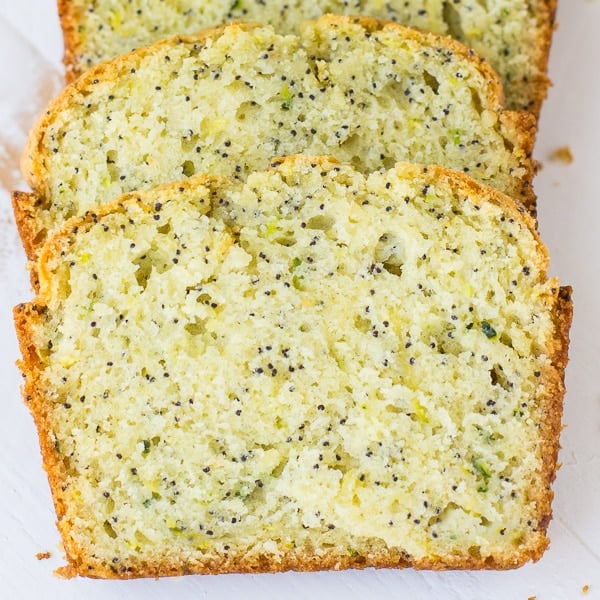 Yield: 2 Loafs
Lemon Poppyseed Zucchini Bread
Prep Time 25 minutes
Cook Time 55 minutes
Total Time 1 hour 20 minutes
Ingredients
4 cups all-purpose flour
1 1/2 cups granulated sugar
1 package (3.4 oz.) instant lemon pudding mix
1 1/2 teaspoons baking soda
1 teaspoon baking powder
1 teaspoon salt
4 large eggs
1 1/4 cups milk
1 cup vegetable oil
3 tablespoons lemon juice
1 teaspoon lemon extract
2 cups shredded zucchini (about 2 medium sized zucchini's)
1/4 cup poppy seeds
Instructions
Preheat oven to 350F degrees. Spray two 9x5 loaf pan with nonstick spray. Set aside.
Shred two zucchini's using a food processor with shredder attachment.
In a large bowl, combine flour, sugar, pudding mix, baking soda, baking powder and salt.
In another bowl, whisk eggs, milk, oil, lemon juice and lemon extract.
Pour lemon mixture into dry ingredients and mix until JUST COMBINED! Do not OVER MIX!
Fold in zucchini and poppy seeds.
Pour zucchini bread mixture into prepared loaf pans and bake for 50-55 minutes or until a toothpick inserted near the center comes out clean. Cool for 10 minutes before removing from pans to wire racks to cool completely.
This blog post contains affiliate and/or referral links, which pay me a small commission for recommending my favorite products at no extra cost to you! Additionally, as an Amazon affiliate, I earn from qualifying purchases.