Easy Bacon Ranch Broccoli Salad
This Bacon Ranch Broccoli Salad will be your new summer go-to salad each and every time.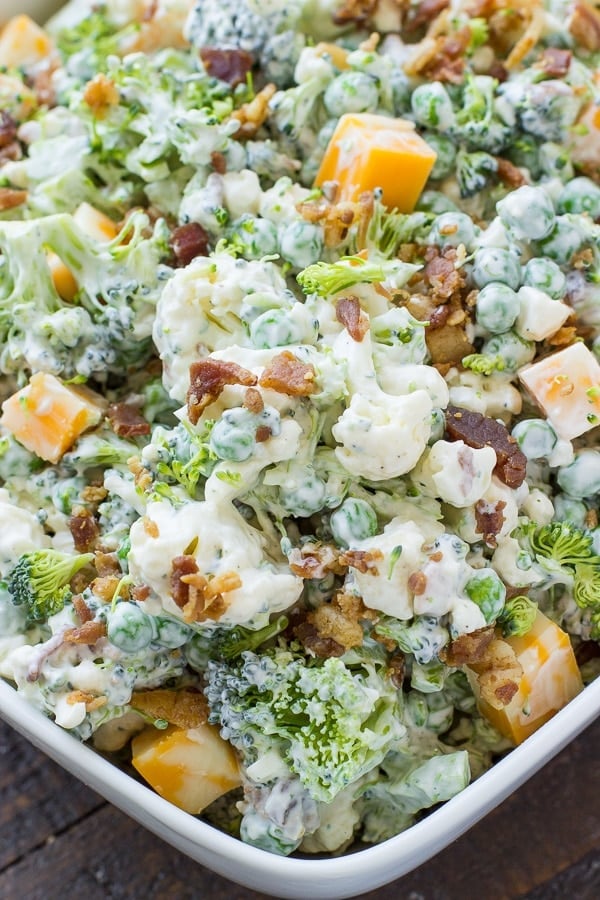 Can we be honest with each other for a moment? While I love the thought of being healthy and eating salads each and every day, it's just not logical for me and my taste buds. I know the importance of getting the vegetables into my mouth and body for good health reasons, but after a while, I just CRAVE more flavor and options.
And this is why, without a doubt, I'm super-stoked to share this amazing Bacon Ranch Broccoli Salad recipe with you. While it's not your traditional salad, it's still packed full of healthy and delicious veggies like broccoli, cauliflower, onions, and peas and…(drumroll, please!)…Bacon!
When I say that this recipe is easy, it truly is. Like insanely simple easy. No cooking at all easy…just cut up veggies, mix in the dressing and let those flavors melt together perfectly easy.
Not only can this Bacon Ranch Broccoli Salad be enjoyed and eaten right away, I've found that once you have it prepared, it's one of those recipes that seem to taste better the very next day once it's had time to chill and rest.
If you are looking for a way to take your simple salads to a whole other level, this Bacon Ranch Broccoli Salad recipe is exactly what you need!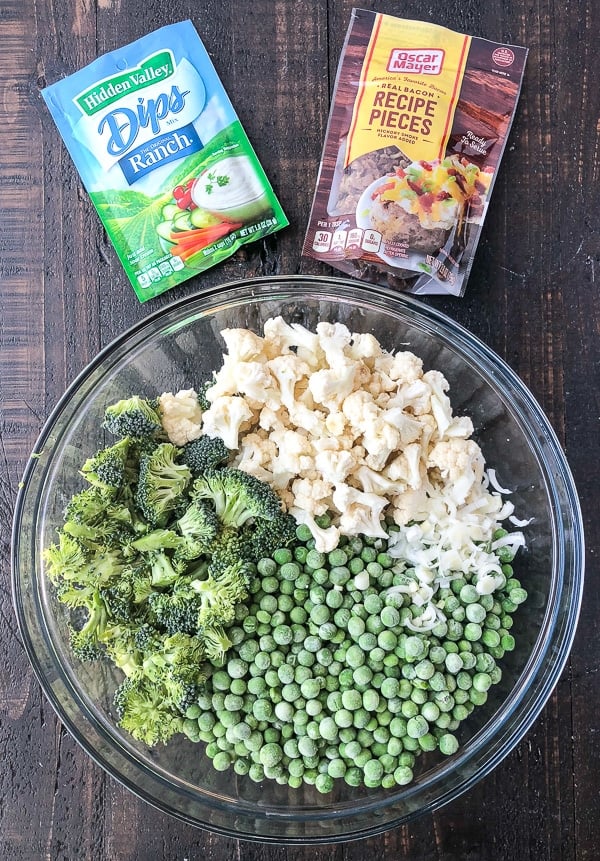 INGREDIENTS YOU'LL NEED TO MAKE THIS BROCCOLI SALAD
✓  CAULIFLOWER
✓ BROCCOLI
✓ GREEN ONIONS
 ✓ BACON
✓ FROZEN PEAS
✓ SOUR CREAM
 ✓ MAYO
✓ HIDDEN VALLEY RANCH PACKET
✓ COLBY JACK CHEESE STICKS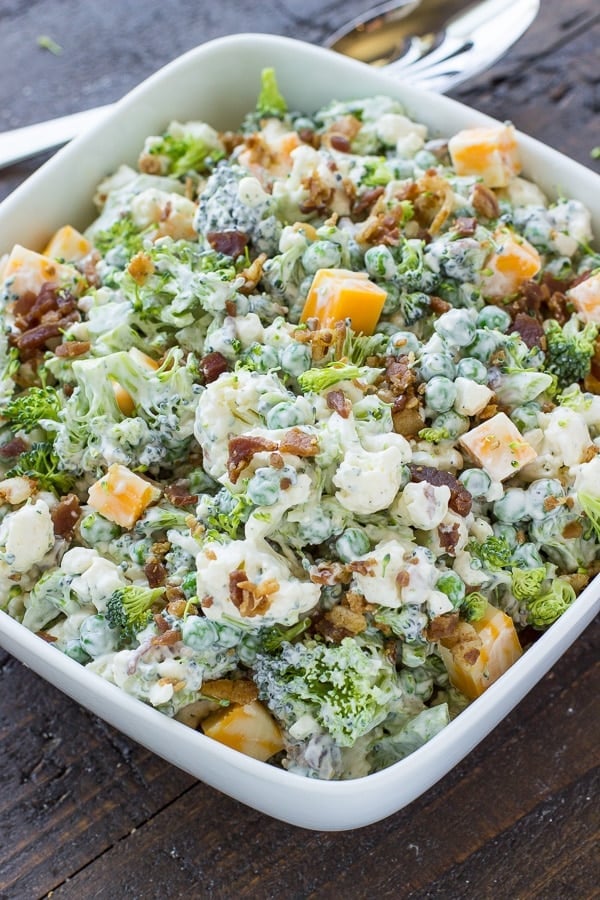 HOW TO MAKE THIS SALAD
EASY BACON TIP: I don't know about you but I'm not a big fan of making bacon. So, to make things easy I love theseOscar Meyer Real Bacon Recipe Pieces. I used 2 (2.8 oz.) packages for this recipe.
CHEESE STICKS: Again, to make things easy. I used these Sargento Colby Jack Cheese Sticks and cut each stick into pieces to make small cubes.
MAKE-AHEAD: This broccoli salad can be made the day before. I just add the cheese and bacon right before I'm ready to serve it, just so the bacon and cheese don't get soggy/soft.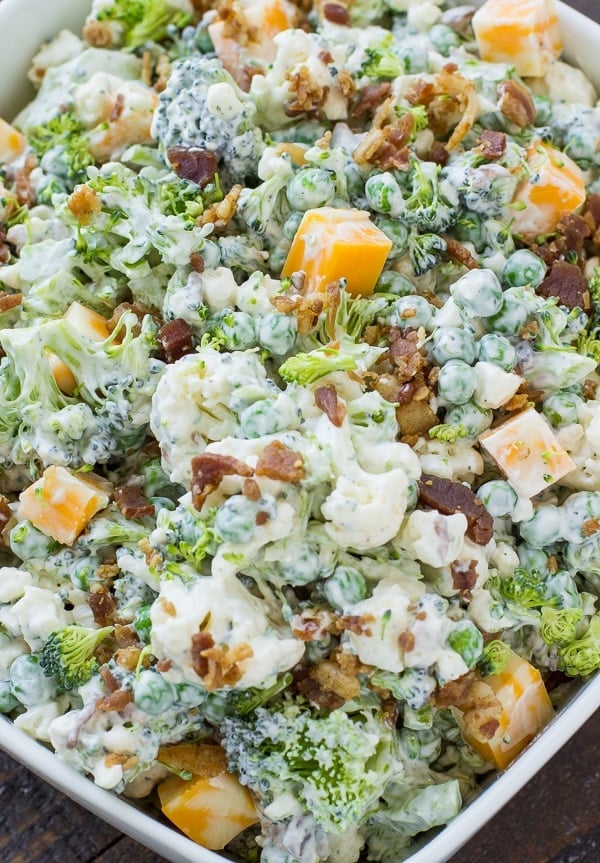 MORE SIDE DISH RECIPES TO TRY
CREAMY BACON RANCH POTATO SALAD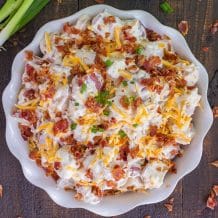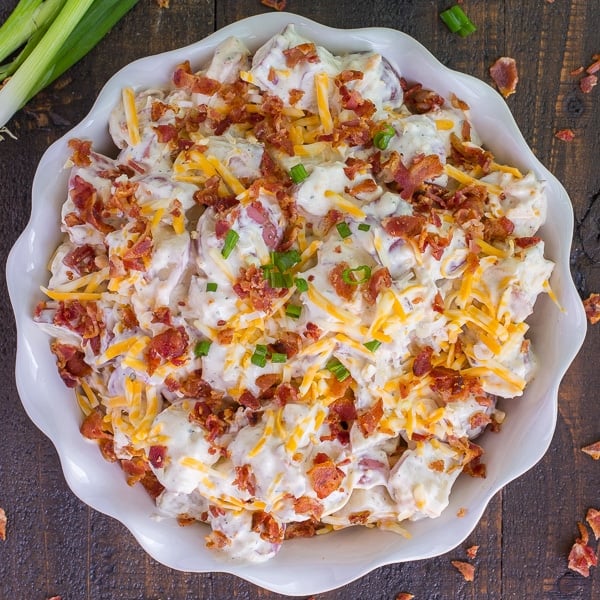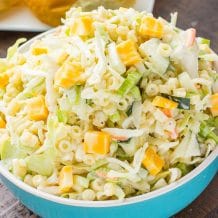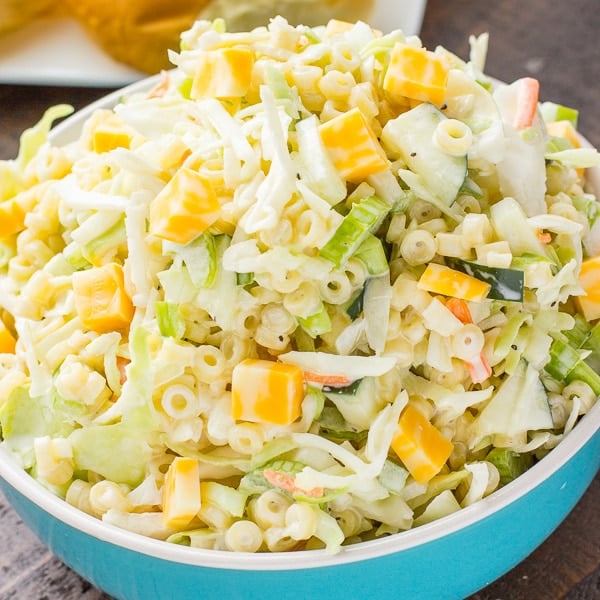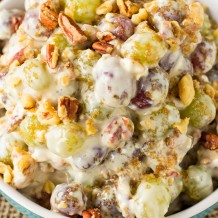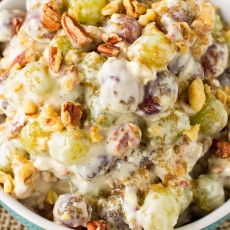 Bacon Ranch Broccoli Salad
Yield: Serves 12
Prep Time: 10 minutes
Total Time: 10 minutes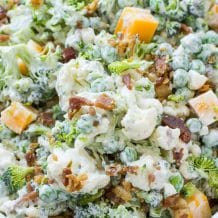 Ingredients:
SALAD:
1 head of cauliflower
1 bunch broccoli
1 bunch green onions, diced
1 cup fried & crumbled bacon or 2 (2.8 oz.) packages real bacon recipe pieces
1 (10 oz.) bag frozen peas
Colby jack cheese, cubed or 12 colby jack cheese sticks
DRESSING:
1 cup sour cream
1 cup mayo
1 packet dry ranch dressing mix
Directions:
STEP 1: Cut up cauliflower and broccoli into small pieces.
STEP 2: In a large bowl, add cauliflower, broccoli, diced green onions,  bacon, frozen peas and cubed colby jack cheese.
STEP 3: In a medium sized bowl, mix sour cream, mayo and ranch packet together. Pour dressing over salad and mix well.
Leave a Comment