Pumpkin Dip
Trust me when I say, this is the BEST pumpkin dip you'll eat this year! It's light, quick, easy, and most importantly – delicious. Perfect for serving at your next Thanksgiving party (will those be a thing this year?).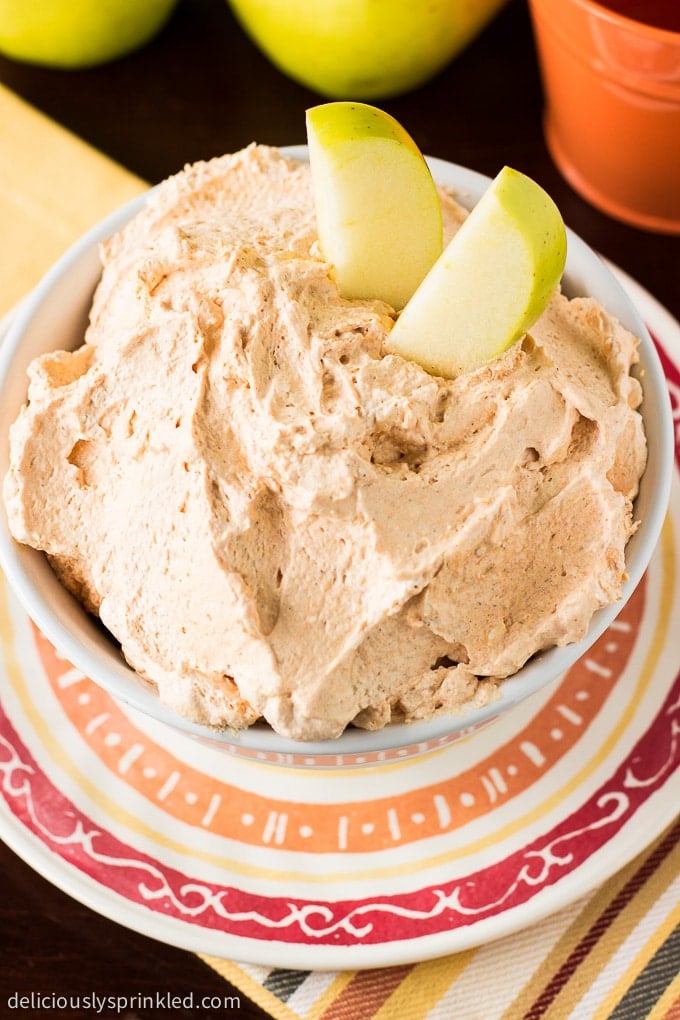 EASY PUMPKIN PIE DIP
In case you missed it, pumpkin season is here. EVERYWHERE is pumpkin EVERYTHING and it's all glorious and delicious. I love pumpkin flavor and pumpkin spice and I consider it all tasty and nice (see what I did there?!).
I love this pumpkin dip because sometimes…I just want something that's a bit "lighter" and quick and easy. While it would be entirely possible for me to eat a piece of pumpkin pie each and every day… I like having this pumpkin pie dip on the back burner for my snacking needs.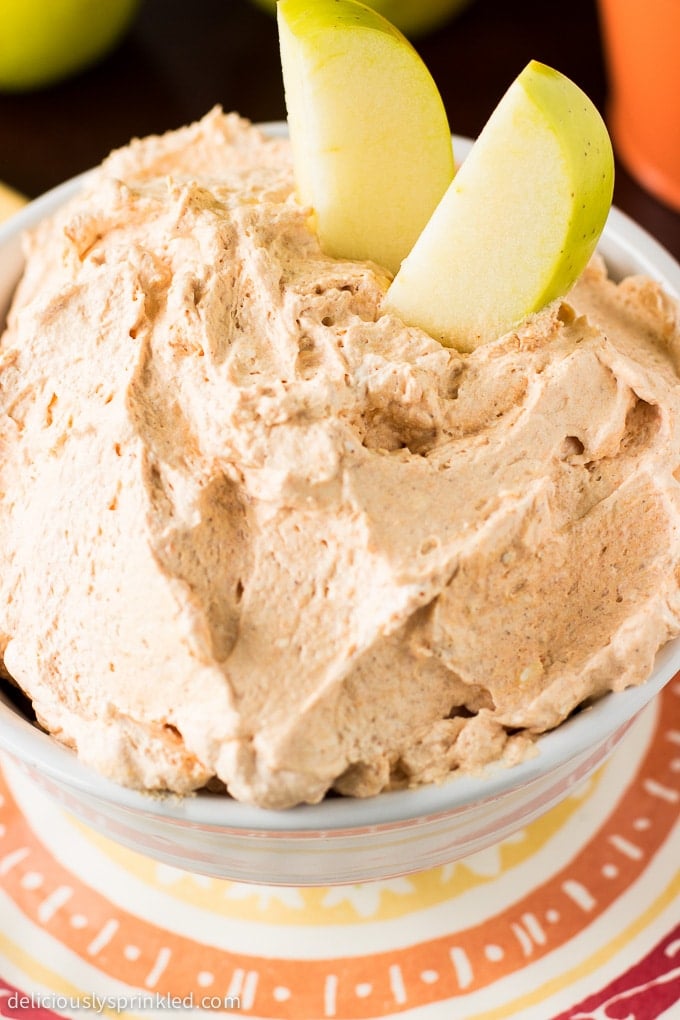 RECIPE FOR PUMPKIN DIP
The best part of this recipe? It's always a hit when I make it and take it to fun parties as well! It's a real crowd-pleaser. Everyone loves that pleasant pumpkin taste and can't wait to have another bite! (But please, no double dipping! There's more than enough to go around!)
If you are looking for a quick and easy pumpkin dip that'll steal the show, this is one you won't want to miss. I always say it's a good idea to have a practice "test" before making the real deal for others, so have fun "making and tasting" your way to pumpkin dip perfection!
Scroll down below for the full recipe for pumpkin dip!
TOOLS TO HELP YOU
MIXING BOWLS: I love these mixing bowls, they're so durable and the colors are so fun! (We all need more color in today's world, don't you think?)
SPATULA: Everyone needs a GOOD spatula and this one is my favorite. It's ergonomic and heat resistant – I'm OBSESSED with these!
DIP BOWL: I love a cute chip and dip serving set! These work so well for parties.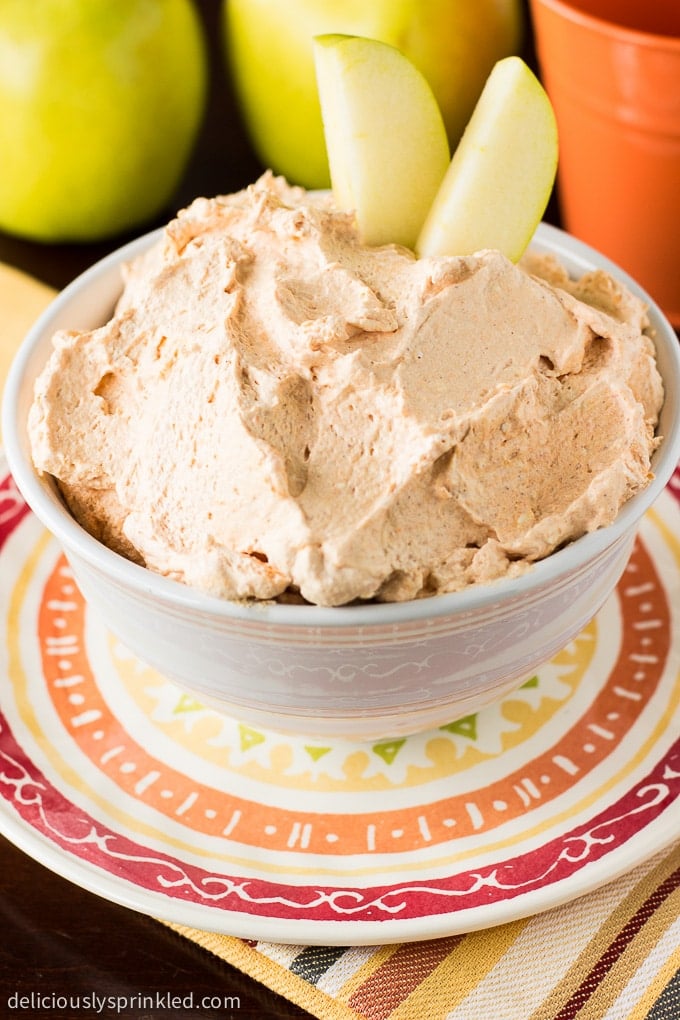 PUMPKIN DIP INGREDIENTS
For this pumpkin dip, you'll need these easy ingredients:
PUMPKIN: you'll need 100% pure pumpkin for this recipe!
SUGAR: we used powdered sugar for this pumpkin dip.
CREAM CHEESE: make sure to soften your cream cheese first!
CINNAMON: ground cinnamon adds a delicious flavor to this dip!
COOL WHIP: we also used thawed cool whip for the creamy dip texture.
HOW TO MAKE PUMPKIN DIP
Scroll down for a step-by-step printable pumpkin dip recipe!
MIX INGREDIENTS: use a stand mixer to beat the pumpkin and then add powdered sugar, cream cheese, and ground cinnamon; beat until smooth and creamy.
ADD COOL WHIP: fold in the cool whip topping and place in the fridge until you're ready to serve.
SERVE AND ENJOY: serve your pumpkin pie dip with fruit slices or graham crackers and enjoy!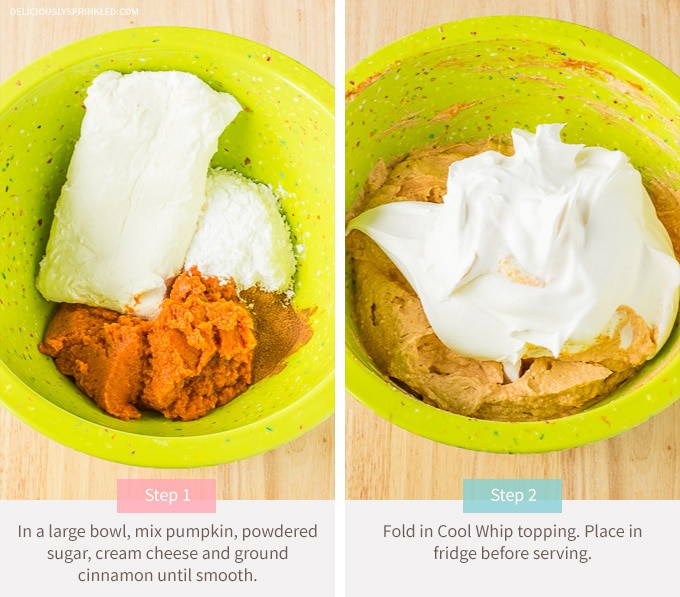 CAN I USE PUMPKIN PIE FILLING?
Yes. I recommend using 100% pure pumpkin if possible, however. If you use pumpkin pie mix, just don't add the ground cinnamon or pumpkin pie spice because the pumpkin pie mix already has it in it.
HOW LONG DOES CREAM CHEESE TAKE TO SOFTEN?
Not long! About an hour before you plan on making this pumpkin dip, take the cream cheese out of the fridge and set it out on the counter to soften.
WHAT SHOULD I SERVE WITH PUMPKIN PIE DIP?
Serve this dip with apple slices, pear slices or graham crackers. Or if you're like me, I could just eat this dip with a spoon!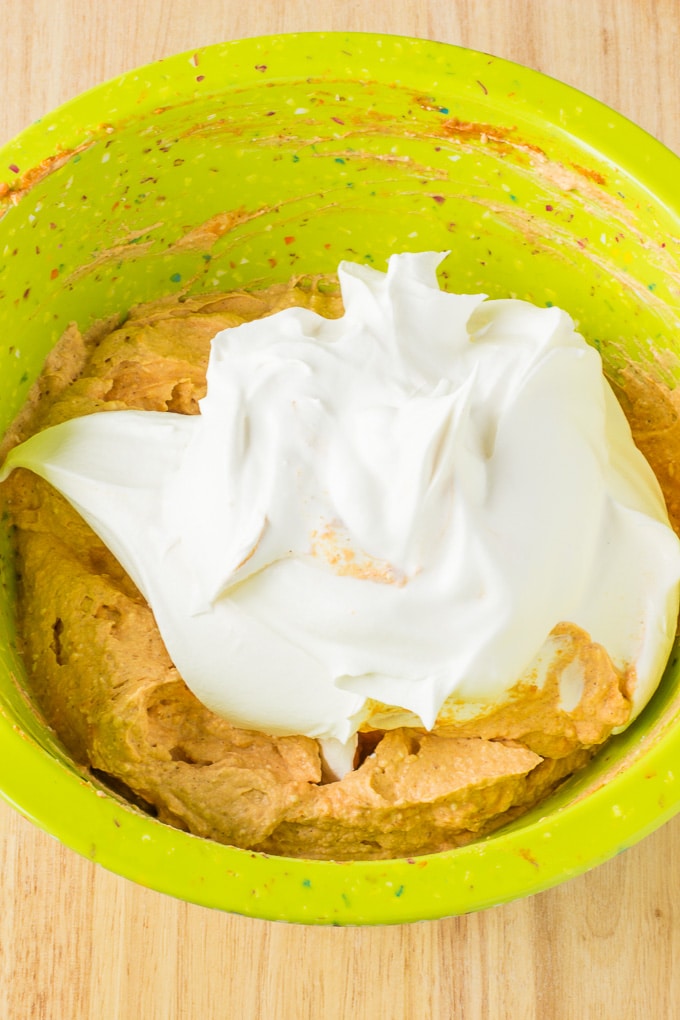 MORE PUMPKIN RECIPES:
MORE DIP RECIPES:
If you have tried this Pumpkin Dip recipe, then please rate it in the recipe card and let me know how it turned out in the comments below!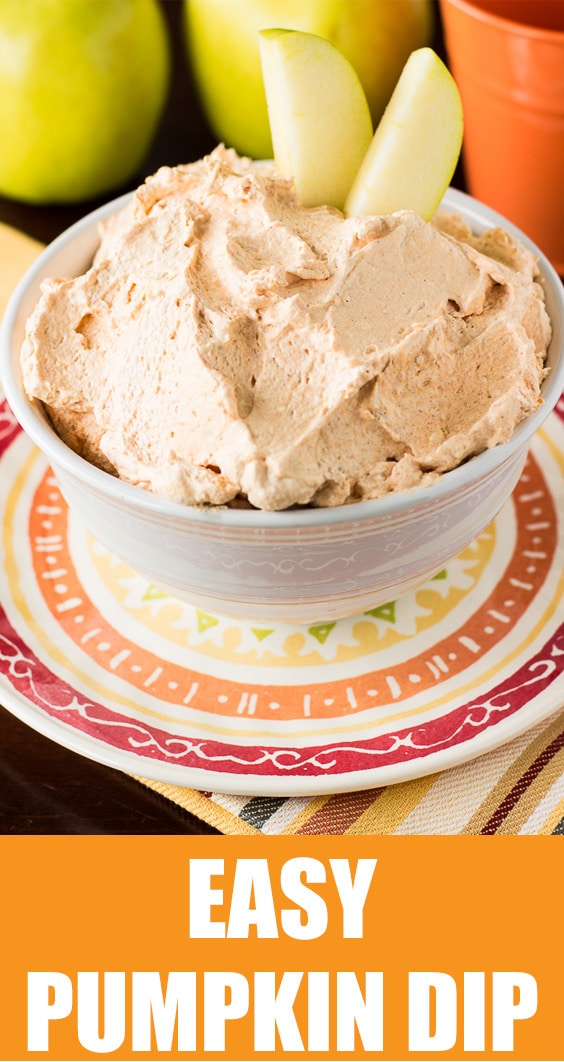 Yield: 16 Servings
Pumpkin Dip
Prep Time 10 minutes
Total Time 10 minutes
Trust me when I say, this is the BEST pumpkin dip you'll eat this year! It's light, quick, easy, and most importantly – delicious. Perfect for serving at your next Thanksgiving party.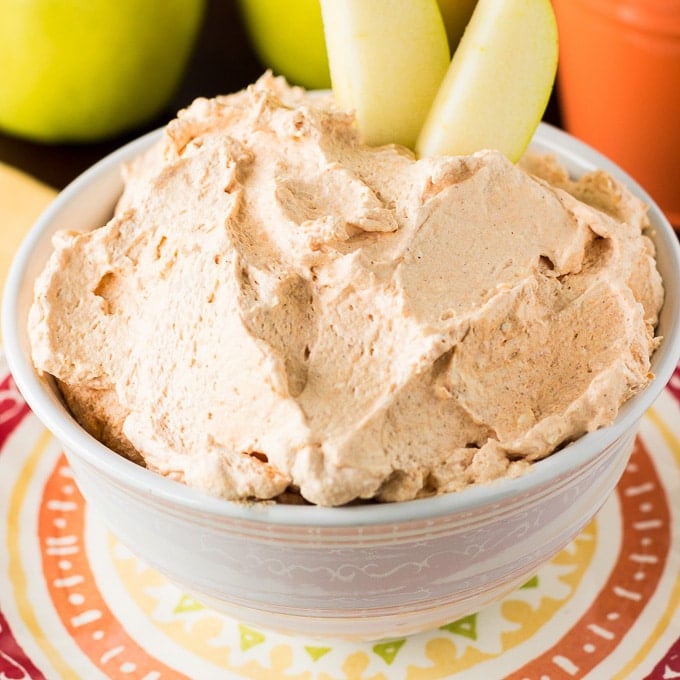 Ingredients
1 cup canned pumpkin puree
1/2 cup confectioner's (powdered) sugar
1 package (8 ounces) cream cheese, softened
1/2 teaspoon ground cinnamon
1 tub (8 ounces) Cool Whip topping, thawed
apple slices, pear slices, graham crackers, for dipping
Instructions
Using an electric or stand mixer, beat the pumpkin, powdered sugar, cream cheese, and group cinnamon until smooth and creamy.
Fold in cool whip topping. Place in fridge until ready to serve.
Serve with apple slices, pear slices, graham crackers. Enjoy!
Nutrition Information:
Yield:
16
Serving Size:
1
Amount Per Serving:
Calories: 27
Total Fat: 1g
Saturated Fat: 0g
Trans Fat: 0g
Unsaturated Fat: 0g
Cholesterol: 2mg
Sodium: 17mg
Carbohydrates: 5g
Fiber: 1g
Sugar: 3g
Protein: 1g
This blog post contains affiliate and/or referral links, which pay me a small commission for recommending my favorite products at no extra cost to you! Additionally, as an Amazon affiliate, I earn from qualifying purchases.