Homemade Buttermilk Pancakes
It doesn't get much better than a big stack of Homemade Buttermilk Pancakes in the morning or I sometimes have them for dinner, too! These light and fluffy pancakes with their delicious buttermilk flavor are the perfect way to start or end your day.
Making these Homemade Buttermilk Pancakes is so simple. Seriously, once you make these pancakes you will never make pancakes from the box again. And the best part is they taste WAY better than any box mix. Trust me…make these pancakes this weekend and I guarantee your family will love them! ❤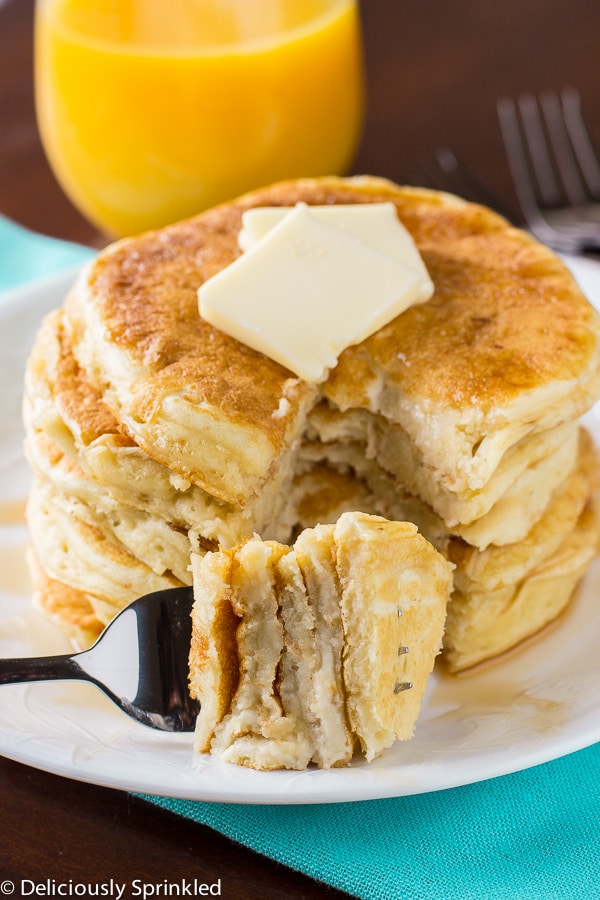 JUST A FEW BAKING TIPS:
✓ DON'T OVERMIX: When mixing the wet ingredients into the dry ingredients, you only want to mix the batter  until you don' see any more flour, the batter will be LUMPY! Overmixing your pancake batter will result in dense, heavy pancakes.
✓ LET THE BATTER REST: While you are waiting for the griddle to get hot, let the batter rest. This allows the gluten to relax and settle, which means the pancakes will be more tender. Yummy!
✓ GRIDDLE TIP:  If you are using a griddle, make sure it's hot enough before putting the pancake batter on it. I like to do a test to make sure the griddle is hot enough. What I like to do is drop a tablespoon of pancake batter in the center. If, after one minute, the pancake is golden brown on the bottom, the pan is ready. If you still see pancake batter or the bottom is burnt…adjust the heat accordingly.
STEP-BY-STEP GUIDE ON HOW TO MAKE THESE HOMEMADE BUTTERMILK PANCAKES: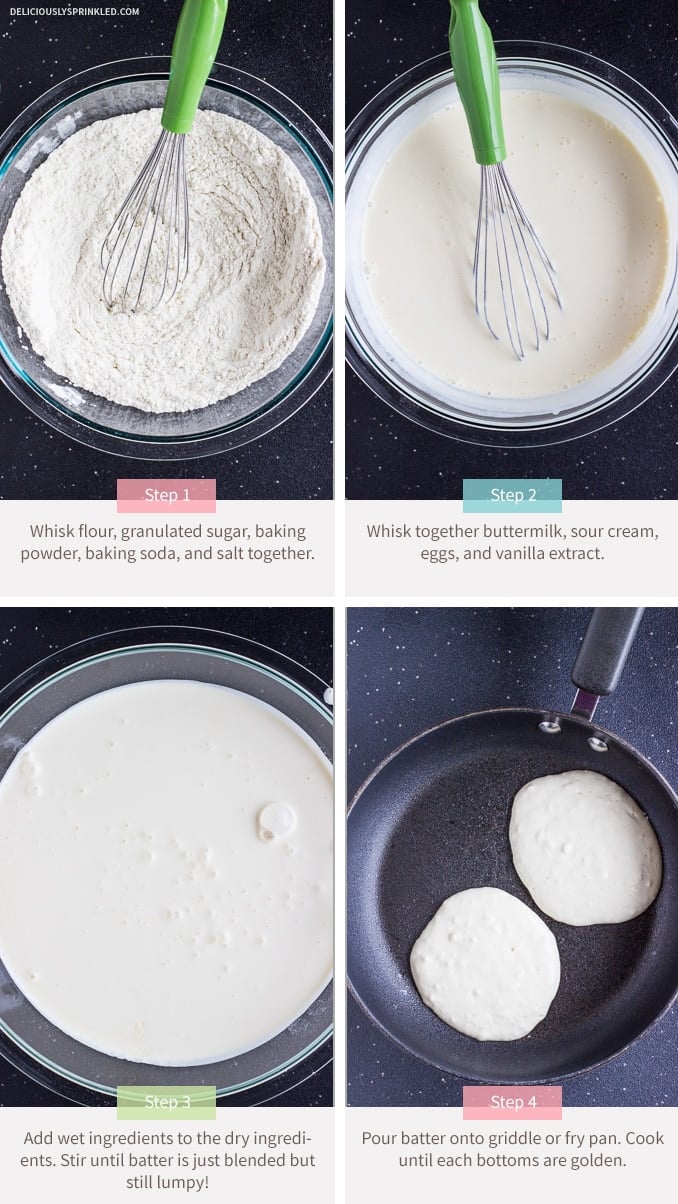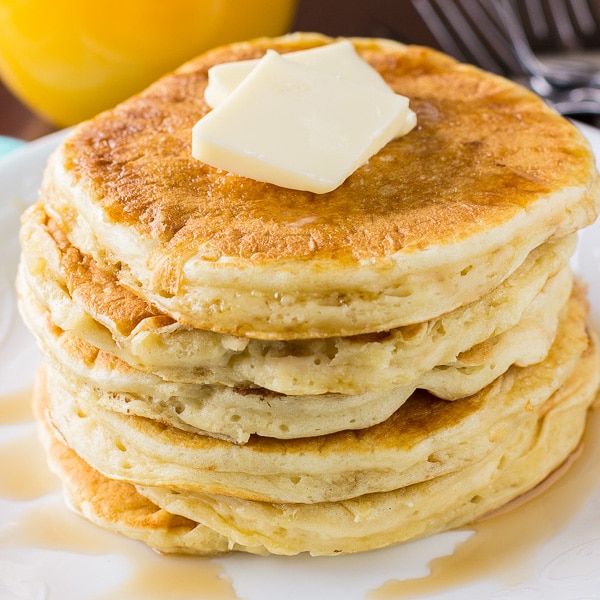 Yield: 14-16 Pancakes
Homemade Buttermilk Pancakes
★ Make sure to read my TIPS above before you start baking!
Prep Time 10 minutes
Cook Time 10 minutes
Total Time 20 minutes
Ingredients
 2 1/2 cups all-purpose flour
1/4 cup granulated sugar
2 teaspoons baking powder
2 teaspoons baking soda
1 teaspoon salt
2 cups buttermilk
2 cups sour cream
2 large eggs
4 teaspoons vanilla extract
Instructions
STEP 1: Whisk flour, granulated sugar, baking powder, baking soda, and salt together in a large bowl. Set aside.
STEP 2: Whisk together the buttermilk, sour cream, eggs, and vanilla extract in another large bowl.
STEP 3: Add wet ingredients to the dry ingredients. Stir until batter is just blended but still LUMPY. DO NOT OVERMIX.
STEP 4: Pour batter by 1/3 cupfuls onto hot griddle or frying pan, spacing them about 2 inches apart.
STEP 5: Cook until bubbles break on surface, about 3 minutes. Turn pancakes over. Cook until bottoms are golden. Transfer to plates for serving. Serve with warm syrup.