HOT SPINACH & ARTICHOKE DIP
This easy Hot Spinach & Artichoke Dip is the perfect dip for a party, game day dip, or snack, and it can be made in just minutes! It's so creamy and delicious; you won't even notice it was made in the microwave.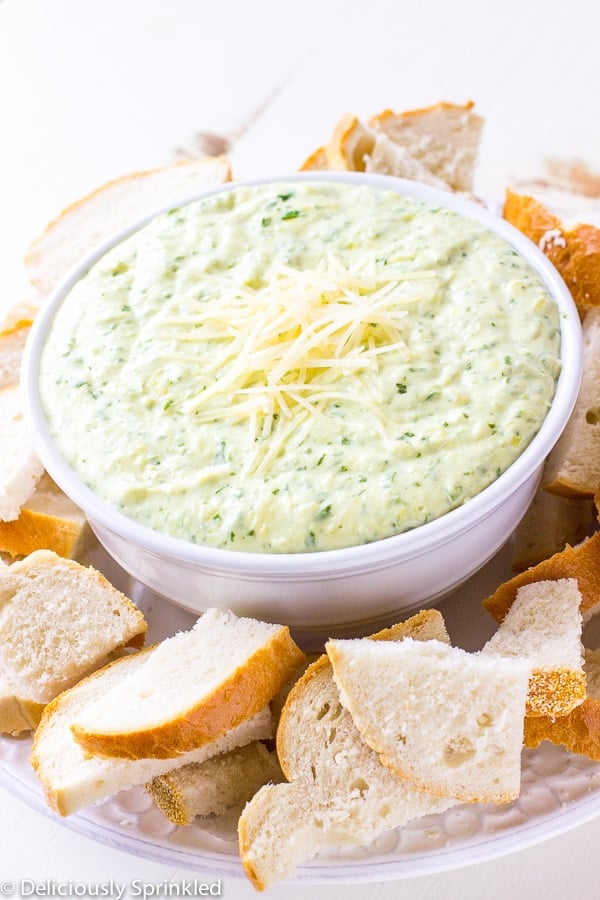 HOT SPINACH & ARTICHOKE DIP
Spinach and Artichoke Dip is one of my favorite ways to enjoy potato chips, pita bread, and just about anything! This easy Hot Spinach & Artichoke Dip only takes eight ingredients, and your microwave does all the work! You only need about 20 minutes to prepare this delicious dip, and the clean up is so easy.
The microwave plays a super important role in this recipe! You want to make sure that you melt your cheese without it overheating, or it will be super oily. This is why I microwave it for just two minutes at a time!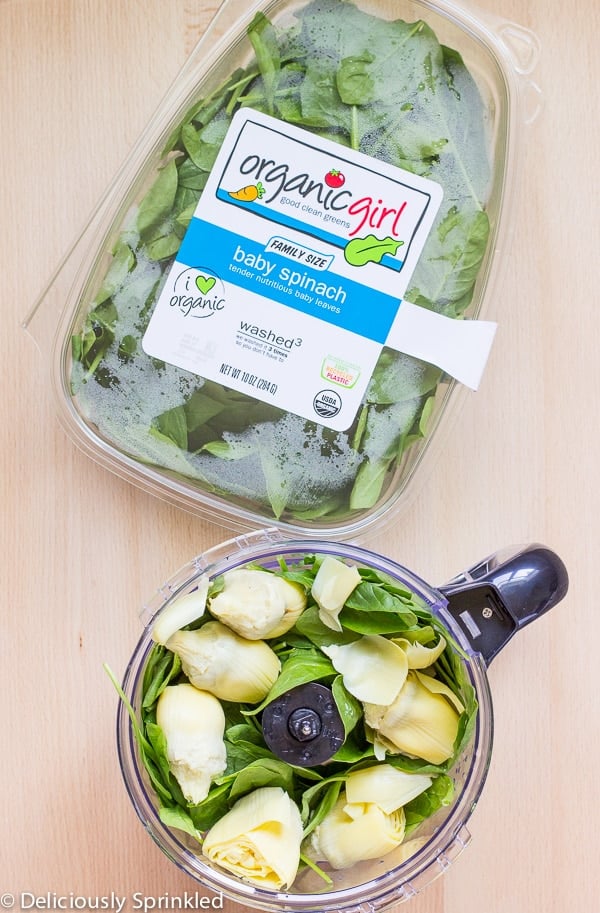 HOT SPINACH & ARTICHOKE DIP MADE IN THE MICROWAVE
Spinach & Artichoke Dip is a great party dish, game-day snack, or even a side dish if you want, but many of the recipes are messy and require hours of prep work to melt the cheese! If you want that same delicious dip that you know and love, you don't have to spend hours in the kitchen!
This Hot Spinach & Artichoke Dip makes a great tailgate or football game day recipe, and it's not as time-consuming as other dips! You can even make this dip ahead of time for a quick and easy game day recipe!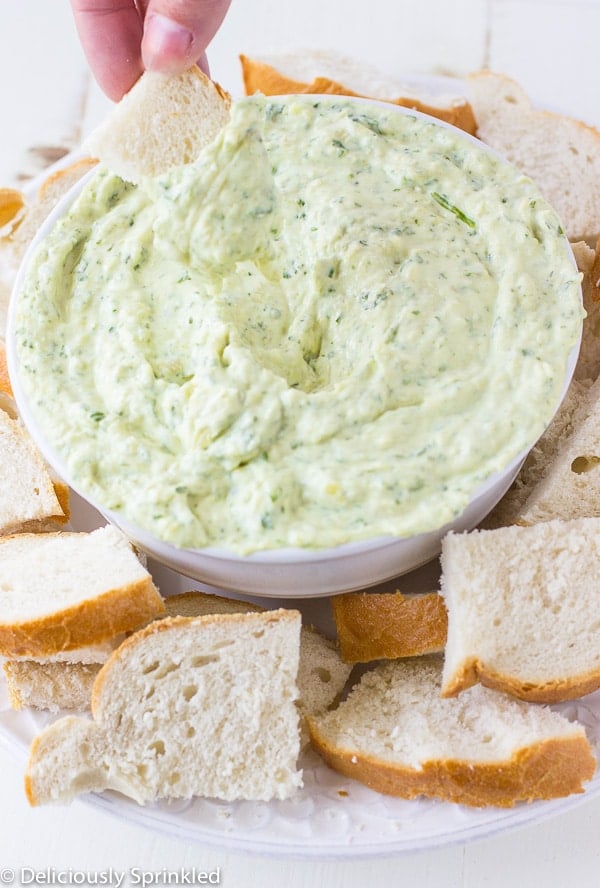 CAN I MAKE THIS HOT SPINACH & ARTICHOKE DIP AHEAD OF TIME?
This Hot Spinach & Artichoke Dip is the perfect dip to make ahead of time! While it doesn't freeze very well, it does last a few days in the fridge! To make this ahead of time, whip up your dip and let it cool thoroughly. Then, store it in an airtight container and put it in the fridge until you're ready to heat up and enjoy. This recipe will last up to four days in the fridge!
WHAT SHOULD I SERVE WITH THIS?
There are so many great options to serve with this delicious dip recipe. I recommend using tortilla chips, potato chips, crackers, pita chips, or toasted baguette slices!
CAN I MAKE IT HEALTHIER?
If you are looking to make this recipe just a tad bit healthier, there are some easy substitutions you can make. Instead of using regular cream cheese, try light cream cheese. You can also do the same with the mayonnaise and the sour cream as well!
CAN I REHEAT THIS HOT SPINACH & ARTICHOKE DIP?
Absolutely! While I rarely have any leftovers for this recipe, it does store for up to four days in the fridge with no issue! Just make sure that you let your dip cool completely before storing, and then microwave for about a minute when you're ready to enjoy it again. I recommend adding a few spoonfuls to a bowl when you're ready to reheat, so you don't continue to reheat and let it cool over and over.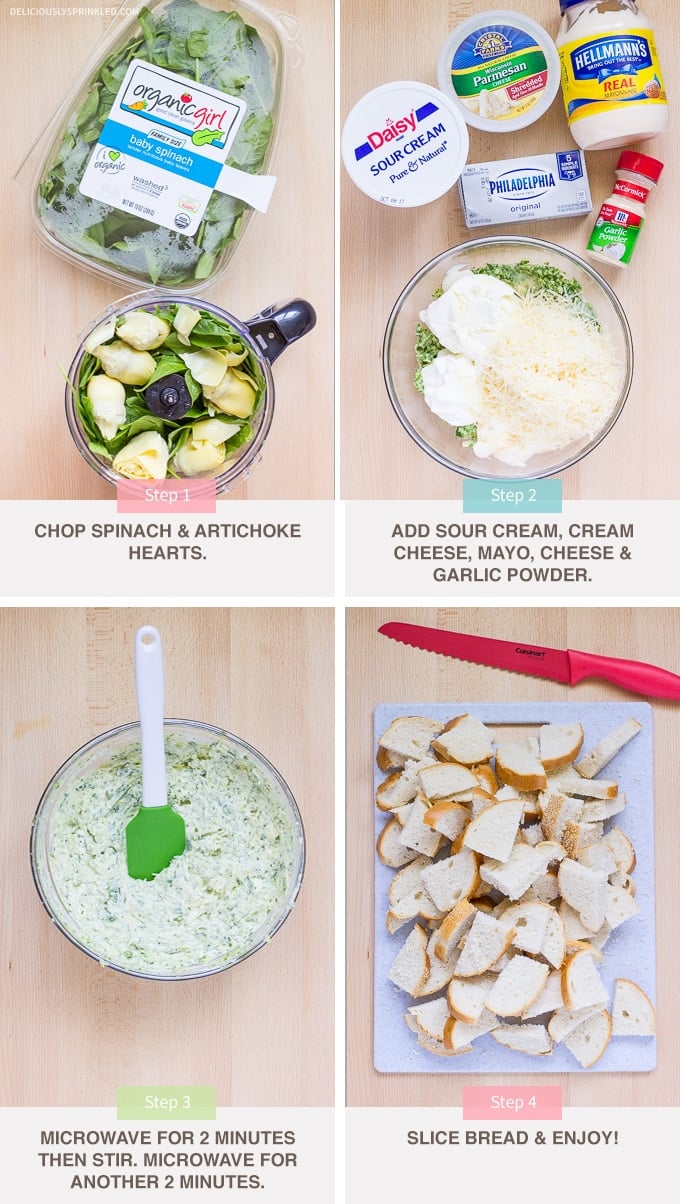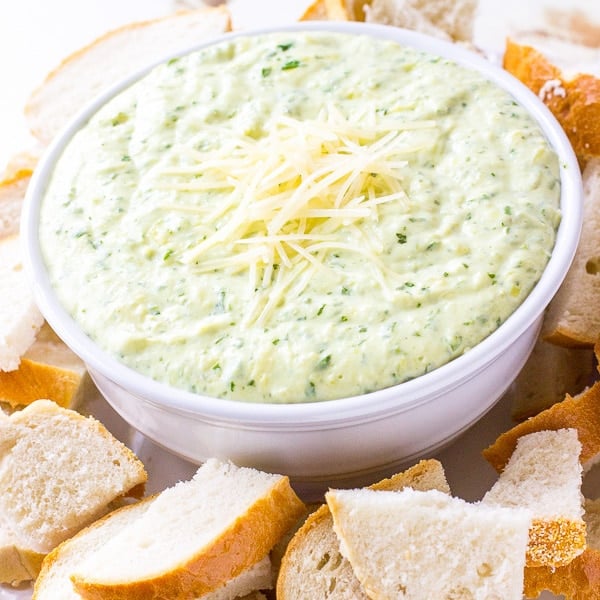 Yield: Serves 12
Spinach & Artichoke Dip
Prep Time 15 minutes
Cook Time 5 minutes
Total Time 20 minutes
Ingredients
2 cups fresh spinach
1 (14 oz.) can medium artichoke hearts, drained
1/2 cup sour cream
1 (8 oz.) package cream cheese, softened
1/2 cup mayonnaise
2 cups shredded parmesan cheese
1/2 teaspoon salt
1/4 teaspoon garlic powder
Instructions
Shred spinach and artichokes together using a food processor.
Pour spinach mixture into a large microwaveable safe bowl. Mix in sour cream, cream cheese, mayo, parmesan cheese, salt and garlic powder.
Microwave for 2 minutes;stir. Then microwave for another 2 minutes and stir until cheese is melted and dip is warm.
Serve with french bread, chips or veggies.
Notes
*STORE: Store leftovers in an airtight container in the fridge for up to 4 days. Reheat for about 1 minute in the microwave.

AND ALSO TRY THESE EASY TO MAKE FOOTBALL PARTY DIP RECIPES…