HOT SPINACH & ARTICHOKE DIP
This creamy, cheesy and delicious spinach & artichoke dip is ready in minutes in the microwave!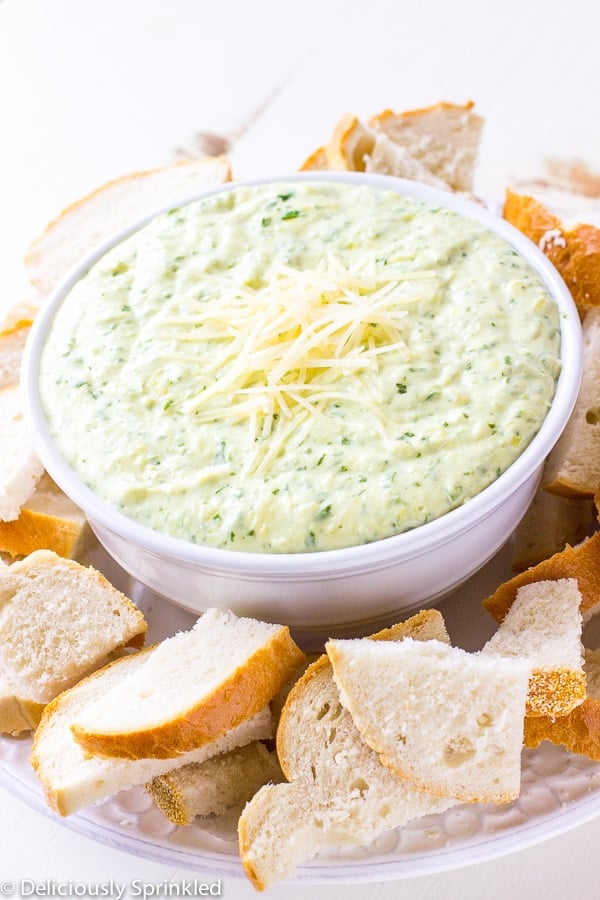 Who is excited for football season!?
I'm super excited for football season to be here, I have my Green Bay Packer tank top on and I'm ready for the first preseason game tonight at 7pm.
And football season means that we will be making all of our favorite football party dips and snacks.
Today, I'm sharing with you one of my favorite dip recipes.
This hot spinach & artichoke dip is super cheesy, warm and gooey.
Not only does it taste amazing, it's super easy to make by mixing all the ingredients in a bowl and then pop it in the microwave.
I can't wait to watch my Green Bay Packers and enjoy this delicious dip with my amazing boyfriend.
GO PACK GO!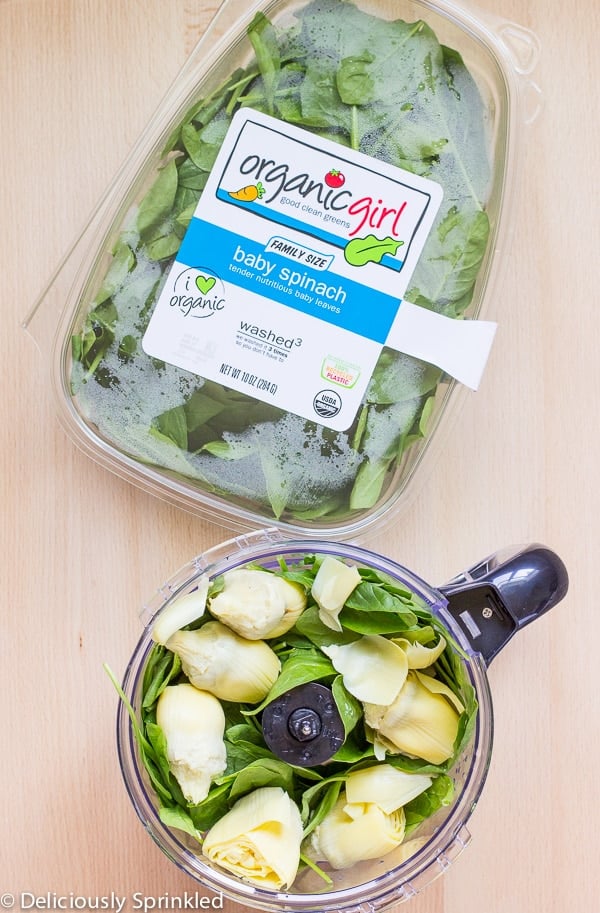 JUST A FEW BAKING TIPS
✓ MICROWAVE: It's super important that you microwave this dip for 2 minutes to start and then stir. You want to make sure that the cheese melts but you also don't want to over heat this dip because then it will be super oily. So to avoid it being an oily mess, I only microwave it 2 minutes at a time.
✓ ADD TOMATOES: Sometimes I like to mix it up and add tomatoes to this dip. I'll cut up about 2-3 tomatoes and mix them into the dip once the dip is warm and ready to be served.
✓ MAKE AHEAD: You can make this dip ahead of time. I keep it in an airtight container and place it in the fridge until I'm ready to heat it up and enjoy it.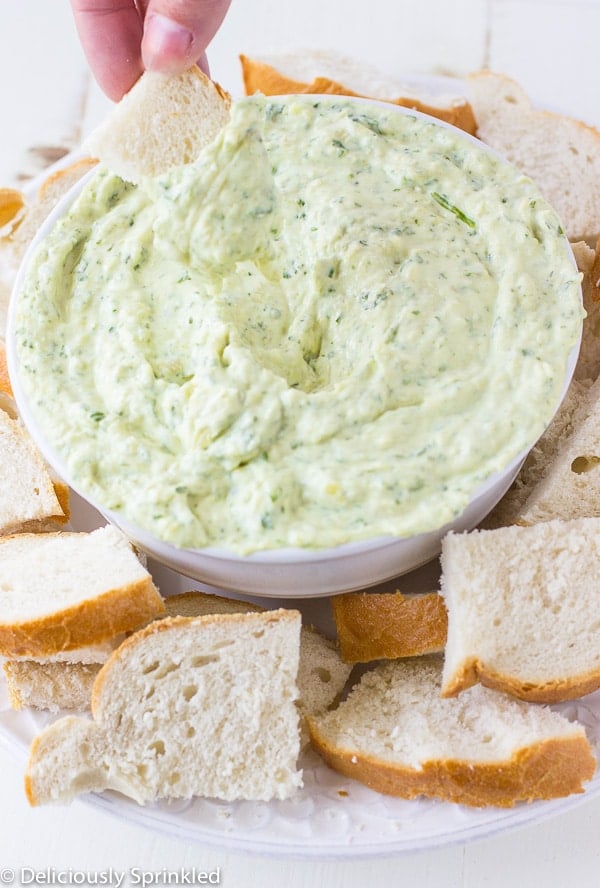 STEP-BY-STEP RECIPE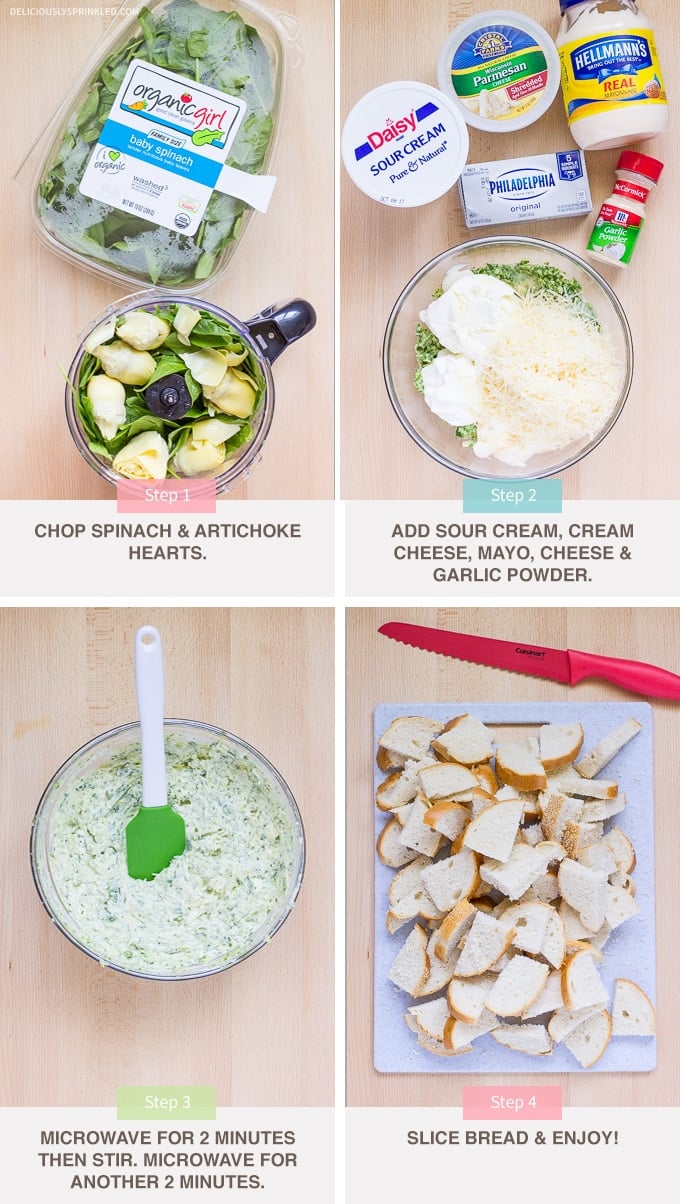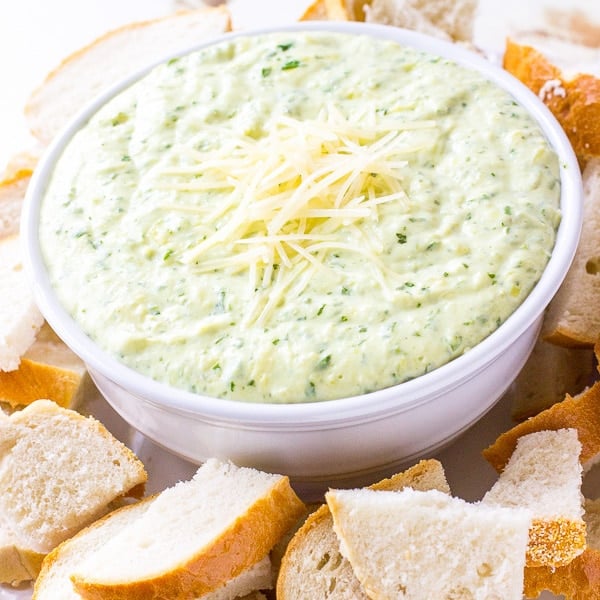 Yield: Serves 12
Spinach & Artichoke Dip
Prep Time 15 minutes
Cook Time 5 minutes
Total Time 20 minutes
Ingredients
2 cups fresh spinach
1 (14 oz.) can medium artichoke hearts, drained
1/2 cup sour cream
1 (8 oz.) package cream cheese, softened
1/2 cup mayonnaise
2 cups shredded parmesan cheese
1/2 teaspoon salt
1/4 teaspoon garlic powder
Instructions
Shred spinach and artichokes together using a food processor.
Pour spinach mixture into a large microwaveable safe bowl. Mix in sour cream, cream cheese, mayo, parmesan cheese, salt and garlic powder.
Microwave for 2 minutes;stir. Then microwave for another 2 minutes and stir until cheese is melted and dip is warm.
Serve with french bread, chips or veggies.
Notes
*STORE: Store leftovers in an airtight container in the fridge for up to 4 days. Reheat for about 1 minute in the microwave.

AND ALSO TRY THESE EASY TO MAKE FOOTBALL PARTY DIP RECIPES…