Cherry Almond Cake
Cherry Almond Cake– This light and fluffy almond cake topped with maraschino cherry buttercream frosting is the perfect cake for any celebration!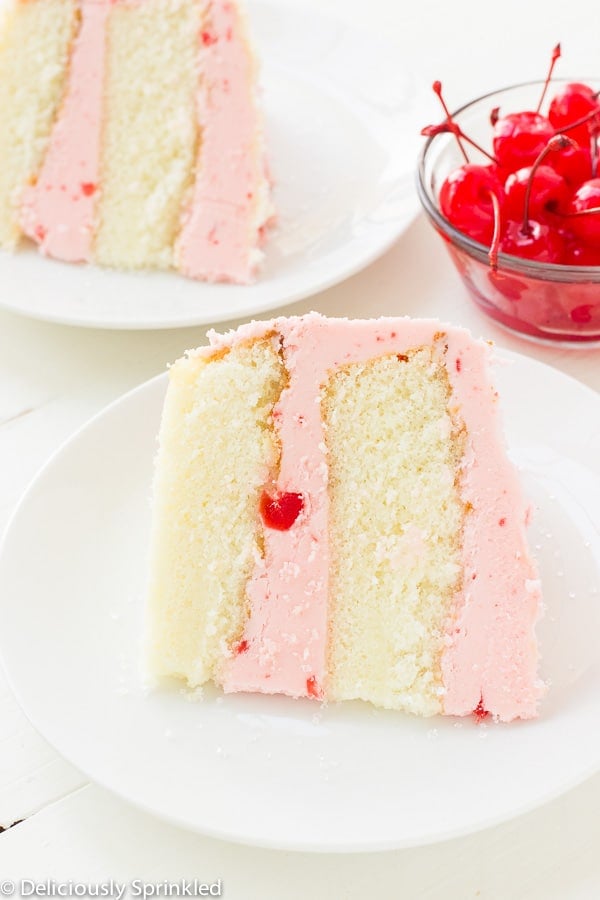 I love maraschino cherries!! ♥
It brings me back to my childhood of drinking, Shirley Temple's or Kiddie Cocktail's like it's they are called here in Wisconsin! As a kid, I would ALWAYS ask for extra cherries.
So in honor of being a kid and having the best mom EVER, I'm celebrating Mother's Day by making my mom this delicious Homemade Cherry Almond Cake.
This Cherry Almond Cake is light and fluffy and it's topped with maraschino cherry buttercream frosting. The cherry buttercream frosting is amazing, I could eat the frosting with a spoon. I love the pieces of maraschino cherries in the frosting. YUMMMM!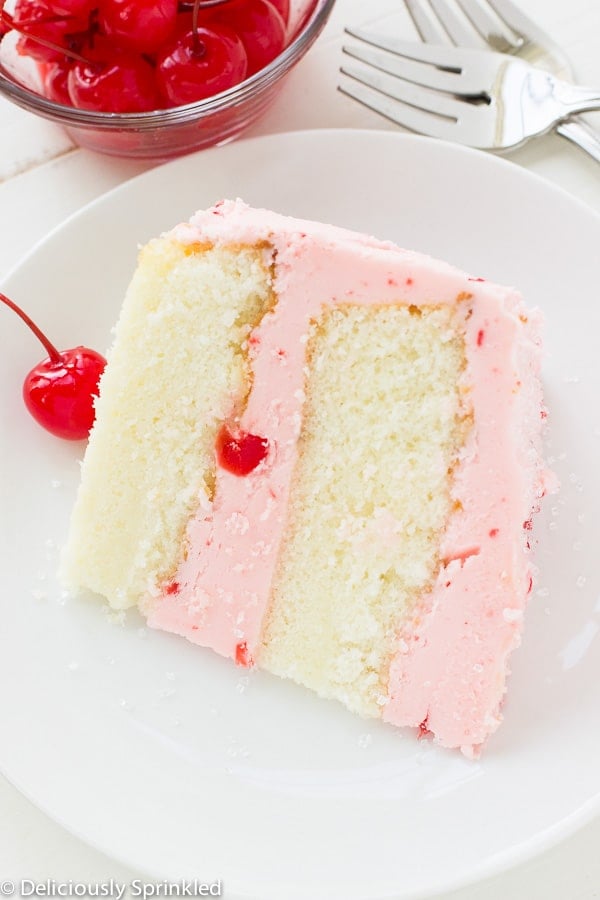 JUST A FEW BAKING TIPS:
✓ DON'T OVERMIX: This tip is SUPER IMPORTANT when it comes to making this cake, if you overmix the cake batter, meaning, when you mix the flour mixture into the wet ingredients, only mix them together until just combined…you should still see some flour in your mixing bowl, your cake will come out SUPER DENSE.
✓ OVEN TEMPERATURE: It's so important to bake this cake at the proper temperature. Preheat your oven to the correct temperature BEFORE you put your cake in the oven. If you don't have an oven thermometer, I would HIGHLY recommend getting one, it will help you make sure your oven is set to the right temperature.
✓ FROSTING: For the cherry buttercream frosting, I recommend using heavy whipping cream because it gives the frosting that thick, creamy, texture that everyone loves on top of a cake. But if you don't have heavy whipping cream, you can use milk but just note that your frosting might not be as thick.
STEP-BY-STEP GUIDE ON HOW TO MAKE THIS CHERRY ALMOND CAKE:

Yield: Serves 12
Cherry Almond Cake
Prep Time 10 minutes
Cook Time 25 minutes
Total Time 35 minutes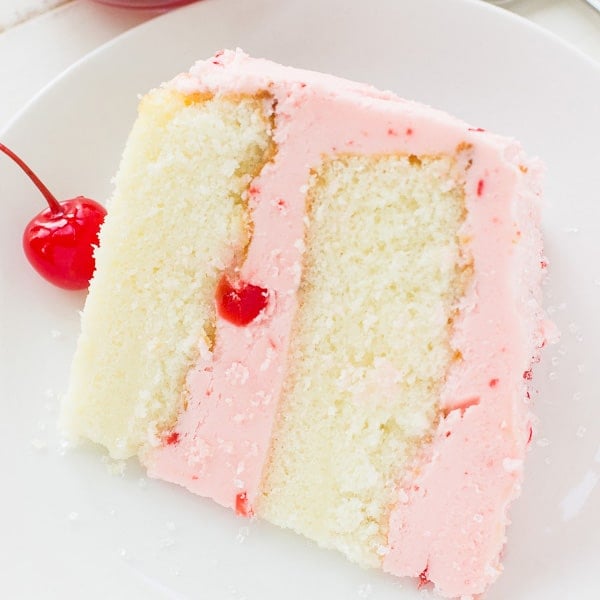 Ingredients
ALMOND CAKE:
2 1/2 cups all-purpose flour
1 teaspoons baking soda
1/2 teaspoon baking powder
½ teaspoons salt
4 large eggs
2 cups granulated sugar
1 cup (2 sticks) unsalted butter, softened to room temp.
4 teaspoons almond extract
1 cup sour cream
CHERRY BUTTERCREAM FROSTING:
1 1/4 (2.5 sticks) cups butter, softened
5 cups powdered sugar
1/3 cup heavy whipping cream
1 (10 oz.) jar maraschino cherries
3 teaspoons vanilla extract
Instructions
PRE-STEP: Preheat oven to 350F degrees. Spray (2) 9-inch cake pans with non-stick cooking spray. Set aside.
STEP 1: In a medium bowl, mix flour, baking powder, baking soda, and salt. Set aside.
STEP 2: In a large bowl, using an electric or stand mixer on medium speed, beat eggs and sugar for 2 minutes until LIGHT and CREAMY.
STEP 3: Add the butter and almond and beat on low speed for about 1 minute, or until well blended.
STEP 4: Beat in the dry ingredients on low speed until just blended. DO NOT OVER MIX!
STEP 5: Add the sour cream and beat until smooth. CAKE BATTER WILL BE ON THE THICKER SIDE.
STEP 6: Fill prepared pans HALFWAY with cake batter. Bake for 23-25 minutes, or until a toothpick inserted in the center comes out clean. Let cakes cool in pans on a wire rack before frosting.
MAKE CHERRY BUTTERCREAM FROSTING:
STEP 7: Mix softened butter on medium speed with an electric or stand mixer. Beat for 30 seconds until smooth and creamy.
STEP 8: Add powdered sugar, heavy whipping cream, vanilla extract and jar of maraschino cherries. Increase to high speed and beat for 3 minutes. Add more cream if needed for spreading consistency.
ASSEMBLE CAKE:
STEP 9: Assemble the 2 layers with a thick layer of frosting in between the layers. Then apply a thin layer of frosting on the top and sides. Place the cake into the freezer to harden the frosting for about 10 minutes. Apply one final thick and even layer of frosting around the outside of the cake.
Notes
* STORE: Cake in an airtight container in the refrigerator for up to 3-4 days.
*FROSTING: I highly recommend using heavy whipping cream because it will give the frosting a thicker texture, but you may use milk.
Nutrition Information:
Yield:
12
Serving Size:
1
Amount Per Serving:
Calories: 799
Total Fat: 42g
Saturated Fat: 26g
Trans Fat: 1g
Unsaturated Fat: 13g
Cholesterol: 172mg
Sodium: 401mg
Carbohydrates: 101g
Fiber: 1g
Sugar: 80g
Protein: 6g