Frozen Chicken Breasts Air Fryer
A moist and tender Frozen Chicken Breasts Air Fryer recipe is just what you need to spice up any weekday dinner night.
Make a meal the whole family will love with this easy recipe. Pair the perfectly seasoned chicken with a side of Baked Beans and Air Fryer Asparagus. Make it a meal to remember by adding a tasty dessert like Banana Cake!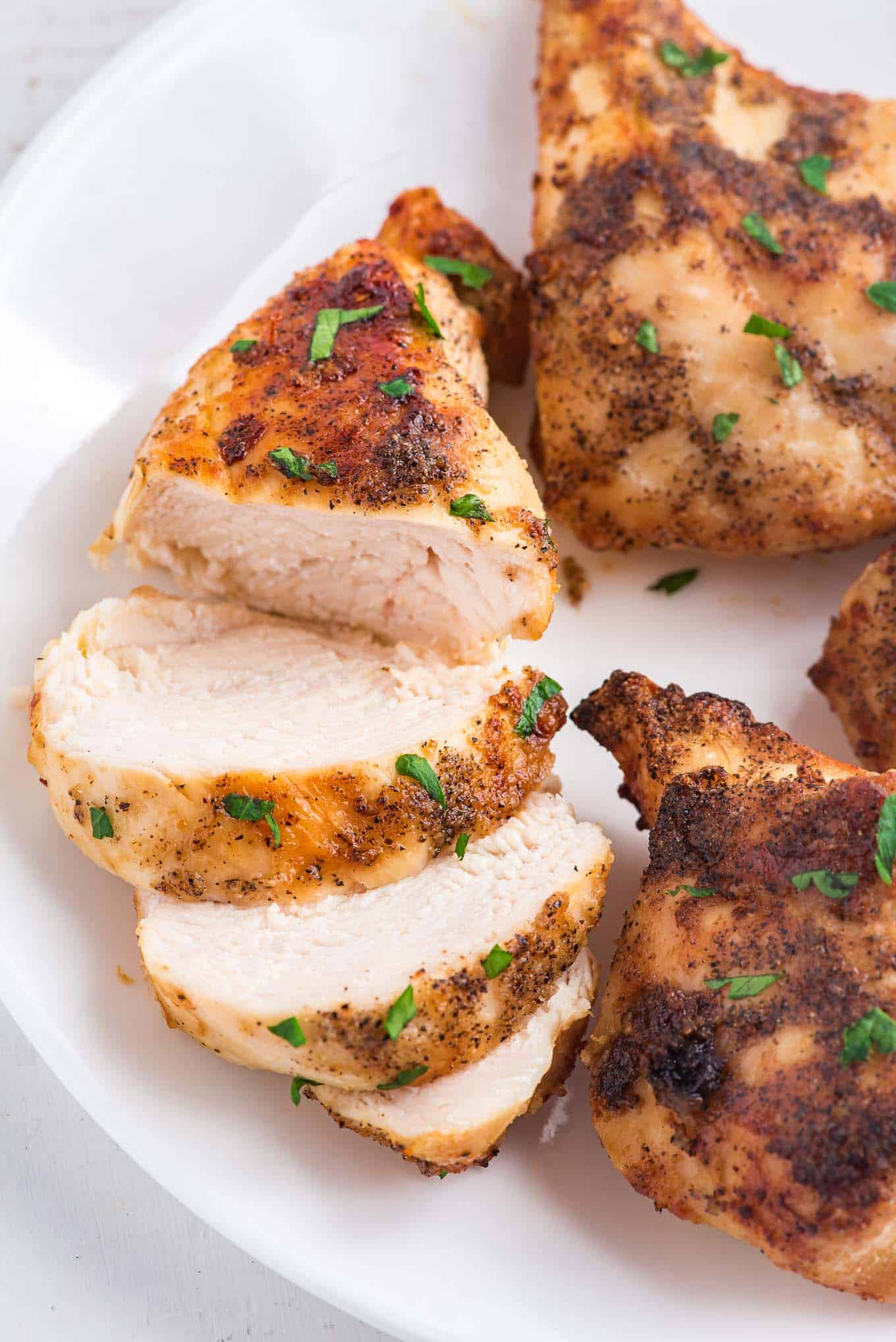 Air Fryer Frozen Chicken Breasts
It only takes a few minutes to prepare.
You don't have to thaw the chicken the night before.
A great way to make a full meal in the air fryer.
It pairs perfectly with air fryer zucchini to make a stress-free and nutritious dinner.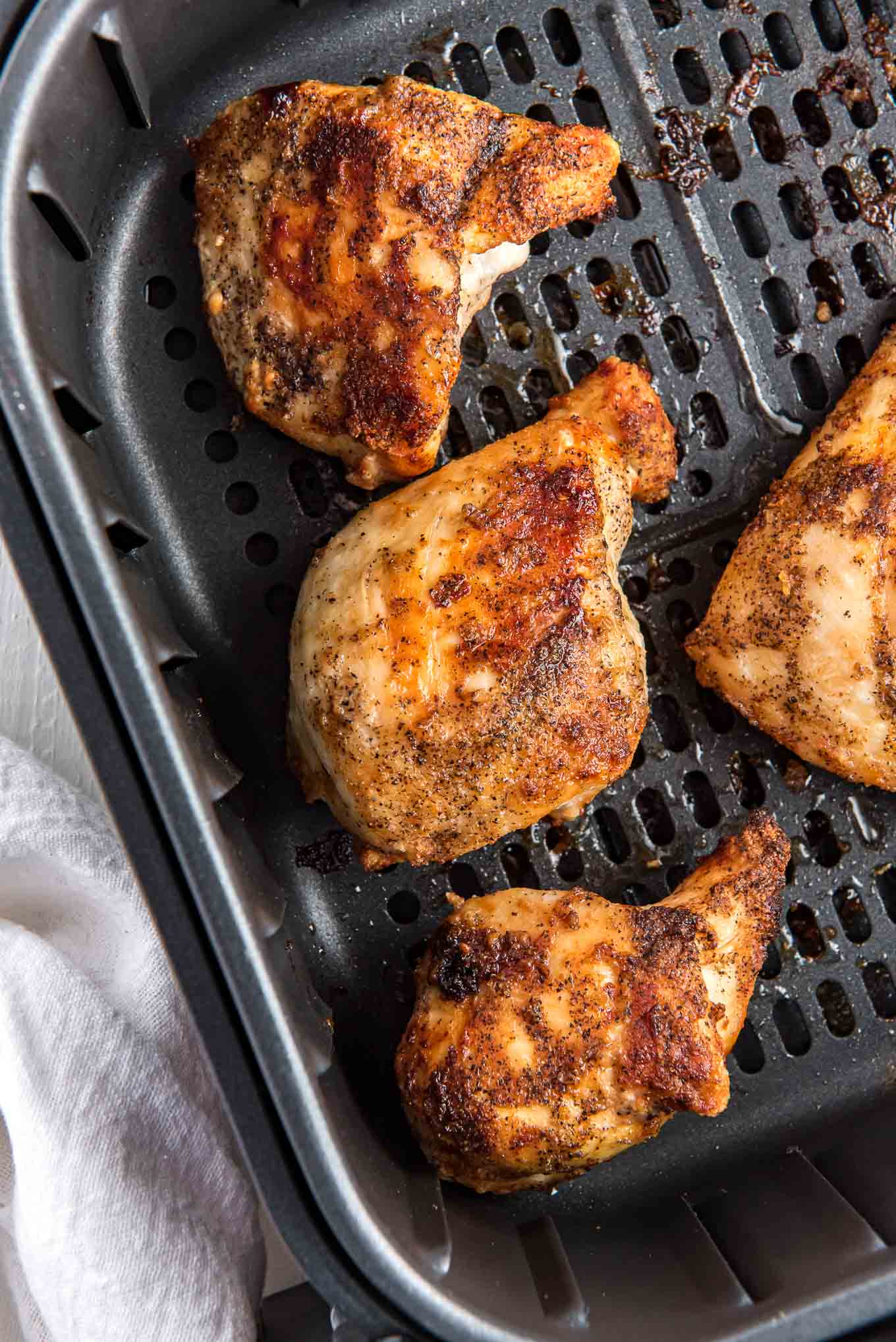 Ingredients
Frozen Chicken Breasts: Depending on the size of the chicken breast, you may need to adjust the cooking time. A kitchen thermometer will help you know when they are done, without overcooking!
Avocado oil spray: This is the best cooking spray to use in an air fryer because it has a low smoking point.
Garlic powder: A pantry staple that's easy to access and always adds the best flavor.
Salt and Pepper: Season your chicken with salt and pepper for a foolproof and tasty dish.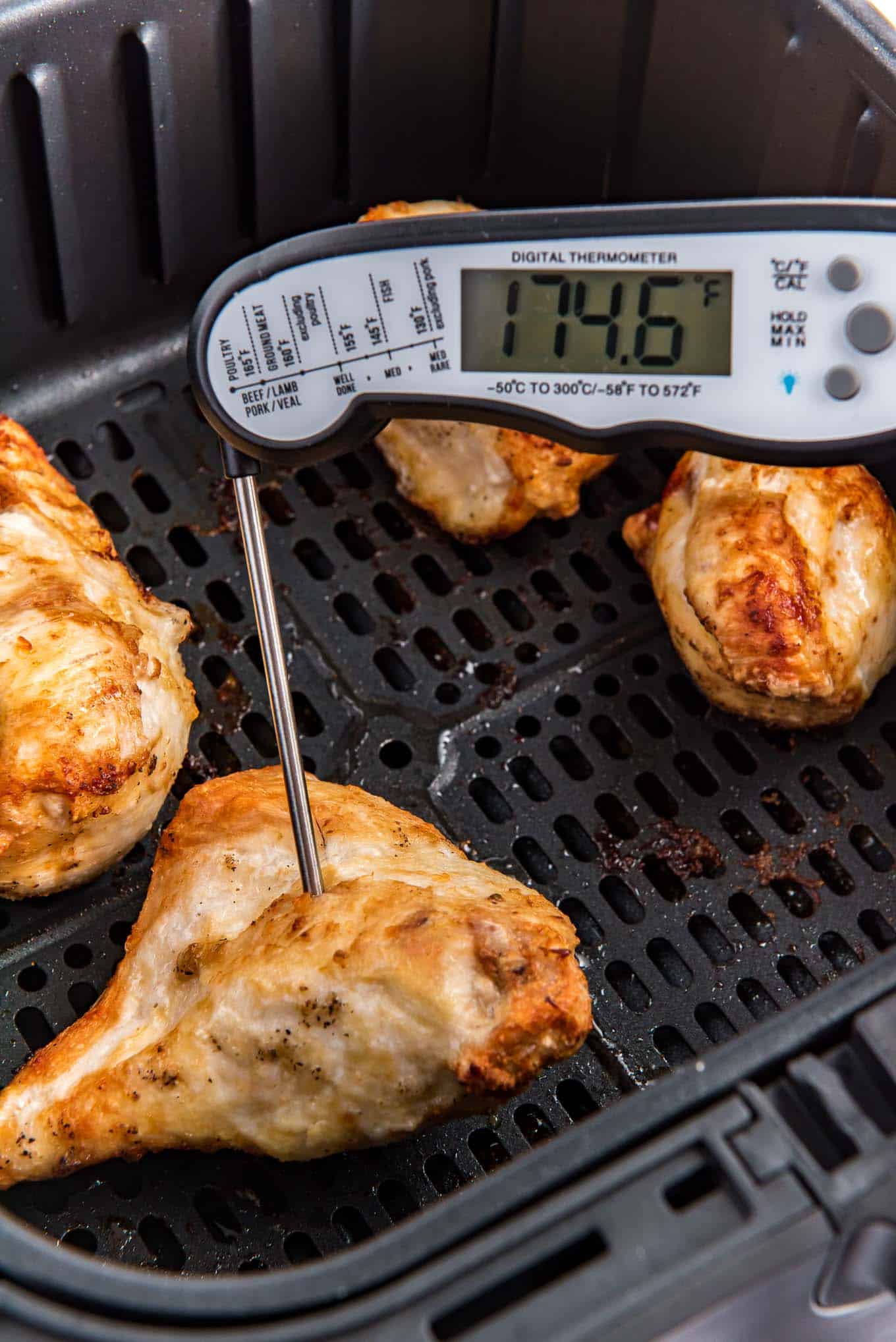 How To Cook Frozen Chicken Breasts in the Air Fryer
Preheat. The air fryer to 400°F.
Spray. The chicken with the avocado oil and season the chicken with garlic, salt, and pepper.
Place. The seasoned chicken at the bottom of the preheated air fryer.
Cook. The chicken for 30 minutes, flipping halfway through, until an internal temperature hits 165°F
Rest. The cooked chicken for 2 minutes to give you a tasty and tender meal.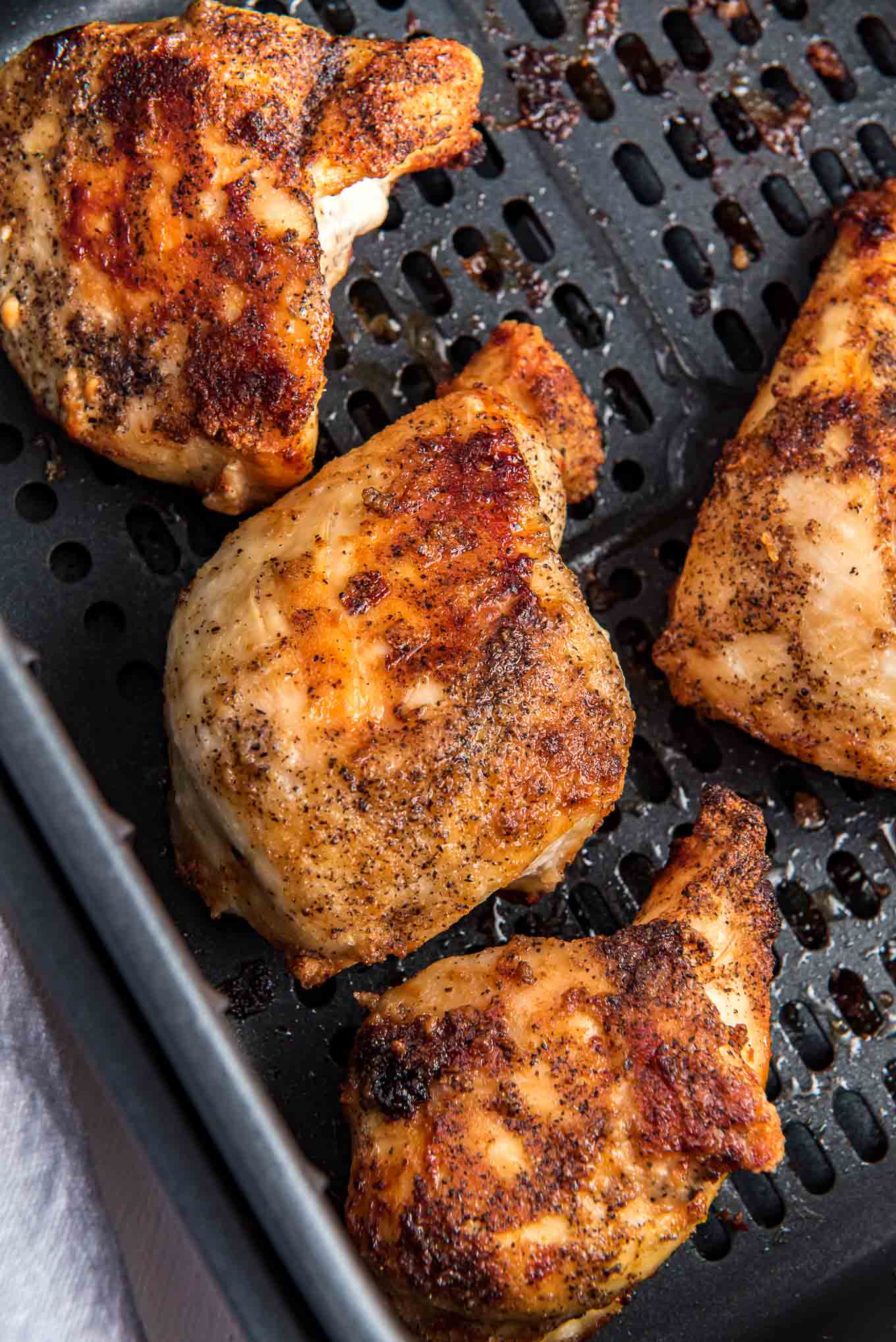 Tips & Variations
Olive oil. Instead of avocado oil, you can use olive oil to help the seasoning stick to the chicken.
Serve immediately. After you let the chicken rest, make sure to serve immediately in order to get a hot tender, and moist chicken breast.
Use a kitchen thermometer. Using a kitchen thermometer will help you get a perfectly cooked chicken without having to cut into it to check for doneness.
Marinade. Season with your favorite marinade, or a dash of lemon for added flavor.
Recipe FAQ
How long does it take to air fry raw chicken breast?
For medium to small-sized raw frozen chicken breast, it will take about 30 minutes to cook in the air fryer. If you have larger breasts, you will need to adjust the cooking time.
Can you put raw chicken in an air fryer?
Yes, you can! If you cook the chicken to an internal temperature of 165°F, an air fryer is a great method to cook frozen or raw chicken.
How long should I cook a whole chicken breast in the air fryer?
If cooking a frozen chicken breast in the air fryer, you should cook it for at least 30 minutes, depending on the size. Remember to check with a thermometer for doneness.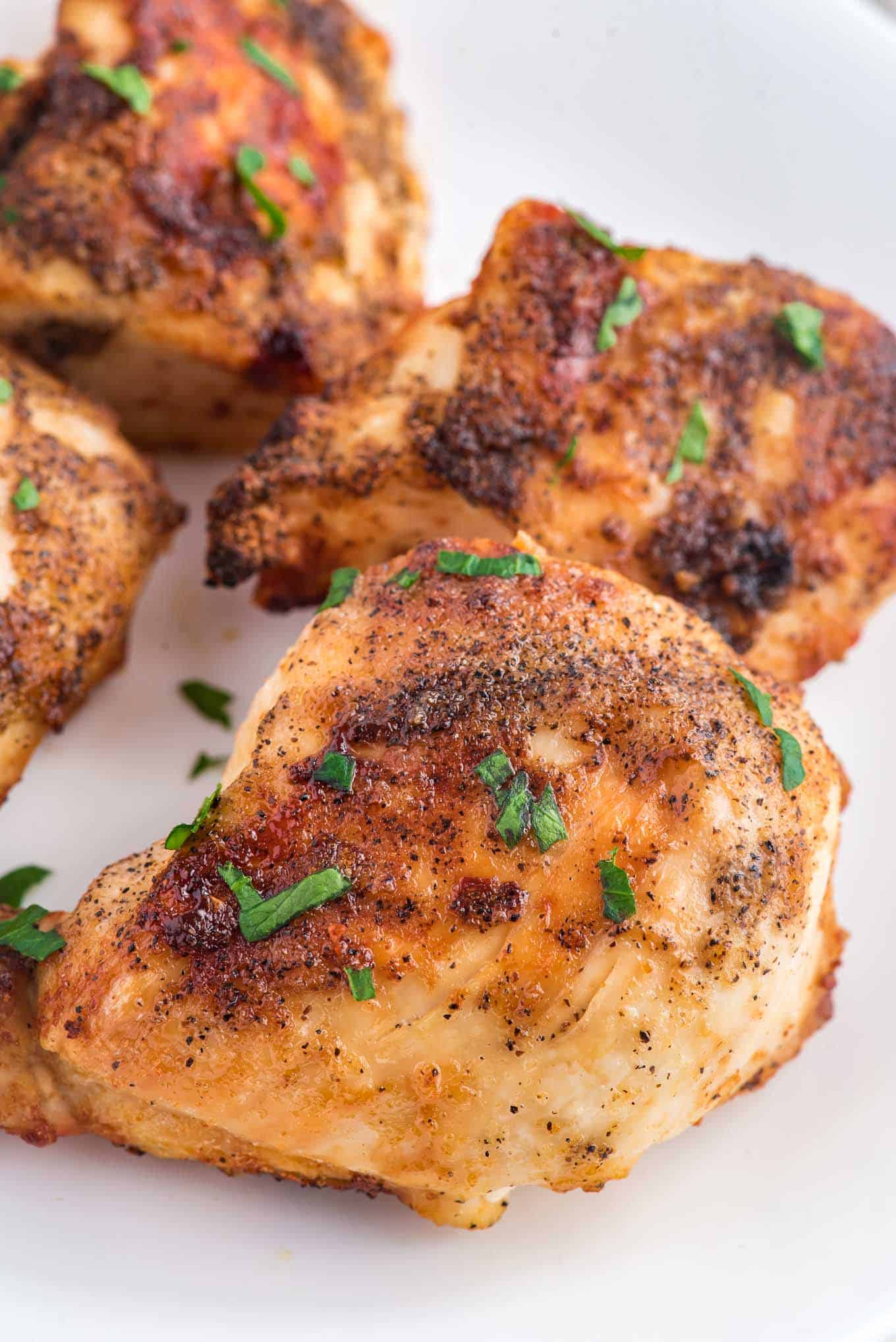 Storing
Store. Cooked chicken in an airtight container for 3-4 days. You can freeze the leftover chicken in a freezer-friendly container for up to 4 months.
Reheat. In the microwave or air fryer until heated all the way through. It may not be as moist the second time cooking through.
More Air Fryer Recipes
More sprinkles, please! Subscribe to my newsletter for weekly meal planning. Follow on Facebook, Pinterest, and Instagram for fun behind the scenes, mom life, and the newest recipes!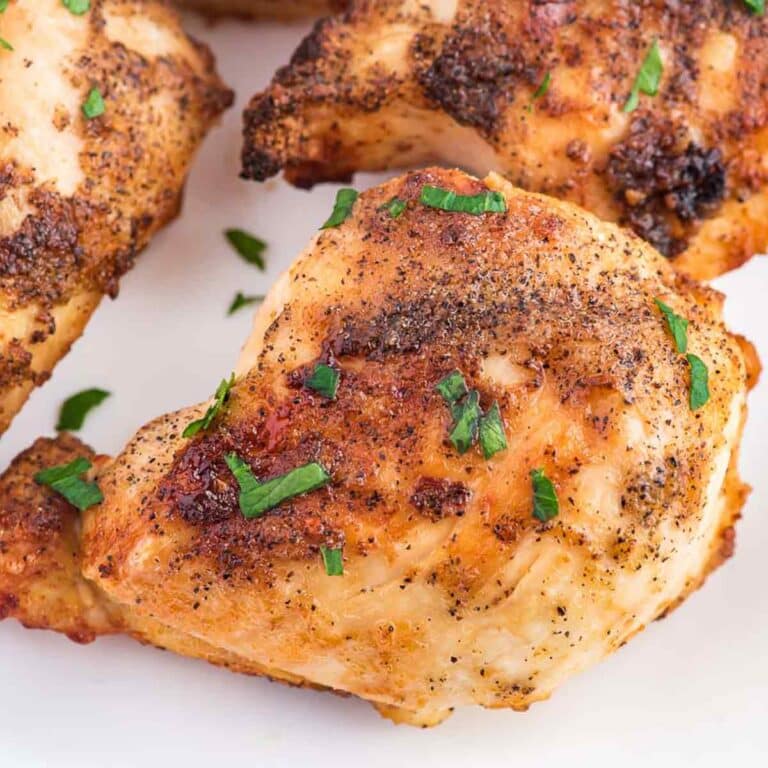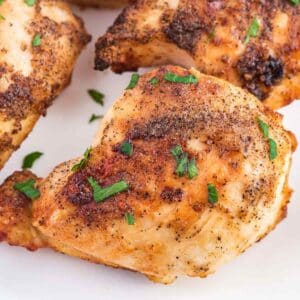 Leave a Review
Frozen Chicken Breasts Air Fryer
Learn how to make moist and tender Frozen Chicken Breasts Air Fryer recipe in 30 minutes. A perfect weekday dinner night with little prep and tasty results!
Print Recipe
Pin Recipe
Ingredients
3-4 frozen chicken breasts
Avocado oil spray or 1 teaspoon of olive oil
2 teaspoons Garlic powder
½ teaspoon salt
½ teaspoon pepper
Instructions
Preheat the air fryer to 400°F for 2-3 minutes.

Spray or rub the chicken breasts with avocado oil spray or olive oil. Sprinkle with garlic powder, salt and pepper.

Place chicken breasts in the air fryer basket.

Cook for 15 minutes. Flip the chicken over and cook for another 10-15 minutes depending on how thick your chicken breast is. Chicken should reach an internal temperature of 165°F.

Let the chicken rest for 2 minutes before serving.
Serving: 1g, Calories: 199kcal, Carbohydrates: 1g, Protein: 36g, Fat: 4g, Saturated Fat: 1g, Polyunsaturated Fat: 1g, Monounsaturated Fat: 1g, Trans Fat: 0.02g, Cholesterol: 108mg, Sodium: 488mg, Potassium: 648mg, Fiber: 0.2g, Sugar: 0.04g, Vitamin A: 52IU, Vitamin C: 2mg, Calcium: 11mg, Iron: 1mg
Some of the links above are affiliate links, which pay me a small commission for recommending my favorite products at no extra cost to you! Thank you for supporting Deliciously Sprinkled.