Pumpkin Chocolate Chip Bread
This is easily the best pumpkin bread recipe EVER! Pumpkin chocolate chip bread is the best combination of pumpkin and chocolate that you'll be craving all year long.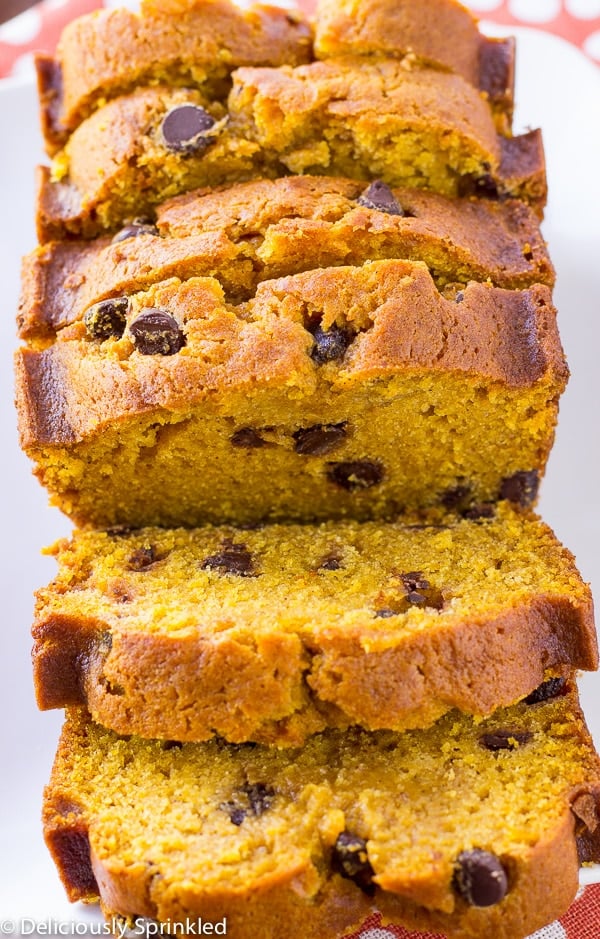 PUMPKIN BREAD WITH CHOCOLATE CHIPS
Pumpkin bread with chocolate chips will make you crave the combination of pumpkin and chocolate all year long! Even though Fall means pumpkin, I tend to think that pumpkin up with chocolate is a better idea than eating it alone.
Isn't everything better with chocolate? My vote is yes.
This pumpkin bread recipe is no exception. It's one of those foods that is like a total surprise for your taste buds and in a very, very, very good way. While the bread is baking, you smell the pumpkin and get excited to try to the first bite. But when you taste that first bite and get the perfect bite-sized goodness of pumpkin and chocolate…nothing else will matter.
BEST PUMPKIN BREAD
What I love most about this pumpkin chocolate chip bread is that it is EXTREMELY versatile. It's perfect for a cool fall or winter morning, with a nice hot cup of coffee or just as delicious served as a dessert after dinner, paired up with a dollop of whipped cream.
No matter how you decide to treat your taste buds with this delicious bread, do it and do it often. It's okay to spoil yourself every now and then!
Now, let's get to the BEST pumpkin bread recipe, shall we?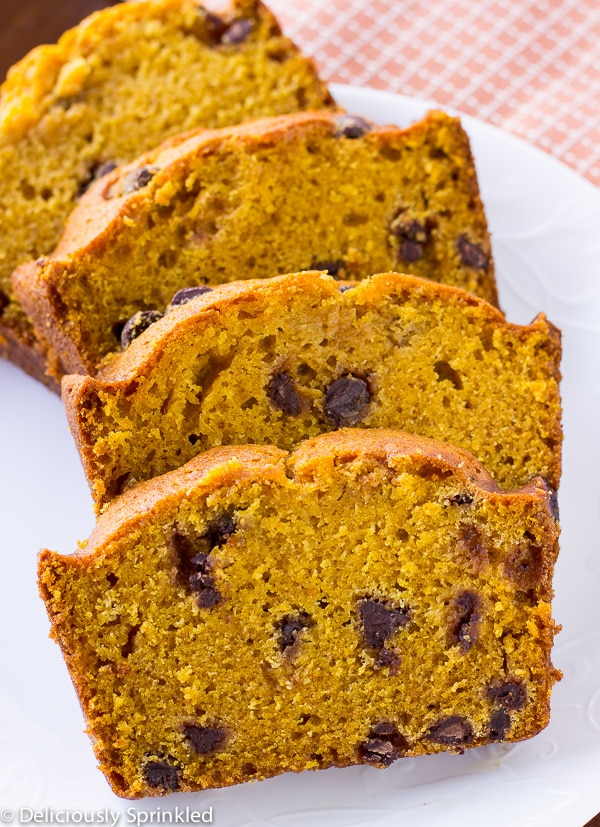 PUMPKIN BREAD INGREDIENTS
For this pumpkin chocolate chip recipe, you'll need these ingredients:
FLOUR: We definitely need flour for a bread recipe, this is where it starts!
BAKING SODA: Just a bit of baking soda for that consistency we need.
CINNAMON: A bit of cinnamon really gives it some delicious flavor.
SALT: A dash of salt helps to balance everything out.
EGGS: You'll need some eggs, make sure to beat them well!
VEGETABLE OIL: The oil helps pull this recipe together.
PUMPKIN: Use 100% pure canned pumpkin, NOT pie filling!
SUGAR: A bit of sugar to sweeten up your pumpkin bread a bit.
PUDDING: The pudding helps create a spongey and moist consistency for our bread!
CHOCOLATE CHIPS: Top it off with some chocolate chips for that delicious taste and texture.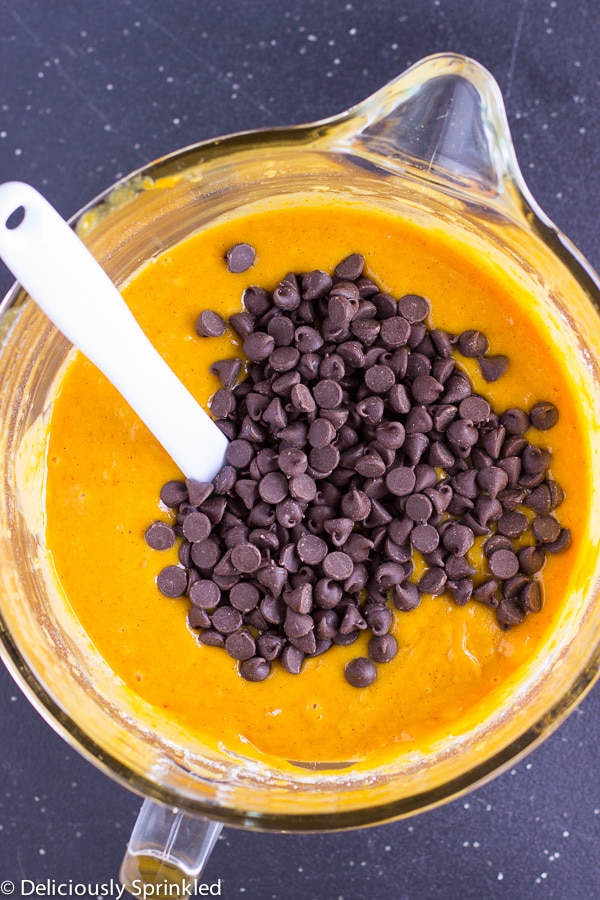 HOW TO MAKE PUMPKIN BREAD
Scroll down for the step-by-step printable recipe!
PREP: Start off by preheating the oven to 375F. Spray two 9-inch loaf pans with nonstick cooking spray; set aside.
MIX DRY INGREDIENTS: Whisk together the flour, baking soda, cinnamon, and salt; set aside.
MIX WET INGREDIENTS: Using an electric mixer, combine the eggs, oil, and pumpkin. Add the sugar and dry pudding; mix until combined.
COMBINE: Slowly add the dry mixture to the wet mixture. Fold in the chocolate chips and pour into prepared loaf pans.
BAKE: Bake in the oven for 15 minutes; reduce heat and bake for an additional 40-45 minutes, or until a toothpick comes out clean from the center. Let cool completely before removing from the pans. Enjoy!

WHY IS MY PUMPKIN BREAD DRY?
It's likely because the batter got overmixed! It's super easy to overmix this pumpkin chocolate chip bread batter because the batter is on the "thinner side". So it's super important when adding the flour mixture to the wet ingredients to only mix until just combined. Meaning you will still see some flour in your mixing bowl. Overmixing is what leads to dense, dry, yucky bread!
CAN I USE PUMPKIN PIE FILLING INSTEAD?
Nope! Make sure you use 100% pure pumpkin, not pumpkin pie filling.
CAN YOU FREEZE PUMPKIN CHOCOLATE CHIP BREAD?
You sure can! This bread freezes very well for up to 3 months. When ready to enjoy, place bread in the refrigerator overnight to thaw. Then place the bread on your kitchen countertop for about 30-60 minutes to allow it to come to room temperature before slicing and enjoying.
WHAT TOOLS DO I NEED FOR THIS RECIPE?
ELECTRIC MIXER: I love my KitchenAid Mixer, I use it for everything. Makes baking so much easier!
MIXING BOWLS: I love these mixing bowls, they're so durable and the colors are so fun!
BREAD LOAF PANS: These are the bread loaf pans that I used to make this pumpkin bread.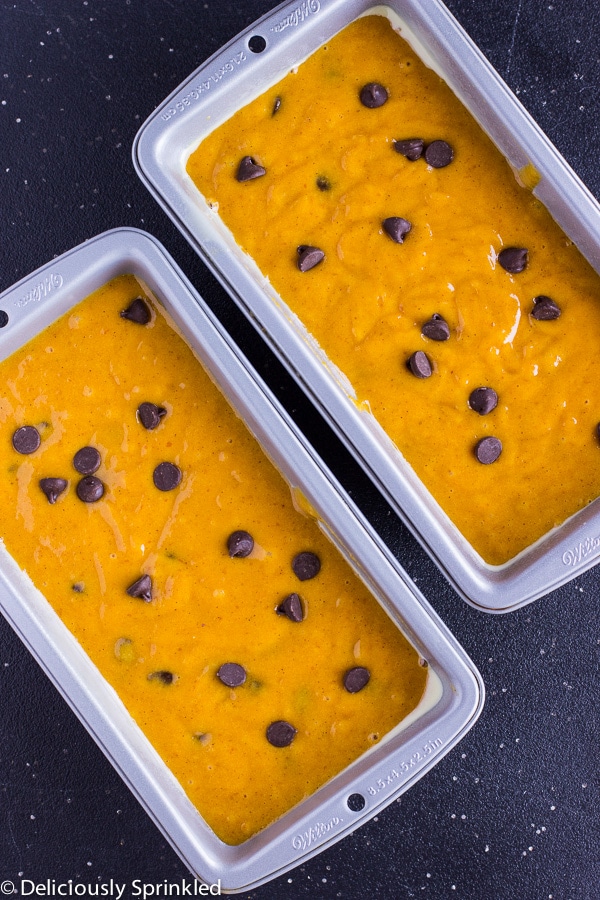 MORE PUMPKIN RECIPES:
If you have tried this Pumpkin Chocolate Chip Bread recipe, then please rate it in the recipe card and let me know how it turned out in the comments below!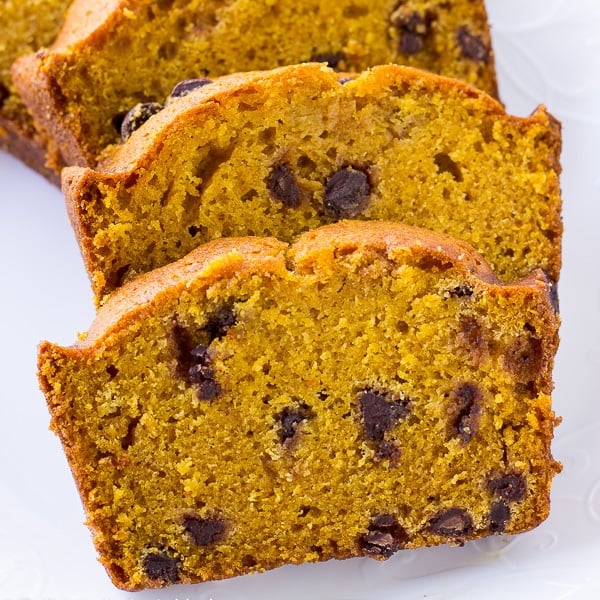 Yield: 2 loafs
Pumpkin Chocolate Chip Bread
Prep Time 10 minutes
Cook Time 55 minutes
Total Time 1 hour 5 minutes
Ingredients
2 cups all-purpose flour
1 teaspoon baking soda
1 teaspoon ground cinnamon
1/2 teaspoon salt
5 eggs, beaten
1 1/4 cup vegetable oil
1 (15oz.) can pure pumpkin
2 cups granulated sugar
2 (3oz.) pkg. cook and serve vanilla pudding
1 cup semi-sweet chocolate chips
Instructions
Preheat oven to 375F degrees. Spray two 9 inch loaf pans with non-stick cooking spray. Set aside.
In a medium bowl, whisk together flour, baking soda, cinnamon and salt. Set aside.
In a large bowl, using an electric or stand mixer mix together eggs, oil and pumpkin. Add sugar and dry pudding, mix until combined.
Slowly, add flour mixture to pumpkin mixture.
Fold in chocolate chips.
Pour the batter into prepared loaf pans. Bake at 375F for 15 minutes. REDUCE heat to 350F and bake for an additional 40-45 minutes or until toothpick inserted into center comes out clean.
Let cool completely before removing from loaf pans.
This blog post contains affiliate and/or referral links, which pay me a small commission for recommending my favorite products at no extra cost to you! Additionally, as an Amazon affiliate, I earn from qualifying purchases.