Caramel Cheesecake Dip
Caramel Cheesecake Dip is easy to make with just 3 ingredients that are probably already in your kitchen! Cream cheese, caramel sauce, and peanuts mix together to create a creamy, sweet, and crunchy dip that's perfect for apple slices and graham crackers.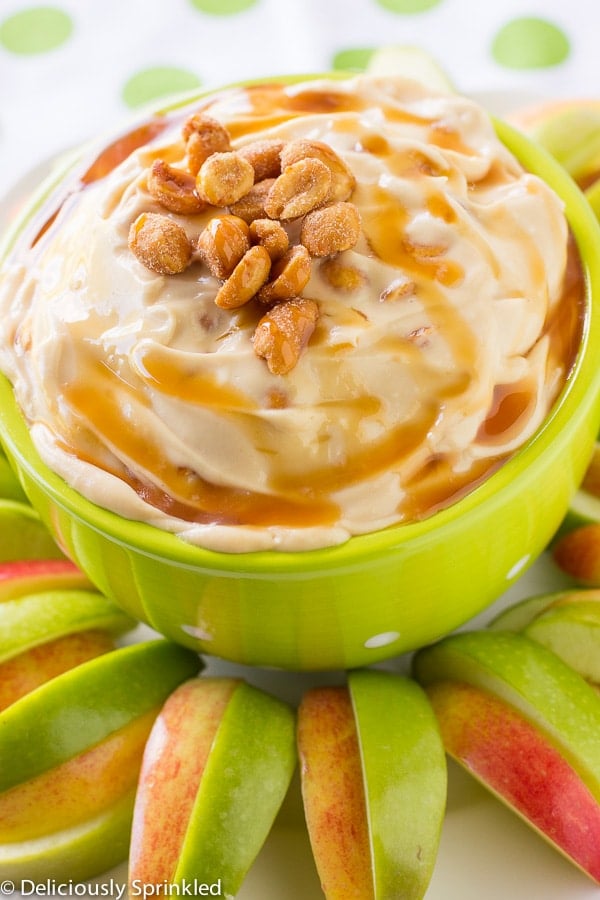 Caramel Cheesecake Dip
Caramel. Apples. Cheesecake. Peanuts. With football season just around the corner, it's time to load up on all of the best dips – both savory and sweet! This dessert dip is ridiculously easy to make and is the perfect last minute dip to bring to a party. It's one of my all time favorite fall recipes because the caramel flavor combined with the apples is just so perfectly autumnal!
So, what does Caramel Cheesecake Dip taste like? Just as heavenly as you'd imagine. It's sweet, creamy, and caramel-y with an extra crunch from the salted caramel peanuts that just about everyone loves. While apples are my favorite dippers to serve this dip with, it also goes great with graham crackers! Graham crackers always remind me of cheesecake crust anyways, so it's pretty tasty.
I know I've already said that this dip is easy to make, but it bears repeating… This dip is SO EASY to make! You just combine your three inexpensive ingredients, then top it off with a little extra peanuts and caramel sauce. Plate it with your dippers, and dig right in. It's a no bake recipe that's perfect for when you're craving something sweet or need a low-stress appetizer before the big game!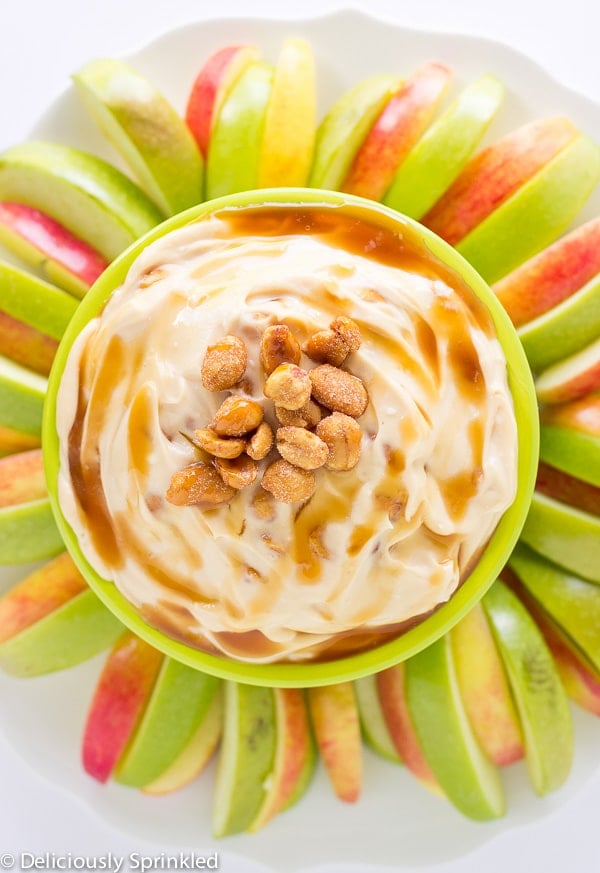 Cream cheese pairs like a dream with sweet caramel sauce and crunchy peanuts. It's hard to say what the best part of this Caramel Cheesecake Dip is… So let's just agree that the whole thing is pretty spectacular, especially when served with crisp apples or cinnamon graham crackers!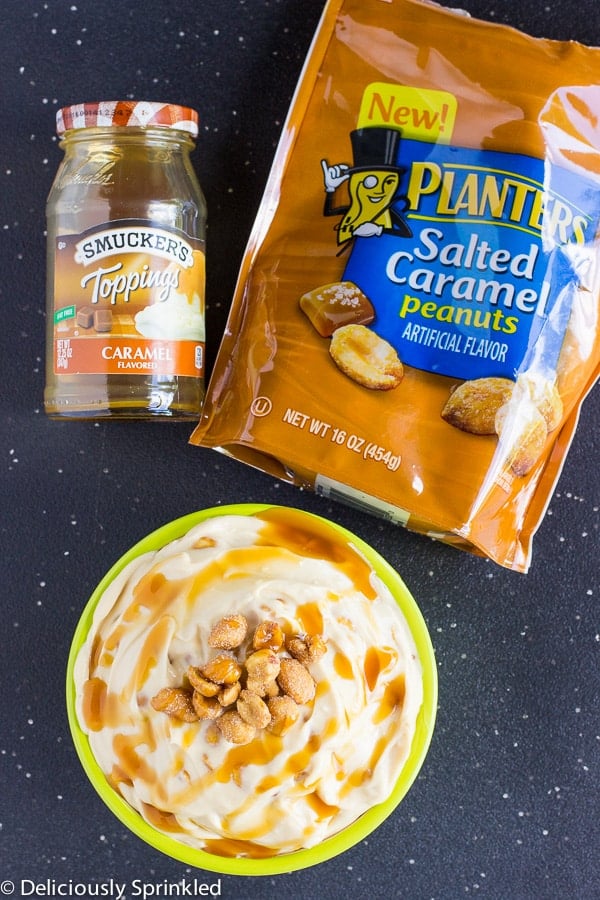 Ingredients for Caramel Cheesecake Dip
You only need 3 – yes, 3! – ingredients to make this fall flavored dessert dip.
CREAM CHEESE – 2 (8oz.) package cream cheese
CARAMEL SAUCE – 1 cup caramel sauce (room temperature)
PEANUTS – 1/3 cup peanuts
EXTRAS – additional peanuts and caramel sauce, for topping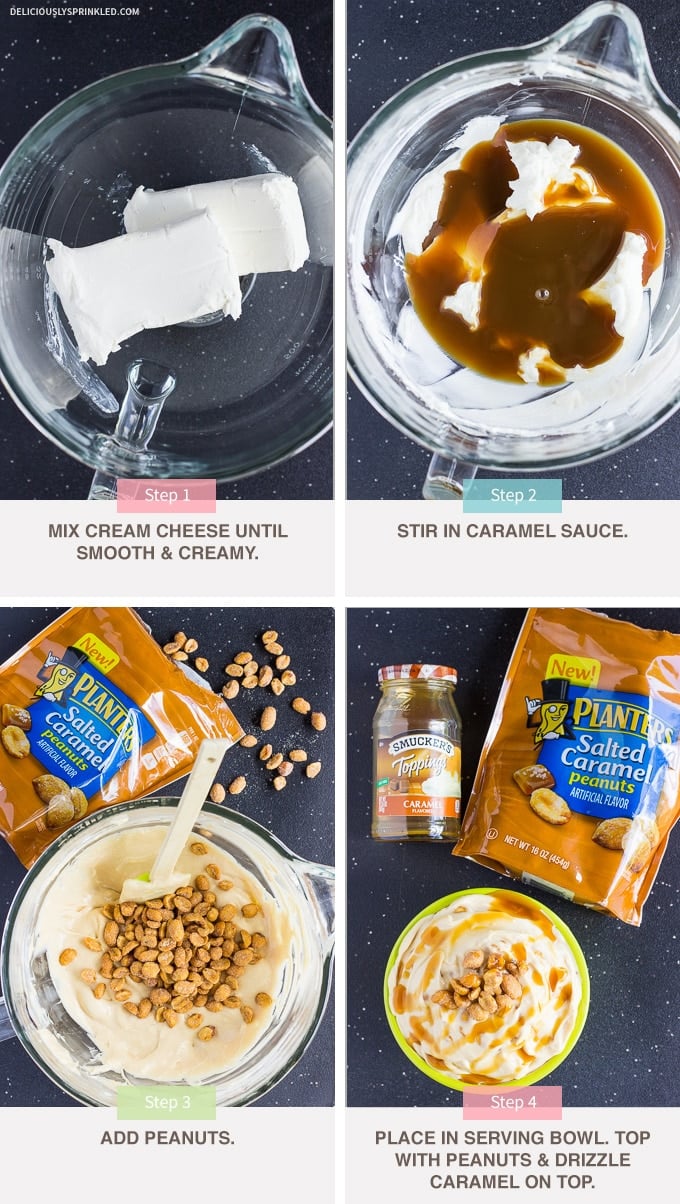 How to Make Caramel Cheesecake Dip
You'll be done making this dip in just about 5 minutes! If you need a last minute dip to serve to party guests, this is a great recipe to turn to.
BEAT IT. Use an electric or stand mixer to beat the room temperature cream cheese until it's fluffy.
ADD THE PEANUTS AND CARAMEL. Stir in the caramel sauce and peanuts until fully incorporated.
ASSEMBLE AND SERVE. Transfer the dip to a serving bowl, top it off with more peanuts and caramel, then serve with your favorite dippers. Enjoy!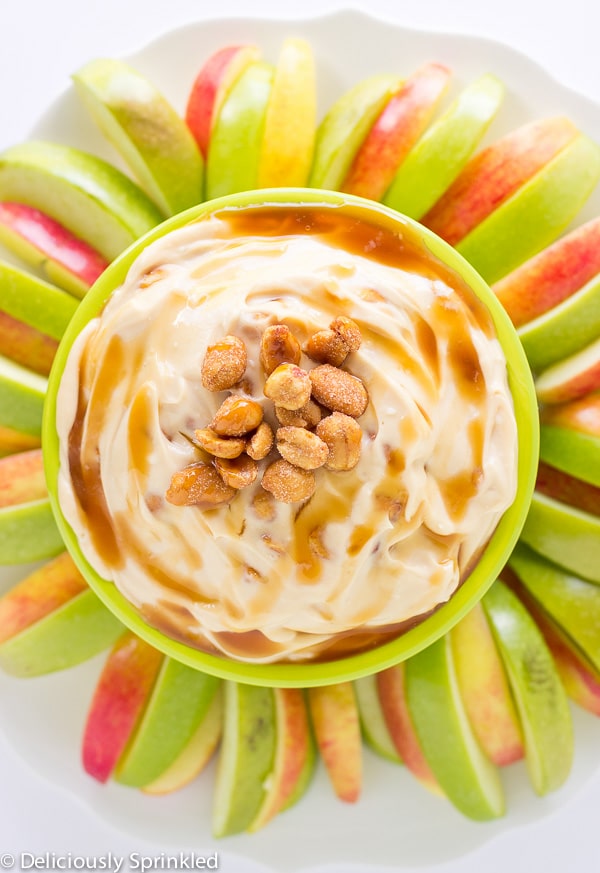 Tips for the Best Caramel Cheesecake Dip
Make sure your cream cheese is ready to go! You want your cream cheese to be soft enough to beat until smooth and creamy. However, you also want it to be semi-chilled if you're planning on serving the dip right away. What I like to do about 30 minutes before I'm ready to make this dip is remove the two cream cheese packages from the fridge and place them onto the kitchen counter. That way, it'll be slightly soft but still be chilled.
Make it crunchy! I like to add some crunchiness to this caramel cheesecake dip. I used Planters Salted Caramel Peanuts which are AMAZING in this dip. But you could use regular salted peanuts or if you don't like peanuts you could add chocolate chips instead!
Keep it chilled. If you're not serving Caramel Cheesecake Dip right away, wrap it up with plastic wrap and keep it in the fridge until you're ready. That way, it'll stay perfectly chilled!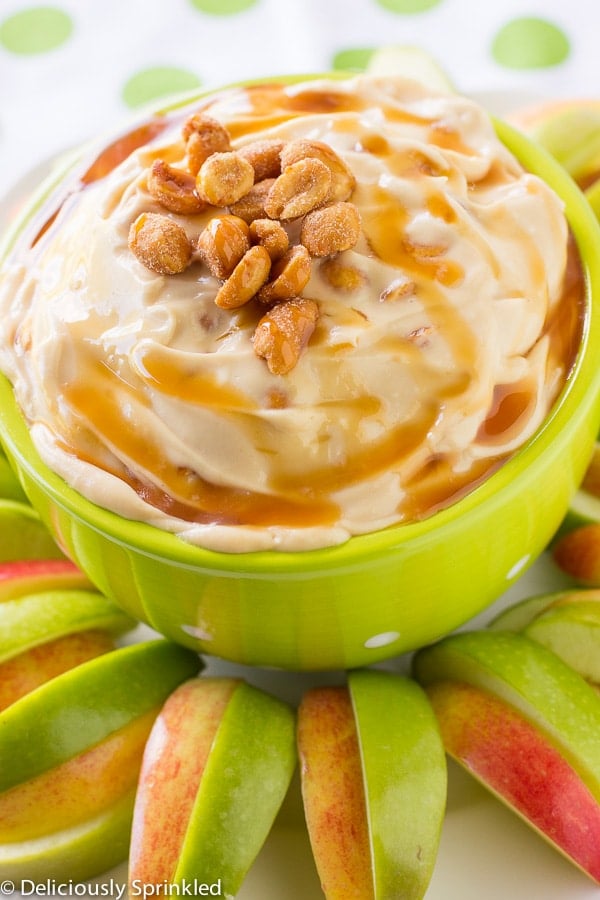 Yield: Serves 10
Caramel Cheesecake Dip
Prep Time 5 minutes
Total Time 5 minutes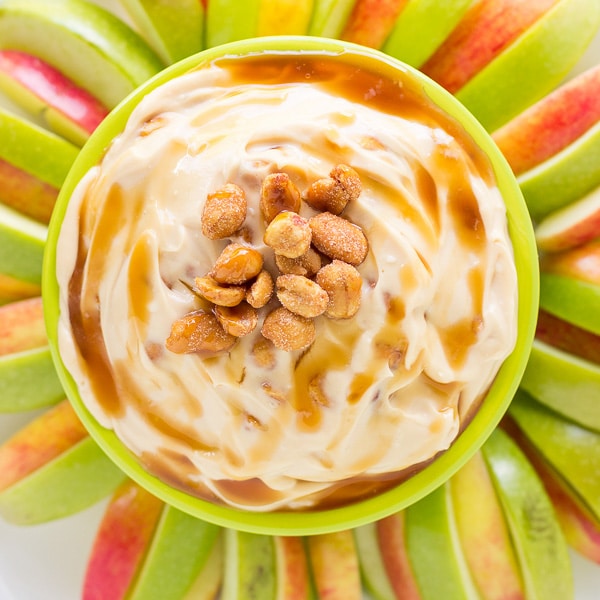 Ingredients
2 (8oz.) package cream cheese
1 cup caramel sauce (room temperature)
1/3 cup peanuts
additional peanuts and caramel sauce, for topping
Instructions
Using an electric or stand mixer, beat cream cheese for about 1-2 minutes until smooth and fluffy.
Stir in caramel sauce.
Stir in peanuts.
Pour dip into serving bowl, top with additional peanuts and drizzle with caramel sauce. Serve with apple slices or cinnamon-sugar graham crackers.
Notes
* STORE CHEESECAKE DIP IN FRIDGE FOR UP TO ONE WEEK.
Dessert dips are one of my favorite things to serve at a party! They satisfy everyone's sweet tooth and I don't have to slice a cake or worry about washing a million plates. If you agree, you'll also love my Smores Cookie Dough Dip, Sugar Cookie Dip, and Pumpkin Dip!