The Best Sloppy Joes Recipe
Allow me to toot my own horn, but… this the BEST sloppy joes recipe EVER!! So easy to make, so yummy to eat and is the perfect family favorite to serve at all your summer get-togethers.
BEST SLOPPY JOES RECIPE
If you're looking for the Best Sloppy Joes, you're going to love this recipe. No other sandwich out there can compete with this delicious mess!
I just love eating Sloppy Joes. It's like taking everything that you've ever learned about manners and just tossing them right out the window. And when the word "messy" is part of the name of the food, you know it's going to be good.

SLOPPY JOES FROM SCRATCH
Kids all over the world rejoice in getting to eat Sloppy Joes because of their fun factor, for sure. But why I think that this is the Best Sloppy Joes recipe ever is because I love that it has a tad bit of sweetness in each and every bite. My little secret added ingredient? Just a pinch (or two!) of brown sugar. Does the trick every single time.
That sweetness combined with the flavor of ketchup is like a match made in heaven. One bite and I think you'll agree. With the summer months literally right around the corner, now's the time to make this Sloppy Joe recipe.
Just have a picnic outside and then hose off the kids before they come inside the house. (if the weather is super hot, they'll love it!)
Have fun making this Sloppy Joe recipe because it's just as much fun to eat!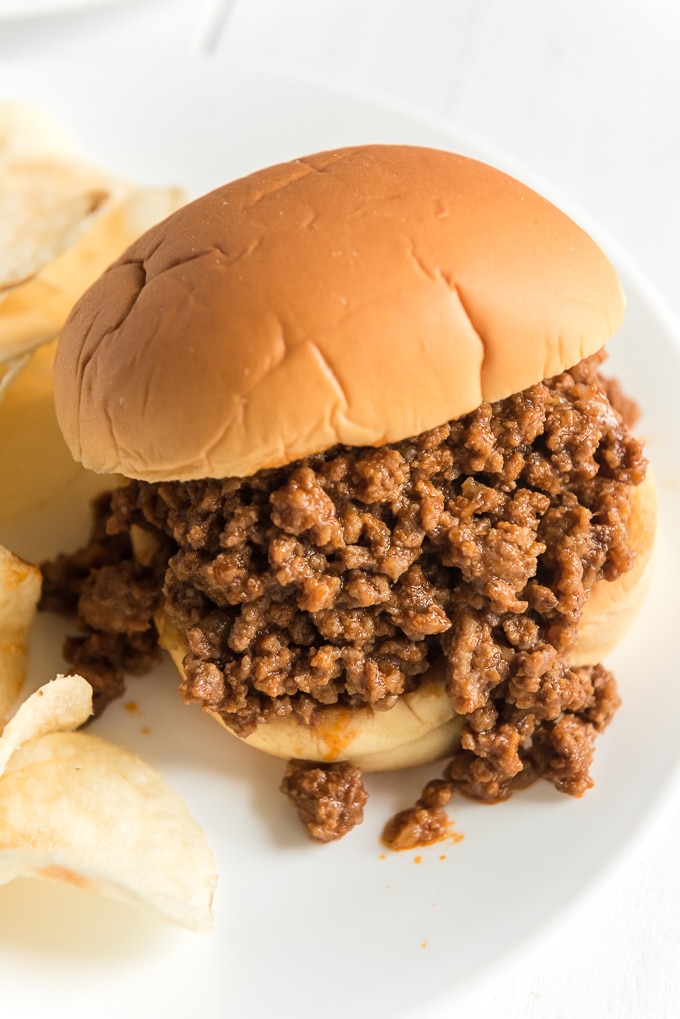 SLOPPY JOE INGREDIENTS
For this recipe, you'll just need these ingredients:
GROUND BEEF: if you prefer, you can use ground turkey as well.
ONION: doesn't onion just go in everything?!
CELERY: you want this to be chopped very finely for the right texture.
KETCHUP: perfect for the base of all the flavors.
WATER: you need to make it a sloppy joe sauce somehow, right?!
LEMON JUICE: this adds the right amount of flavor and fat to the mixture.
BROWN SUGAR: this really balances out all the flavors!
WORCESTERSHIRE SAUCE: might sound strange… but so good in this recipe!
SALT: salt is kind of necessary…. on EVERYTHING!
VINEGAR: just a tad added, be careful not to add to much!
DRY MUSTARD: how can you ever say no to this stuff?!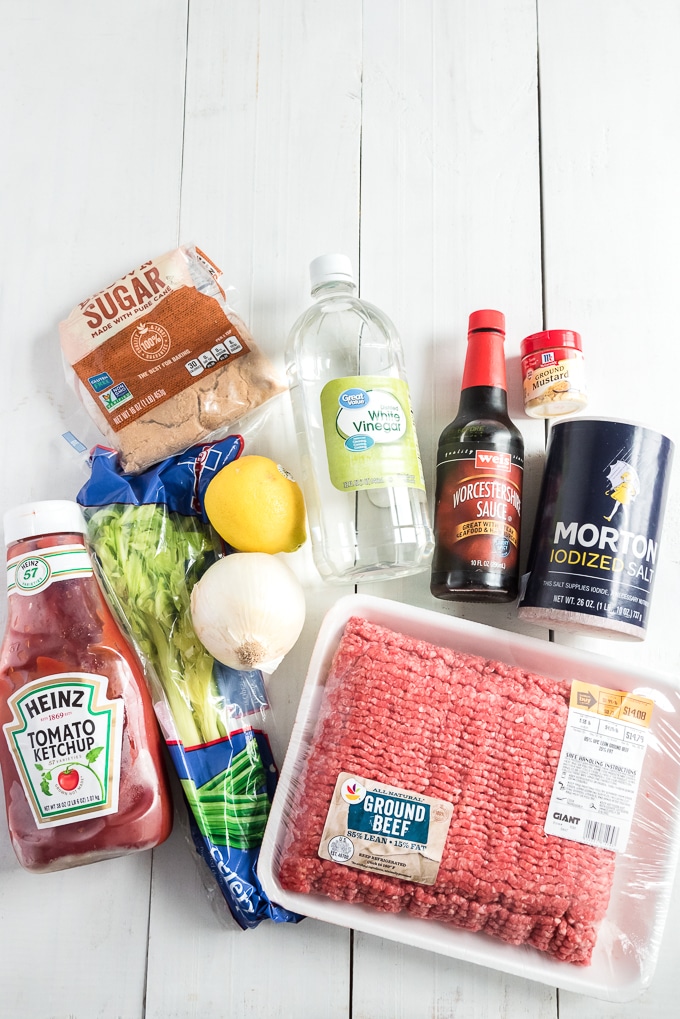 HOW TO MAKE SLOPPY JOES
Scroll down below for the full printable step-by-step recipe!
FRY MEAT: In a large skillet pan, brown ground beef, onion, and celery; drain fat.
ADD INGREDIENTS: Add ketchup, water, lemon juice, brown sugar, Worcestershire sauce, salt, vinegar, and dry mustard; stir to combine. Cover and simmer for 1 hour, stirring occasionally.
SERVE AND ENJOY: Serve on hamburger buns with your favorite toppings and enjoy and enjoy!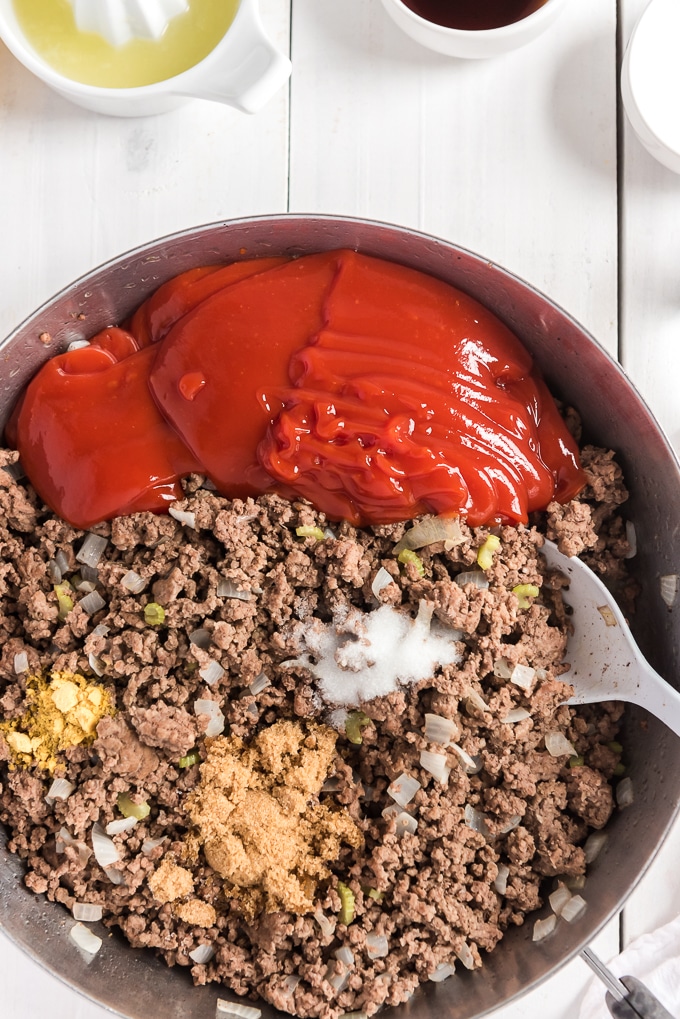 CAN I MAKE THESE SLOPPY JOES IN THE CROCKPOT?
Yes, you can make this sloppy joes recipe in the slow cooker. I like to make these sloppy joes in the crockpot when we are having a party. To make sloppy joes in the crockpot, brown the meat first and then throw the rest of the ingredients in the slow cooker, stir and cook on low for 6-7 hours or on high for 3-4 hours.
CAN I FREEZE SLOPPY JOES FOR LATER?
ABSOLUTELY!! Just make the sloppy joes, and freeze it in small containers or freezer bags. You can freeze it for 3-6 months. To reheat frozen sloppy joes, defrost & reheat in the microwave or in a pan.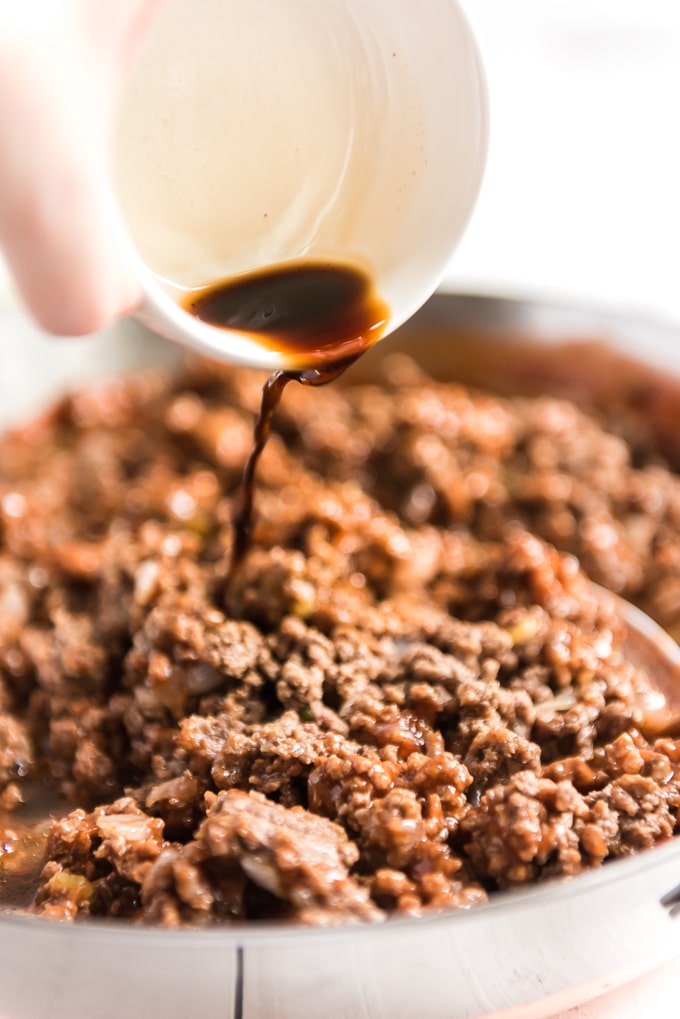 WHAT ARE THE BEST TOPPINGS ON SLOPPY JOES?
We love adding these toppings to our sloppy joes:
sliced cheese
pickles
bacon
fried crispy onions straws (my favorite!)
sour cream
potato chips
WHAT ARE THE BEST SIDES WITH SLOPPY JOES?
We LOVE to use salads as sides such as potato salad, broccoli salad, or a delicious pasta salad! Fries, chips, or roasted veggies make great sides too.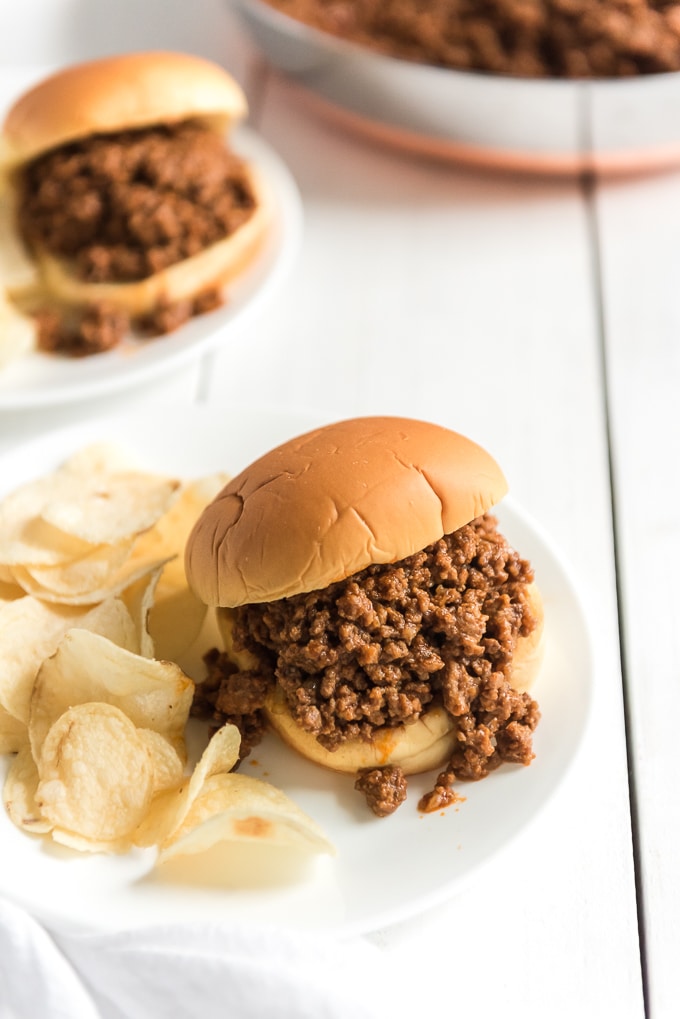 Check out these other dinner recipes you might enjoy!
If you have tried this Sloppy Joes recipe, then please rate it in the recipe card and let me know how it turned out in the comments below!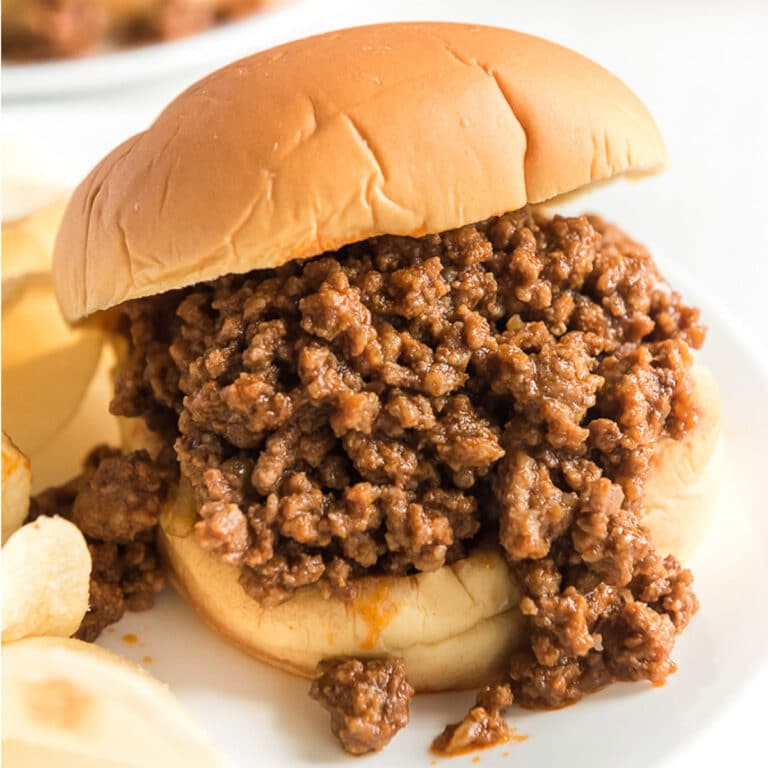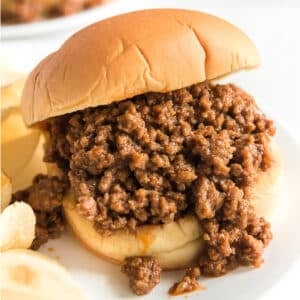 Leave a Review
Easy Sloppy Joes
This EASY sloppy joes recipe makes a simple dinner I'm sure you will love!! It's a family favorite meal in our house but of course, it works great for summer get-togethers too!
Print Recipe
Pin Recipe
Ingredients
4 pounds ground beef
1 cup onion, chopped
½ cup celery, finely chopped
2 cups ketchup
1 cup water
¼ cup lemon juice
2 Tablespoons brown sugar
1 Tablespoon Worcestershire sauce
1 Tablespoon salt
2 teaspoons vinegar
½ teaspoon dry mustard
Instructions
Pour ground beef back into skillet pan or crockpot. Add ketchup, water, lemon juice, brown sugar, Worcestershire sauce, salt, vinegar, and dry mustard. Stir to combine.

Cover and simmer for 1 hour. If cooking in the crockpot, cook on high for 4 hours or love for 6-8 hours.

Serve on hamburger buns.
Notes
Drain off any excess fat left in the pan when browning the meat especially if you use regular ground beef.
Cooking the veggies with the meat softens them so they melt into the sloppy joe sauce.
Chop the onion and celery. Into small pieces so they cook up tender and hidden from pickier eaters.
Serve up on buns with your favorite toppings such as sliced or shredded cheese, pickles, bacon, fried crispy onions straws (my favorite!), sour cream, and potato chips.
Calories: 573kcal, Carbohydrates: 22g, Protein: 43g, Fat: 34g, Saturated Fat: 13g, Polyunsaturated Fat: 1g, Monounsaturated Fat: 15g, Trans Fat: 2g, Cholesterol: 154mg, Sodium: 1602mg, Potassium: 913mg, Fiber: 1g, Sugar: 17g, Vitamin A: 339IU, Vitamin C: 7mg, Calcium: 57mg, Iron: 5mg
This blog post contains affiliate and/or referral links, which pay me a small commission for recommending my favorite products at no extra cost to you! Additionally, as an Amazon affiliate, I earn from qualifying purchases.