Easy Apple Crisp Recipe
This is hands down the BEST recipe for apple crisp you could try! It's so sweet in flavor and has the perfect combination of textures. If you're looking for an easy apple crisp recipe that is also baked to perfection, this is a MUST!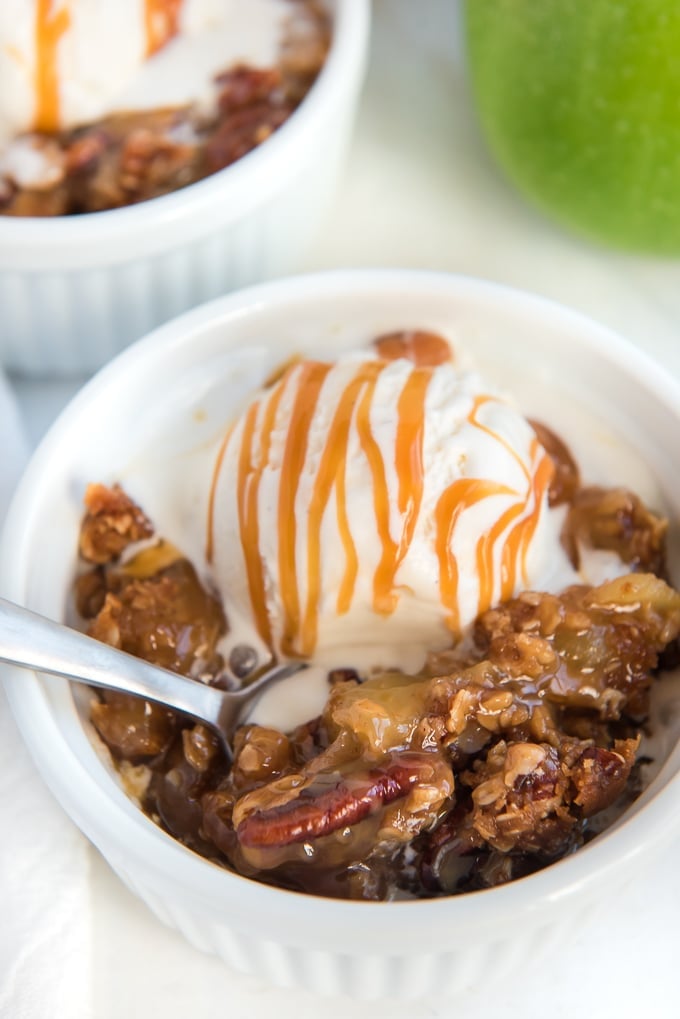 THE BEST RECIPE FOR APPLE CRISP
You wouldn't believe how difficult it can be to come up with the PERFECT apple crisp recipe! There are so many ingredients that work together to create not just the perfect flavor, but the perfect consistency too! Rest assured I've done the hard work for you with this recipe!
Before making this recipe, be sure to run out and grab your favorite vanilla ice cream. Apple crisp is good on its own, but there is something about vanilla ice cream on top of apple crisp that just makes you feel like you're in heaven. (Especially when the ice cream starts to melt over the top – YUM!!)
When baking, make sure to slice up your apples evenly so they cook at the same rate and come out the perfect consisency. Different sized apple slices can will not yield the same results.
This apple crisp is PERFECT for parties, gatherings, and celebrations. I mean, who doesn't love some delicious apple crisp? But let's be honest here – it'll be hard not to keep this all to yourself with how delicious it tastes!
Now, let's get to the easy apple crisp recipe below, shall we?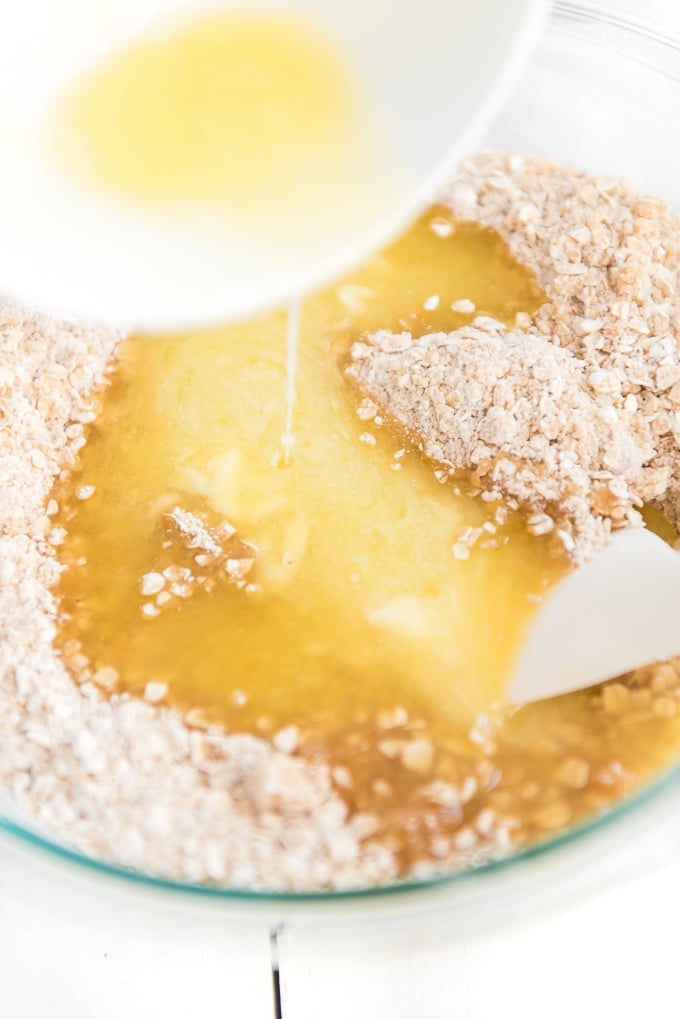 EASY APPLE CRISP INGREDIENTS
For this easy apple crisp recipe, you'll need these ingredients:
Apple filling:
APPLES: We used our favorite, granny smith apples, for this recipe!
SUGAR: The perfect amount of sugar makes for the BEST apple crisp.
FLOUR: Flour really brings together the filling with a nice thick, gooey texture.
CINNAMON: Cinnamon is a must for every apple recipe, don't you think?
NUTMEG: Nutmeg paired with the cinnamon makes for the perfect sweet flavor.
Crust topping:
OATS: Would it even be apple crisp without the classic oat topping?
FLOUR: The flour is what creates the perfect oat topping consistency.
BROWN SUGAR: The flavor of brown sugar paired against the oats is pure heaven.
BAKING POWDER: Used to thicken up and "rise" the topping without sacrificing the flavor of the brown sugar.
BAKING SODA: We use both baking powder and baking soda to give it the perfect consistency without sacrificing flavor.
PECANS: If you've never had pecans in your apple crisp – it is a must!
BUTTER: The butter adds the perfect amount of oils and liquid to the topping to create a dreamy texture!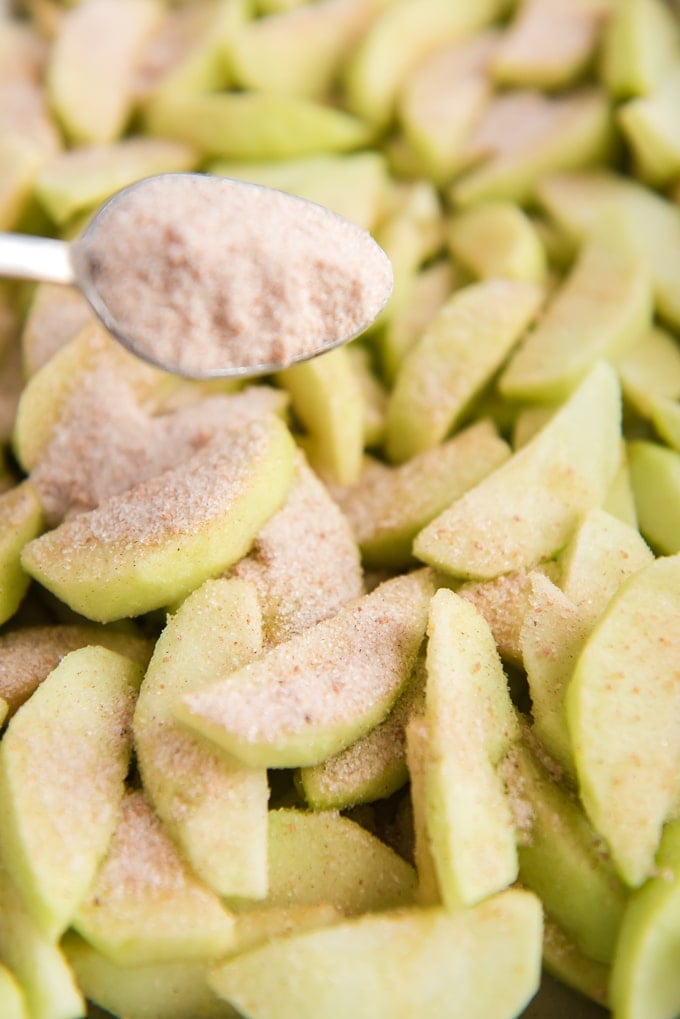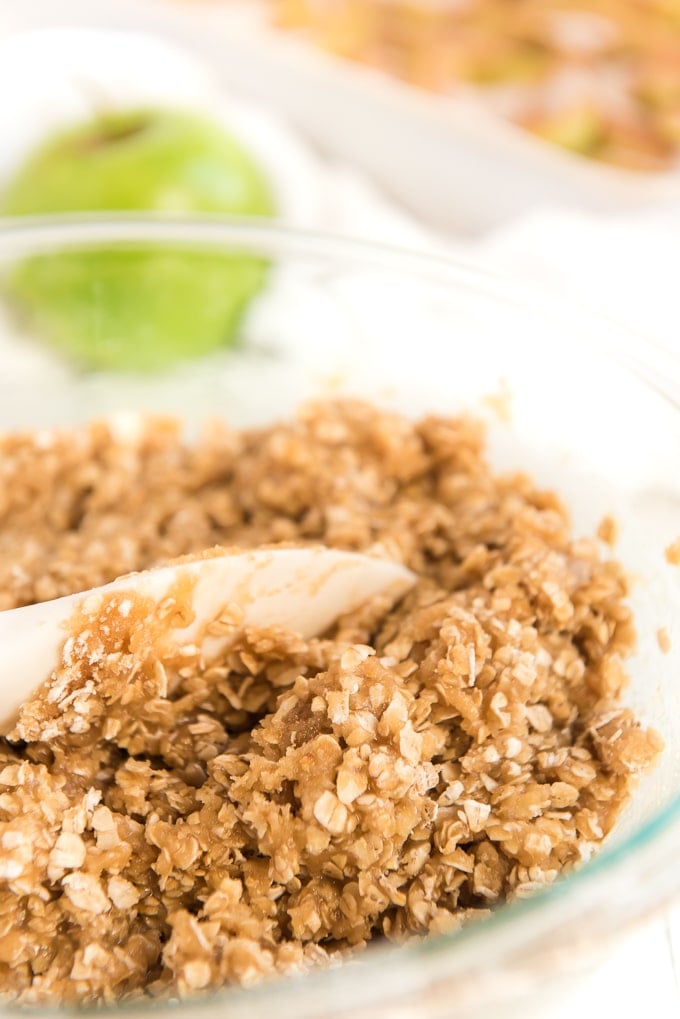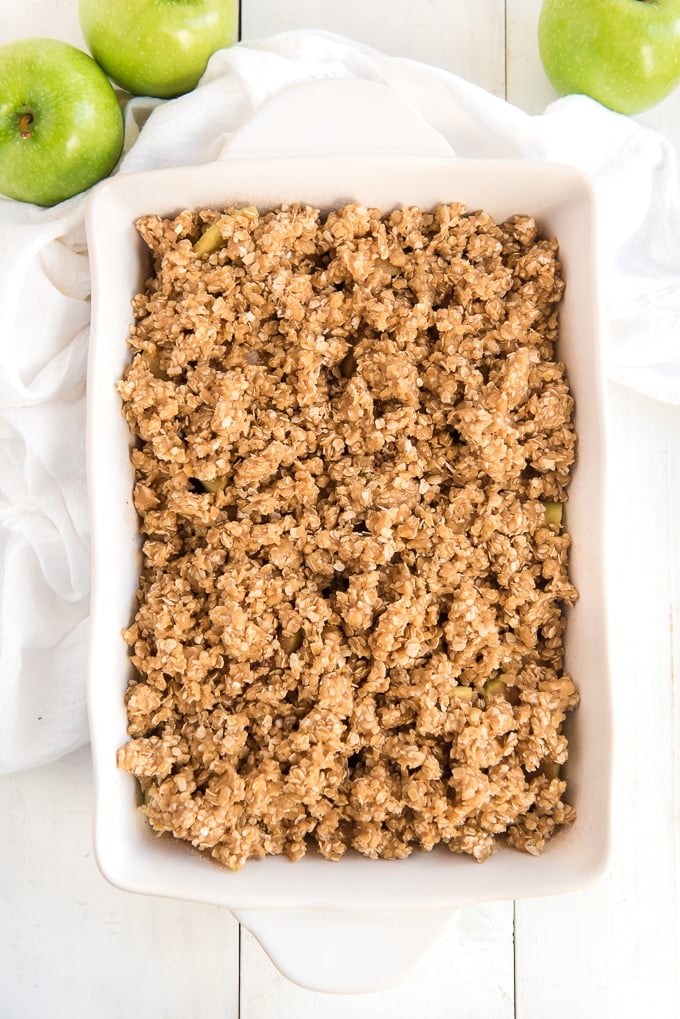 HOW TO MAKE EASY APPLE CRISP
Be sure to scroll down below for the printable step-by-step recipe!
PREPARE: Start by preheating the oven to 350F and spray a 9 x 13 glass baking dish with non-stick cooking spray.
MAKE THE APPLE FILLING: Add sliced apples into the bottom of the dish. Mix sugar, flour, cinnamon, and nutmeg and then sprinkle over the apples.
MAKE THE CRUST TOPPING: Combine oats, flour, brown sugar, baking powder, baking soda, chopped pecans, and melted butter. Crumble evenly over the apple mixture.
BAKE AND SERVE: Bake for 45 minutes and serve warm topped with vanilla ice cream.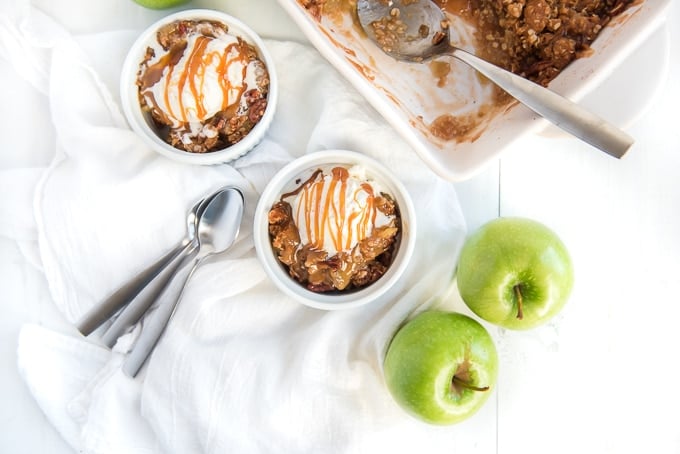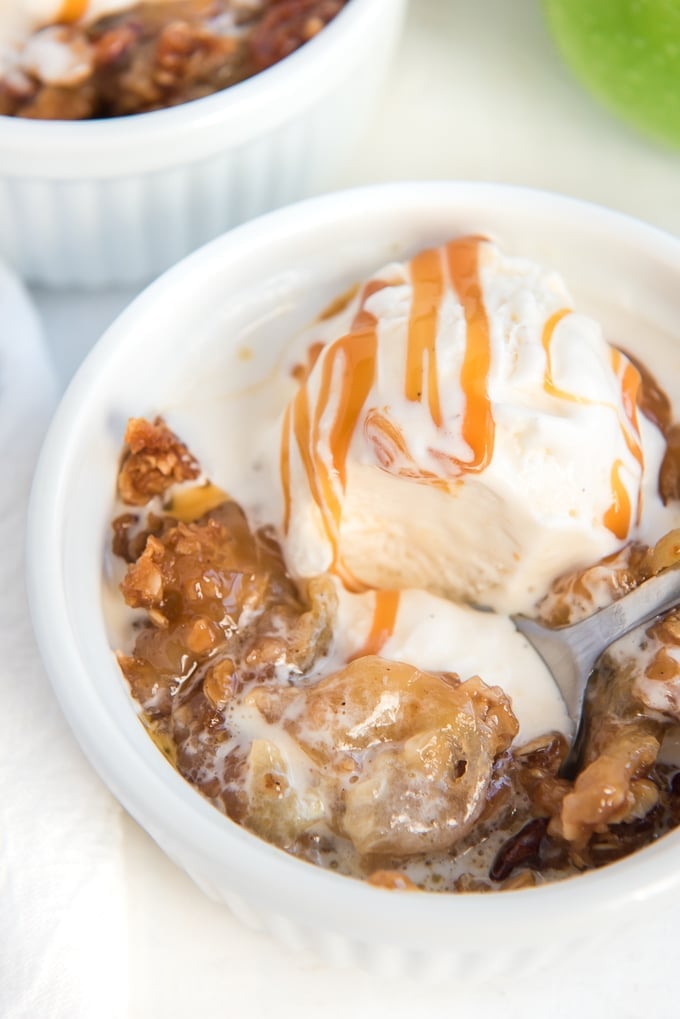 WHAT KIND OF APPLES ARE BEST FOR APPLE CRISP?
My personal favorite will forever be granny smith apples (hence why it's used in this recipe!). But if you've got a drawer of apples to use up and want to put off buying even more apples… honey-crisp and golden delicious apples are also some great options.
The secret to the best apples for apple crisp is that they are crisp, tart, and stand up well to baking like these options I've listed. For more complex flavors, try mixing different kinds of apples!
CAN APPLE CRISP BE MADE AHEAD OF TIME?
You sure can! After this apple crisp has cooled completely, wrap it up in some foil (these foil containers work great if you plan on freezing!) and place it into the freezer for up to 3 months.
When you're ready to serve it, thaw it out overnight and reheat in the oven at 350F for 10-20 minutes.
DOES APPLE CRISP NEED TO BE REFRIGERATED?
Yes! Cooked apples and oats need to be refrigerated as they will go bad within 24 hours and no longer be safe to eat. But this apple crisp is so good, I'm sure it will be gone before then!!
HOW LONG IS APPLE CRISP GOOD FOR?
For best results, eat up your apple crisp within 3 days of being refrigerated or 3 months when stuck in the freezer.
HOW DO YOU REHEAT APPLE CRISP?
Apple crisp can be reheated in the oven at 350F for 10-15 minutes or you can reheat them in the microwave! Place a single serving in a microwave safe dish and heat in 30-second intervals until fully warmed.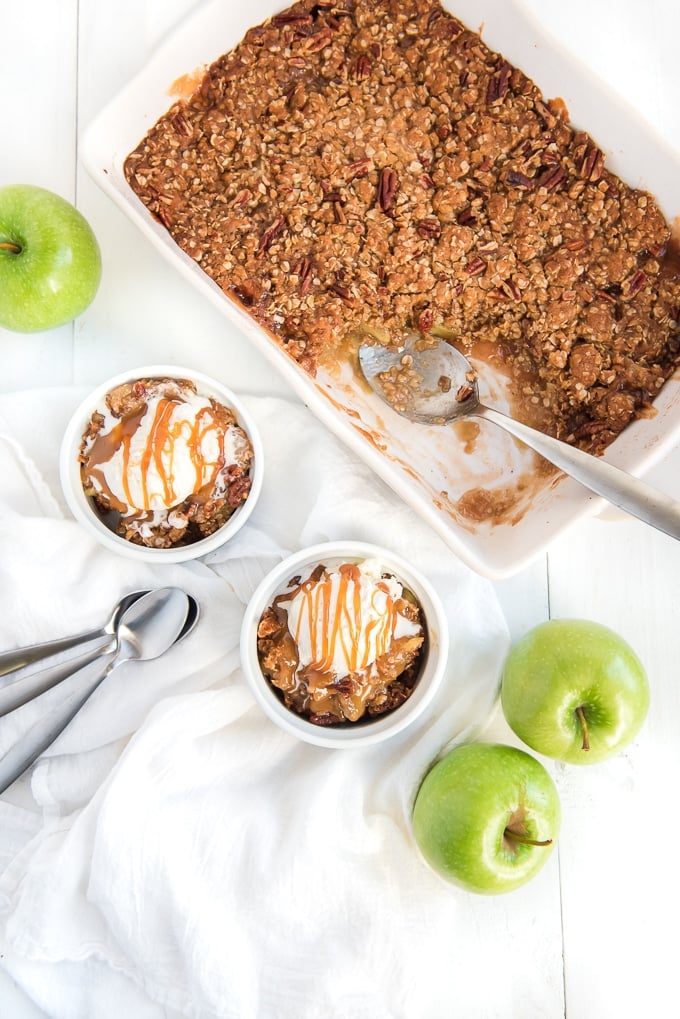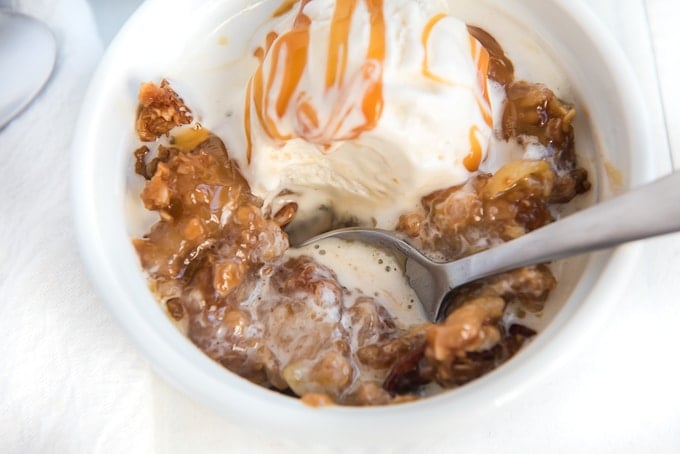 Check out these other apple recipes!
If you have tried this Easy Apple Crisp recipe, then please rate it in the recipe card and let me know how it turned out in the comments below!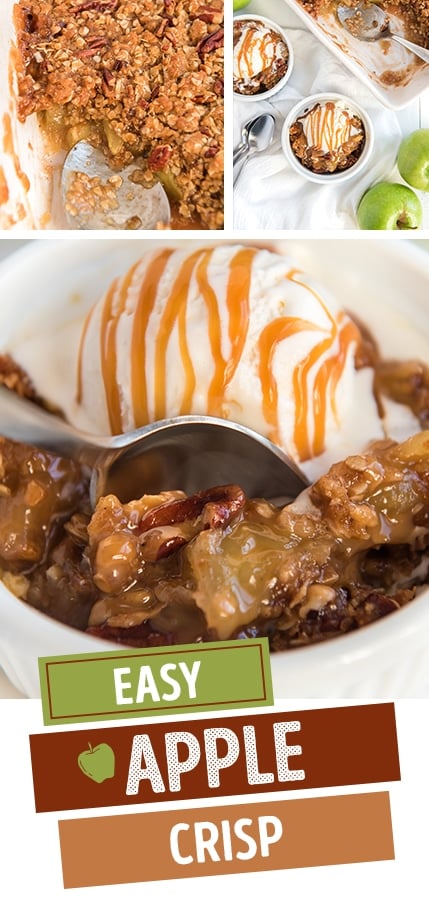 Yield: seves 8-10
EASY APPLE CRISP RECIPE
Prep Time 15 minutes
Cook Time 45 minutes
Total Time 1 hour
This is hands down the BEST recipe for apple crisp you could try! It's so sweet in flavor and has the perfect combination of textures.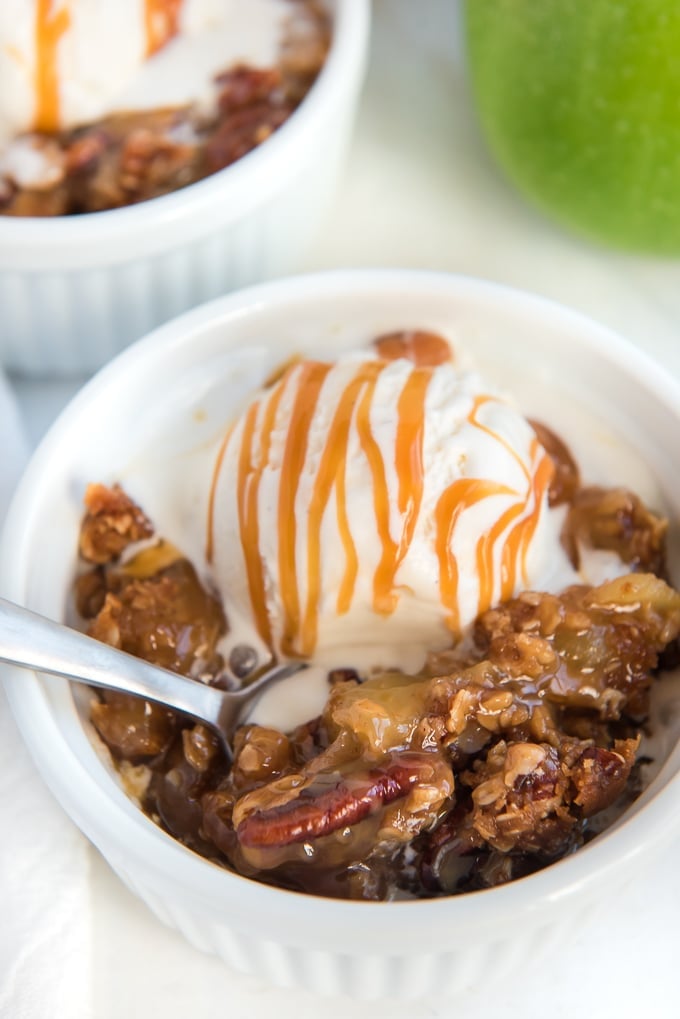 Ingredients
Apple filling
10 granny smith apples, peeled and chopped
1 cup granulated sugar
1 tablespoon all-purpose flour
1 teaspoon ground cinnamon
1/4 teaspoon nutmeg
Crust topping
2 cups quick-cooking oats
1 cup all-purpose flour
2 cups packed brown sugar
1/2 teaspoon baking powder
1/2 teaspoon baking soda
1 1/2 cups pecans, chopped
1 cup butter, melted
Instructions
Preheat to 350F degrees. Spray a 9x13 inch baking dish with non-stick cooking spray.
Place sliced apples into baking dish. Mix sugar, flour, ground cinnamon, and ground nutmeg together, and sprinkle over apples.
In a medium bowl, combine oats, flour, brown sugar, baking powder, baking soda, chopped pecans and melted butter. Crumble evenly over the apple mixture.
Bake for about 45 minutes. Serve warm with vanilla ice cream!
Nutrition Information:
Yield:
10
Serving Size:
1
Amount Per Serving:
Calories: 661
Total Fat: 31g
Saturated Fat: 13g
Trans Fat: 1g
Unsaturated Fat: 16g
Cholesterol: 49mg
Sodium: 246mg
Carbohydrates: 94g
Fiber: 7g
Sugar: 67g
Protein: 6g
This blog post contains affiliate and/or referral links, which pay me a small commission for recommending my favorite products at no extra cost to you! Additionally, as an Amazon affiliate, I earn from qualifying purchases.