Monster Brain Halloween Bark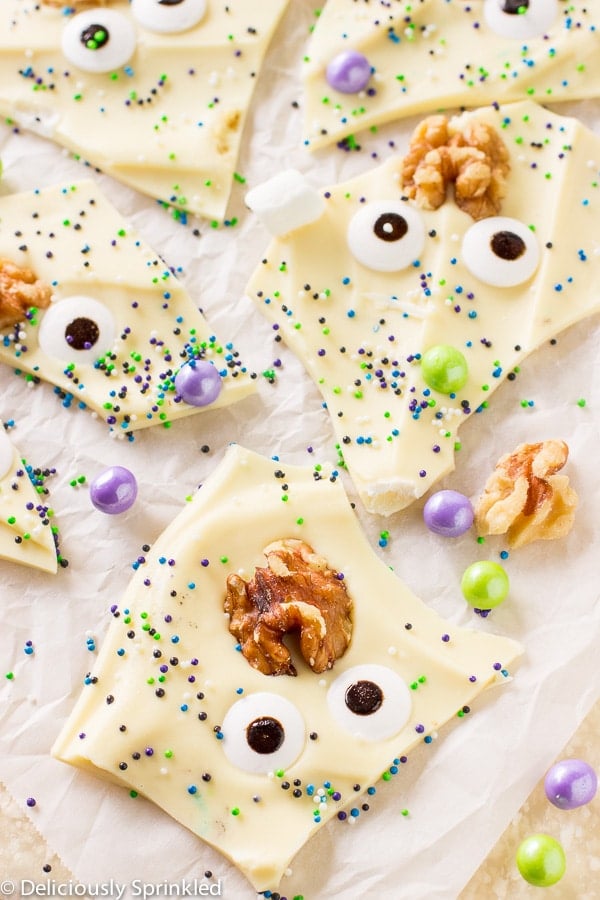 Can you believe Halloween is right around the corner!?  I just started decorating our house for Halloween and I'm one of those girls that actually hate scary things…no haunted houses, no scary movies, and no scary house decorations. I'm all about the "cute" and "fun" Halloween decorations, kind of like this super fun Monster Brain Halloween Bark that I made for all of you today!
Seriously, this Halloween bark is so cute and it only takes about 5 minutes to make. It's so simple to make, it tastes delicious and it will be a guaranteed hit at your upcoming Halloween parties. It also would be a perfect Halloween gift for your family and friends, too! ♥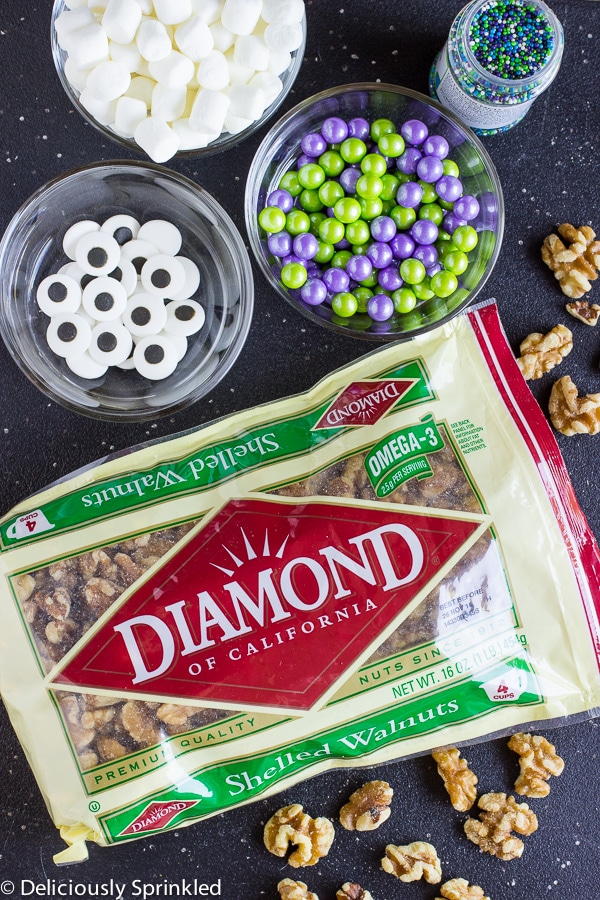 JUST A FEW BAKING TIPS:
✓ WHITE CHOCOLATE: I used Ghiradelli white chocolate baking bars, but you could also use white chocolate chips. If you use white chocolate chips, you will need about 1 1/2 cups.
✓ SHELLED WALNUTS: For the monster "brains" I used shelled walnuts because they look like a brain (isn't that cool!?). If you can't find enough shelled walnuts that are "whole", you can place two "half" walnuts together onto the melted white chocolate which makes for a cool crazy looking brain.
✓ BEST SAME DAY: This bark is best the same day you make it, but you can store it in the fridge for up to 3 days in an airtight container.
STEP-BY-STEP GUIDE ON HOW TO MAKE THIS MONSTER BRAIN HALLOWEEN BARK: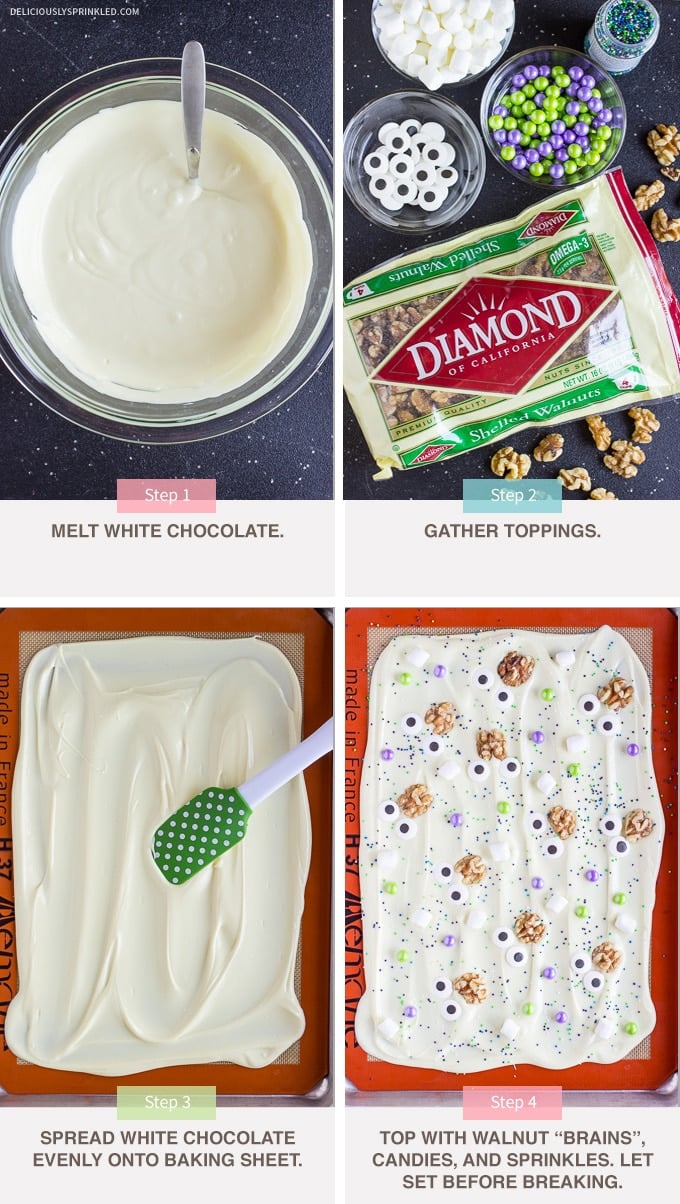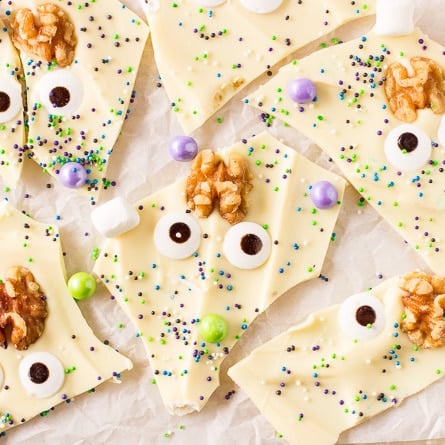 Yield: Serves 10-12
Monster Brain Halloween Bark
Prep Time 5 minutes
Additional Time 45 minutes
Total Time 50 minutes
Ingredients
3 (4oz.) white chocolate baking bars
1/4 cup mini marshmallows
candy eyeballs
purple and green candies
sprinkles
Instructions
PRE-STEP: Line baking sheet with parchment paper or a silicone baking mat. Set aside.
STEP 1: In a medium bowl, melt white chocolate baking bark in microwave, stirring until smooth.
STEP 2: Gather topping ingredients. Look through the bag of Diamond of California shelled walnuts to find about 12 "walnut brains".
STEP 3: Pour melted chocolate onto prepared baking sheet, and using a spatula, spread it into an even layer.
STEP 4: Top the chocolate with eyeball candies, placing "walnut brains" above eyeball candies. Sprinkle with mini marshmallows, purple and green candies, and sprinkles. Place baking sheet in the refrigerator to chill for 30 to 45 minutes until the chocolate fully hardens.
STEP 5: Remove the bark from the refrigerator. Cut the bark into irregularly shaped pieces and serve.
NOTES:
Notes
*STORE: Store leftover bark in an airtight container in the refrigerator for up to 3 days.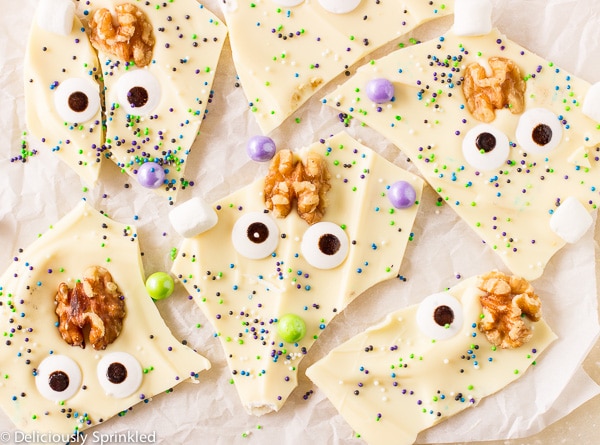 I'm working with Diamond of California to bring you this fun Halloween recipe!