Frosted Carrot Cake Cookies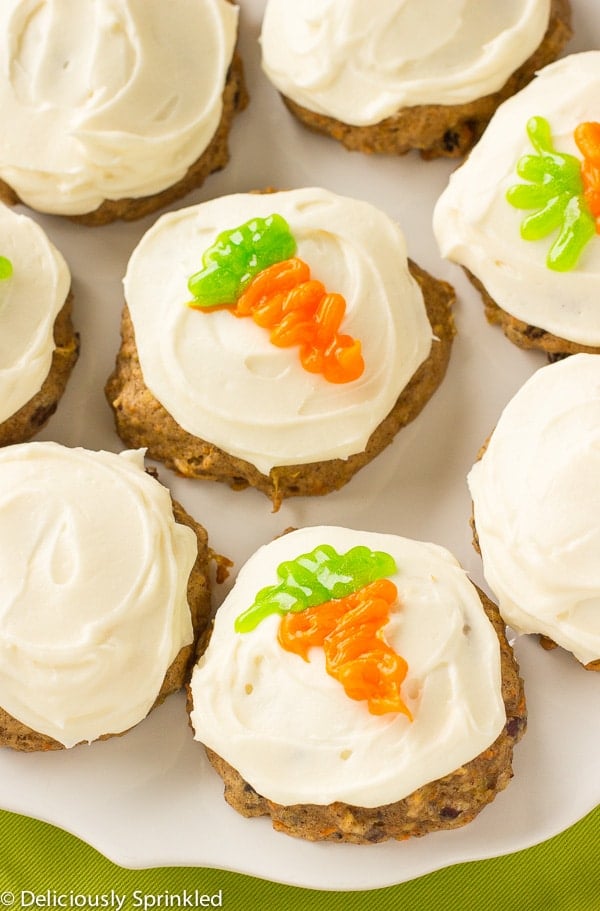 Easter is right around the corner and these Frosted Carrot Cake Cookies are the perfect springtime dessert.
These Frosted Carrot Cake Cookies that taste just like traditional carrot cake but in an easy-to-make cookie form. And it wouldn't be carrot cake without a generous amount of delicious cream cheese frosting. These cookies are soft, chewy and loaded with all the carrot cake favorites like crushed pineapple, raisins, and walnuts.
I love to make these Frosted Carrot Cake Cookies all year round but especially for my families Easter brunch. They are so much easier to make than a traditional carrot cake and I know some of my family members like them plain and other's like them with cream cheese frosting, either way, these cookies are always a hit at Easter brunch. ♥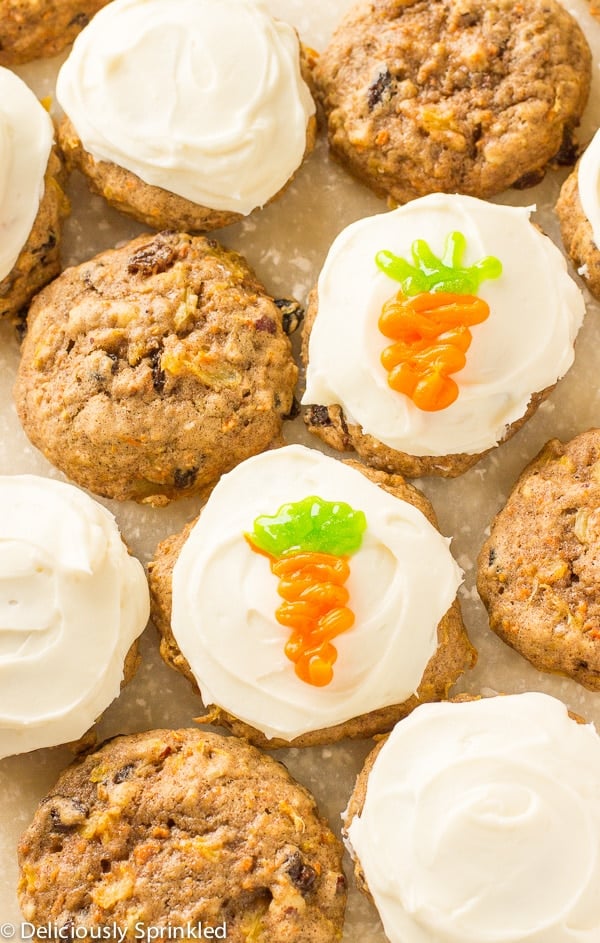 JUST A FEW BAKING TIPS:
✓ DON'T OVERMIX: With almost all my cookie recipes, I always make sure to remind you to not OVERMIX  the cookie dough. Meaning, when you mix the flour mixture into the wet ingredients, only mix them together until just combined…you should still see some flour in your mixing bowl.
✓ SCOOPING THE COOKIE DOUGH:  I always use a 1 Tablespoon cookie scoop, each cookie dough ball has "2 scoops" of cookie dough, meaning that each cookie dough ball is 2 Tablespoons in size. In my opinion, this is the perfect sized cookie. If you don't have a cookie scoop, you can use an ice cream scooper but you will only need 1 ice cream scoop of cookie dough.
★ And to make it super easier for you to learn how to scoop the perfect cookie, I created a step-by-step guide on How To Scoop The Perfect Cookie!  
STEP-BY-STEP GUIDE ON HOW TO MAKE THESE FROSTED CARROT CAKE COOKIES: