Cadbury Brownie Bites
These Cadbury Brownie Bites are the perfect Easter brunch dessert!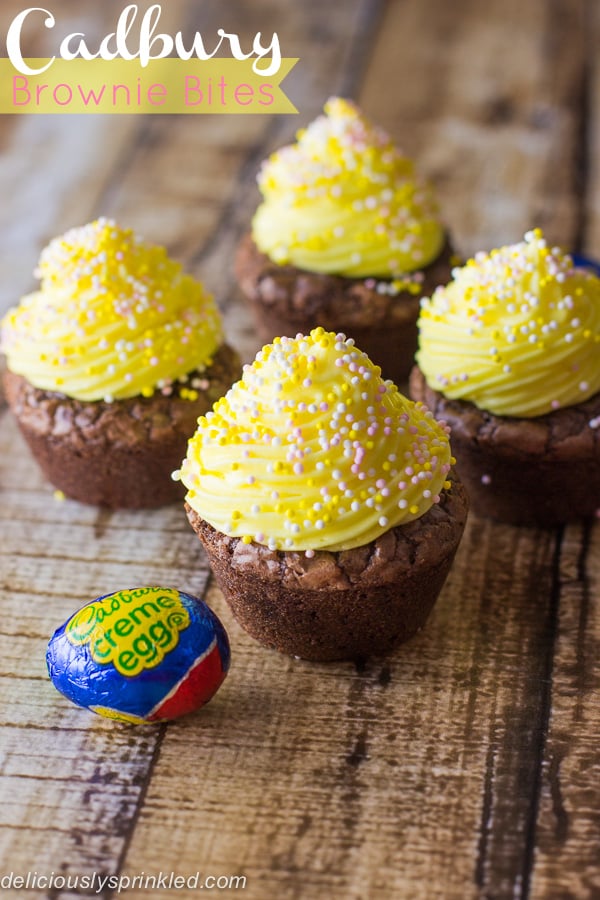 Happy St. Patrick's Day!
Although St. Patrick's Day is today, I feel like we have been celebrating this fun, green holiday for a couple weeks now with my Mint Chocolate Chip Brownies, Grasshopper Pie, Mint Chocolate Chip Cookies, and Lucky Charms Munch recipes that we have been enjoying!
It's time to celebrate with some green beer before we are onto the next holiday/season with these delicious Cadbury Brownie Bites filled with a Cadbury Creme Egg and topped with buttercream frosting with SPRINKLES!
Cadbury Creme Egg's are my absolutely favorite Easter candy, if I could have a Easter basket filled with these yummy eggs I would be one happy girl! And these brownie bites are not only super simple to make, they're a perfect Easter treat that I guarantee will be a huge hit!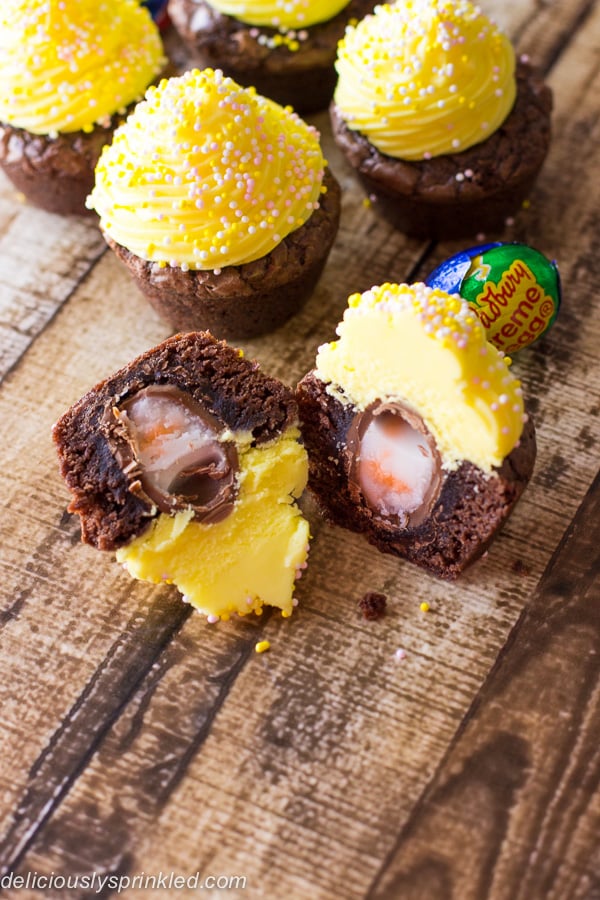 INGREDIENTS TO MAKE BROWNIE BITES
✓BOX BROWNIE MIX
✓CADBURY CREME MINI EGGS
✓ BUTTER
 ✓ POWERED SUGAR
✓SALT
✓VANILLA EXTRACT
✓MILK
✓ YELLOW FOOD COLORING
 ✓ SPRINKLES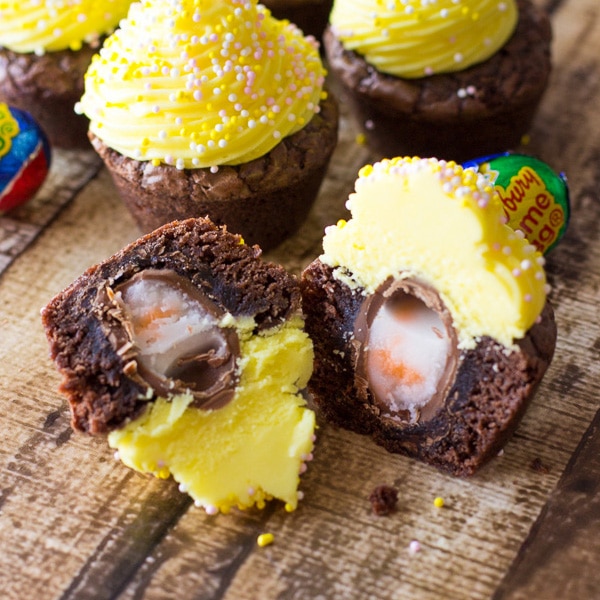 Yield: 24 Brownie Bites
Cadbury Brownie Bites
Additional Time 40 minutes
Total Time 40 minutes
Ingredients
1 box brownie mix
2 Cadbury Creme Mini Eggs 12-Pack
1 cup butter, softened
4 cups powered sugar, SIFTED
¼ teaspoon salt
1 tablespoon vanilla
2 tablespoons milk
4 drops of yellow food coloring
sprinkles
Instructions
Mix the box brownie mix according to the package directions.
Spray a mini muffin tin with non stick spray.
Fill each tin with 1 teaspoon brownie batter.
Bake at 350F degrees for 11 minutes. Remove from the oven and let cool 2 minutes.
Press an unwrapped creme egg into the center of each brownie bite. Let cool another 2 minutes.
Place on a wire rack and let cool completely.
For the frosting:
Mix the softened butter on medium speed with an electric or stand mixer.
Beat for about 3 minutes until smooth and creamy.
Add powdered sugar, milk, vanilla extract, and salt. Increase to high-speed and beat for 3 minutes.
Add 4 drops of yellow food coloring and stir until fully colored.
Frost cooled brownie bites (I used Wilton 32 piping tip) and sprinkle sugar sprinkles on top.
Notes
* I frosted these brownie bites with a Wilton 32 piping tip. If you don't have a piping bag, no worries you can frost these brownies with a spoon or knife.