Frosted Sugar Cookies
The best Frosted Sugar Cookie recipe you will ever need, topped with buttercream frosting and lots of SPRINKLES!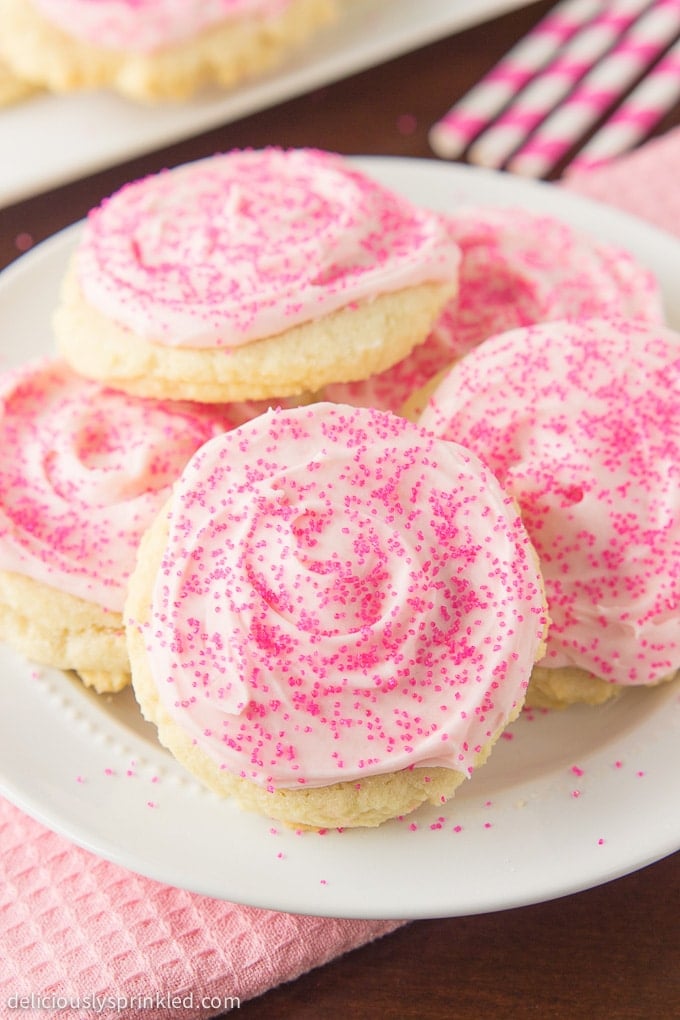 These Frosted Sugar Cookies are one of my favorite cookies EVER, along with my chocolate chip cookies being next in line. Seriously, these cookies are so good because they have everything you love about a traditional buttery flavored cut-out sugar cookie topped with a creamy vanilla buttercream frosting and of course a ton of pink SPRINKLES to support National Breast Cancer Awareness Month!
And, not only are these cookies delicious, they are super simple to make. No need to chill the dough over night or rolling out the dough, just delicious sugar cookies that take less then 30 minutes to make…your welcome! ❤
I make these cookies by the dozens during the holiday season, and I'm always requested by my friends and family to bring these cookies to all of our holiday get togethers. So if your trying to decide what to bring to your upcoming holiday parties, look no further because these frosted sugar cookies will be a guaranteed hit, trust me!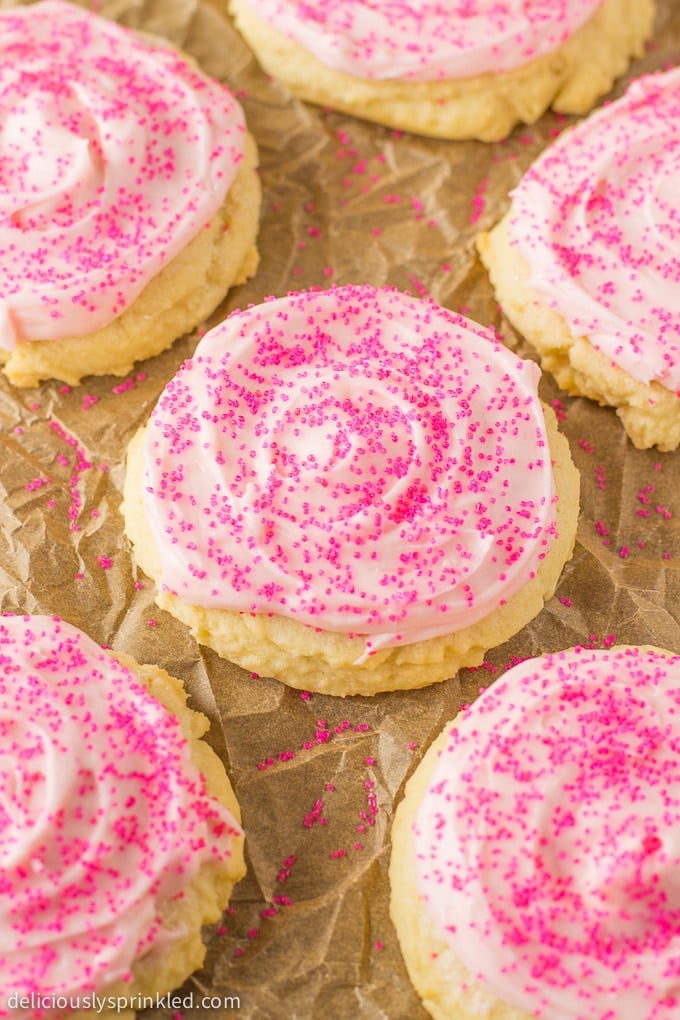 JUST A FEW BAKING TIPS:
✓ DON'T OVERMIX: With almost all my cookie recipes, I always make sure to remind you to not OVERMIX  the cookie dough. Meaning, when you mix the flour mixture into the wet ingredients, only mix them together until just combined…you should still see some flour in your mixing bowl.
✓ BAKING TIME: I baked my cookies for about 17 minutes, that's when the tops started to crack. So make sure to watch the cookies in the last couple of minutes, once they start to crack on the top they are done.
✓ VANILLA BUTTERCREAM FROSTING: Check out my step-by-step guide to making the best vanilla buttercream frosting that I used for these sugar cookies and of course, don't forget the SPRINKLES.
STEP-BY-STEP GUIDE ON HOW TO MAKE THESE FROSTED SUGAR COOKIES:

Frosted Sugar Cookies
Yield: 24 Cookies
Prep Time: 10 minutes
Cook Time: 15-18 minutes
Total Time: 25 minutes
★ Make sure to read my BAKING TIPS above before you start baking!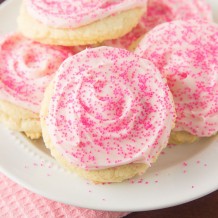 Ingredients:
SUGAR COOKIES:
2 1/2 cups all-purpose flour
3/4 teaspoon baking soda
1 teaspoon baking powder
1 cup (2 sticks) salted butter, softened
1 1/4 cup granulated sugar
3 egg yolks
1 teaspoon vanilla extract
1/4 cup granulated sugar, for rolling
VANILLA BUTTERCREAM FROSTING:
1 (2 sticks) cup unsalted butter, softened
2 1/2 cups powdered sugar
1 Tablespoons pure vanilla extract
1 Tablespoon heavy whipping cream
pink food coloring
sprinkles
Directions:
PRE-STEP: Preheat oven to 350F degrees. Line two large baking sheets with parchment paper or silicone baking mats. Set aside.
STEP 1: Whisk together the flour, baking soda, and baking powder in a medium size bowl. Set aside.
STEP 2: In a large bowl, using an electric or stand mixer, cream together the butter, and granulated sugar until combined.
STEP 3: Add egg yolks and vanilla extract.
STEP 4: Add flour mixture and mix until just combined. DO NOT OVERMIX!
STEP 5: Using a cookie scoop or ice cream scoop, scoop dough into balls about 2 Tablespoons each and place onto prepared baking sheet.
STEP 6: Put 1/4 cups of sugar into a small bowl. Place bottom of a glass into the sugar. Firmly press the bottom of the glass into the center of each dough ball. You want the dough to spill out over the sides of the glass.
STEP 7: Bake for 15-18 minutes or until tops of cookies start to crack. Let cool for 5 minutes on baking sheet before moving them to a wire rack. Let cool completely on wire rack before frosting.
MAKE THE FROSTING:
STEP 8: Mix softened butter on medium speed with an electric or stand mixer. Beat for 30 seconds until smooth and creamy.
STEP 9: Add powdered sugar, heavy whipping cream, and vanilla extract. Increase to high-speed and beat for 3 minutes. Add more cream if needed for spreading consistency. Add a couple drops of pink food coloring.
STEP 10: Frost each sugar cookie using a knife and sprinkle with pink sprinkles.
NOTES:
*Freezing the cookie dough: Roll the dough into balls and place them in an airtight container. You can freeze the cookie dough for up to 2 months. Once your ready to bake them, place frozen cookie dough balls onto prepared baking sheet and bake for 13-16 minutes.
* Storing the cookies: Cookies will stay fresh for up to 7 days in an airtight container, stored at room temperature.
Check out more delicious Cookie Recipes…
And try my Funfetti Sugar Cookie recipe next!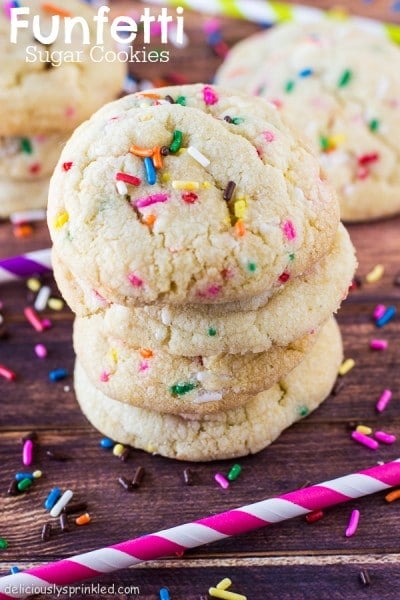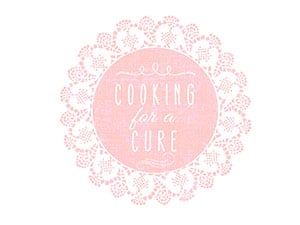 16 Responses to "Frosted Sugar Cookies"
Leave a Comment