This homemade Oven Baked Caramel Corn is the best sweet & salty snack. It's so delicious and super easy to make!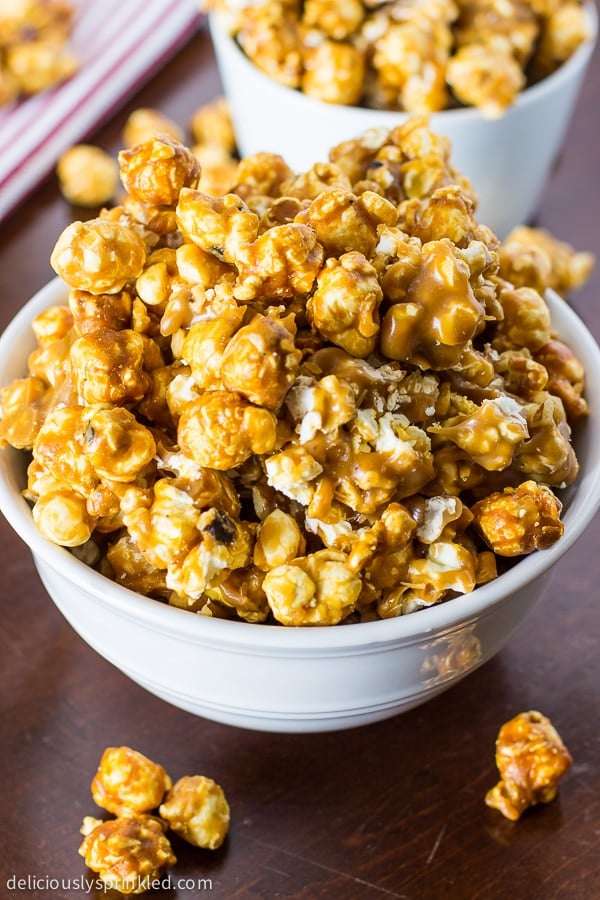 Most people might think of caramel corn as a Halloween treat but not me. In our family, oven baked caramel corn is a holiday favorite. My mom and I always make caramel corn to snack on during all the Thanksgiving day football games, especially if the Packers are playing!
Unfortunately, the Green Bay Packers don't play this year on Thanksgiving but my mom and I will still planning on making our delicious oven baked caramel corn recipe the night before Thanksgiving. It has become a Thanksgiving Eve tradition in our house. We also make a ton of caramel corn for Christmas, because it makes the perfect gift that everyone is guaranteed to love!
JUST A FEW BAKING TIPS:
I like to use microwave popcorn, I'm actually afraid to make popcorn on the stove! When I'm making caramel corn I like to use the butter flavored popcorn to give the caramel corn even more flavor. But you can use whatever kind of popcorn you like.