This recipe for Classic Chocolate Cupcakes with Vanilla Frosting is brought to you by Karo® Syrup.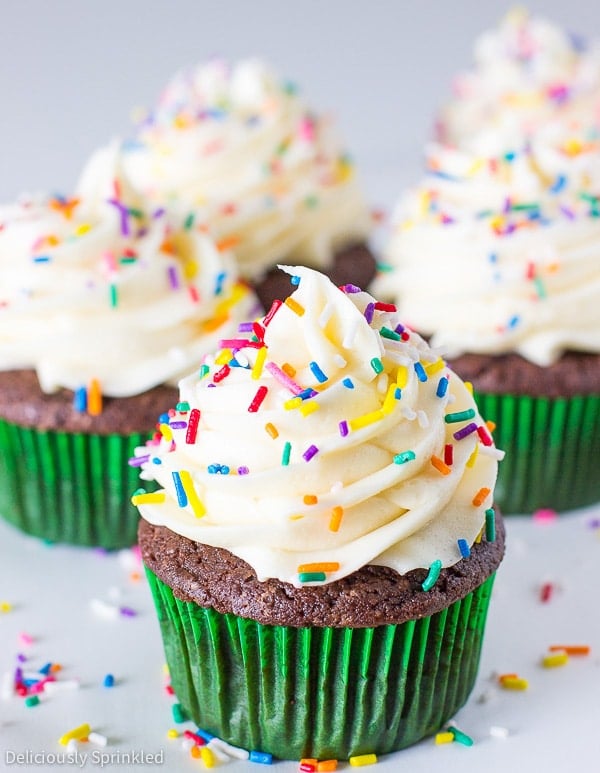 When it comes to classic desserts, one of my favorites is my delicious Classic Chocolate Cupcakes with Vanilla Frosting. Don't be fooled by how simple these chocolate cupcakes are, because I guarantee that once you make them they will be your go-to chocolate cupcake recipe.
And of course they are topped with SPRINKLES, which makes them automatically the BEST in my book.
These Classic Chocolate Cupcakes are super fudgy, moist chocolate cupcakes that are super easy to make. I topped these cupcakes with the BEST vanilla frosting I have ever made. I used Karo® Light Corn Syrup in the vanilla frosting and let me tell you, it took my original Vanilla Buttercream Frosting to a whole new, amazingly delicious level. Seriously, these cupcakes taste like you got them from a bakery but they're even better!
Spring will be in bloom any day now, and Easter is inching closer on the calendar!   Are you entertaining at all for the holiday or bringing a dish? Dress up these cupcakes in their colorful Easter Sunday best. They're almost too cute to eat. Almost.
JUST A FEW BAKING TIPS: