Snickerdoodle Cupcakes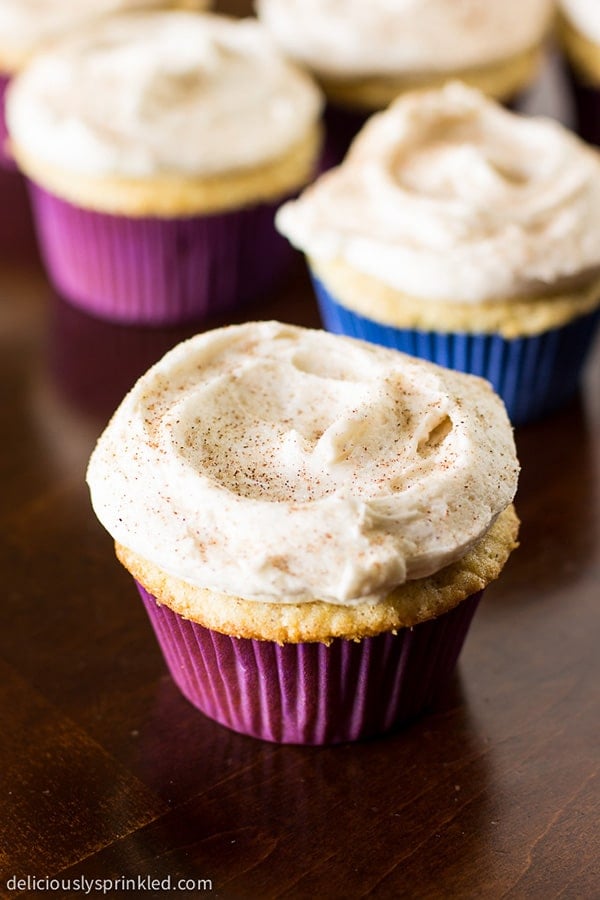 Snickerdoodle cookies are one of my favorite type of cookies ever. I love the simple vanilla flavor loaded with cinnamon-sugar. Anytime I can SPRINKLE a baked good with cinnamon-sugar, I am one happy girl!
And I was not shy about loading up my snickerdoodle cupcakes with cinnamon today. Cinnamon swirled into the vanilla cupcake batter, and cinnamon-sugar SPRINKLED on top of a yummy mountain of cinnamon frosting.
Today's recipe is a great example that an amazing cupcake does not have to be difficult! You can impress everyone with a simple recipe and a little creativity. Seriously…how can you not want one of these delicious cupcakes?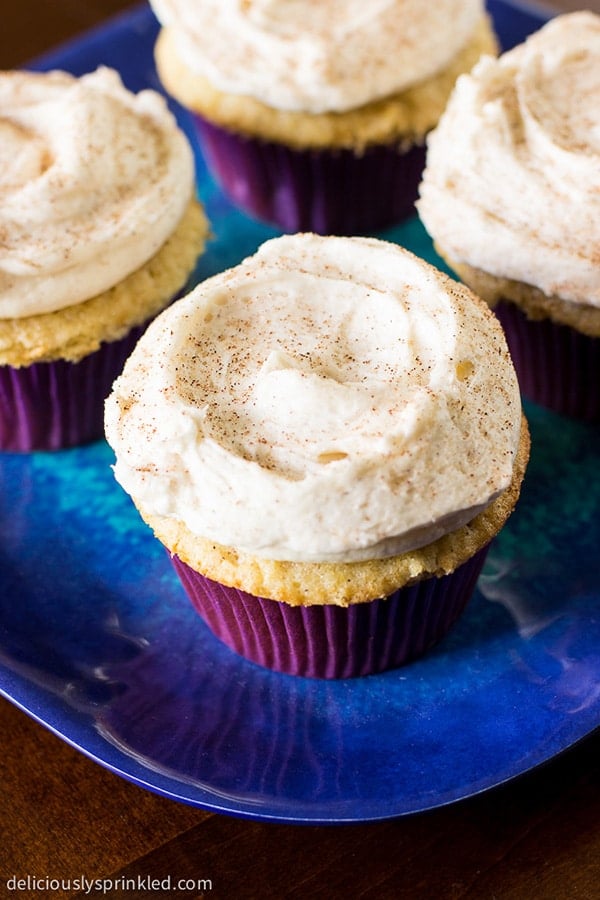 JUST A FEW BAKING TIPS:
✓ DON'T OVERMIX: With almost all my cupcakes recipes, I always make sure to remind you to not OVERMIX  the batter. Meaning, when you mix the flour mixture into the wet ingredients, only mix them together until just combined…you should still see some flour in your mixing bowl.
✓ OVEN TEMPERATURE:  It's so important to bake these cupcakes at the proper temperature.  Preheat your oven to the correct temperature BEFORE you put your cupcakes in the oven.  If you don't have an oven thermometer, I would HIGHLY recommend getting one, it will help you make sure your oven is set to the right temperature.
✓ FROSTING: For the cinnamon buttercream frosting, I recommend using heavy whipping cream because it gives the frosting that thick, creamy, texture that everyone loves on top of a cupcake. And don't forget the SPRINKLE cinnamon-sugar on top of each cupcake, because it's not a snickerdoodle cupcake without a SPRINKLE of cinnamon-sugar!
STEP-BY-STEP GUIDE ON HOW TO MAKE THESE SNICKERDOODLE CUPCAKES:

Snickerdoodle Cupcakes
Yield: 24 Cupcakes

Prep Time:10 minutes

Cook Time:18-20 minutes

Total Time:30 minutes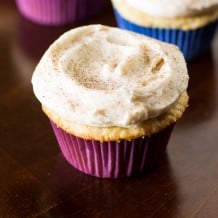 Ingredients:
CUPCAKES:
2¾ cups all-purpose flour
3 teaspoons baking powder
1 teaspoons ground cinnamon
½ teaspoons salt
¾ cup shortening
1⅔ cups granulated sugar
5 large eggs
2½ teaspoons vanilla extract
1¼ cups milk
CINNAMON BUTTERCREAM FROSTING:
1 (2 sticks) cup unsalted butter, softened
2 1/2 cups powdered sugar
2 teaspoons vanilla extract
1 Tablespoon heavy whipping cream*
1 Tablespoon ground cinnamon
Cinnamon-sugar, to sprinkle on top
Directions:
PRE-STEP: Preheat oven to 350F degrees. Line (2) muffin tins with 24 cupcake liners. Set aside.

STEP 1: In a medium bowl, mix flour, baking powder, 1 teaspoon cinnamon, and salt. Set aside.

STEP 2: In a large bowl, beat shortening with electric mixer on medium speed for 30 seconds. Gradually add sugar.  Add eggs, one at a time, beating well after each addition. Beat in vanilla extract.

STEP 3: Slowly add flour mixture and milk, mixing until just combined. DO NOT OVERMIX!

STEP 4: Pour the cupcake batter into the cupcake liners (about 3/4 the way full).

STEP 5: Bake for 18 to 20 minutes or until toothpick inserted in center comes out clean. Allow cupcakes to cool on wire rack before frosting.

MAKE CINNAMON BUTTERCREAM FROSTING:

STEP 6: Mix softened butter on medium speed with an electric or stand mixer. Beat for 30 seconds until smooth and creamy.

STEP 7: Add powdered sugar, heavy whipping cream, ground cinnamon, and vanilla extract. Increase to high speed and beat for 3 minutes. Add more cream if needed for spreading consistency.

STEP 8: Frost cupcakes using a piping bag or knife and sprinkle with cinnamon-sugar. ENJOY!

NOTES:

* STORE: Cupcakes in an airtight container in the refrigerator for up to 3-4 days.

*FROSTING: I highly recommend using heavy whipping cream because it will give the frosting a thicker texture, but you may use milk.
30 Responses to "Snickerdoodle Cupcakes"
Leave a Comment