Fresh Strawberry Lemonade
This Fresh Strawberry Lemonade is a refreshing summertime drink filled with fresh strawberries! 🍓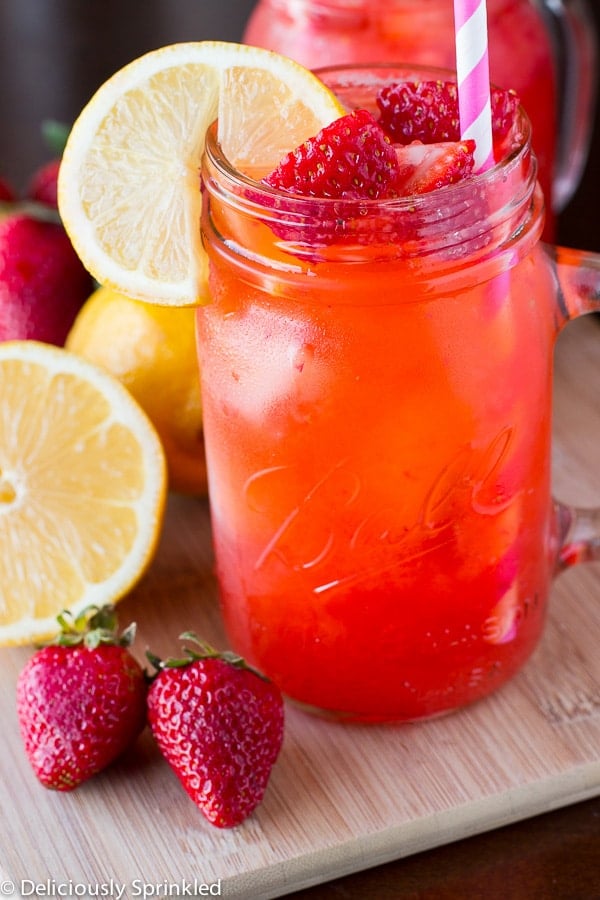 This Fresh Strawberry Lemonade is a super easy, quick, and refreshing summer drink.
As soon as the weather starts to get warm☀👙, I'm instantly craving a nice cold glass of this delicious strawberry lemonade.
And the best part, this Fresh Strawberry Lemonade can be quickly turned into a refreshing summer 🍹 cocktail.
I like to add my favorite vodka, tequila, and even lemon flavored rum. Either way, this strawberry lemonade is my go-to summer drink recipe!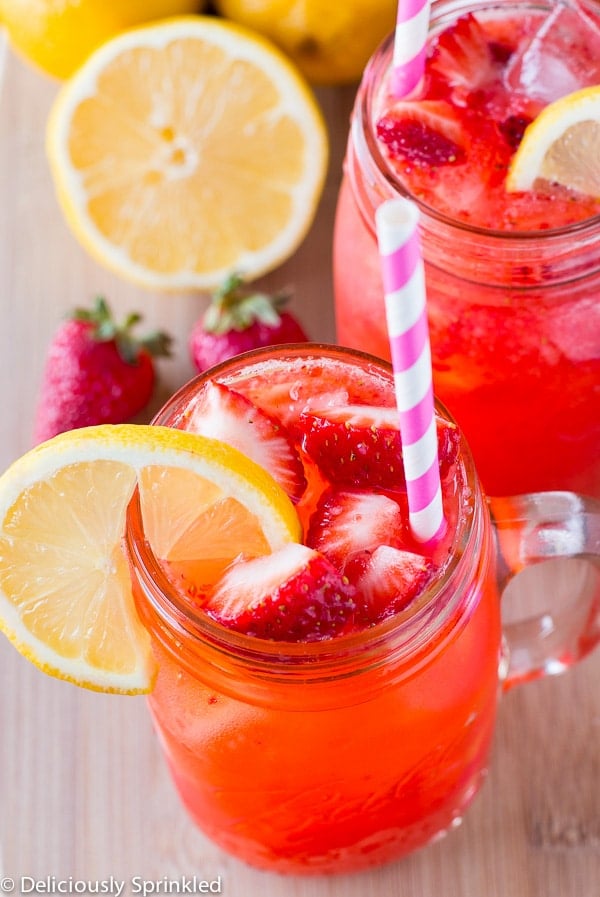 JUST A FEW LEMONADE MAKING TIPS
✓ LEMONADE: To speed up the lemonade making time, rather than waiting for the sugar mixture to cool to room temperature, you can place the sugar mixture in the saucepan after it's boiled in the fridge for 5 minutes to cool it down quicker.
✓ SWITCH IT UP: If you want to switch it up, you can make Fresh Strawberry Limeade which is also super delicious. All you have to do is substitute the lemons for limes!
✓ SERVE IT: And lastly, serve in a fun mason jar glass and don't forget to add a cute paper straw!
STEP-BY-STEP RECIPE GUIDE 
Fresh Strawberry Lemonade
Yield: 6-8 Servings
Prep Time: 10 minutes
Total Time: 10 minutes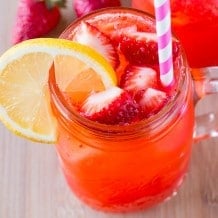 Ingredients:
1 cup granulated sugar
1 cup water
2 cups fresh strawberries, hulled and sliced
1 1/2 cups fresh lemon juice (about 6 medium lemons)
6 cups cold water
ice
1 cup strawberries, chopped for topping
lemon slice, for garnish
Directions:
STEP 1: In a small sauce pan, bring sugar and water to a boil. Remove from heat and let cool to room temperature.
STEP 2: Place strawberries into a food processor or blender and process/blend until smooth.
STEP 3: Pour pureed strawberries into the sugar water. Add lemon juice. Stir well.
STEP 4: Pour strawberry lemon mixture and cold water into a large pitcher. Stir well and add ice. Pour into glasses and top with chopped strawberries and a lemon slice.

25 Responses to "Fresh Strawberry Lemonade"
Leave a Comment