Apple Pie Cinnamon Twists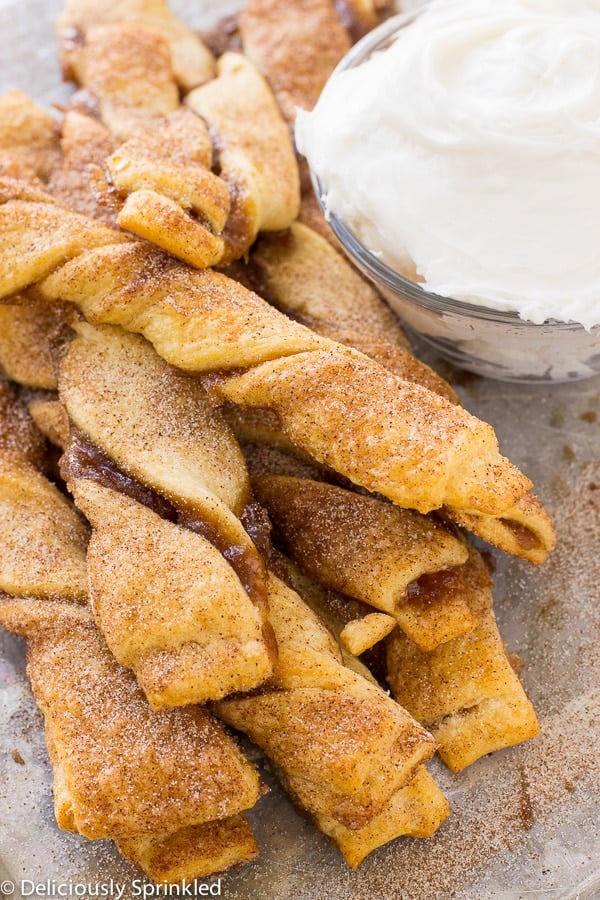 Easter is this weekend and I have an easy Easter brunch recipe for you today!
These Apple Pie Cinnamon Twists are super delicious. And your probably thinking, ummm apple pie for Easter!? YES, apple pie should be at every holiday brunch/dinner in my book. But the best thing about these Apple Pie Cinnamon Twists is that they are WAY easier to make then traditional apple pie.
To make these twists all you need is crescent roll dough, Musselman's Apple Butter and some cinnamon-sugar. Bake them for 8-10 minutes and you have a quick and easy breakfast or dessert. I know I will be making these Apple Pie Cinnamon Twists year-round! ♥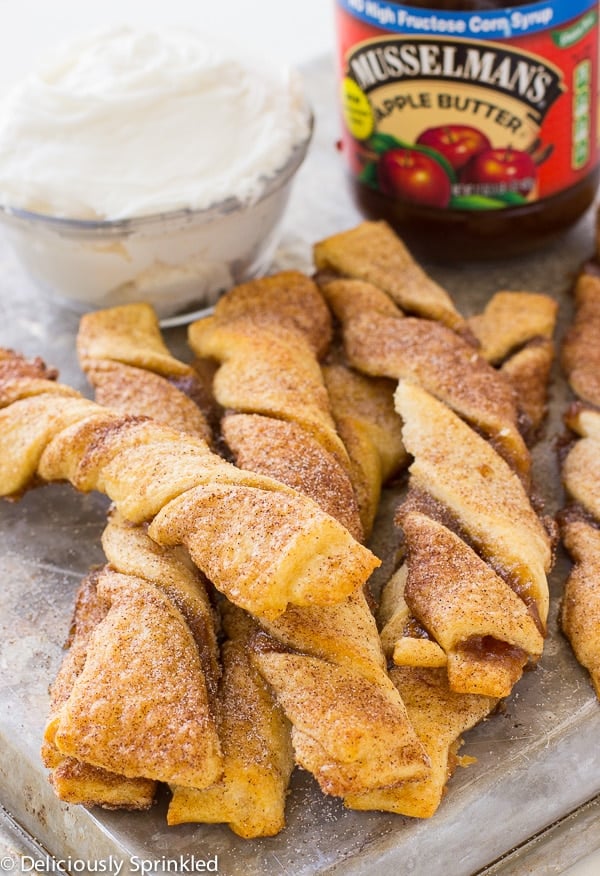 JUST A FEW BAKING TIPS:
✓ APPLE BUTTER: My all-time favorite apple butter, is Musselman's Apple Butter. It has the best taste and it's easy to use in any recipe. You can find it by the peanut butter and jelly section of your grocery store.
✓ USE A PIZZA CUTTER: When cutting the dough into strips, I found that using a pizza cutter makes this super easy. If you don't have a pizza cutter, make sure to use a sharp knife or it might be difficult to cut the dough into strips.
✓ CINNAMON-SUGAR: Immediately after the Apple Pie Cinnamon Twists come out of the oven I like to sprinkle some additional cinnamon-sugar on top of each twist. 
STEP-BY-STEP GUIDE ON HOW TO MAKE THESE APPLE PIE CINNAMON TWISTS: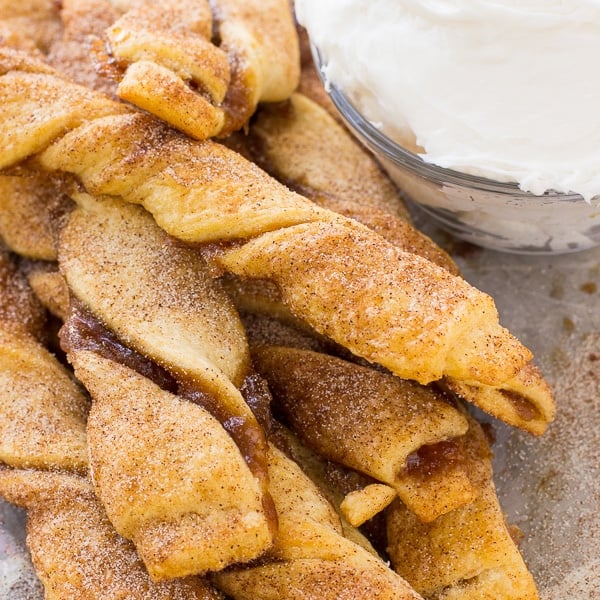 Yield: 12 Twists
Apple Pie Cinnamon Twists
Prep Time 5 minutes
Cook Time 10 minutes
Total Time 15 minutes
Ingredients
1/4 cup brown sugar
1/4 cup Musselman's Apple Butter
1/4 cup all-purpose flour
6 Tablespoons butter, melted
1 Tablespoon cinnamon-sugar
1/4 cup unsalted butter, softened
1/4 cup cream cheese, softened
1 cup powdered sugar
1/2 teaspoon vanilla extract
Instructions
PRE-STEP: Preheat oven to 375F degrees. Line baking sheet with parchment paper or silicon baking mat. Set aside.
STEP 1: In a medium sized bowl, mix brown sugar, apple butter and flour together.
STEP 2: Unroll crescent dough and lay down as 4 rectangles on prepared baking sheet.
STEP 3: Spread apple butter mixture onto 2 of the rectangles.
STEP 4: Place the other 2 rectangles on top of the apple pie mixture. Press edges together.
STEP 5: Brush melted butter on top of rectangles. Sprinkle with cinnamon-sugar.
STEP 6: Using a pizza cutter, cut both rectangles into 6 strips.
STEP 7: Twist each strip a few times and sprinkle with remaining cinnamon-sugar. Bake for 8-10 minutes. While the first batch of apple pie twists are baking, repeat Step 1-7.
MAKE CREAM CHEESE ICING:
STEP 8: In a large bowl, beat together the butter and cream cheese with an electric mixer. With the mixer on low speed, add the powdered sugar until smooth and creamy. Beat in the vanilla extract.
STEP 9: Fill a zip-lock bag with cream cheese icing, lock it shut and snip off a corner of the bag. Ice tops of each pumpkin pie twist and enjoy. Simply throw the bag away when finished.
NOTES:
Notes
*STORE: Store leftovers in an airtight container at room temperature for up to 3 days.
I am a proud Musselman's Blogger. I was hired by the brand as an ambassador and content creator. Thank you for supporting my wonderful sponsors. They make it possible for me to keep the ideas coming! All content, ideas, photography and opinions are that of my own and I'd have it no other way!